We've all been there. Grandma *insert generic name* waltzes into the Thanksgiving gathering like she owns the damn place while you're minding your own business. You feel pretty freaking good about the new, orange sweater you just bought that was on sale AND looks perfect for this pleasant event.
She walks straight up to you and gives you a giant hug, looks you up and down multiple times, and says "look at you!" with an awkward side eye of trying not to show that she can tell you've gained a few extra pounds after leaving for college. You know you have, but holy smokes she didn't have to make it that obvious, did she?
Yes, I do enjoy three bowls of cereal at 10 pm when I'm stressing over my student debt, Grandma Sally.
She struts over to your sister and compliments her on how she's grown taller, lost weight, and how her makeup is #onpoint. But OK, I've stopped growing and I can't do winged eyeliner #getoverit.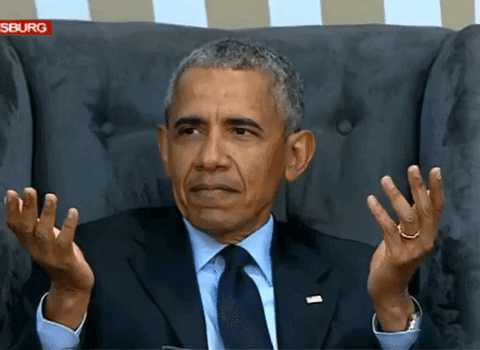 https://gph.is/2mJRUNC
You shake it off and walk away as though that didn't hurt your feelings in the slightest.

The whole time you're at the dinner/family gathering you feel completely uncomfortable and fill your head with self-doubt and thoughts of "should I even eat that slice of pie?"
When you think about it, would you dare question that her sweater makes her look frumpier than usual? NO, because you love her and she is beautiful to you no matter how her shape has changed (even though you now wish you could just tell her that her mascara smudged and looks dreadful #Yikes).
Girl, I cannot tell you the number of times I have turned down an extra serving during these food-filled events all because of one disapproving look about how I did gain a bit of weight. I thought one unhealthy item would make me gain ANOTHER five pounds (that's not how that happens I finally learned, that would take a lot more than one slice of pumpkin pie).
I have been surrounded by multiple, more male than female, family members who have said, "Do you need that?" "You eat like a pig," or the worst "Go on, eat it, it's not like you'll be able to stop."
This is where I drew the damn line.
I have had an issue with binge eating in the recent past, and the fact that a male family member had the nerve to voice their opinion on how I cannot control myself revolving around a mental issue I possess is absolutely disgusting.
The fact that a family member, whether it be a father, grandmother, or even a second cousin twice removed (does their opinion really matter though?), can make you feel uncomfortable or worthless because of a change in your appearance does not possess unconditional love for you #FACT.
How dare anyone, especially the people closest to you, give you disapproval due to the number on a scale?
To all the family members who have voiced their opinion on my weight, this article is me flipping you off in the nicest way, OK? So take this with a grain of salt.
SO, my advice next time Aunt Karen gives you a rough time or disapproving side eye if the freshman 15 is starting to kick in, EAT THAT EXTRA CUPCAKE. As though it's a big middle finger to how she views you, it'll feel and taste great while making them feel as though they have no power over you!