It's been a while since I had found a show that captivated my attention from the very beginning.
But when I watched HBO's new show, Euphoria, I was pretty drawn in from the opening scene.
We see the birth of a child as Zendaya's voice whispers to us loudly in the background. And the first thing we learn is that our main character was born 3 days after 9/11.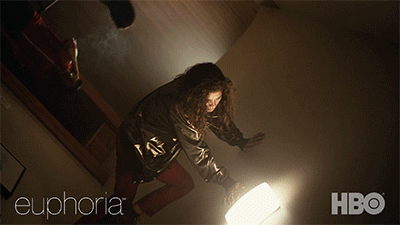 Giphy
The more that I watched this show, the more compelled I was to it. With Zendaya's narration and trippy cinematography, the show narrates the story of a group of teenagers and their problems and messed up lives as they venture through high school. And even though we might not all relate to everything these characters do, we can relate to them to a certain extent. It's a show that makes you think, a show that you can enjoy.
It's fresh and HBO is not letting down.
However, although I may not wish to spoil it to you, I want to talk about some of my favorite parts so far to intrigue your interest if you haven't already seen it.
Few reasons they might be, I really just don't want to talk about the show without really spoiling it, so this was how I decided to come along this article. But if you really haven't thought of giving this show a try, do it. It might get too heavy at times, but your eyes won't be able to move away from the screen once you diverge into the world of Euphoria.