This past weekend, my a cappella group, Dooley Noted, had the opportunity to compete at the International Competition of Collegiate A Cappella. ICCA is hosted by an organization called Varsity Vocals and takes place around the globe. We were competing at the South Quarterfinal in Athens, Georgia along with nine other groups from the area. The top two of the quarterfinal would go on to the South semifinal.
On Saturday morning, we drove down to Athens, about an hour and a half outside of Atlanta. Denny, Joseph, and Caitlin rode in my car. The night before, in my excitement for the trip, I made a playlist exactly 1 hour and 28 minutes long. It included all my favorites including some songs I knew we could all harmonize to perfection. Of course, we couldn't drive that far so early in the day without stopping for coffee so we swung by Dunkin on the way. A couple iced coffees later and we were headed off to Athens.
Prior to this trip, I had never been to Athens. I had only heard of it because some friends from high school went to the University of Georgia but otherwise I knew almost nothing about it. I was expecting a small college town with a few shopping streets and yummy local restaurants. And I was right. I knew during my college search that I wanted to go to school in a big city but that doesn't mean I can't appreciate the charm of a college town. I loved Athens and the hustle and bustle of a big state school's campus.
Once we arrived, we immediately found a brunch spot: Five Bar. Knowing this would be the only time we would get to eat for some time, we went a little crazy with the avocado toast and eggs (for us vegetarians) and chicken and waffles for the rest. We were all starving so brunch went pretty quickly and we had some time to kill. Each of the group members headed off in separate directions to run some errands, find a coffee shop, or like Caitlin and I browse the local clothing boutiques.
At 1.30 pm, all the a cappella groups competing in ICCA met in Morton Theatre for an informational meeting. Morton Theatre is a small historic venue in downtown Athens. It was sold out for that evening's concert. It was so exciting to see all the groups in one space. The a cappella community is really unique in that although it is a competition, every group is welcoming and friendly with one another. We all wanted each other to have successful performances because we know how much work it takes to get to this stage.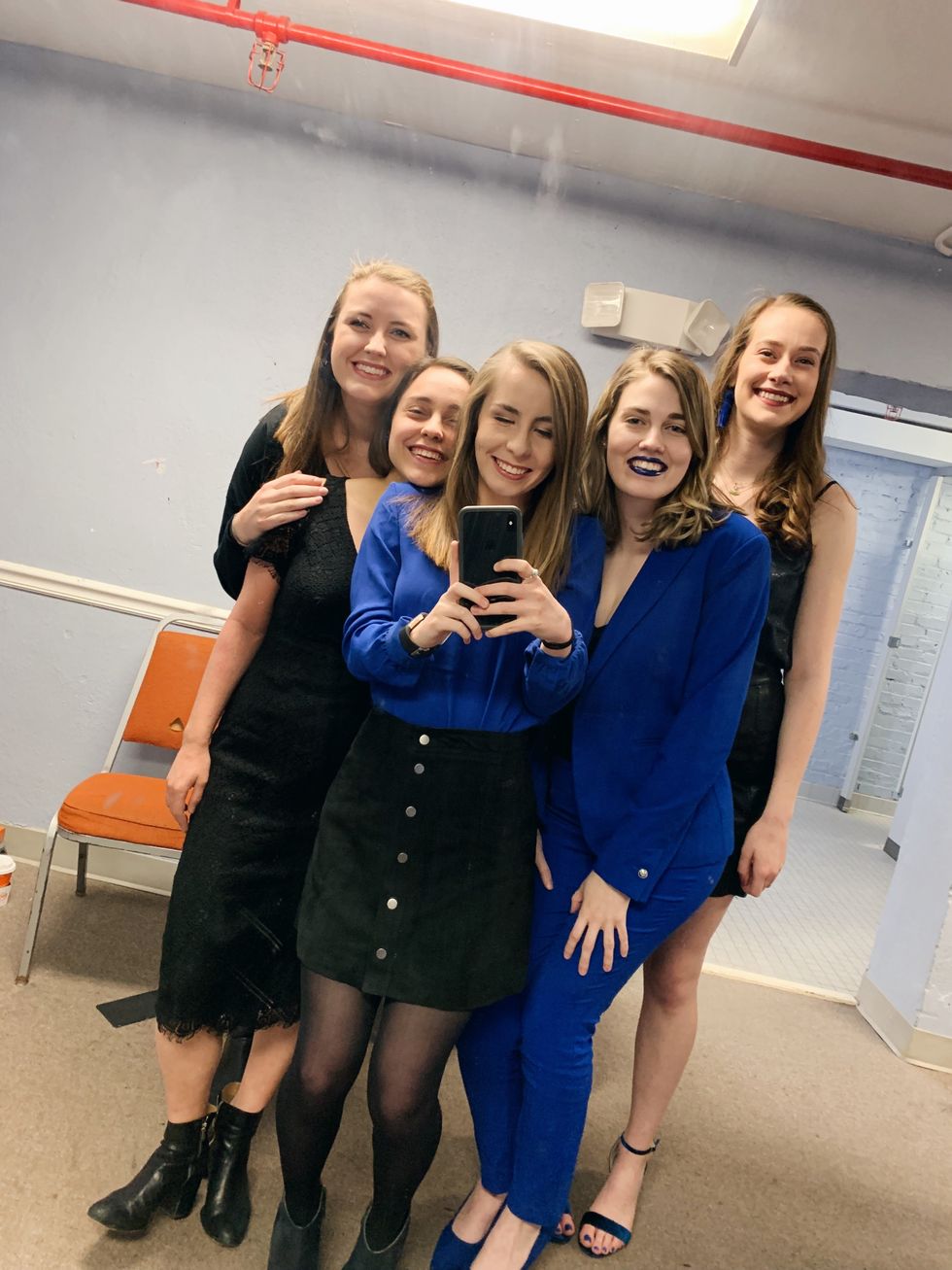 The ladies of Dooley Noted A CappellaGrace Bellman
At this meeting, the performance order was decided. Ameya, Dooley Noted's president, went up to randomly select a number. He picked five. And with that, both our position in the show and soundcheck time were decided. Soundcheck was simple. We ran through our set and worked with the sound technician, Lee, to fix any kinks in the monitors or house. Anyone who has ever performed some sort of music before knows that sound is everything. You could be singing the most amazing set but that wouldn't matter if the audience and judges couldn't hear you.

We spent the rest of the afternoon at the hotel resting up and consuming gallons of water and tea. I did my makeup, hair, and put on my formal cobalt (DN's signature attire). And just like that, it was time for us to perform. It was so special to sing with people I care so much about to a sold out theater. The stage lights blocked out the view of the audience but I could feel their eyes locked on our every move. Singing and dancing alongside the people who I had worked so hard with made every late-night rehearsal and sore throat worth it. Regardless of our placement in the competition, I felt like DN accomplished so much.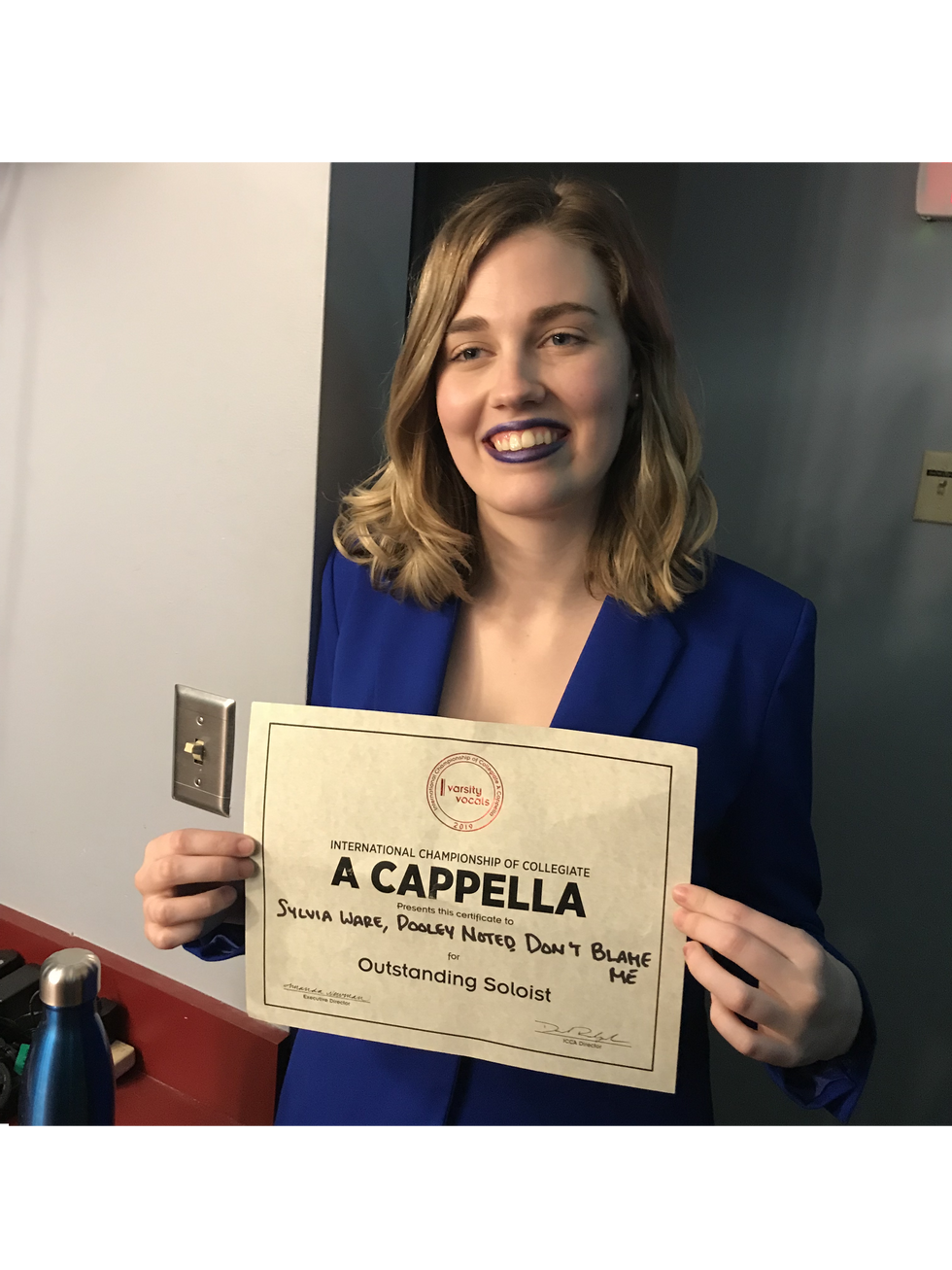 Sylvia Ware, awarded outstanding soloist.Grace Bellman
Not many people can say that they performed at the ICCA Quarterfinals. But thanks to the hard work of Sylvia (Music Director) and Ameya (President), Dooley Noted can say that we have. I feel so honored to perform in such a close-knit, talented group. It is such a privilege. This weekend reminded me of why I originally joined an a cappella group and how much it has shaped my college experience.

Dooley Noted, I love you all. We did it. Time to get ready for the next concert!