I have a little secret to let you in on: I'm not a natural blonde. I know, your mind is blown. Just kidding, everyone who has ever met me knows this because I can't seem to keep the same hair color for more than a couple of months. I am committed to my husband, to my hair color? Not so much.

I actually dye my hair so often and have for so long, that I have no idea what my natural color actually is. Suffice to say that maybe my hair isn't at its peak shine or softness level, especially now after undergoing four bleachings, five toners, and multiple blow dryings within the course of three months. Sure my hair is now the light ash blonde I want, but at what cost I ask you? At what cost?! Dryness, that's what cost. My hair is dryer than the Sahara Desert at noon, and I need a good deep conditioning.
So, the other day in one of my classes I hear a girl behind me talking about a hair mask she swears by, and let me tell you-this girl has shining Disney Princess locks, I mean Blake Lively is jealous of this girl's hair. I need to know her secret. I find a way to insert myself into the conversation, and I tell her about my hair woes.
Get this - she tells me she used to have dry hair too, I don't believe her, of course, she's a hair goddess but I, a mere mortal, am frankly willing to try whatever she tells me. After feeling my straw hair, she writes down her secret hair potion (that she said her mom's sorority used to do before formals so it's not really a secret).
So here it is: Katie from Econ's secret to luscious locks. To see if this really works I had to try it on the worlds driest hair, mine.
Recipe:
-1/2 cup olive oil (microwaved for 20 seconds or warmed stove top to warm but not hot)
-1tbs Honey
-1tbs Apple cider vinegar
-Mix together, put on hair starting with driest parts, saturate
hair, if you have greasy roots leave off roots
-Cover hair with shower cap, leave on for 30 minutes-3 hours
-Rinse in lukewarm water, shampoo to remove excess oil and condition as usual
-Allow hair to air dry
Consider it done, Katie. Amazingly these were all things I already had in my house, so that made this a lot easier (and cheaper). It said to saturate hair so I most certainly did, I have pretty long hair and this was just enough mixture to cover my hair. The only thing I didn't have was a shower cap, so I just used a supermarket plastic bag because for some reason I have 10,000 of them stored up and it's the same thing as a shower cap. Basically, I'm recycling, you're welcome, environment.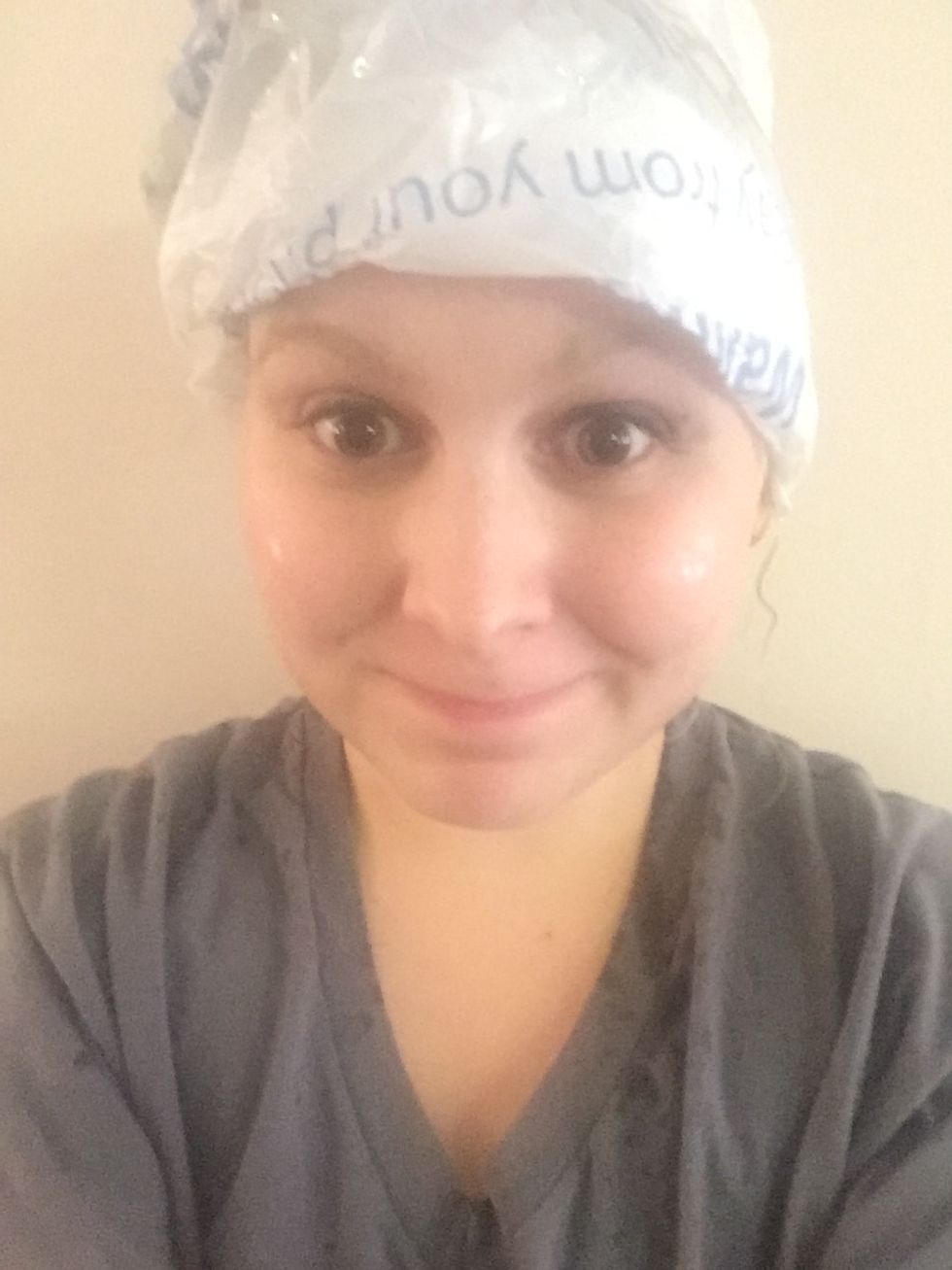 Since my hair is so dry I decided to leave it on as long as possible to get the maximum benefit, with my crazy schedule this ended up being an hour and a half. Pro tip: bring
a good face wash in the shower, olive oil is, well, oily.
When I got out of the shower I prayed I had gotten the olive oil out of my hair, because it is kind of hard to tell. I also resisted the urge to use the leave-in conditioner, which is usually a staple for me, because I wanted to see the full effect this treatment would have on my hair.
I'm not going to lie to you, while my hair dried it felt kind of strange. It wasn't super easy to get my fingers through my hair, I was worried there was left over oil even though I shampooed really well. My hair did not feel soft or silky while drying, it felt a little tangled, and like it was going to be a little bit crispy.
To my surprise when my hair (finally) dried it was pretty soft, undoubtedly softer than usual! It also definitely has some extra shine to it and a little less frizz! Did I have Katie from Econ's gorgeous Elle Woods hair? No, but it was better than what I started with, and I'd try it again for (hopefully) even more improvement. After all, I am willing to try just about anything. If you have any other suggestions feel free to send them my way, I'll put anything in for a little shine; molasses, peanut butter, pigs blood-you name it, I'll try it.
Before After