I was lucky enough to go to Walt Disney World with one of my best friends over winter break. We both LOVE Disney, and I was so excited to pack my Minnie ears and enjoy six days in the parks. I have not been to Disney World in six years and a lot has changed since the last time I went. I was thrilled to experience some new rides and meals that I had not been to before (and I heard a lot about new rides coming in a few years)! We lucked out with great weather and tolerable crowds, but as my friend also said "the ride gods were in our favor." I came home feeling like I had accomplished almost every single ride at Disney (and some of them we went on two-four times!) and seeing so much of what the park has to offer. These are the highlights of my recent trip - the best food, the best rides, the best character interactions, and other perks I loved.
Garden Grill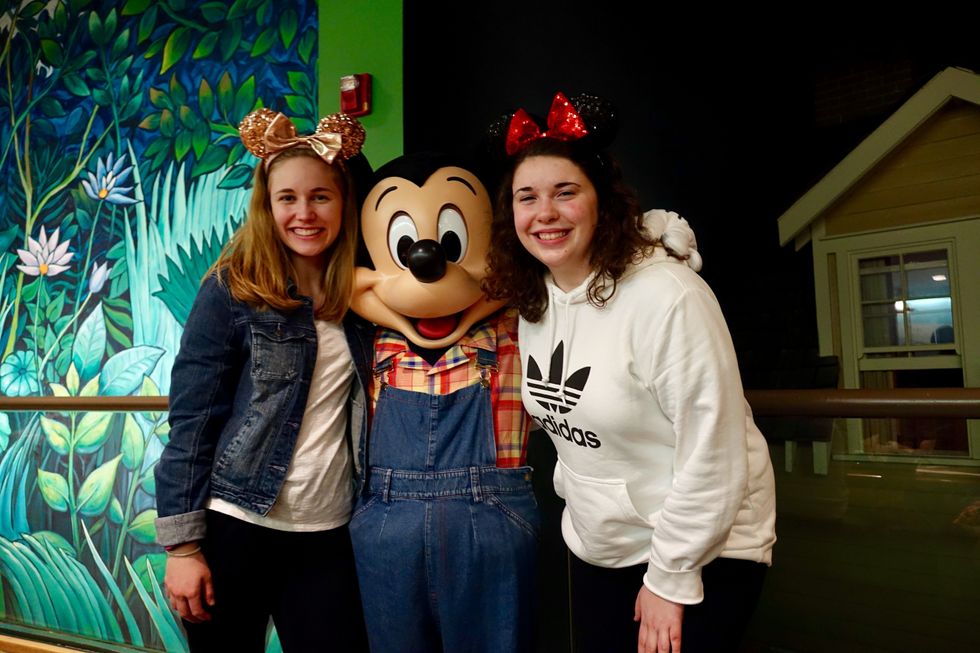 Lisa M.
The Garden Grill is a sit-down character meal in Epcot. We went for our first night to celebrate the trip ahead! The restaurant has really good food, and it is served family style at a fixed price. They bring you a lot, and you can get more of anything throughout the meal. The meal includes bread, salad, 3 meats, vegetables, mashed potatoes, dessert and more. It is also cute because the restaurant slowly rotates above the Living with the Land ride and Farmer Mickey and his friends come by the tables frequently. It was a great way to start off the trip!
Epcot at Night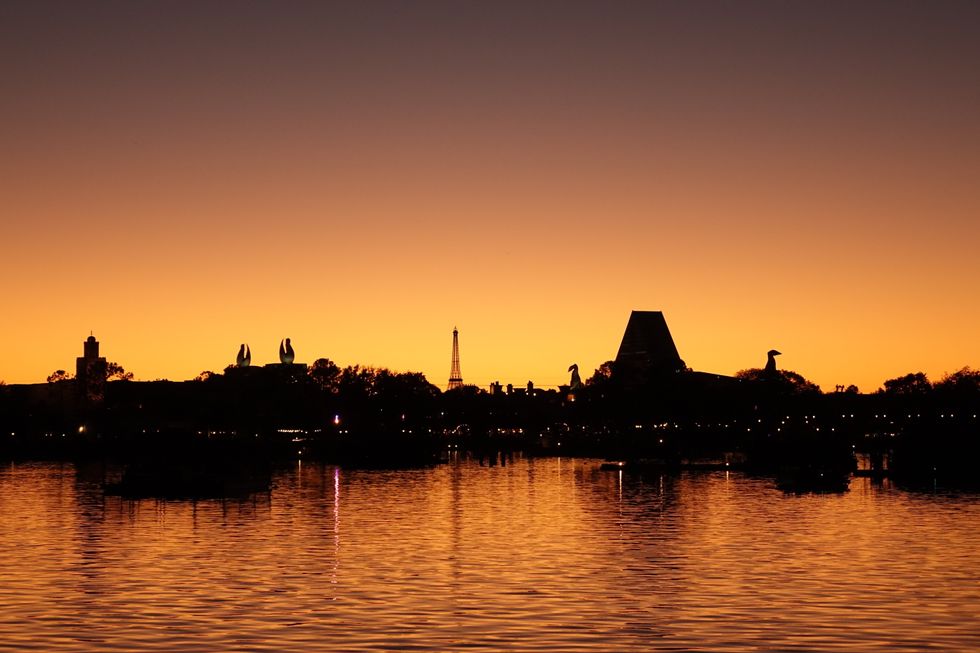 Lisa M.
After this trip, I realized that I am so into Epcot at night! We went 3/5 nights with our park hopper tickets. It definitely helped that our hotel was a short walk from the park, but even without that perk, I think I still would say the same. The countries look beautiful at night, especially when they light up during the Illuminations firework show. We also went on Test Track at night, which made it even more fun to go outside on the speedway.
Crystal Palace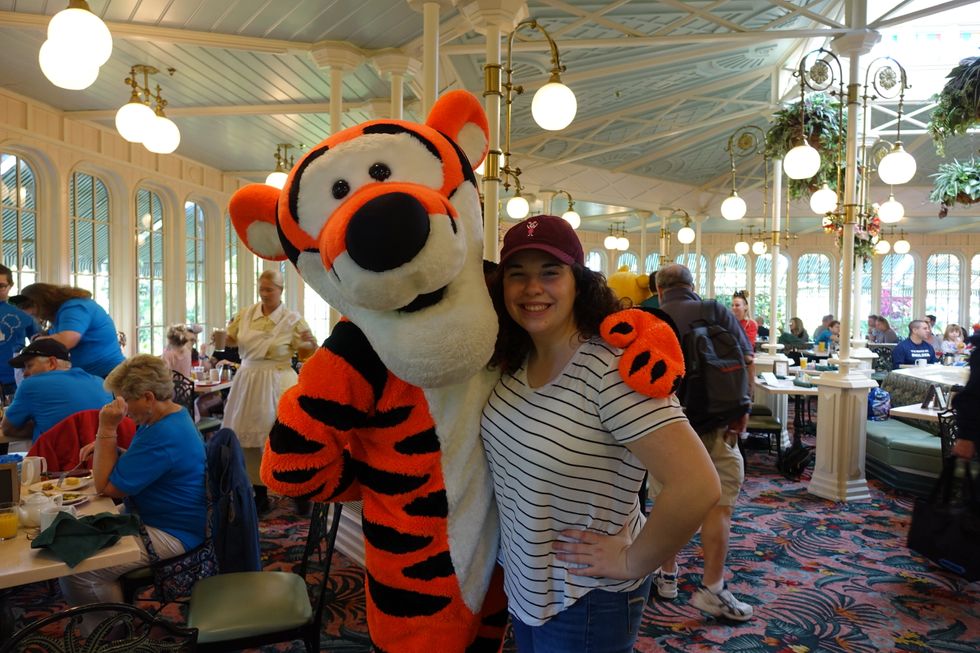 Lisa M.
For breakfast, Crystal Palace is such a great place to go. This buffet breakfast is with the characters of Winnie the Pooh. Not only is it super cute, but the food is really good and they have EVERYTHING at the buffet for breakfast. I have been to Chef Mickey's, and I personally think you get more for your money at Crystal Palace. Another perk was that our morning reservation allowed us to enter the Magic Kingdom early before there were too many crowds!
The Boardwalk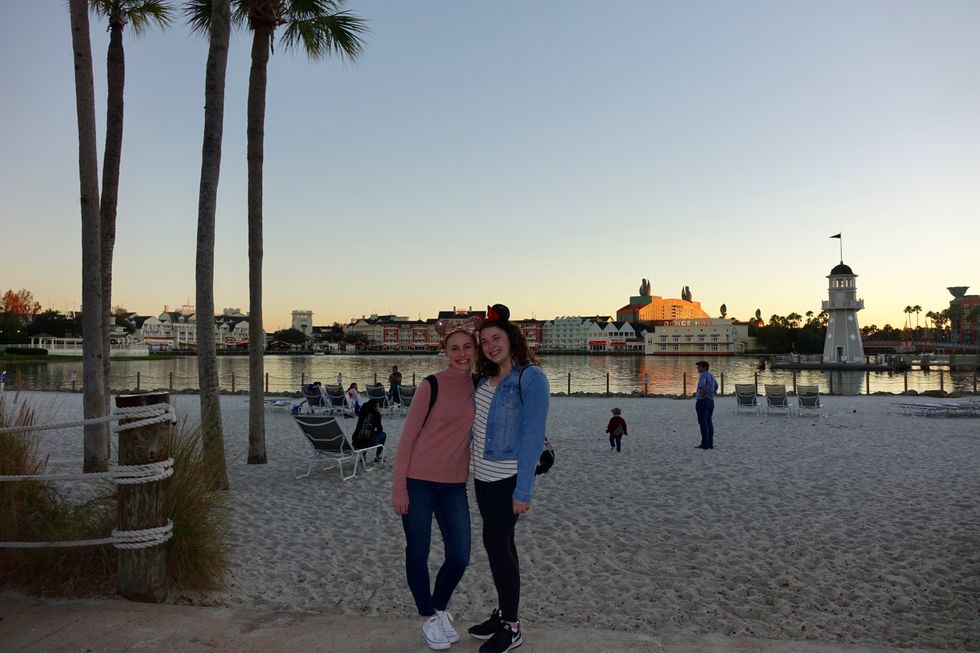 Lisa M.
The Boardwalk hotel was across from our hotel, and I had never been over there before. Not only does it look adorable lit up at night, but it is a nice place to explore at night if you want a quick dinner or snack. They have shops, food, and some street performers.
Dole Whips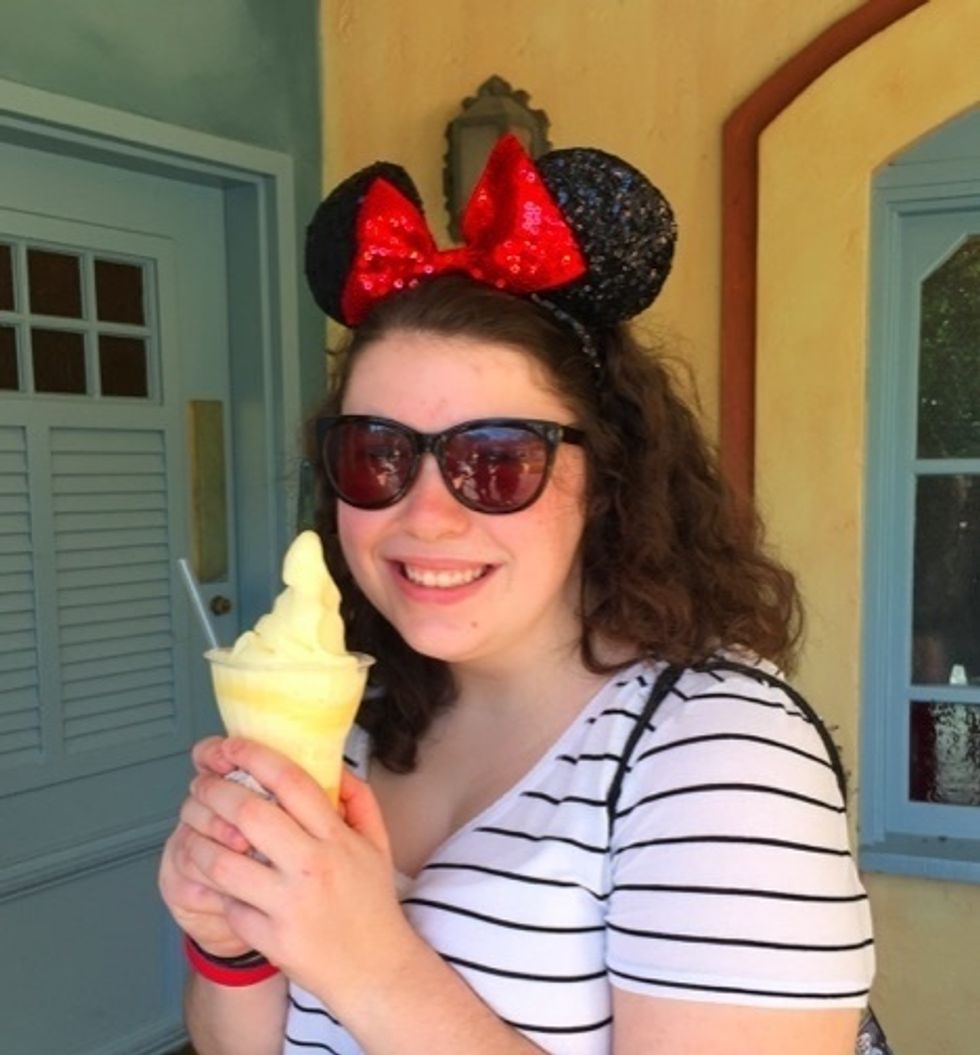 Lisa M.
Dole Whips are by far my favorite Disney World treat. They bring back memories of my stay at the Polynesian resort the first time I went to Disney, and they are really refreshing on a hot Florida day. It is a pineapple soft serve, which I got in a float (pineapple juice). Dole whips are hard to find outside Disney, so I get so excited to eat them when I am there.
Pandora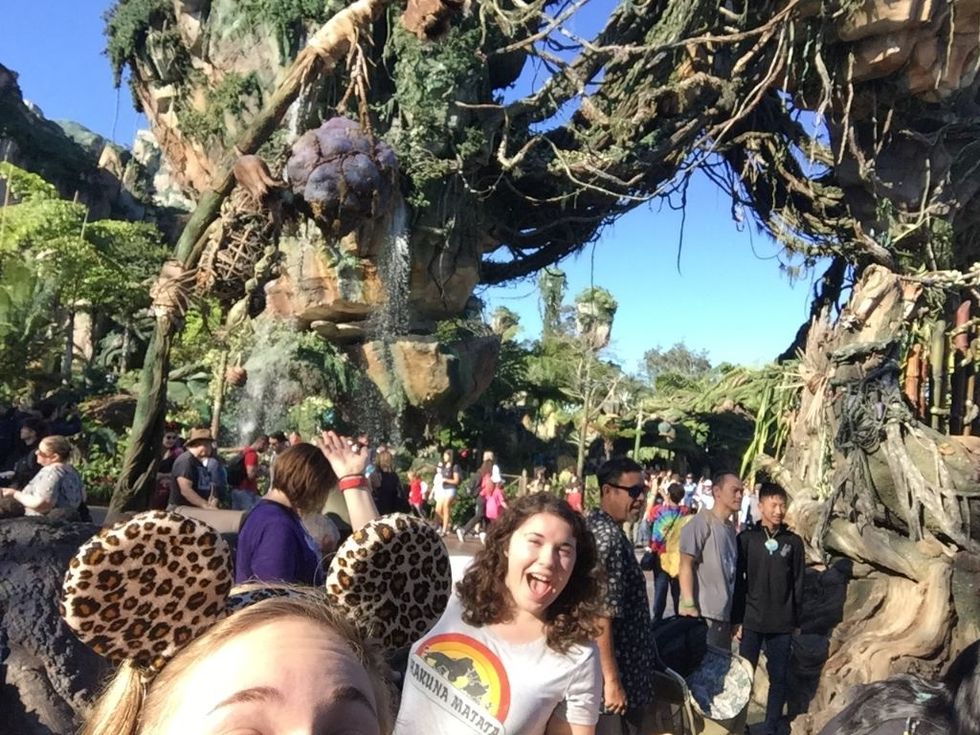 Olivia Beauregard
Pandora, the Avatar inspired land in Animal Kingdom, is a newer addition to the park. Let me be honest and say that we watched Avatar in preparation for our trip and both were not fans of it. However, the scenery of Pandora and the filming of the fake flowers and plants were definitely notable. That's why I thought Disney did an amazing job of putting you in the breathtaking scenery of the floating rocks, weird flowers, and lush greens of Pandora. There are two rides: Navi River Journey and Flight of Passage. Navi River Journey was cool, with lots of the same scenery, glowing animals, and an avatar animatronic. But, Flight of Passage was AMAZING and probably one of the best rides in Disney. Disney magic makes it feel like you are really flying on the back of a banshee.
The Beach Club Resort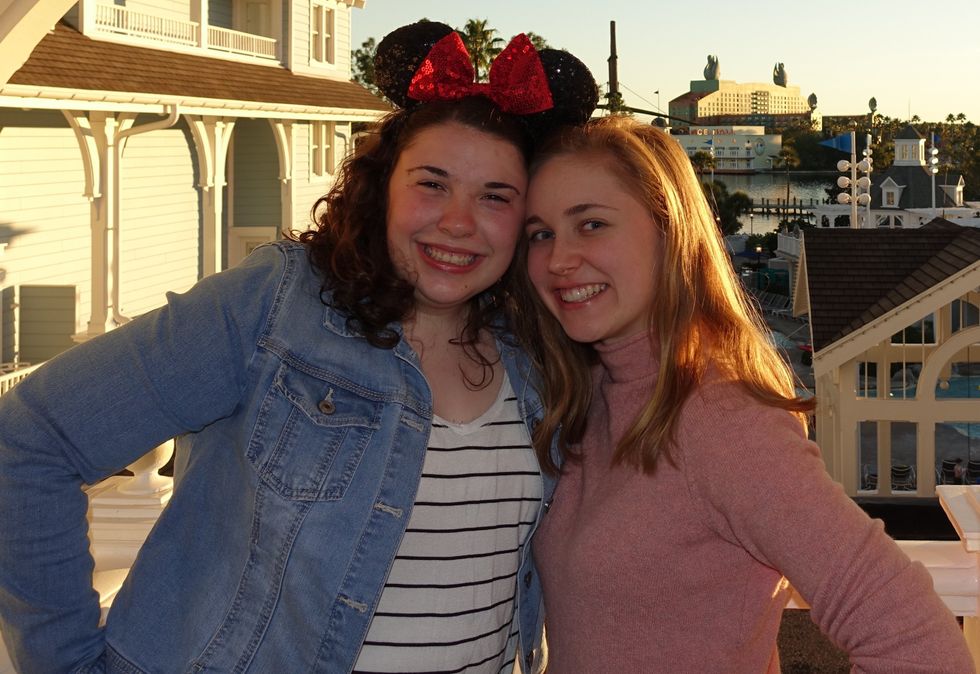 Lisa M.
We were lucky enough to get upgraded from a value resort to a deluxe resort. The theming of the resort was beautiful, the pool was humongous and there was nothing better than the five minute walk to the back entrance of Epcot. It really made our Disney Trip feel more like a vacation because we had great accommodations and were able to relax at the resort pool a few of the hotter days.
Toy Story Land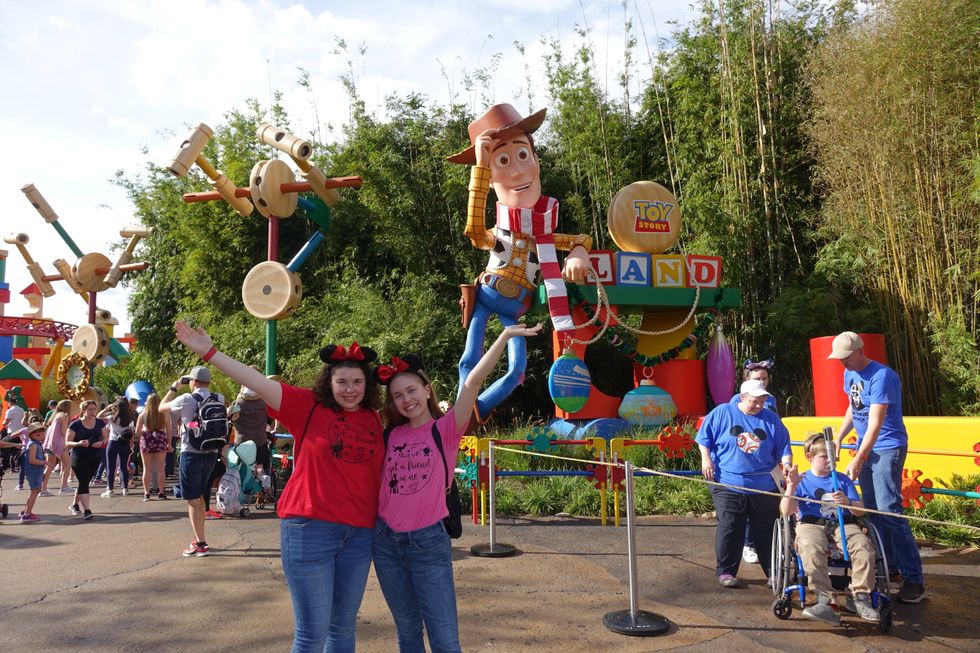 Lisa M.
Toy Story Land theming is the up there with the best theming in Disney. They thought of every detail. The land makes you feel like you are shrunk to the size of a toy. The army men that walk through in a cycle yell "Welcome to Andy's backyard!" The whole world is made of "toys," like tinker toys, connects, popsicle sticks, blocks, etc. Toy Story Mania, which was a great ride the last time I went, is there along with two new rides. The Alien Swirling Saucers is a spinning ride that was a lot more fun than it looked. The Slinky Dog Dash rollercoaster was really fun and included parts where you passed by Toy Story characters. I love Toy Story in general, so this was a highlight for sure.
Ohana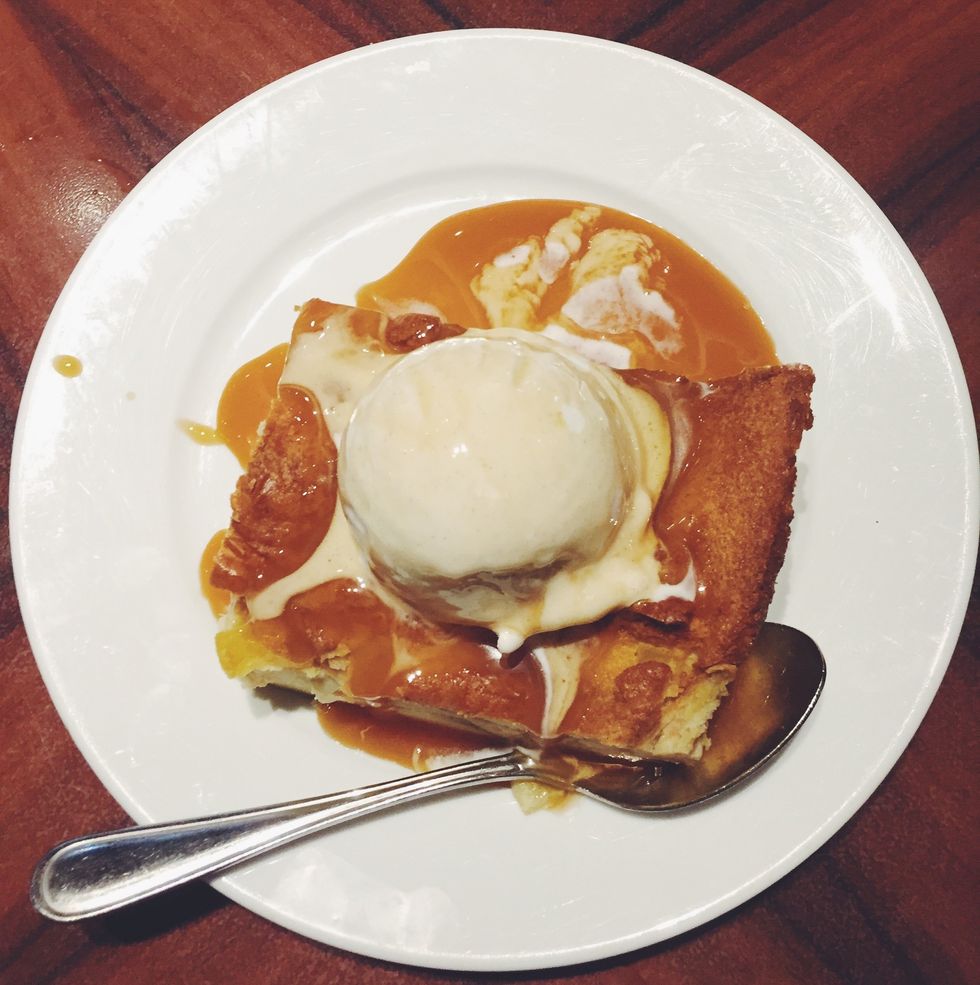 Olivia Beauregard
Ohana is a restaurant at the Polynesian Resort. We went there our last night to end the trip. It is another family style, price fix meal with LOTS of food. They bring out pineapple coconut bread and salad first. Then, a skillet with dumplings, chicken wings, noodles and vegetables. They give you two dipping sauces, and your waiter comes around occasionally with skewers of meat (chicken, steak, and shrimp). Finally, the best part is the bananas foster bread pudding for dessert. The food is delicious and the restaurant is a nice theme with a good view of the Magic Kingdom in the distance.
Meeting Chip and Dale in Dinoland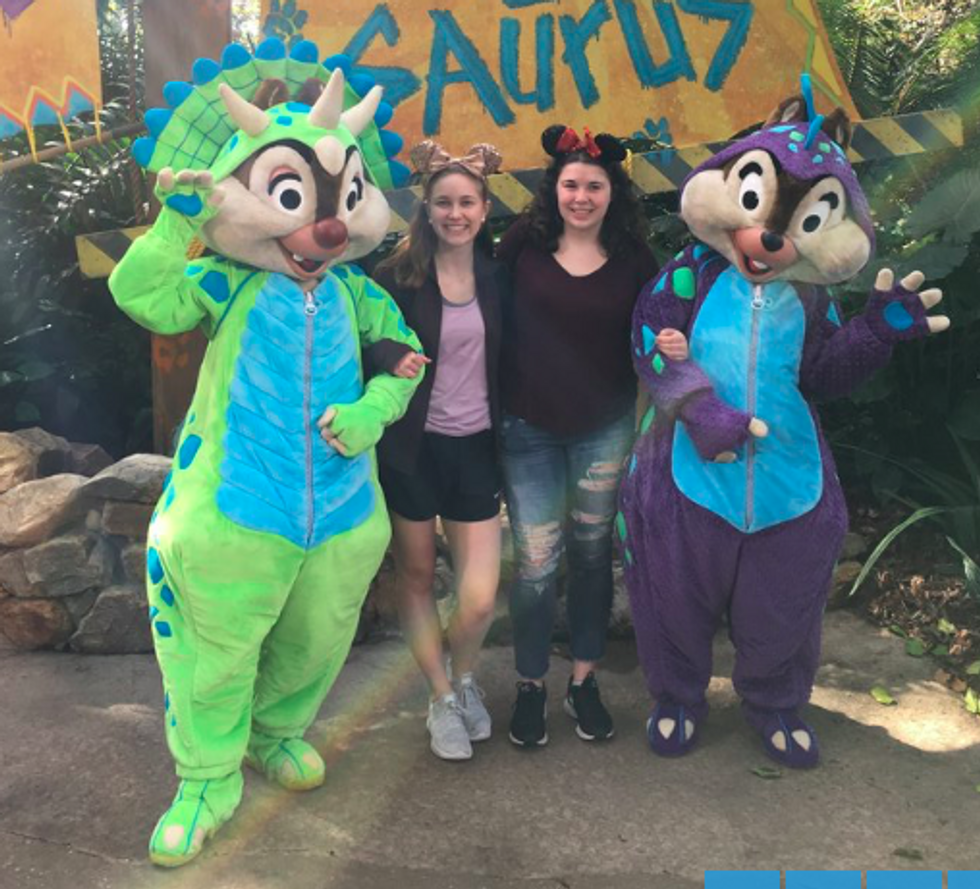 Lisa M.
Who knew you could meet Chip and Dale dressed up as Dinosaurs? Chip and Dale are already adorable characters to meet, but they are even cuter when they have on dinosaur onesies. These characters are hidden gems, found in a very remote area of Dinoland in Animal Kingdom. There were only two families in line besides us because they were not very easy to find. These Chip-O-Sauruses make for a cute photo op and fun character interaction.
Going on rides during fireworks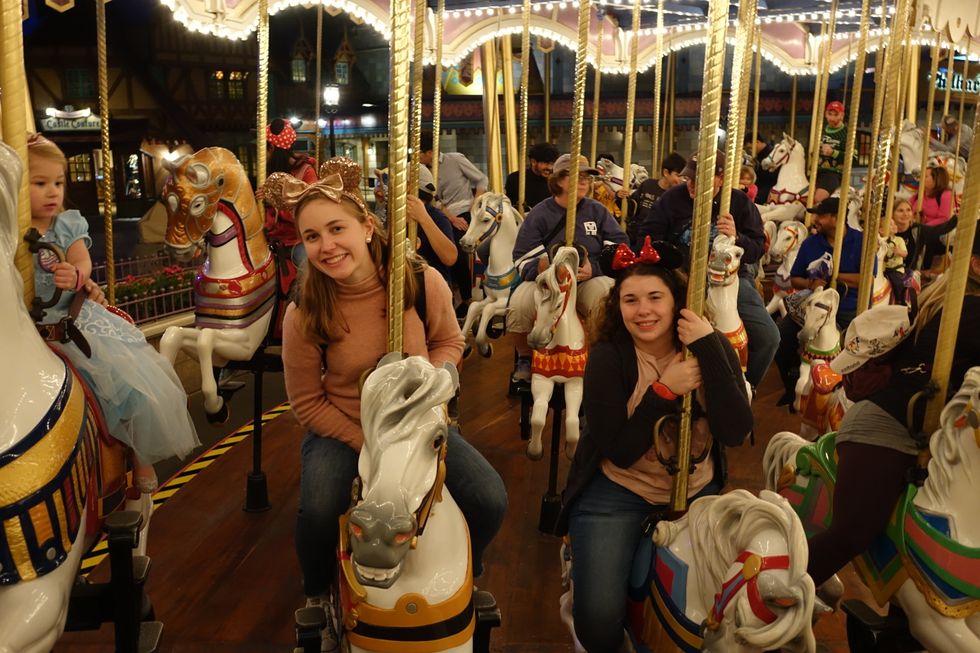 Lisa M.
If you have plenty of time in Disney World, I suggest skipping the fireworks at Magic Kingdom one night and riding the attractions during that time instead. First of all, there are very few lines because so many people gather around the castle and Main Street to see the fireworks. We rode the most rides in a row during this time frame. Even Splash Mountain, a very popular ride in Disney, was a five minute wait. The person controlling the ride even let us stay in our boats for a second time. Also, if you go on rides that are outdoors, you get to watch the fireworks. Riding the carousel or getting to the top of Splash Mountain with fireworks surrounding you is almost just as magical!
Meeting Gaston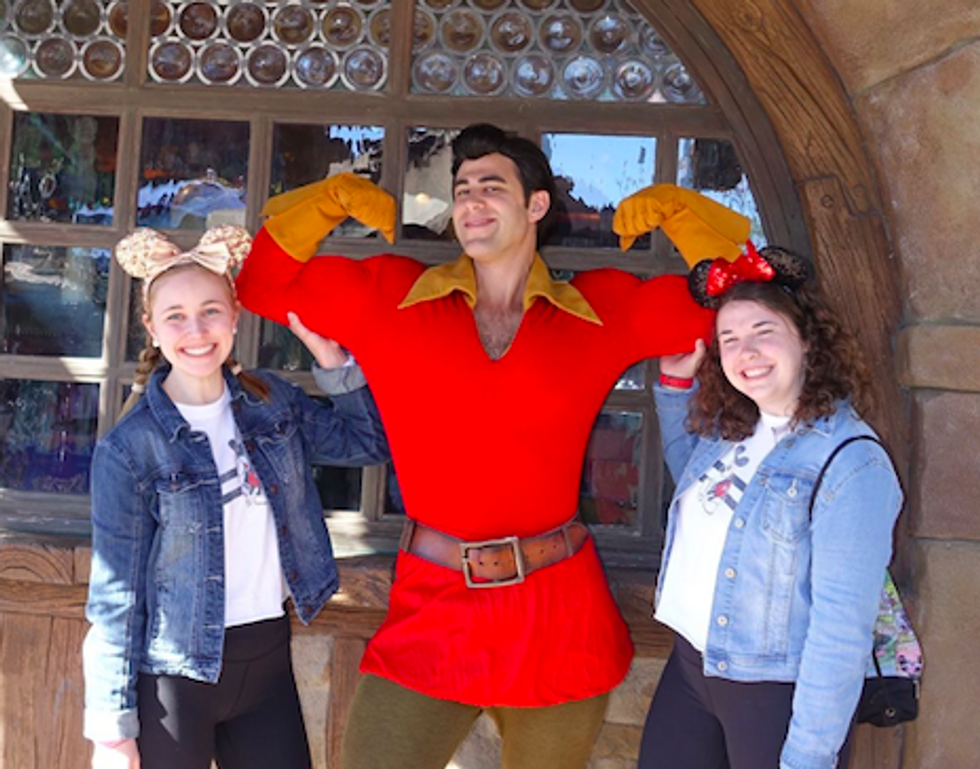 Lisa M.
Gaston is by far the most hilarious character interaction I had in Disney. He really is in character. He is obsessed with his good looks and loves flirting with the ladies. He stopped by his statue to admire himself, asked us what we liked about him, dipped some of the girls in line, and flexed his muscles as much as possible. He asked my friend if she knew how to read braille and then showed her his biceps "the word for mountains." We laughed so much during this interaction, got some funny photos, and I think my friend was a little starstruck too : )
Be Our Guest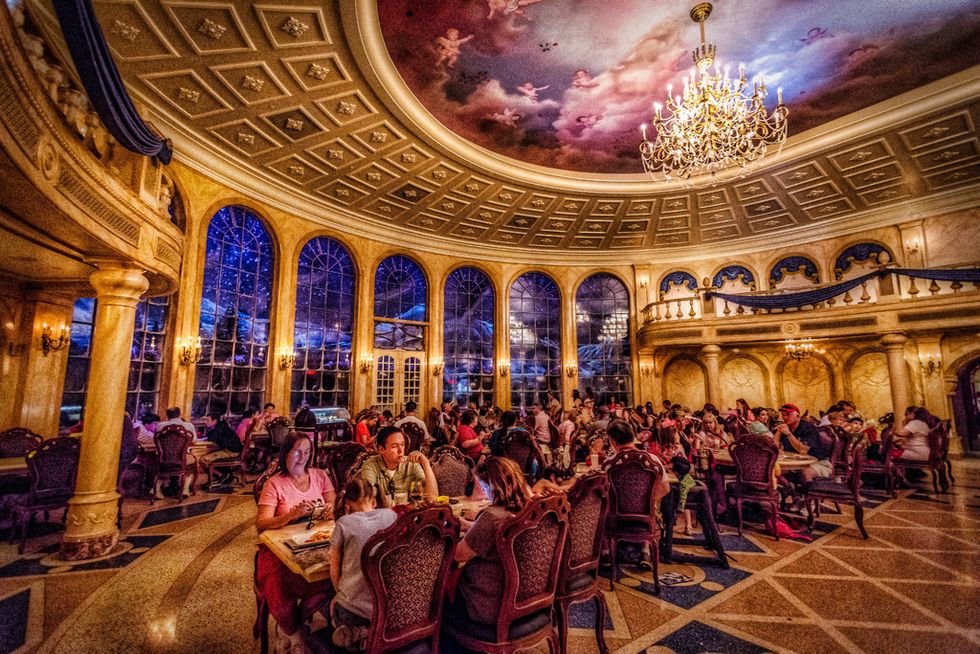 https://www.flickr.com/photos/sammers05/8697707152
The Be Our Guest restaurant is in the new Fantasyland area of the Magic Kingdom. In Beast's castle, you can enjoy a meal in a few of the castle's rooms. We stayed in the lair with the Rose, which shows the petals falling, lightning striking, and a portrait of the beast that would flash the prince's photo. The theming is really fun and if you go for the quick service lunch like we did, you get a good experience and good food for a cheaper price. Also, they have good desserts - I got the famous "Grey Stuff"!
Frozen Ever After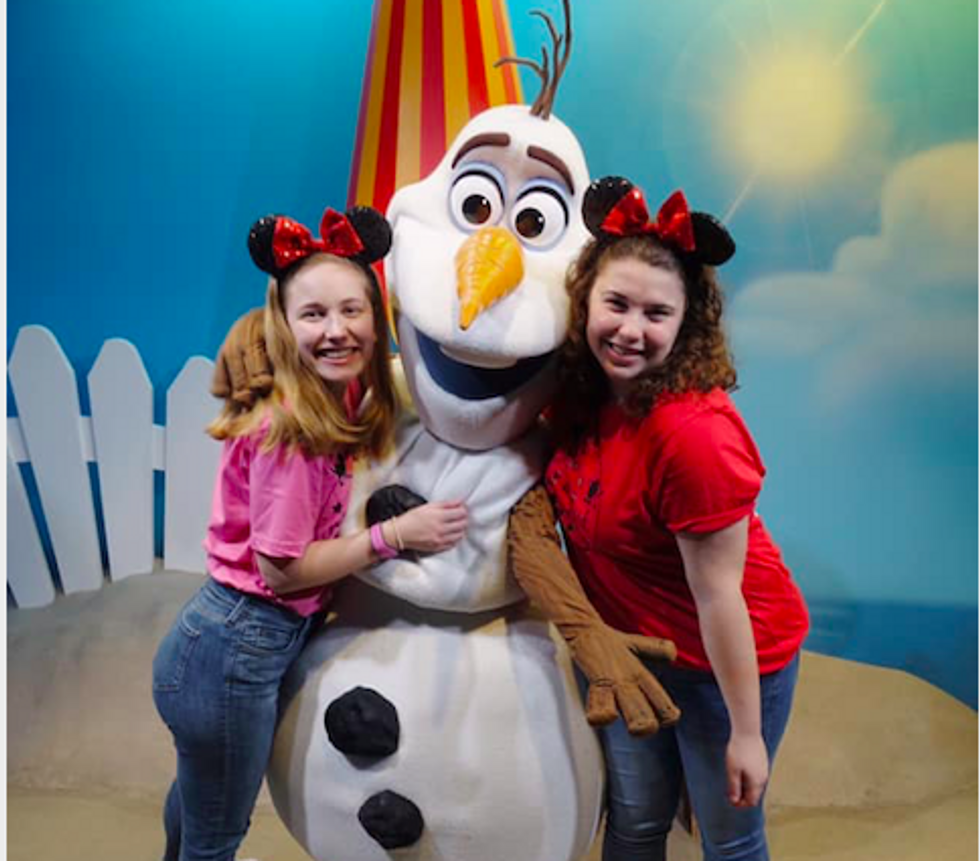 Lisa M.
Spoiler - meeting Olaf is not a part of the ride. Yes, along with millions of elementary school kids, I am a huge fan of Frozen. Who couldn't love Olaf?? The ride was really cute, and I felt like a little kid again going through the magical scenes. They make the characters look so real and all the beloved songs. One of the most magical parts was entering Elsa's ice castle and hearing Let it Go blast as lights lit up to the music.
Fastpasses (all for FREE)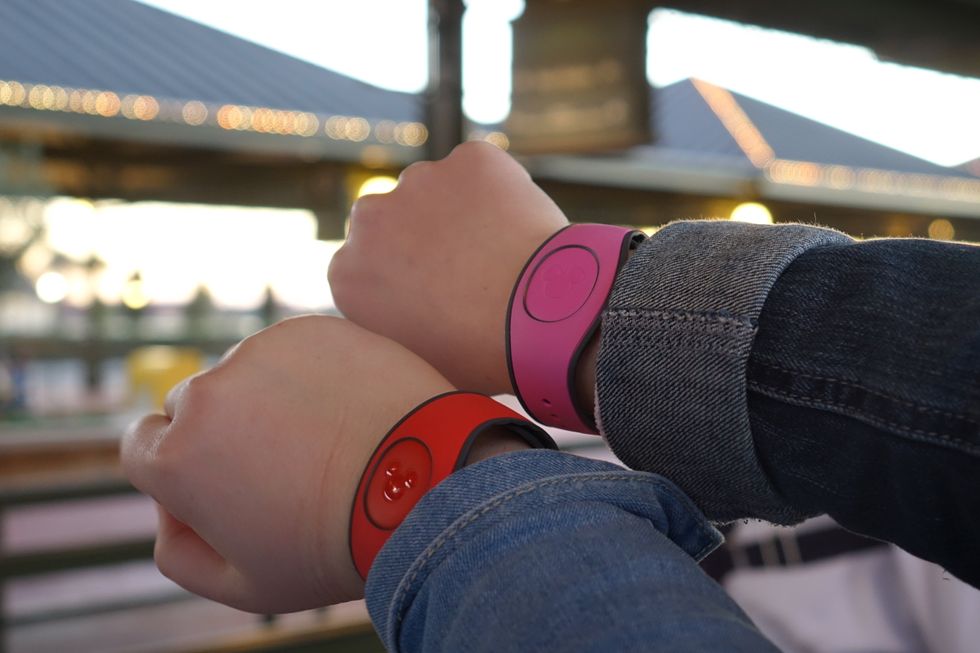 Lisa M.
UTILIZE YOUR FASTPASSES!!! Plan fast passes ahead of time so that you can get on popular rides in less than 10 minutes! Keep booking new ones once you used them up. Take opportunities to get free extra ones. Having good fast passes really can make your trip worthwhile. The Flight of Passage had a 4 HOUR wait and we got on in less than 10 minutes with our fast passes and we got to go on twice with an extra fast pass. Score!
This trip was so much fun. There is nothing better than escaping reality and getting immersed in Disney magic. So many people walk around with mouse ears, matching shirts, tiaras, and Disney merchandise. Every little detail is thought through to make it feel like whichever land you are in is completely real. If you get to go to Disney soon, there is going to be even more new things to explore. No matter your age, you can enjoy a Disney vacation (not sponsored, but I wish it was)!
Related Articles Around the Web