When you read this, it will already be days deep into 2017. Unless we were 5 years off on the whole 'the world is ending in 2012' thing. Any who, these are the things I've been favoriting towards the end of the year.
The monthly Spotify playlist. This one is much more sweet and alternative than usual. Whether it's because the end of the year is bittersweet or because I was trying to find sleep in sound, I honestly don't know the answer. From noises like JONES to Daughter, you will be hearing my thoughts in no time.

SweatLex Fitness Studio. This is my dirty little secret these past couple months (it almost hurts me to reveal, but I couldn't help myself because you just have to know about this). They are a local studio with yoga, barre, and cycle classes, as well as every combination of the three. With some added heat and willpower you will SWEAT like you have never sweat before (hence the name) and you feel like you can do anything (after you shower of course)! I've been going 3-5 times a week depending on my schedule and I have noticed a change I don't think is possible in a gym or on my own. If the solo workout isn't for you, you really like group fitnesses classes, or you actually want to see a change in yourself, @sweatlex might be for you!

Witch Hazel. For my fellow skincare lovers, this might be your new fave also. In place of your current toner/astringent you can replace it with this inexpensive grocery store find. It may smell not the best, but it dilutes texture on your skin and diminishes most breakouts, leaving you with smooth glowy china doll feels. P.S. Green/natural beauty products are very very popular now and *cheaper* (win-win)!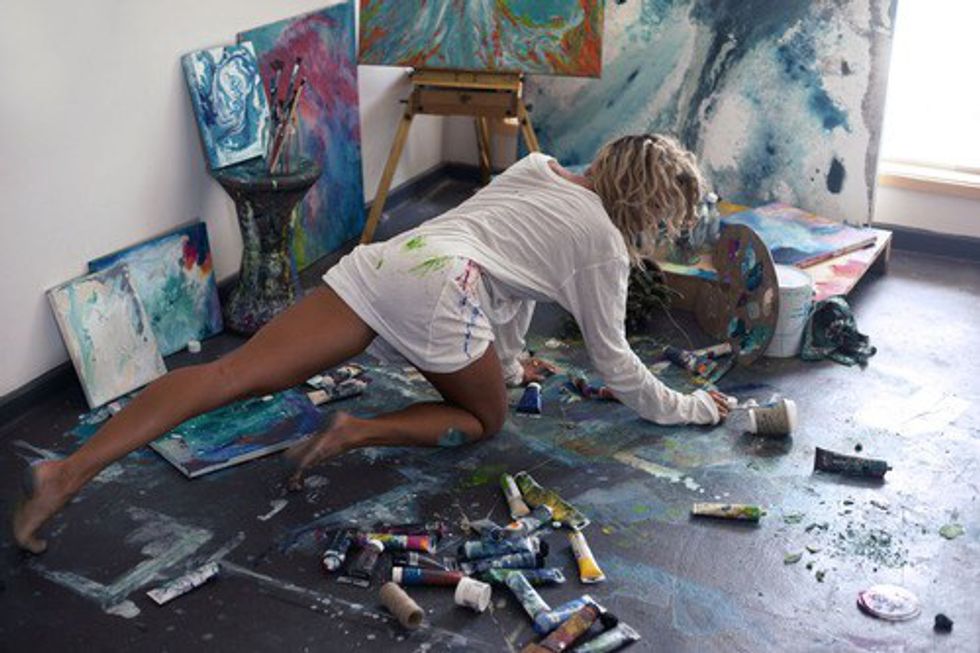 This picture. It's such a pretty reality to me that some people can have time to themselves and their art and be creative and content every day. At least that's what I get out of this photo. Or maybe she's a dentist who secretly loves to paint and have no furniture. Or maybe she's a wholesaler in Boston who took this photo of herself with a self-timer. Or maybe she works at an art museum and stole some paintings and had her accomplice document her making replicas. Frankly, I don't know and I don't care. That's kind of the beauty of it.

Breaks. Whether a physical, mental, or emotional break from someone, someplace or something, I think they're healthy and necessary. We become attached to some's and I think that has a lot to do with overpopulating anxiety. Mild or severe, people really feel that more so this time of year, hence the natural need for a little break. Virtually speaking, you probably deserve it.

Hot chocolate. Give it to me when it's hot outside, I'll love it as if it was cold. This heated chocolate milk tastes good brewed from a cup, melted over a stove, or handed over a cafe counter. My new favorite recipe is Creamy Crockpot Cocoa. Don't worry, the calories don't count.

Tune in a month from now to see the new new.