This week, a friend of mine had a tweet go absolutely viral.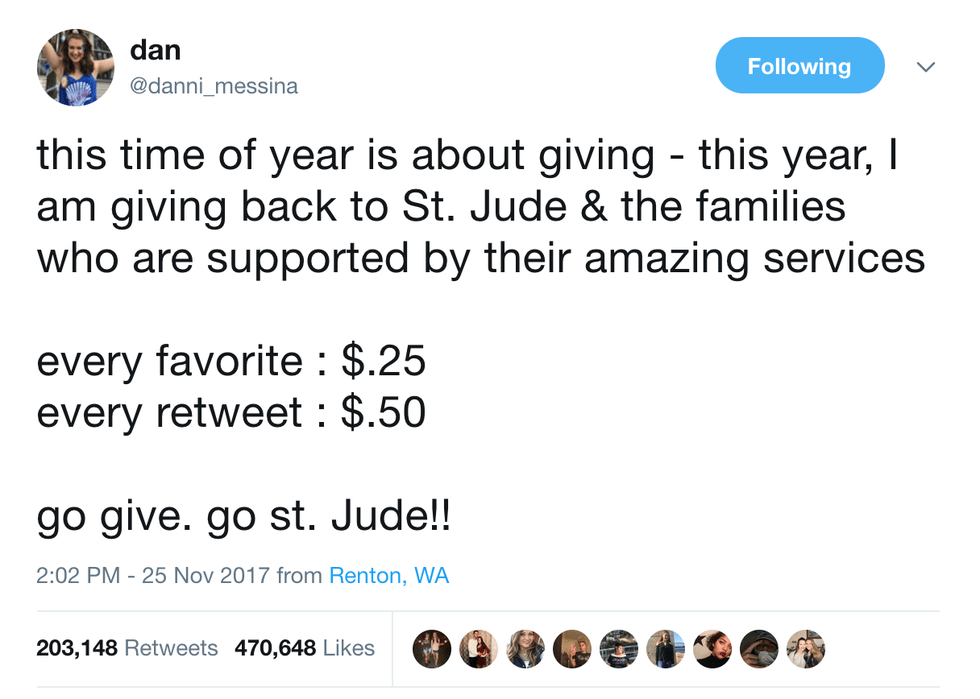 Danni is in my sorority and she writes for my Odyssey community. We go to school in the Middle-of-Nowhere-Washington, and she was hoping to donate her own money after it circulated to her friends and family.
And then it blew up.
And then the internet blew up on her.
People started commenting, complaining that Danni was a liar, that she only wanted retweets, that she should have just donated and never posted anything, that she was stupid and just another flaky girl seeking attention.
People were so wrong.
Danni is one of the most compassionate, kind and considerate people I have ever met. What other college kid do you know that would donate more than even just $20 to charity? Danni tweeted this because she is proud to be a supporter of St. Jude Children's Research Hospital, and she wanted to raise awareness for their cause.
After her tweet started trending on Twitter, Danni created a GoFundMe to raise money, since no one person, especially a college student, could afford $50,000+ in donations. Danni posted the link to the GoFundMe on social media, asking people to donate to St. Jude and to keep spreading the word.
Still, people commented on her posts, yelling at her for not being able to back up her talk with her own words and complaining that she wasn't even doing anything for St. Jude herself.
Here's a reality check for y'all.
Danni has raised over $58,000.
The page is still trending.
Dozens of news sites have contacted her and written articles about her. Don't believe me? Just type "Danni Messina" into Google. Read and weep, boys.
Not only has Danni exceeded the $50,000 goal she set on the GoFundMe, but she has raised all of this money to go directly to St. Jude. This is money that would normally have not gone to the hospital. How cool is that!
You can all keep commenting mean things, but just know that Danni has made a HUGE difference in the lives of hundreds of kids and families. What have you done today to make the world a better place? Tweet a mean comment for your own shot at "retweet fame?" Yeah, have fun with that.
Hey, Danni? Keep doing you. You're an inspiration to all of us, and you are representing Tri Delta in the greatest light possible. I'm so proud to call you my sorority sister and teammate, and I could not imagine this world without you shining in it.
Want to be a part of the cause?! Donate here!
Cover Image Credit: Danni Messina