I have to admit, going into this season of the Bachelor, I was skeptical. I liked Colton on Becca's season but I just did not see him as Bachelor material. He was only 26 years old when the season started filming and did not seem ready to get married at the end of it all. I am a die-hard Bachelor fan so I decided to give Colton a chance, and I am so glad that I did. In his pre-show interviews, it became clear to me that he is a caring man who is authentic in every sense of the word. He is deeply passionate about his charity, The Colton Underwood Legacy Foundation, which raises money to fund cystic fibrosis research and treatment. Colton is open about his own struggles with depression and anxiety in addition to being an advocate for all those who struggle with mental health issues. He also loves dogs and God, what more could you ask for? In Colton, the producers had found a perfect Bachelor that the audience could root for.
Once Cassie stepped out of the limo, it was clear that the audience had now found a couple to root for.
Their love story was a wild ride but it was also the most beautiful one to ever play out on the show. Colton showed a level of trust in Cassie and confidence in their relationship that is unparalleled in the Bachelor universe and showed that the show can be a route to find true love.
Colton always knew in his heart that Cassie was the one, and he was not afraid to give everything up to fight for her.
When Kirpa attacked Cassie and Caelynn with false accusations about them wanting to be the Bachelorette, Colton sent Kirpa home instead. When Cassie's dad declined to give Colton his blessing and she could not tell him that she was falling in love, he still gave her a rose. Throughout all the ups and downs of their journey, Colton knew what was in Cassie's heart without her ever having to say it. When Cassie freaked out about Colton not having her Dad's blessing, he made sure she knew that he was still willing to fight for their relationship.
The most intense point in their relationship was also the biggest test for them: Cassie deciding to leave the show. Unable to say she was falling in love and afraid that she wasn't ready to accept a proposal from Colton, Cassie decided to leave the show. You could practically see Colton's heart shatter into a million pieces. Instead of giving up, he doubled down on his commitment to her. He said she was the only one he wanted to be with, and that he was in love with her. This was not only a Bachelor first, but it was also the most real and vulnerable moment to ever air on the show. It was absolutely heartwrenching to watch and I wanted to jump through the TV and give Colton a hug. Colton, who struggles with depression and anxiety, was having a literal panic attack on TV. Cassie had let the other girls in the house and her Dad get in her head and convince her that she should let Colton go. She left because she wanted what was best for him, not because she did not want to be with him. Tayshia, Kirpa, and her Dad had all played on her biggest insecurities, and she could not bear to be the reason Colton did not get to propose at the end of the show.
Colton loved Cassie so much that he jumped a fence for her and ran off into the Portuguese countryside, prompting a manhunt.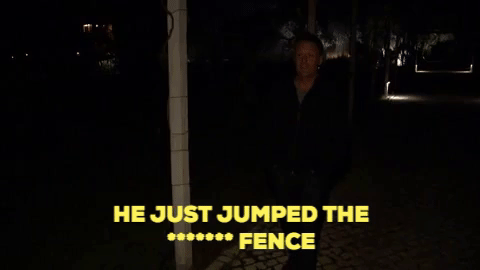 This time Chris Harrison was right, this WAS the most dramatic moment in Bachelor history. No other Bachelor has ever gone missing before so this episode is sure to live in Bachelor infamy. After the Bachelor crew scrambled to find Colton, walking alone at 11 PM at night through the pitch-black roads of Algarve, Portugal, he proclaimed that he was done with the show. Of course, it wasn't over. Colton broke up with Tayshia and Hannah G, two strong relationships that could have ended in proposals if only Colton wasn't head-over-heels for Cassie. As Colton said, he did not just want to tell Cassie he loved her, he wanted to show her by breaking up with two girls who were in love with him. He loudly wondered, "what am I doing?" He knew what he was doing, he was fighting for the one woman that he truly loved and could not picture his life without.
He truly did show Cassie how much he loved her, instead of just telling her.
Colton said that he would jump any fence for her (which was the cutest thing). Cassie taking Colton back was such a real and emotional moment. Guys, take notes from this conversation because it is how to be a healthy and supportive boyfriend 101. Colton did not pressure Cassie at any point in the conversation. Colton's skills from his time in therapy really shined here, he was clear with how he felt and approached the situation in a direct but caring way. His emotional intelligence was apparent, even though he was only 26 at the time; he showed a level of maturity that bachelors who were a decade older than him never displayed (cough, Arie and Juan Pablo). Colton even said that he wants to give Cassie the space to be herself and grow (she is only 23, after all) because he loves her and only wants what is best for her. In the end, you could feel how happy they both were to be with each other. Even though there was no proposal at the end, I definitely see one in their future.
All of Bachelor nation will surely be rooting for them now because true love is worth fighting (and jumping over fences) for.