If you follow me on Instagram, you may have seen the first picture I took from my dorm. It was a made bed with a little plush on it. As you read this, you may find it weird that a nineteen-year-old male brings a stuffed animal with him to college. So this week, I decided to tell the story of Gnar, the yordle plushie that has served as a good luck charm.
First question: what is Gnar? Well, for one, he's a character in my favorite video game, "League of Legends." When I first started playing the game, I learned of Gnar.
Gnar is a hard character to play because of his ability to shapeshift at random. But he is one of my favorites and I try to play him every chance I get. In addition, he is a signature champion of one of my favorite "League of Legends" pro-players, Jung "Impact" Eon-young.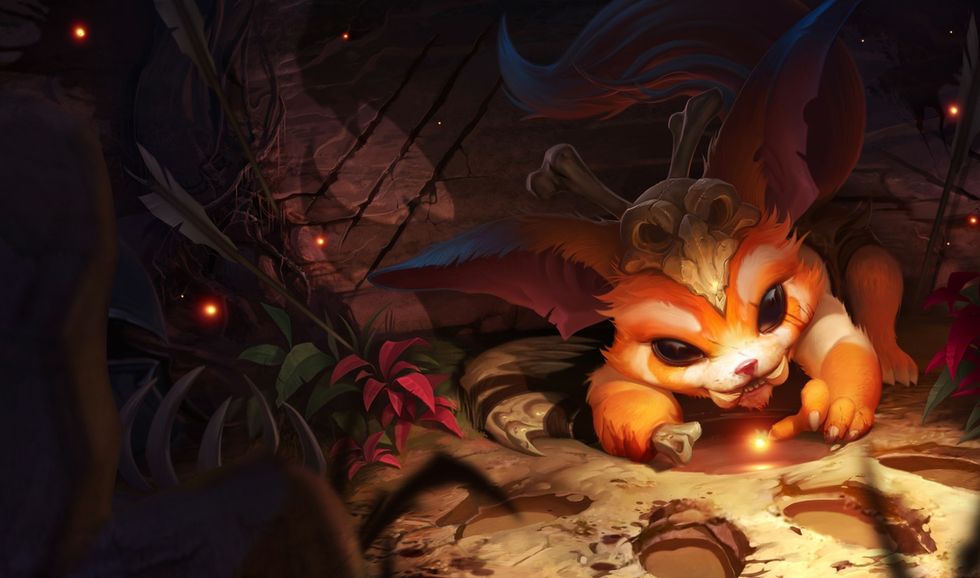 Now back to the plush. My freshman year, as stated in several articles, has had its fair share of ups and downs. But one thing I did have was a little bear I called Kane (named after Roman Atwood's youngest son).
Yet in transition between high school and college, Kane was at one point a subject of anxiety and I couldn't keep it in my dorm. And as I was trying to figure it out, a dear friend of mine suggested to find a replacement. And after looking on Amazon for a void filler, I was led to the "League of Legends" store where the Gnar plush was just waiting to be purchased.
A few weeks later, the post office had my plush in the mail and I was just excited to have it. For one, it was finally a filled void that was once left by the bear. But upon opening it, I saw the cutest little plush. And for a guy to be gawking at a stuffed animal in a packed dining hall is a rare feat. But I was so happy to have it.
As the year grew on, Gnar always sat on my bedside. It became a symbol of comfort. When I had my panics, I often squeezed Gnar's paws. And it stays on my bedside nightly.
But you may ask, Isn't that a bit strange? Well, I thought so too, until a therapist told me an interesting statistic. She told me anxious people tend to sleep easier with a plush or object of significance at their side. So I kept that statistic and keep him there.
It also serves as a bit of good luck. When I take an exam at home or write a paper, it is there to give blessings of prosperity and good grades. When I go for an audition, regardless of if it goes well or not, Gnar doesn't judge. Even my friends have taken a liking to it as many of them have hugged the plush in hopes for similar fortunes.
A plush brings a lot of memories, hugs, tears and snuggles. So when you're going through your room, go find your favorite stuffed animal as a child or now and hold it tight. You never know what it may bring to you.