Have you ever stopped to think about the girls who ALWAYS have a drink in their hand?
Chances are, they won't be caught dead without it because according to them, it has become an essential part of who they are, a part of their brand you could say.
Do you know any of these girls?
1. Coffee
She wakes up in the morning and may not be your ray of sunshine, but let her drink a cup or two of her favorite coffee- be it hot or iced- and she will be your best friend. She may not always dress to impress, but what does that matter when she treats herself like a princess every day? If you try and tell her she needs to try something other than coffee, she might kill you because nothing is better than a cup of coffee to get the day started, keep it going, or end a long day.
2. Camelbak's
Is it really water? You may never know but this girl will never leave home without her handy water bottle. She may even have more than one, you know so she has a different one to go with every outfit she owns. It's also probably joined her on many camping/hiking trips... and maybe even a few spring break trips.
3. Sweet Tea
It's the south, of course, this one is a major element to a girl's brand. She talks sweeter than her tea, and her smile is warmer than Georgia on a hot summer August day. She more than likely will be wearing a Southern Comfort shirt with a full face of makeup ready to take on the world.
4. Kombucha
She's about as granola as they come. She eats organic, gluten-free, free ranged everything, you name it, she's probably on it. She likes to make sure that everybody knows that she doesn't just buy any kind of kombucha, she either makes her own or she buys it from a local store that makes their own brew. She wears her Chacos, Enos on the green, and listens to Indie music all day long and if you try and tell her to listen to something else, you better start looking for a new friend.
5. PSL
If it is fall, you know this girl will be wearing her riding boots, a blanket scarf, and will be toting this warm beverage to class with her. Every. Single. Day. She may spend too much money at Starbs each week, but what does it matter when the drink completes the "perfect fall outfit?"
6. Energy Drinks

She walks around with her hair in a messy bun and the shirt that she went to bed in because she needs to save all of her energy for the things that really matter like, studying, eating, and talking about how she looks like a homeless person on her Snapchat story with some kind of filter on. When you look at her walking around campus she probably has RBF, her Rayban Wayfarers, and some kind of greek like t-shirt on. She's a blast and a half to sit next to in class because she will spend the next hour and fifteen minutes making fun of people in the class with you.
7. Arizona Tea's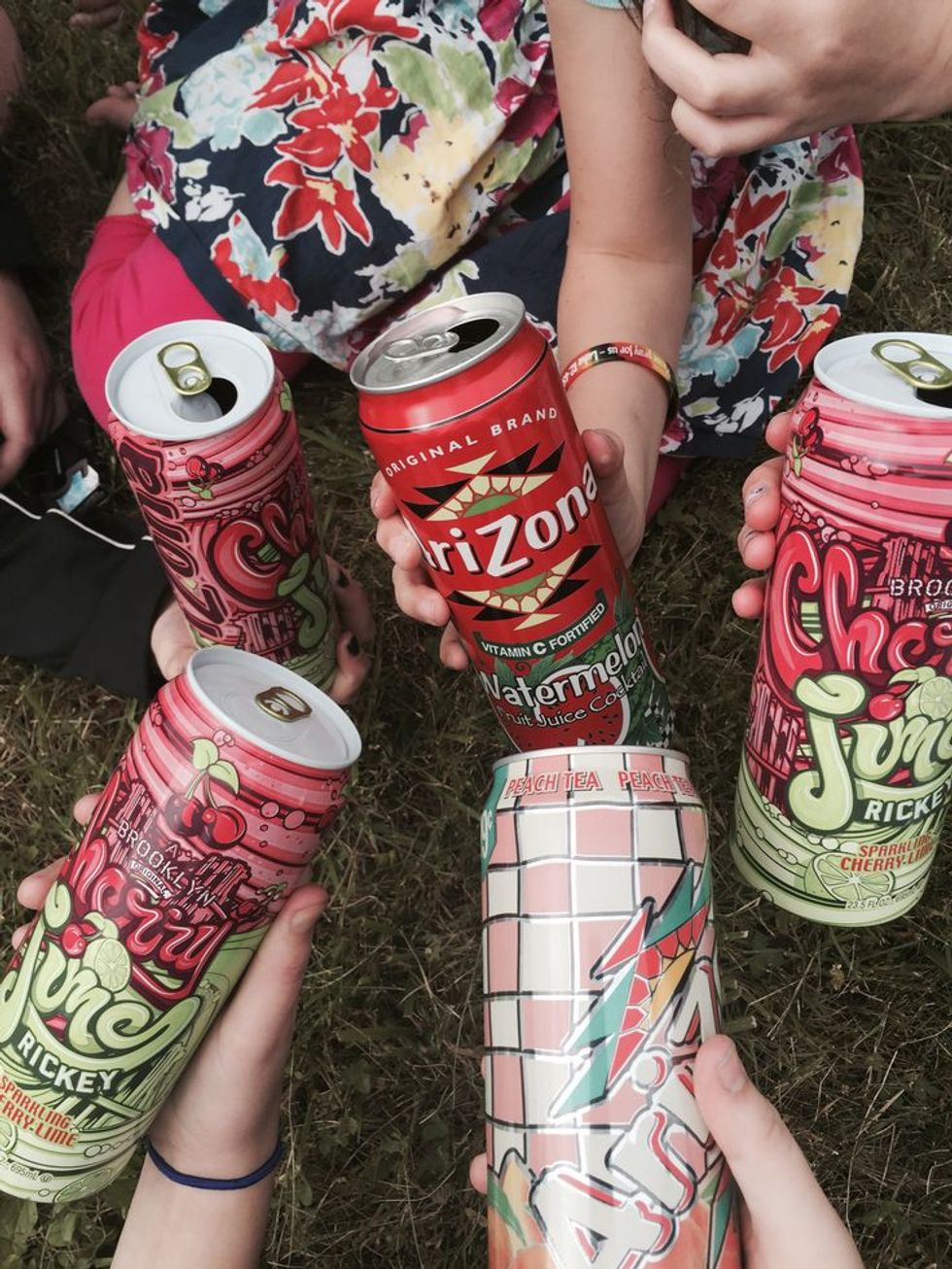 She's not fully committed to the whole southern sweet tea thing, but knows that tea is a way to be accepted here in the south... even if it tastes like juice. She has probably tried all of the different flavors and has two that she keeps heavily in rotation and will not be caught dead in a class without one, I mean how else is she going to survive? She normally dresses pretty casually, you know jeans and a t-shirt or something cute but not really office appropriate.
8. Any "pretty" new Starbucks Frappuccino
Now, this girl, she's all about the Insta likes. She's on top of every trend there is and is probably one of the first people to post about it because let's face it if you aren't first you're last in this age of social media. She most likely runs her own blog, has a Tumblr dedicated to her favorite artists, and owns every fashion magazine out there.
9. Jugs of Water
Oh, our beloved athletes. She probably plays at least one sport for the school and is always rocking her workout leggings (that she actually uses for workouts, not just looking fly as hell at school). She eats healthier than anybody you know and trains like a mad woman when at the gym, she probably even puts some of the guys to shame there. Most of all, she's the one you will call when you need some backup in a tussle.

10. Wine
She probably goes to class all morning and works until late in the evening or vice versa and spends her nights doing homework and sipping on the best- or cheapest- glass she can get her hands on. She spends her weekends looking for wine tasting events and is dressed to the nines when she goes; you know what I'm talking about, dress, heels, contoured, hair blown-out, literally looks perfect whenever she is seen outside of the classroom or work. We envy her because she looks like she has it all together, but deep down, she is just as a mess as we are.
11. Anything to disguise the alcohol
Whether it be game day or presentation day, we all know this girl is ready to throw down at any moment in time. She is always dressed in something that is cute, but never over the top because why ruin your best clothes when you're always ready to party.