"You look like you need to talk to somebody."
I rolled my eyes and continued typing steadily. I heard the scraping of chair legs but refused to look up from my laptop screen.
"Come on, what is it?"
"I don't want to talk about it, Micah."
"Ah, she does have a voice!"
"Look, I have a lot of work to get done. Can you save the theatrics for later?" I said, blowing a stray strand of hair out of my eyes.
"Can't do that."

"Why not?"
"Because you need to talk about it. You aren't going to get anything done while you're obsessing over whatever it is that has that scowl stuck on your face."
"The scowl is on my face because you won't leave me alone. I came here because you wouldn't stop hanging around my office."
"I can tell something is bothering you."
"What part of, "I don't want to talk about it" aren't you getting?" I snapped.
My eyes blazed as I met Micah's. He threw his hands up in defeat.
"Fine. You don't have to tell me but I'm not leaving. I'll just sit here and keep you company while you work."
I gritted my teeth in frustration.
"Please, just leave me alone."
I started typing faster as Micah stared at me for a moment. It seemed like he was trying to measure where I was at mentally before he responded. He let out an exaggerated sigh.
"Alright, you win. I'll leave you alone for exactly an hour to do your work. After that, there'll be no getting rid of me. And don't forget, I know where you live."
"I should hope so. We live in the same building."
Micah pushed his chair in and started to walk away.
"One hour. I'll be back."
"Yeah, yeah," I muttered, waving him off.
As much as he annoyed me, Micah was one of the best friends that I could ever ask for. I probably shouldn't have snapped at him the way that I did but he'd understand. I made a mental note to apologize to him later and to buy his favorite ice cream for our weekly weekend movie night.
File:AMS coffe shop ro.JPG - Wikimedia Commons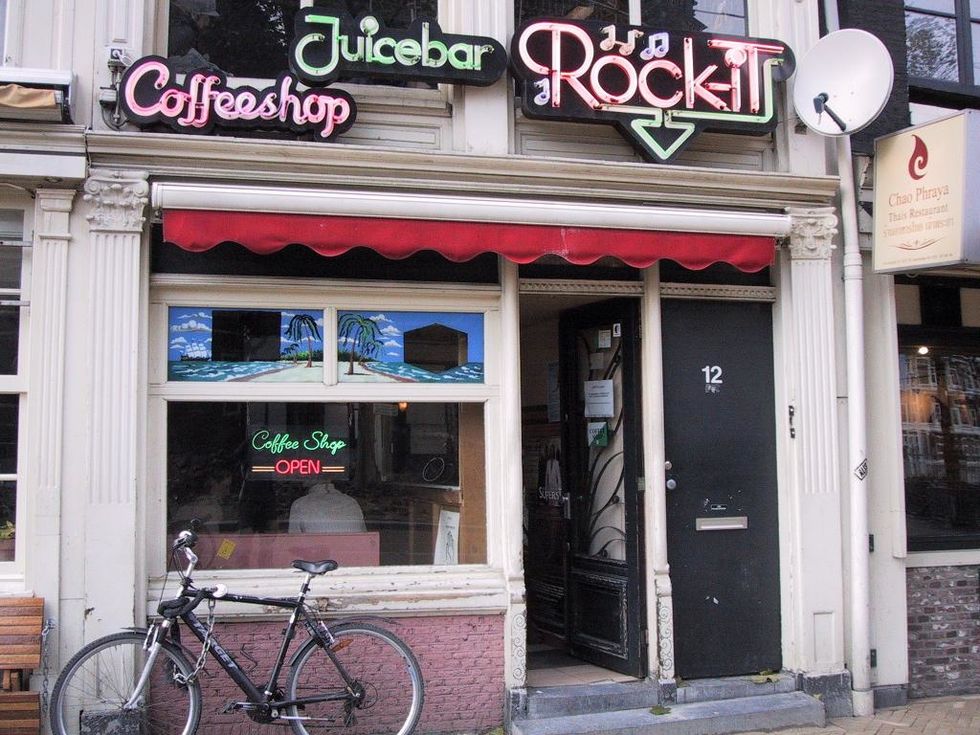 Coffee Shop
I turned my attention back to my computer screen and my scowl returned. Once again, I had a giant mess to clean up after my manager had screwed up with another client. Our company was lucky that we'd managed to avoid getting sued with all of the mistakes that she'd made since she'd been hired. The previous manager had been promoted and now I was left picking up the mess left behind thanks to the outside hire.
I ran my hands over my face tiredly before diving back into the email chain with my very, very irritated client. I'd handled everything for the wedding up until a week before when my manager had decided she needed to take over. Needless to say, the wedding that was planned and the wedding that happened were vastly different. Unfortunately, the only thing that I could really do was explain to my client that we were still working out the kinks with new management styles.
"Excuse me?"
I jumped as a voice came from right beside me.
"Jesus Christ!"
"I'm sorry. I didn't mean to scare you. You knocked your wallet off of the table and I didn't want you to miss it."
"Oh, thank you. I really appreciate it."
"It's no problem."
The man the voice belonged to turned to walk away before abruptly turning back around.
"You're Helena Grayson!"
"Yes?"
"You coordinated my sister's wedding! You were amazing!"
"Oh, thank you."
"Brandon Madison. My sister is, well was, Cara Madison."
"Oh! I remember now. Your sister was wonderful to work with. She honestly was so easy going that it made it a lot easier to get everything done."
"Do you mind if I?" Brandon asked while gesturing to the chair across from me.
"No, not at all."
"Thanks."
"No problem. So how is Cara? Still blissfully happy with her new wife?"
"She's great. They're thinking about adopting a baby so I may get to be an uncle soon."
"That's great news. They seemed like they'd make great parents."
"I think so. So what have you been up to? Making more people's dream weddings happen?"
I let out a defeated sigh.
"Oh no. What did I say?"