Maybe you saw it.... maybe you didn't. If you didn't, go ahead and do your own web-search so you can be up to speed with the rest of us.
Chris Evans accidentally leaked his own NSFW pic this week, but you might be surprised at the way he played it off. The picture gained a huge amount of attention online, as can be expected, but the star turned that attention into something good, urging his audience to get involved in the November election.
Evans's reaction tweet can be seen here: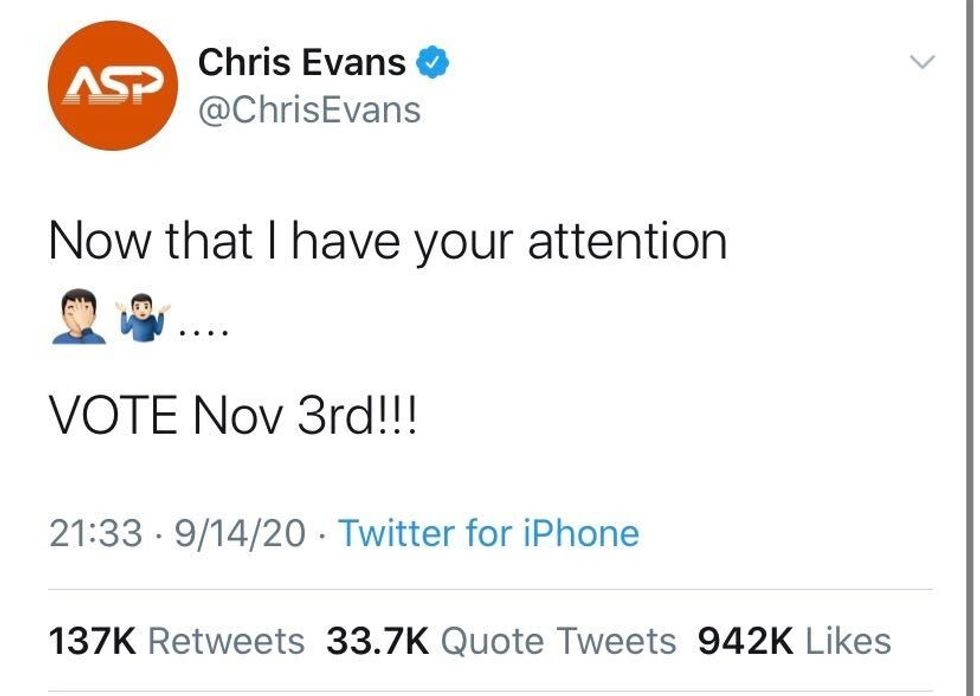 Sure, this might be all fun and games on the surface, but it actually opens up the conversation to something much larger. Evans decided to use the attention being given to his social media platform in order to do good, specifically by encouraging his audience to vote in one of the most crucial elections we've been faced with.
Honestly, more celebrities should be following suit. There are plenty of people out there with huge platforms who choose to sit idly rather than commenting on important things happening in the world, and that should be frowned upon more than it is. People need to use their platforms to educate and spread awareness, and while yes we can applaud Chris Evans for choosing to handle his mishap with such grace, I think there is also a certain line that need not be crossed, and that line is this: should we really commend people for doing the right thing? Shouldn't we already be expecting that of each other?
The moral of the story, though, is this: vote on November 3rd. Make sure you are registered to vote on November 3rd.
Oh, and if you aren't registered to vote, there's no excuse to stay that way.... you can register right here at this link. So do it.