I had always had a passion for severe weather. In elementary school, I would check out books in the library about tornadoes. Other kids used to make fun of me for it. With that being said my curiosity did not stop there. I watched a t.v show on the Discovery Channel, called Storm Chasers. I learned that there are normal every day people out there who learn about tornadoes and then use their knowledge to track and warn the public that a dangerous storm is coming, some even work to better understand the science behind tornadoes. It became my lifelong dream to be a tornado chaser.
How it all started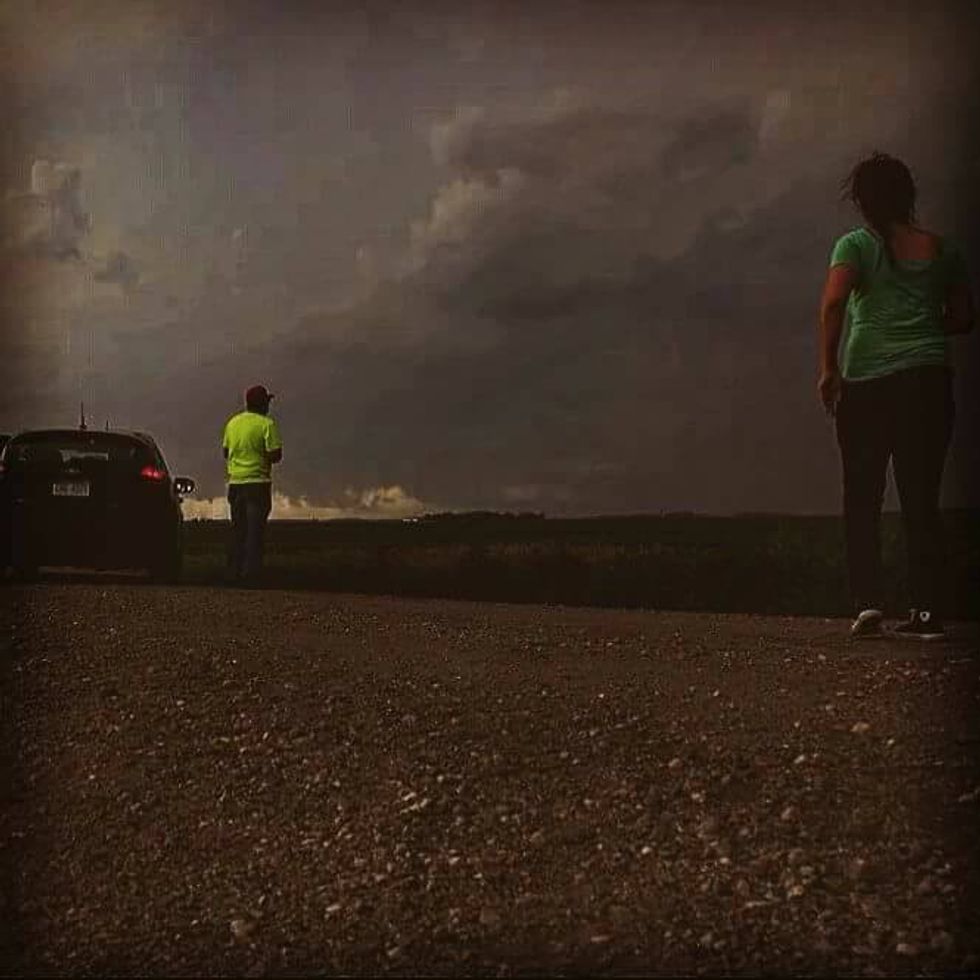 In May of 2017, I met Eric Lawson. He had been chasing tornadoes for about five years at that time. He had the chance to see an EF4 tornado near Ava, IL, Feb. 28th, 2017. He begins teaching me about the science behind chasing tornadoes, and better understanding how and when they form. He also showed me how to spot a tornado using radar. During that time, we begin learning more and more about each other and a few month later we started dating.
My First Tornado
July 10th, 2017 Eric and I, along with our storm chasing friends, Brandon Oboikavitz, and Michael Enfield hit the road and headed to western Indiana where the Storm Prediction Center was calling for bad weather and potential tornadoes. Storms began to fire. One of these storms caught Eric's eye on radar near Camden, Indiana. We quickly raced to get on the storm that soon became tornado warned. To my disbelief, a ghostly tornado appeared right before our eyes in a field just a couple miles away from us. TORNADO ON THE GROUND! We quickly relayed the information to The National Weather Service in Northern Indiana. That tornado was officially rated an EF-1. It had winds of about 100 miles per hour. After that Eric, Brandon and I began our way to North Dakota, for what would be an adventure none of us would EVER forget....
HILLSBORO, NORTH DAKOTA July 11th, 2017
Eric, Brandon and I arrived in the town of Fargo, North Dakota on the afternoon of July 11th, 2017, we watched storms begin to pop up to our North. Soon, they noticed a storm that became tornado warned not too far away from us. We watched as what they call a supercell, or the storm that most tornadoes are born from, build. It looked like a beautiful alien mothership as it chirred its way through the plains. It was like nothing I have ever seen before in my entire life. We watched until it started coming at us and we had to quickly flee! But before we did we got to see the most beautiful storm backlit by the most beautiful orange glowing sunset. This supercell produced a total of four tornadoes! Including one, an EF2 tornado with winds well over 110 miles per hour, that was 3/4th of a mile wide!
I absolutely am thankful that I get to follow my dreams especially with the man that I love! There is more and more things that I learn about storms every single day. Eric has taught me a lot and so has the other storm chasers I look up to. I look forward to my next chase! Never give up on your dreams, even when people say you will never be able to do them! You can! I did!