My favorite Christmas song is undoubtably "Carol of the Bells." I remember hearing it in the classic Christmas movie, "Home Alone," which you need to watch if you have never seen it. It doesn't matter if the version is instrumental or has the classic words that say "Christmas is here," I love it.
So here is a list of some of the best versions of "Carol of the Bells" to help you get into the Christmas spirit:
1. Pentatonix.

I think that everyone has heard of Pentatonix and loves them. There is something wonderful about Acapella groups, but this group has an edge over other Acapella groups in my humble opinion.
The fact that every sound in this version is made with the human mouth makes it that much more impressive. This would be the perfect song to listen to as you drive around looking at Christmas lights, a time honored tradition of the women in my family.
2. Lindsey Stirling.

Lindsey Stirling is one of my favorite artists of all time. She combines the classic sound of the violin with techno and upbeat backgrounds to create something new and never heard of before. If you have never heard her play, I urge you to give her a chance.
She has released multiple albums, but her most current was a Christmas album released only this year titled "Warmer in the Winter." One of her songs was, of course, "Carol of the Bells." It is hauntingly beautiful with an intense background that builds in your soul that is only intenisfied by the violin leading the piece.
This song makes you want to dance and brings a smile to your face. For that reason, I think that this version is perfect for dancing around the kitchen baking Christmas cookies with your family and friends.
3. Straight No Chaser.

Here is another Acapella group, one that is comprised of just men. This is by far one of the most haunting versions of the song and just as impressive as the Pentatonix version.
This would be the perfect version to stare out a window as the snow falls. It is calming and powerful in a way that just makes you feel cozy and warm.
4. Everfound.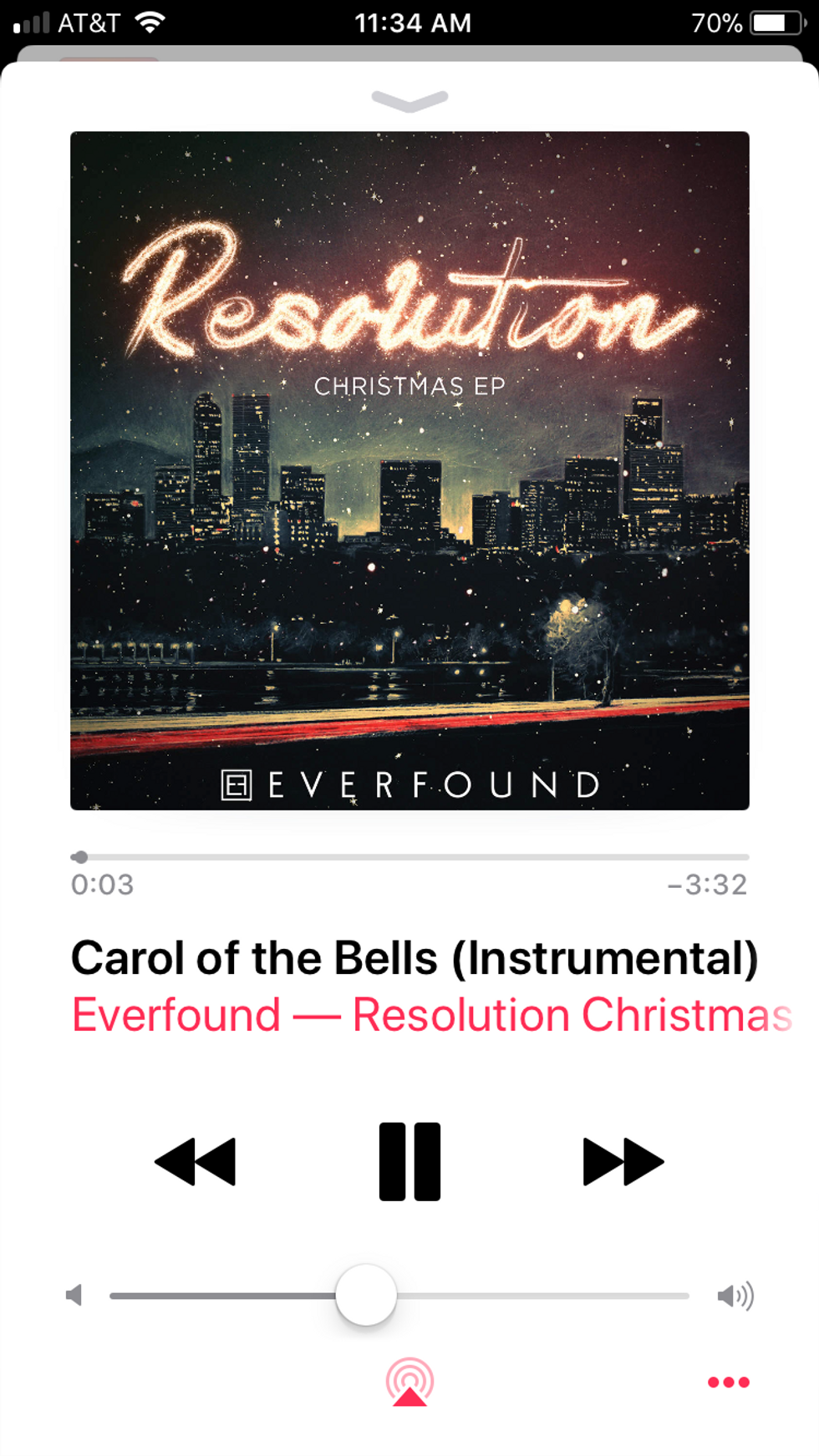 This is a version most of you have probably never heard of, and to be honest, is my all-time favorite version. Everfound is a Christian music group that was founded by three brothers in Colorado. They don't have many albums out, but what they do have is beautiful.
This is another instrumental version and one that doesn't immediately bring "Carol of the Bells" to mind. All I picture when I hear this song is dancing around a golden ballroom in a brilliant dress; basically this is the song that I dance to when I image myself in Beauty and the Beast (strange I know).
I personally listen to this version of the song throughout the entire year, so to me, this song is perfect for just about every Christmas activity. That being said, I think going ice staking to this song would be closest to my mental image of dancing to this song.
5. The Piano Guys.

This is another classic instrumental version. I'm beginning to think that I prefer instrumental versions of this song.
With nothing but the sound of strings in your ears, this is the perfect version to curl up and read a classic Christmas book to. It is calm and festive at the same time.
6. Trans-Siberian Orchestra.

If you like rock and roll, this is the version for you. This is by far the most intense version, but there is something so classic about it that even if you don't like rock and roll, you probably like this. It isn't called "Carol of the Bells," but rather "Christmas Eve/ Sarajero 12/24."
Enjoy the intense guitar solo and powerful instrumental chorus. This is the perfect song for decorating your Christmas tree and rocking out while you do it.
7. John Williams.

It would be a sin not to put the "Home Alone" version on the list. I think that every child needs to see this movie at least once in their life, preferably once a year at Christmas. My family watches this throughout the year, to be honest.
The soundtrack of this movie perfectly compliments the plot and draws you further into the world of forgetting your youngest son at home as you travel to France for Christmas. This version is perfect for simply enjoying a family Christmas movie, snuggled up in a fuzzy blanket.