When people hear "Spring Break" they think of Cancun with a group of friends and an unhealthy (and irresponsible) amount of tequila shots and cheap beer.
Not for me.
With an open mind and an empty stomach, I flew to California for the week to visit a friend I had met in Paris the previous summer (shout-out to Alex for putting me up for a week in her apartment and being my tour guide). I had never been to the West Coast before and did very little planning beforehand. I relied heavily on Alex to give me the "Local's Experience." I wanted see a few tourist attractions like the Hollywood Sign and Walk of Fame, but mainly my goal was just to get away, have fun, and eat good food.
Mission accomplished.
In a week's time, Alex showed me the ins and outs of the Golden State from a local's lens (In-N-Out burger included). I learned that Californians don't cross the street without the proper safe-to-walk signal, and they dress up to go everywhere. Electric scooters called "Birds" are scattered throughout Santa Monica and are more efficient than Uber sometimes. Traffic is horrendous compared to the East Coast and the Oscars are a big deal. Most importantly, I discovered the best local drinking spots and eateries to fulfill my love for food, or at least until my next meal.
---
In-N-Out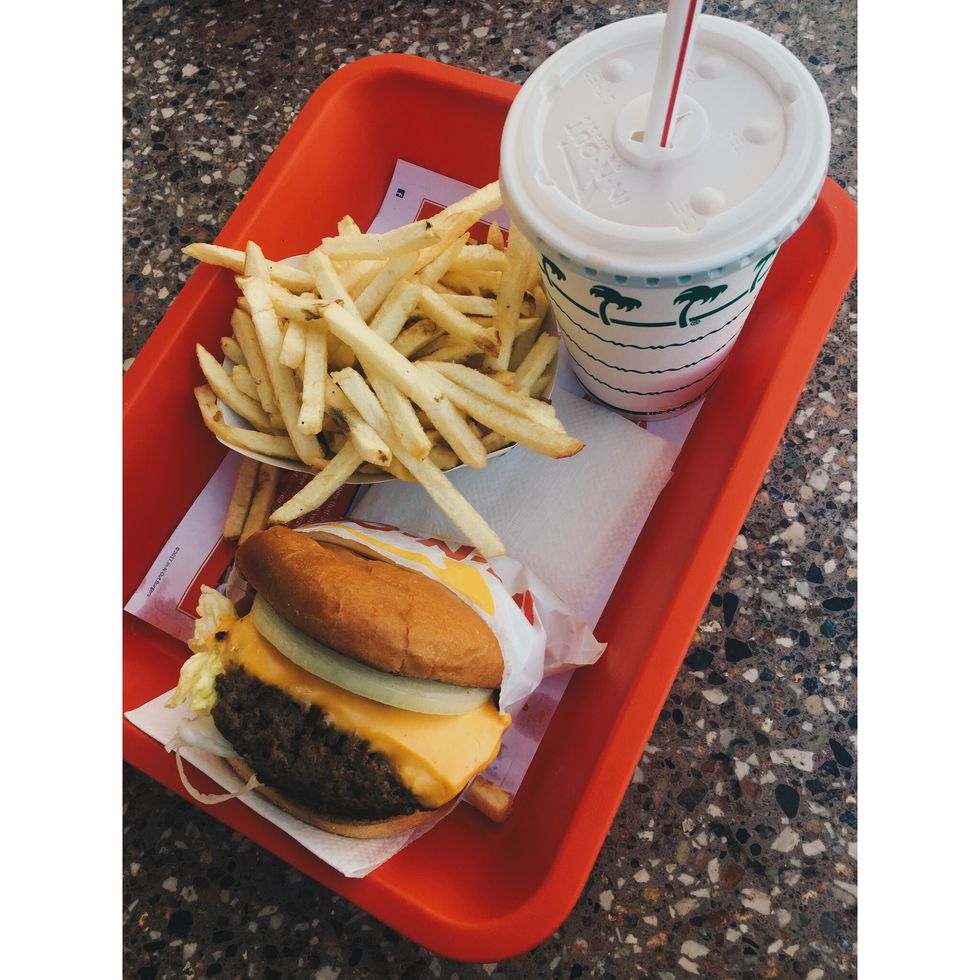 I gave up meat for Lent. Lucky for me, I was able to make a Sunday stop at this popular "fast" food joint for a cheat meal. I ordered a #2 (cheeseburger, fries, and a drink). I subsituted my fountain drink with a chocolate milkshake, which was delicious as expected. Alex ordered her fries Animal Style. I did not, however I highly recommend this. Animal Style tops your food with the secret sauce and cheese.
Egg Slut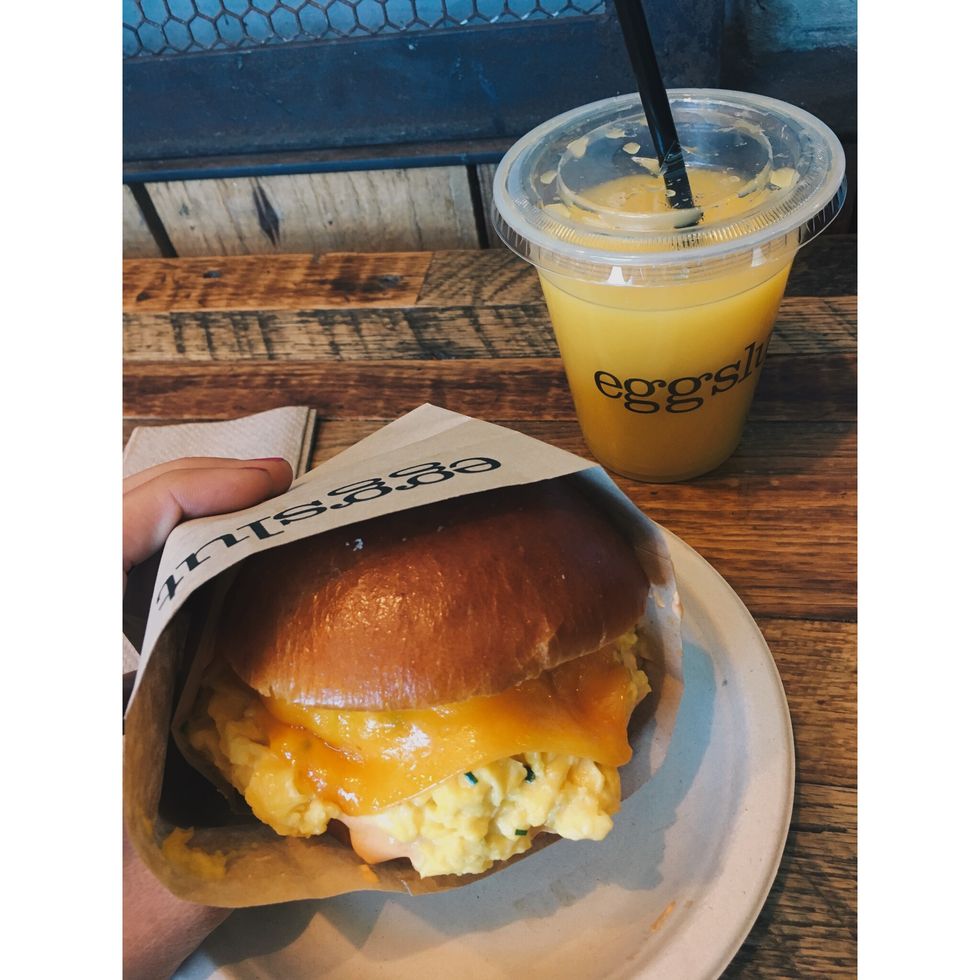 I love eggs! This breakfast eatery is an Instagram favorite. I went to the Venice location, but Egg Slut is scattered all around Cali for your palette's pleasure. My order was the Fairfax Sandwich, which includes cage-free scrambled eggs, chives, cheddar cheese, carmleized onions, and sriracha mayo on a warm brioche bun paired with a much needed cup of OJ. It fit perfectly with my vegetarian diet.
Bodega Wine Bar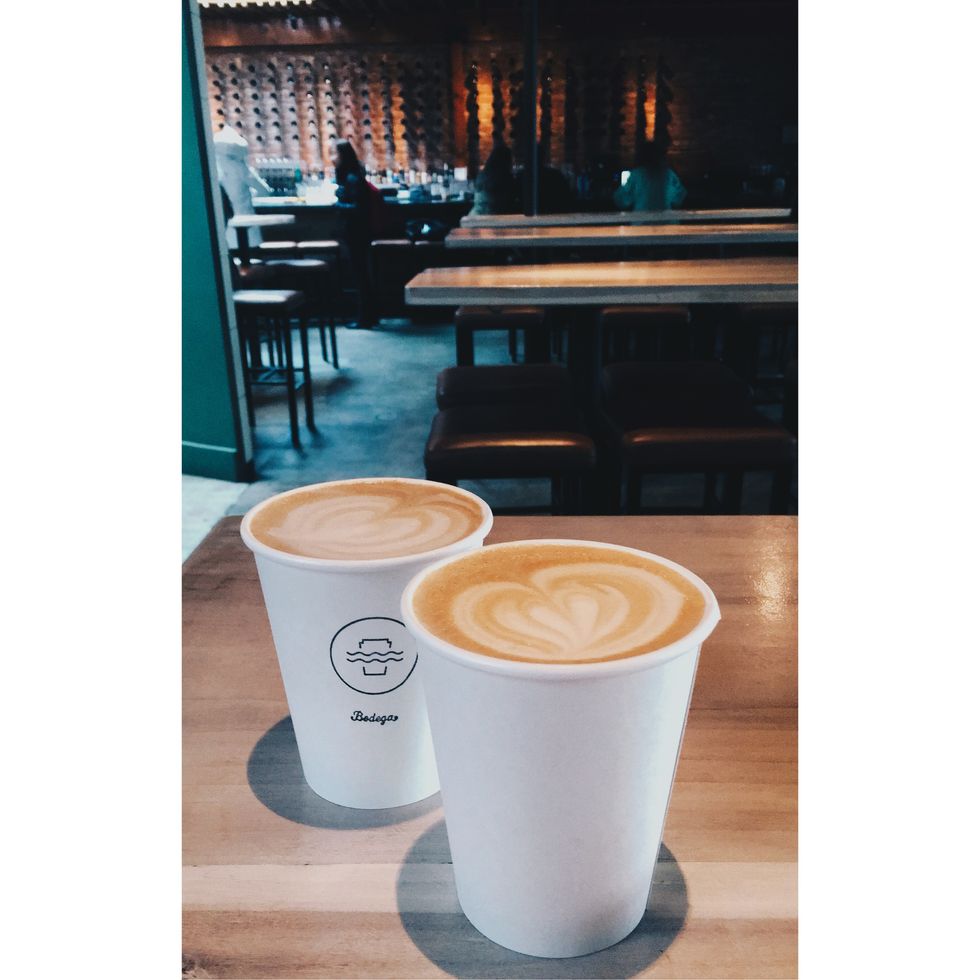 Savory lattes from 8am-5pm. I've been here 3 times it was that delectable. Plus, latte art! They also have a small selection of bakery items (croissants). How could you not enjoy this place?
Despite being called a wine bar, I didn't actually taste any of the wine. At 5pm they request all laptops go away, and the cafe turns into a nice happy hour/nightlife spot. If more time allowed, I definitely would have checked out that scene.
The Misfit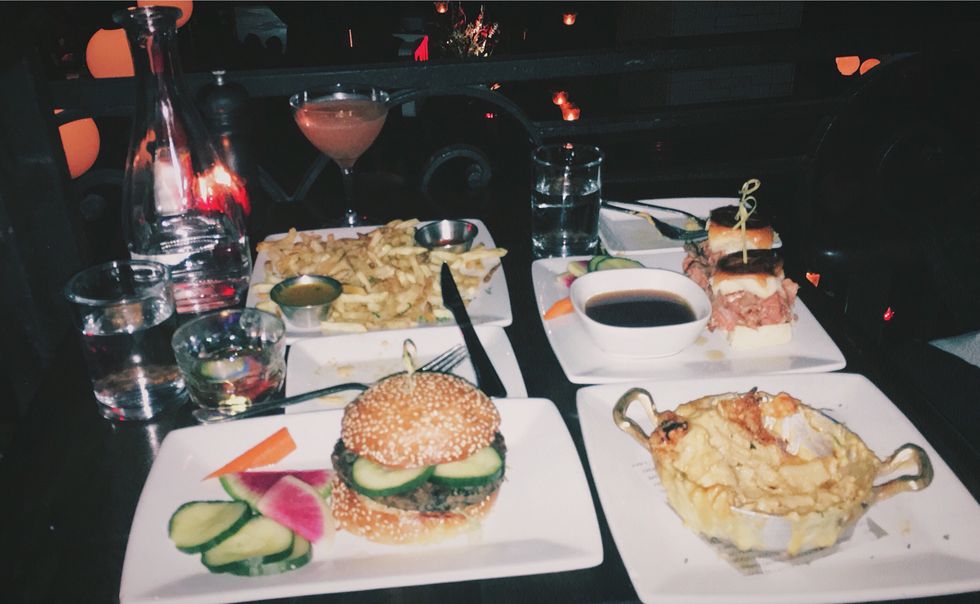 Alex and I went to The Misfit for dinner. Hand-crafted cocktails, comfort food, and a free chocolate chip & seat salt cookie after your meal. I had [a couple of the] Pimm's Punch during happy hour. It was topped with ginger ale and garnished with a cucumber and a strawberry slice. Alex tried the Goodnight Emilie (featured above) and the Festival De Las Flores (not featured). For appetizers we enjoyed the French fries and baked Mac n Cheese. I was able to maintain my vegetarian diet at this restaurant. I ordered the Ingo's Tasty Diner Veggie Burger. We were so filled with this incredible meal, we forgot our to-go boxes.
Brick + Mortar

We just couldn't get over the fact that we left our fries and Mac n Cheese at The Misfit the night before, so we made sure to order more at the #1 brunch spot in Santa Monica. We socialized with other brunch-goers & day-drinkers while indulging in bottomless mimosas. I ate the breakfast sandwich, which had egg, tomato, cheddar cheese, greens, and herb mayo on sourdough bread. I substituted the bacon for avocado, so I wasn't cheating on my no-meat goal. Also, make sure you say hi to Otha, the amazing bartender.
Townhouse and Del Monte Speakeasy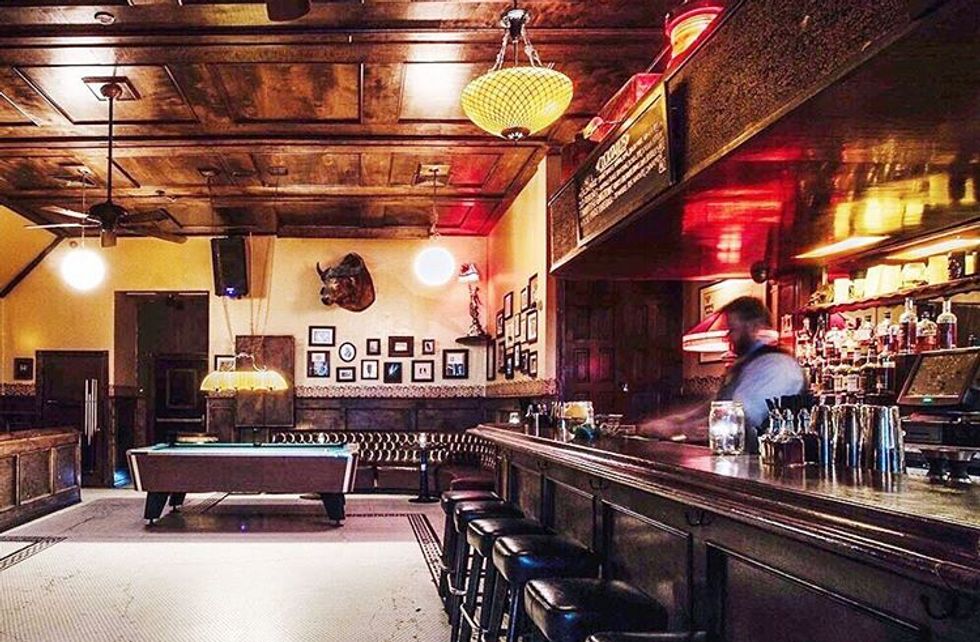 This is a historical venue for nightlife in Southern California, located in Venice, right near the Venice sign and Egg Slut, which I was talking about earlier. Hands down, a mysterious yet extremely fun place to get your dance (and drink) on. Alex and I went with some of her girlfriends and we mingled while drinking Moscow Mules. You must go to this bar if you are in town!
The Penthouse Restuarant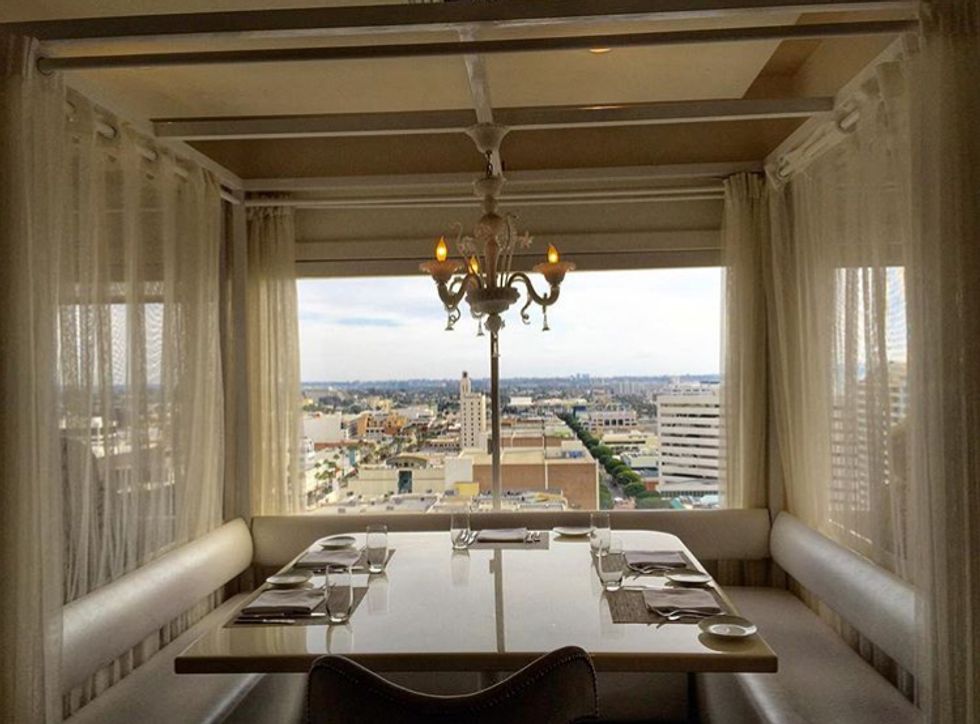 Incredible, panaromic views from The Penthouse Restuarant located in the Huntley Hotel. You can go here for breakfast, lunch, dinner, dessert, brunch, and happy hour. This was the first place I went with Alex after she picked me up from the airport. We got there as they made last call so I didn't get to experience the full essence of this beautiful and timeless opportunity. I ordered a watermelon cucumber mojito. It screamed, "Welcome to California!"
The Venice Whaler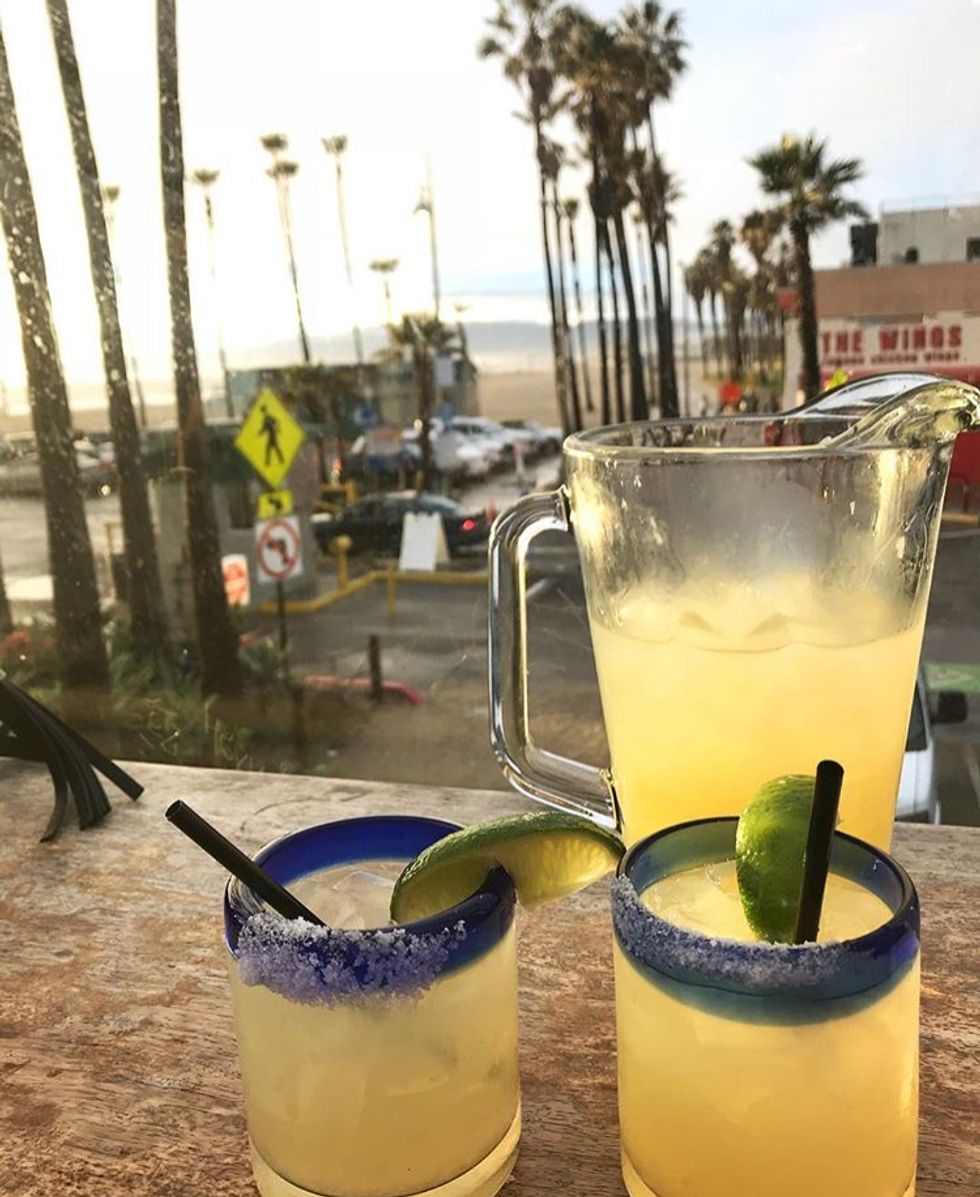 A fun, watering hole steps from Venice Beach. With golden sunset views, the Venice Whaler is the place to be in beautiful weather. It is the party you can go to knowing one person, only to come out with 20 new friends. As you can see: pitchers full of margaritas are the way to go (and make friends) at the Whaler. Cheers!
Flower Child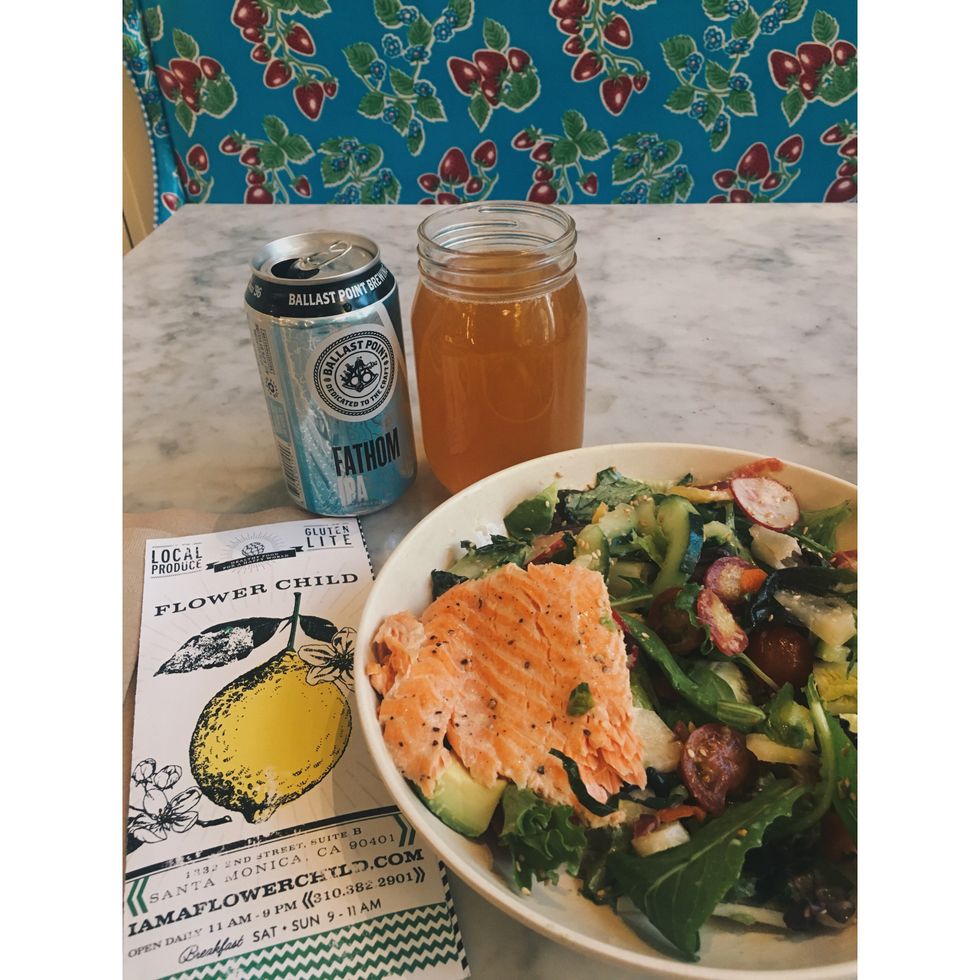 This was definitely one of my favorite places to eat healthy, vegetarian food. Flower Child is a natural and organic cafe with a bohemian vibe to it. Very casual, happy go-lucky establishment. The food is ready relatively quick, which is a plus, and the portion sizes are gratifying especially after a long day walking around the city. I ordered the chopped vegetable salad and added salmon for an additional price. With my meal, as you can see in the photo, I had the Ballast Point Fathom IPA. I made it "Shandy" by adding the signature lemonade. This meal exceeded my expectations and I will look for their other locations whenever I'm in Maryland, D.C., or Georgia.
The Bungalow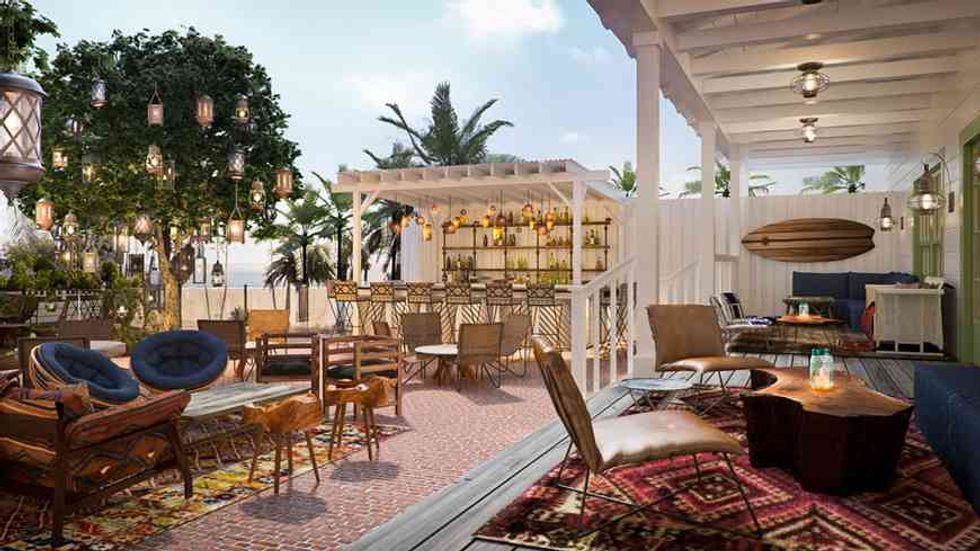 The Bungalow is a trendy hang out for locals and travelers. It feels like home rather than an actual bar with couches, game rooms, private dining areas, gardens, patios with outdoor plants and twinkling lights for a romantic touch. Sometimes there is live music, which adds to the ambience. Even on a Tuesday, this spot is the place to be. I ordered fish tacos (in celebration of Taco Tuesday) and a signature Bungalow margarita. Watch out, the fish tacos have a bit of a kick to them!
Sloan's Ice Cream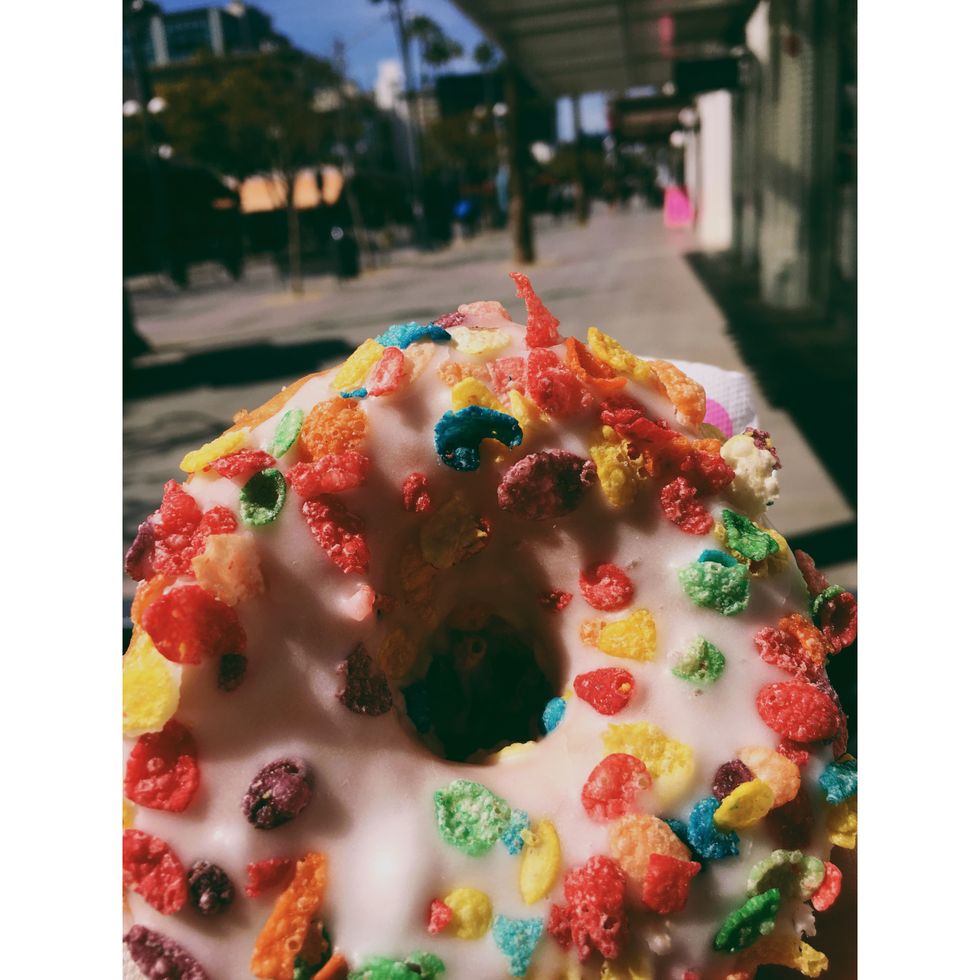 Residing on the 3rd Street Promenade is Sloan's.Dessert options from ice cream to baked waffle cones, candy, cookies, and donuts fill the store. I saw the fruity pebble donut from the window and had to get one! If you have a sweet tooth, this is right down your alley.
Backyard Bowls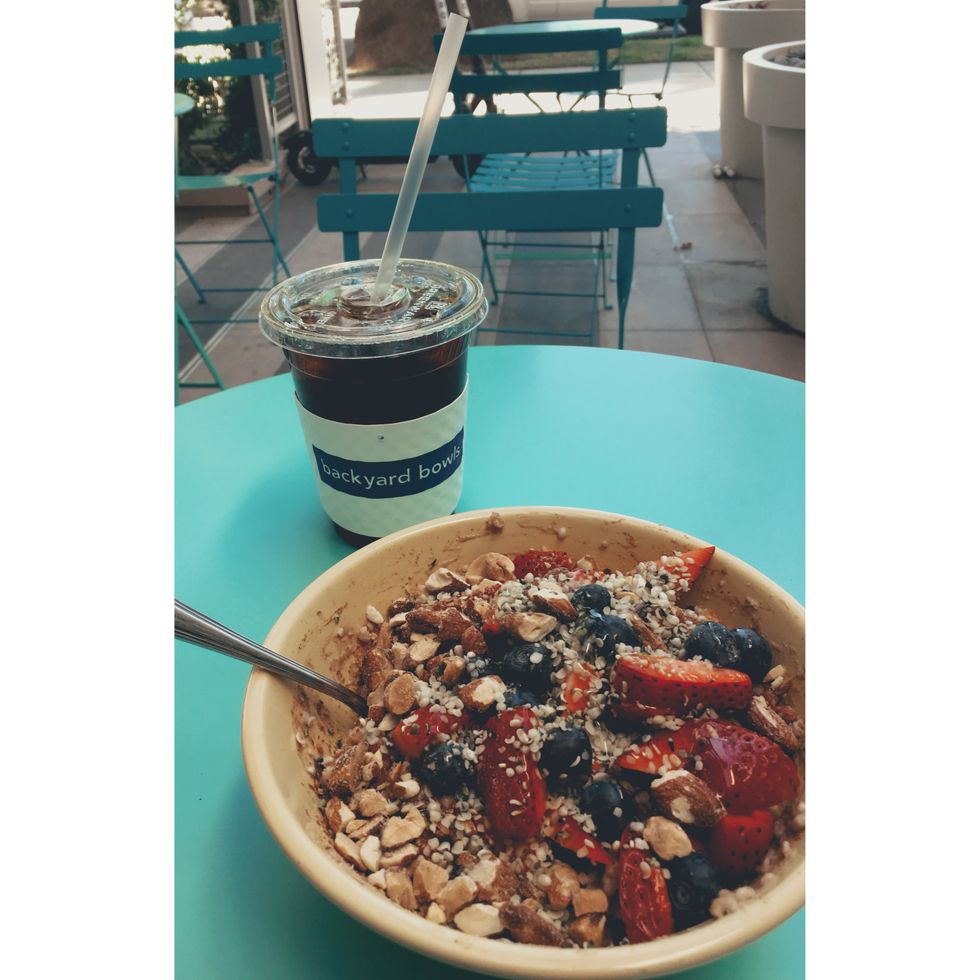 Another healthy and delicious option for vegetarians! They specialize in açaí bowls, porridge (oatmeal), smoothies, and specialty toasts. Can you say Avocado toast? Yum. I tried the cold brew and the anchor oatmeal topped with strawberries instead of bananas. The anchor also comes with steel-cut oats, cashew milk, pea protein, almonds, blueberries, goji berries, hemp seeds, cinnamon, and honey. Wholesome and healthy.
There were a few other places I recommend eating at based upon their popularity, however I didn't get a chance to try them myself. Sidecar Donuts is a small donut cafe, Tocaya Organica is a healthy mexican lunch spot with vegan and vegetarian options, and Lemonade which is another healthy, build it yourself, portion controlled option.
---
Now, I'm back at home where it's cold and wintery. We're missing the "spring" in Spring Break over here on the East Coast. So I'll definitely be California Dreamin'-About-Food for a while. A+ from my taste buds!