Finn Balor still has yet to have his rematch for the title he never lost.
When WWE introduced the Universal Championship in August 2016, many thought it would be a great chance for Raw brand superstars to become main-event material and actually make a new legacy for this title. When Finn Balor became the inaugural champion that same month, it was a sign that good things would become of it. After he relinquished it the night after due to injury, Kevin Owens eventually became champion in a fatal four-way that had Roman Reigns, Seth Rollins, and Big Cass.
Owens held the title for the most part of 2016 and had a decent run with it.
Owens then lost it to Goldberg in March 2017, who then lost it to Brock Lesnar at Wrestlemania 33. Lesnar has held it for over a year now...and it's been a terrible run. Sure, Lesnar has had some good matches with Samoa Joe, Braun Strowman, and even Roman Reigns, it's time Lesnar loses it before the year is over. Why? Two reasons: one is that he's proven himself as a box office hit, and two is that HE'S ONLY IN WWE FOR A TOTAL OF SEVEN HOURS A YEAR.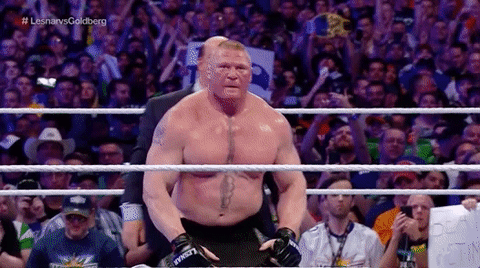 A little exaggerated, but still: Lesnar is a part-timer that does not need to be a world champion. His run with the WWE Championship in late 2014 was just as bad, except for the classic triple threat match at Royal Rumble 2015 and his loss at Wrestlemania 31 when Seth Rollins cashed in his Money in the Bank contract in the middle of Lesnar and Reigns' match. We are experiencing deja vu at the moment, folks, but we still flock to see him pummel his opponent every PPV he's on.

He has done what he's needed to do to draw numbers as a champion.
It's simple: Lesnar must lose at Summerslam. Multiple sources as of June 8th have said that Roman Reigns is in line for the title shot, which is predictable. Reigns, being the wrestling version of a rainy day to the fans, has fought Lesnar twice already this year and lost. Summerslam, the biggest event of the summer for WWE, is the perfect spot for Lesnar to lose his title and hopefully see a full Roman Reigns heel turn that we have been craving since 2016.
What if McMahon changes his mind about Reigns?
Again, very simple: have Lesnar lose it to someone at Summerslam. Finn Balor and Bobby Lashley are two names that fans have been wanting to see challenge Lesnar lately, but a certain individual is perfect for Lesnar: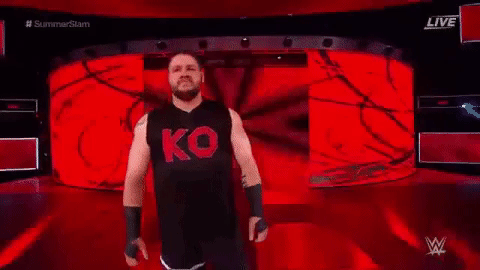 (You thought I was going to say Seth Rollins, didn't you, Squidward?) Yes, Kevin Owens has been lost in the mid-card since late last year, but his spot in the upcoming Money in the Bank ladder match could be the start of a great 2018 for him. Owens, along with Finn Balor, has yet to have his rematch for the Universal title, so if WWE decides to go with Owens winning the briefcase, it would be easy to have him cash in on Lesnar at some point this year.
Now, Rollins would be a viable opponent for Lesnar, but his reign as Intercontinental Champion at the moment is good on its own. Rollins and Balor could steal the show at Summerslam over the IC Title, but a surprise cash-in on Lesnar by Owens that night would be shockingly great. Owens' style of brawling matches Lesnar's 'hit first, ask questions later' style, so if there was to be a rematch between the two, fans would invest easily.
Bottom line: Lesnar sucks as champion (which we all know).
Brock Lesnar has had an incredible career in WWE so far: championships, breaking the Undertaker's streak, and garnering a legacy that is second to none. However, his part-time appearances as a world champion are not what is needed in WWE at the moment: we need fighting champions like Seth Rollins on the show 24/7. Seeing Lesnar every six months leaves a bad taste in everyone's mouths, but it also lets the fans down. It will be interesting to see what awaits Lesnar as we head into the summer, but one thing is for sure: Brock Lesnar is damaging the early legacy of the Universal Championship.