We wanted to take a trip before school started. We casually started planning it at the beginning of the summer. In July, we finally decided we were going to do this and booked our motel. We knew it would be a grand 'ole time, but we never thought we would end up at Wal-Mart at 11 p.m. because we needed tea.
1. Planning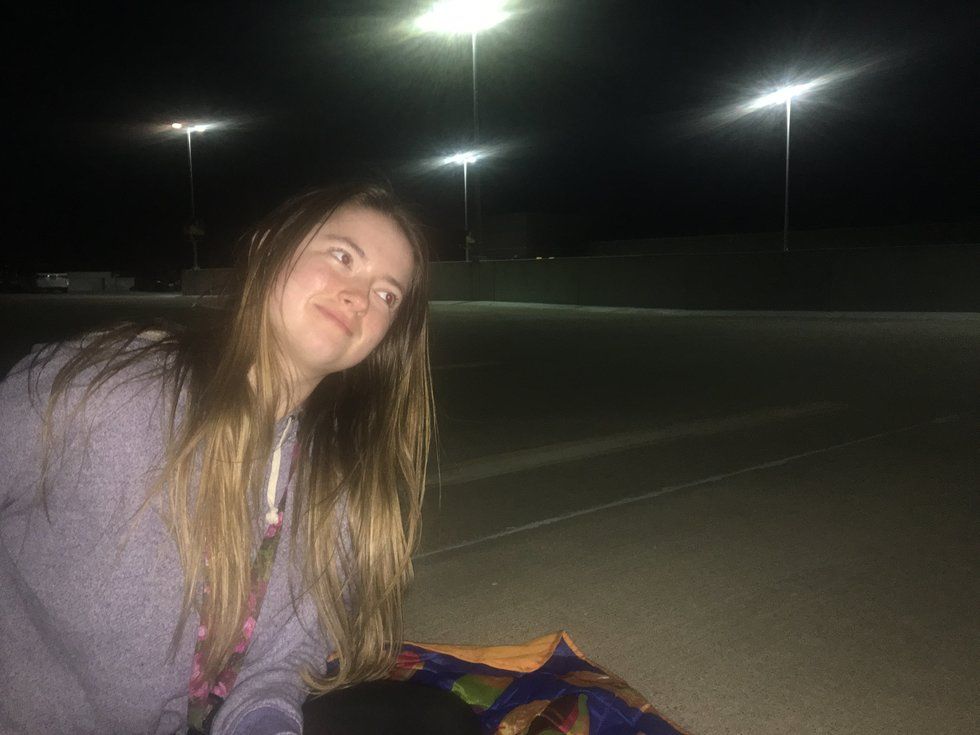 At one point in the beginning of the summer we decided to make a very loose plan for a small vacation before school started. We finally decided where we wanted to go, and went from there. None of had been to Lake Of The Ozarks before. I know, what a Midwest sin.
2. Driving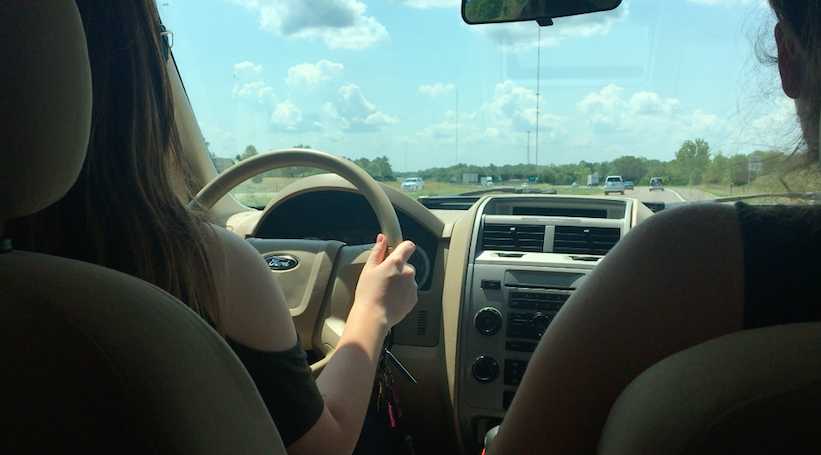 The drive down to The Ozarks was about five hours. We had an endless amount of snacks, and a 24-hour long playlist ready to go. We went from cornfields to beauty. It was an eventful five hours. There was a lot of off-key singing, a lot of "hand me a bag of chips," a lot of deciding what we're going to do when we get there.
3. Arriving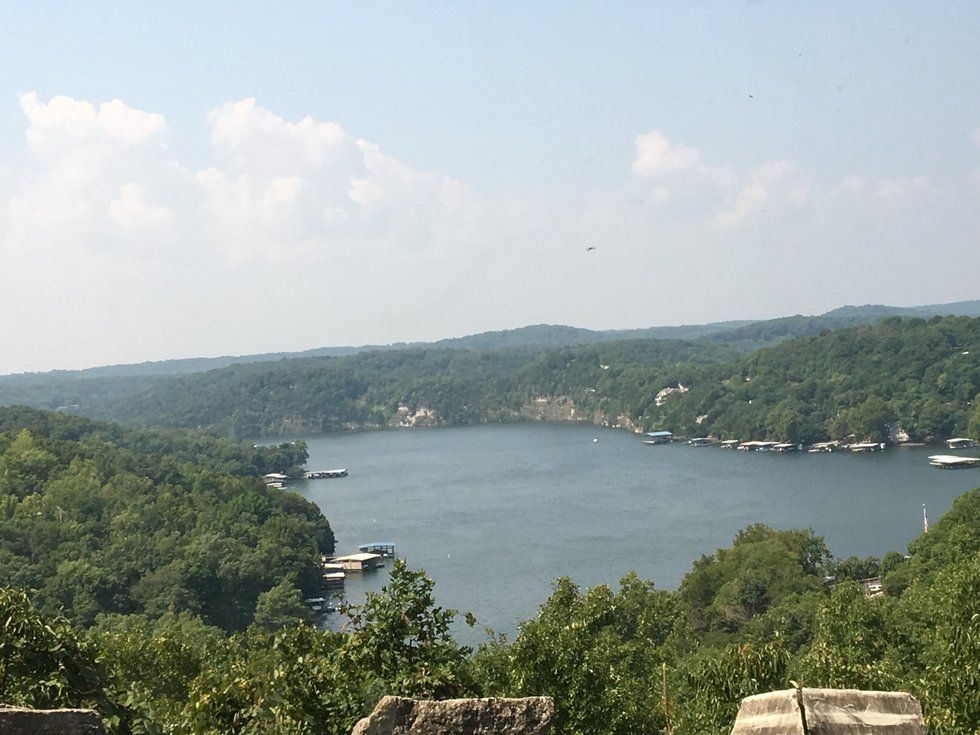 Driving in Missouri was definitely an incredible experience. There were vast hills and it was far different than a cornfield ridden Illinois, and finally, after more than five hours of driving with multiple pit-stops, we arrived at our Motel.
4. Sketch Motel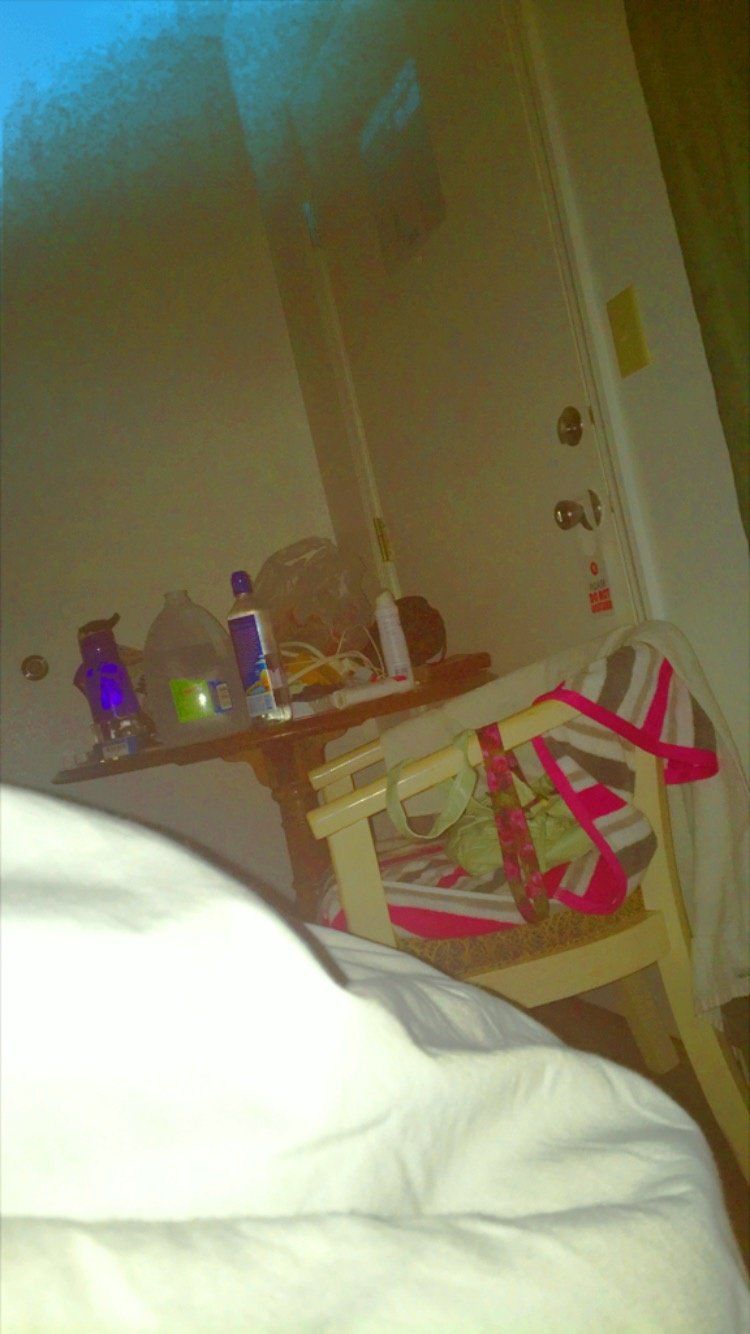 Motels have a bad reputation because they're typically small, cheap, and run-down. We were ready for that to be the case, but once we arrived we were pleasantly surprised. The entire motel, and our room, was very clean, and the owner was extremely accommodating.
5. Struggle with the floaties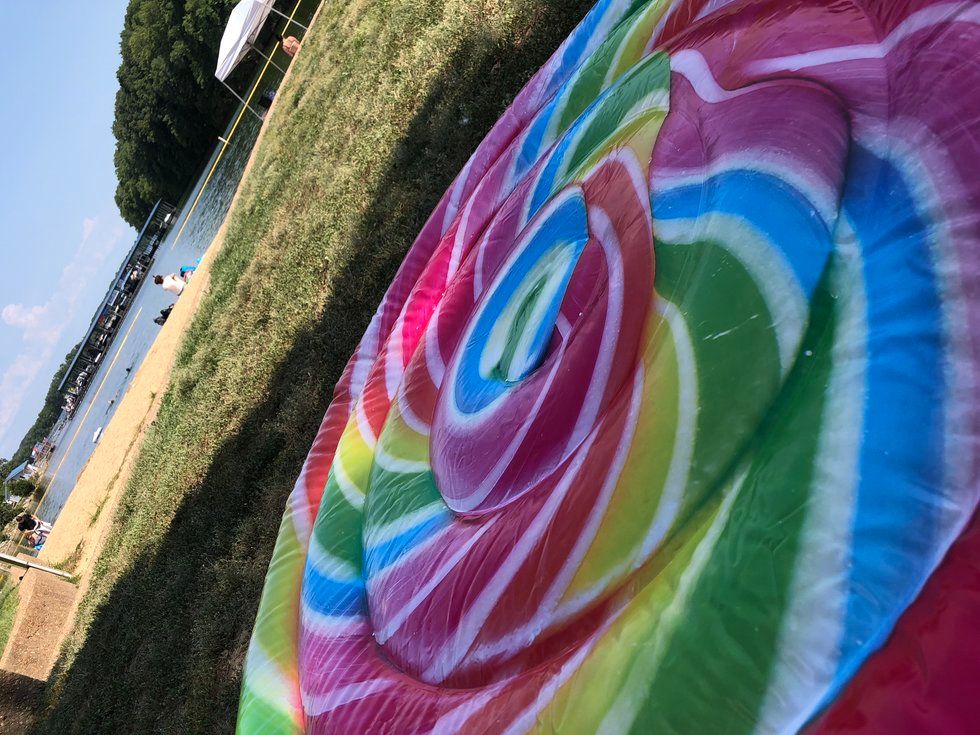 We brought weird inner tubes along with us. We didn't think it through too well and thought we could blow it up by ourselves. We gave up and went to Wal-Mart the next day to get an air pump.
6. Coffee #CAFFEINATED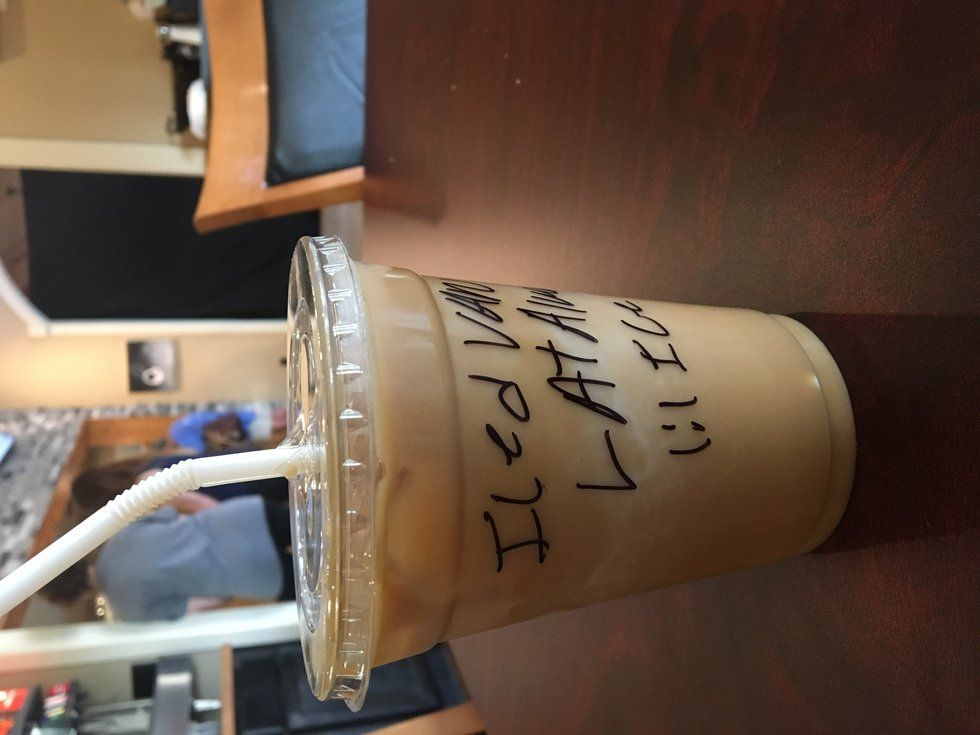 We were in need of caffeine, so we headed out to find a coffee shop... that's essentially it. We needed coffee.
7. Horseback riding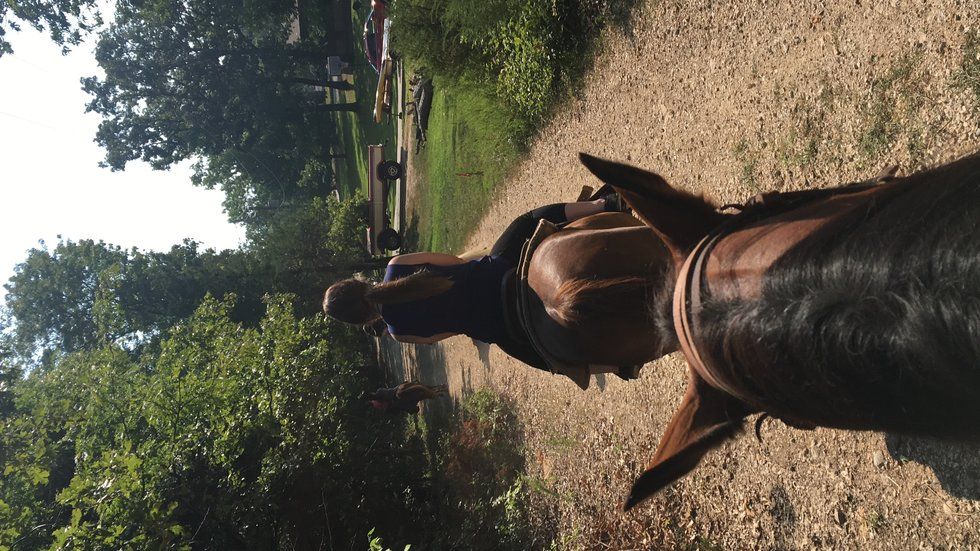 We went to Tan Tar A Resort; one of the most beautiful scenic drives we went on during our trip. Of course, we had to sign release forms before we went, but once we finally arrived it became one of the most fun experiences yet. We each got our own horse after receiving instructions and headed out on a beautiful trail for a good 50 minutes.
8. Cave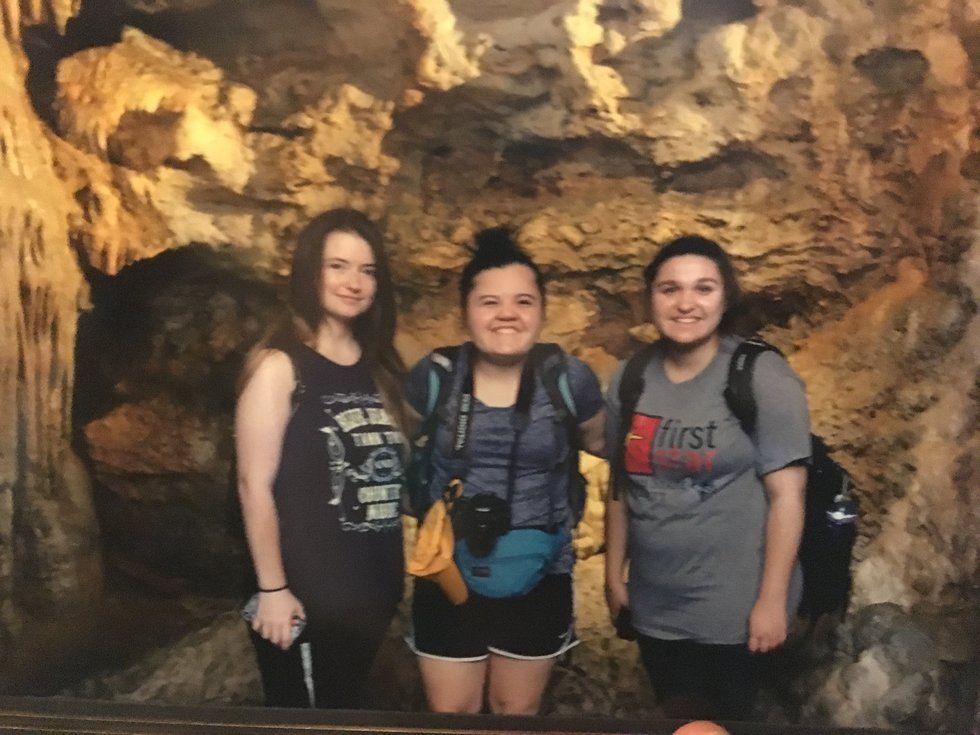 We went to Bridal Cave in Camdenton, MO. You can take a tour through Bridal Cave with a tour guide. You will see multiple parts of the cave. In some parts of the cave, the mineral water has dropped so much causing the walkways to get smaller and smaller. Nonetheless, it is a beautiful and historic area, we recommend seeing.
9. Wal-Mart to get air pump lady said we don't have them, guy said we don't have electronic ones "um there's one right there"
Floaties we had were bigger than us. We couldn't do it alone. We needed the help of an air pump. So, we went to Walmart to find one. We asked for help, and the sweet, kind, lady we asked said they didn't have any. We decided to look anyways. We found a gentleman, and he told us they didn't have any either. I, Emily, looked up and there they were. Trust no one.
10. Beach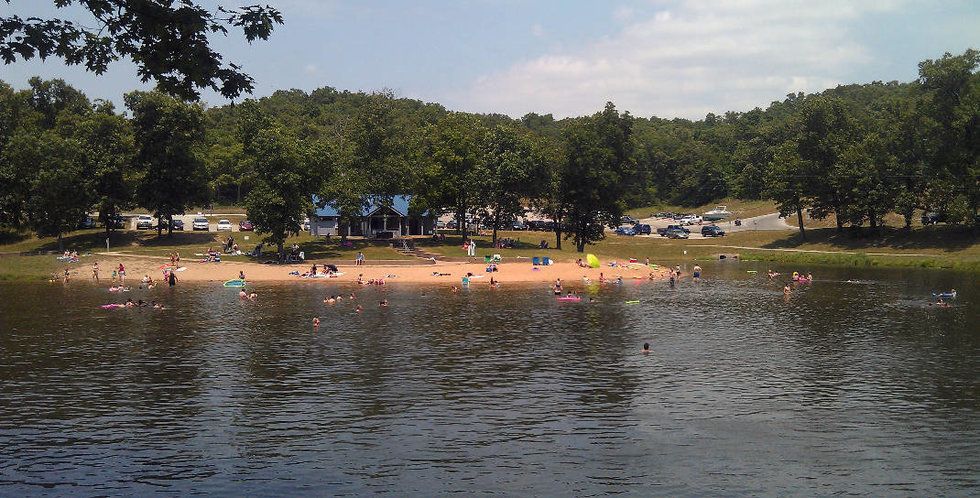 Brittany #1 couldn't quite get up on the popsicle floatie.
11. Hand-mixed banana pancakes #VEGAN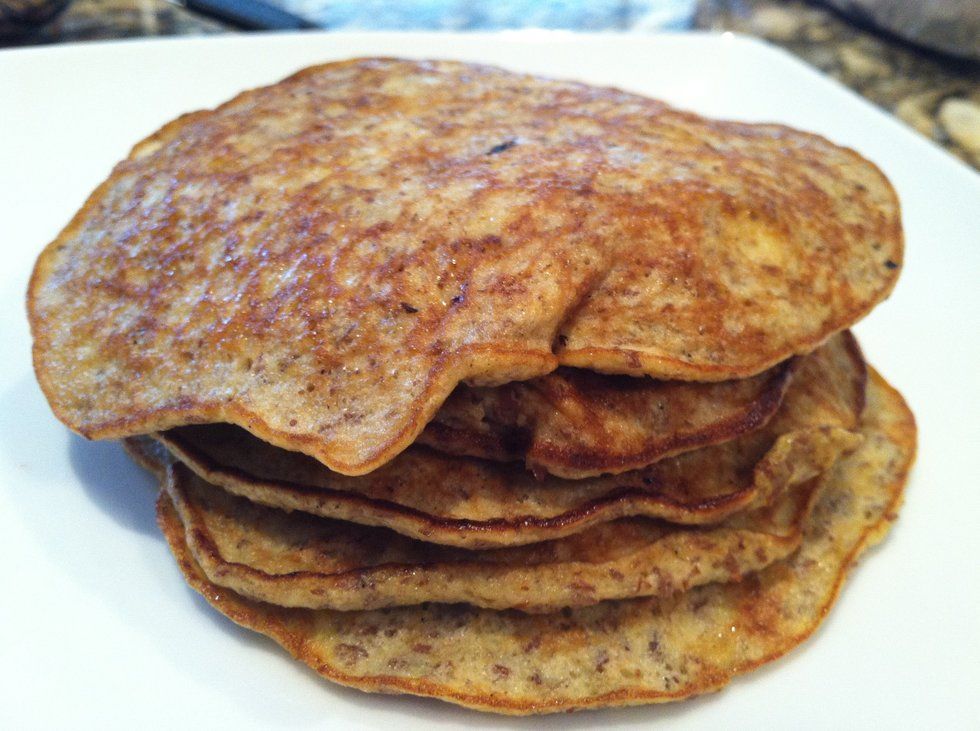 We didn't want to spend more money than we had to, so we made pancakes. Turns out we needed eggs for the pancake mix we had. We didn't have eggs but we did have bananas. So, I was incredibly tired and made hand-squished banana pancakes.
12. Beer and wine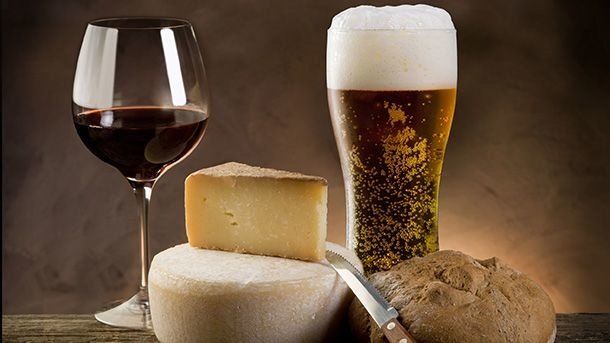 We went to the store to get stuff to *treat ourselves to*. Of course, we didn't go hard. It was a simple girls' night before we headed home the next day.
13. Couldn't fall asleep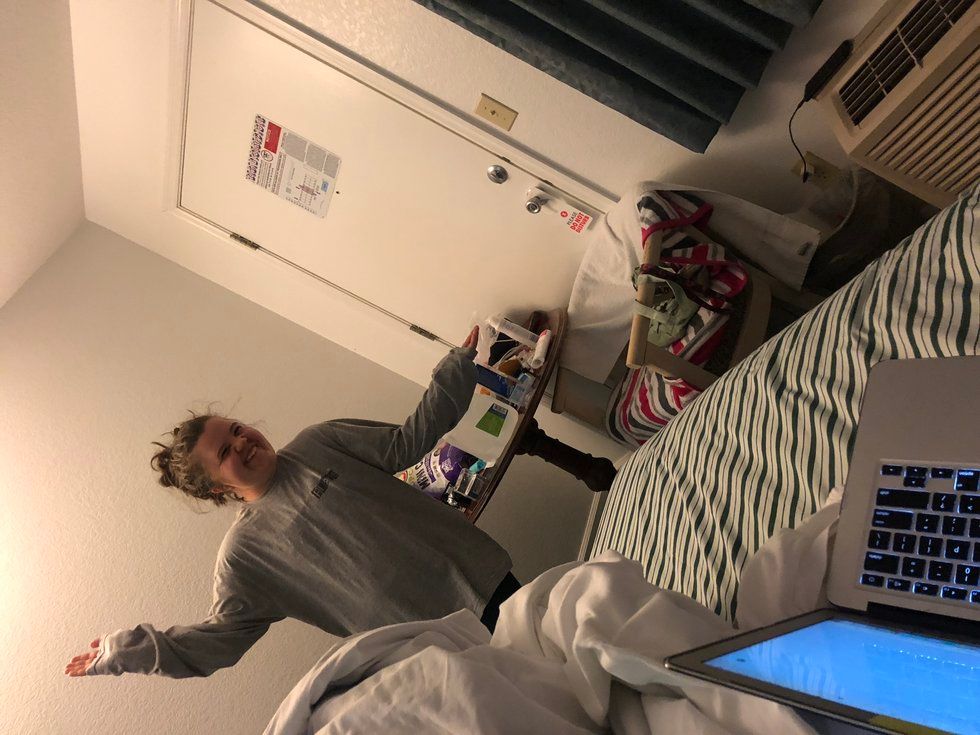 We could not fall asleep. We were laughing and saying the weird things you say when you're delusional and too tired to function. So, we decided to go to Hy-Vee and get tea to help us fall asleep.
14. Hy-Vee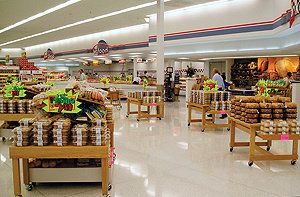 We all know grocery stores are a weird place at night. We got our tea and went to check out. The music was poppin', so I, Emily, decided to start dancing and singing.
15. Sleepy tea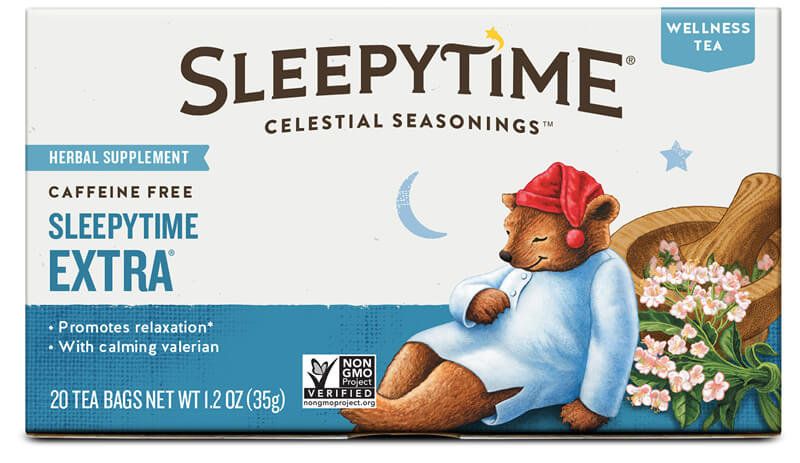 Brittany the second and I, Emily, could not sleep for the life of us. We were too wired or something. There wasn't an ounce of sleep in the near future if we didn't do something about it. So, we got "sleepy tea."
16. Trader Joe's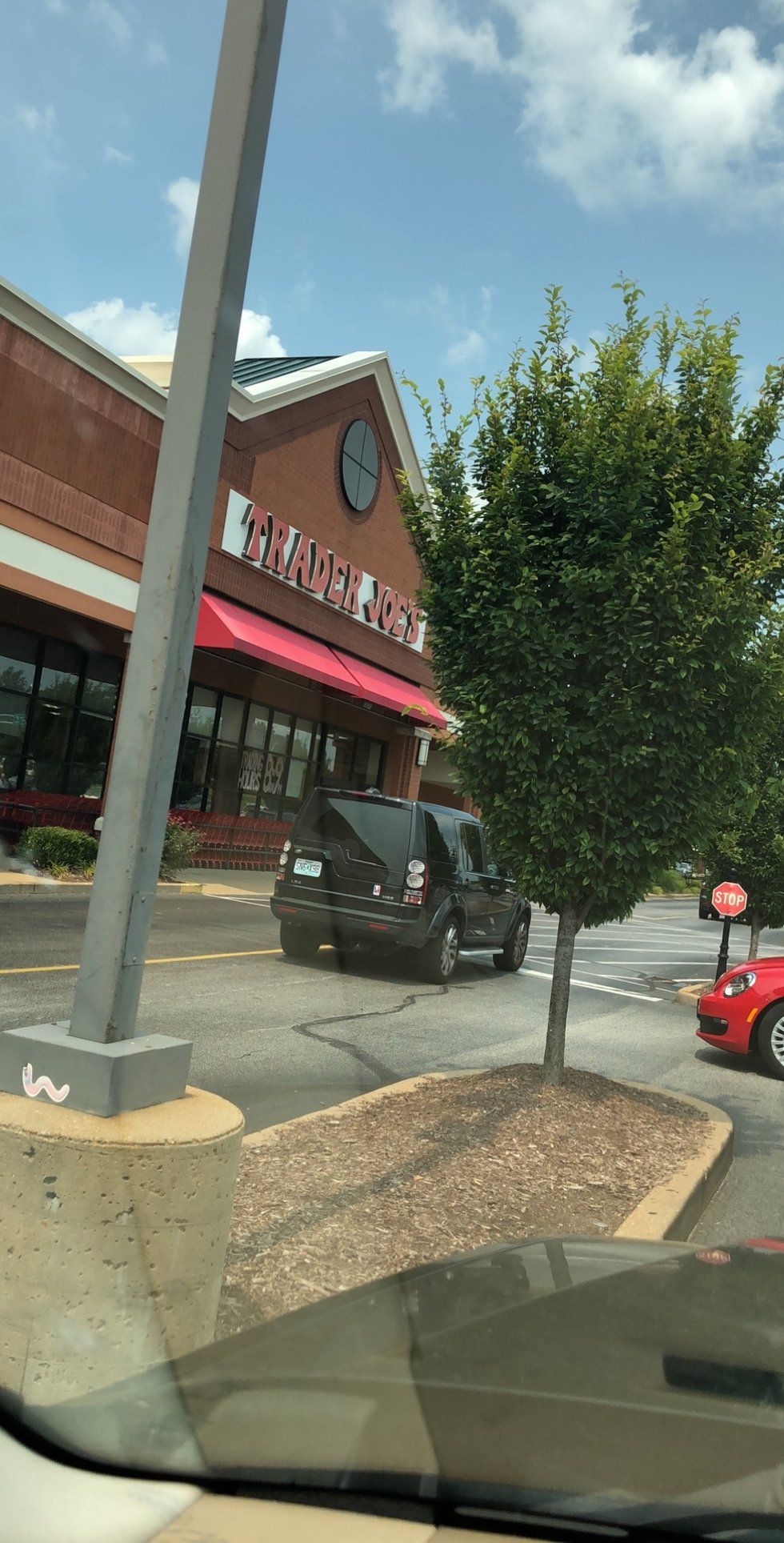 Trader Joe's was my/Brittany #2 idea because it's always been a store I wanted to hit for their unique vegan options. We headed there before the Butterfly Garden, bought some items I could bring home and we left.
17. Butterfly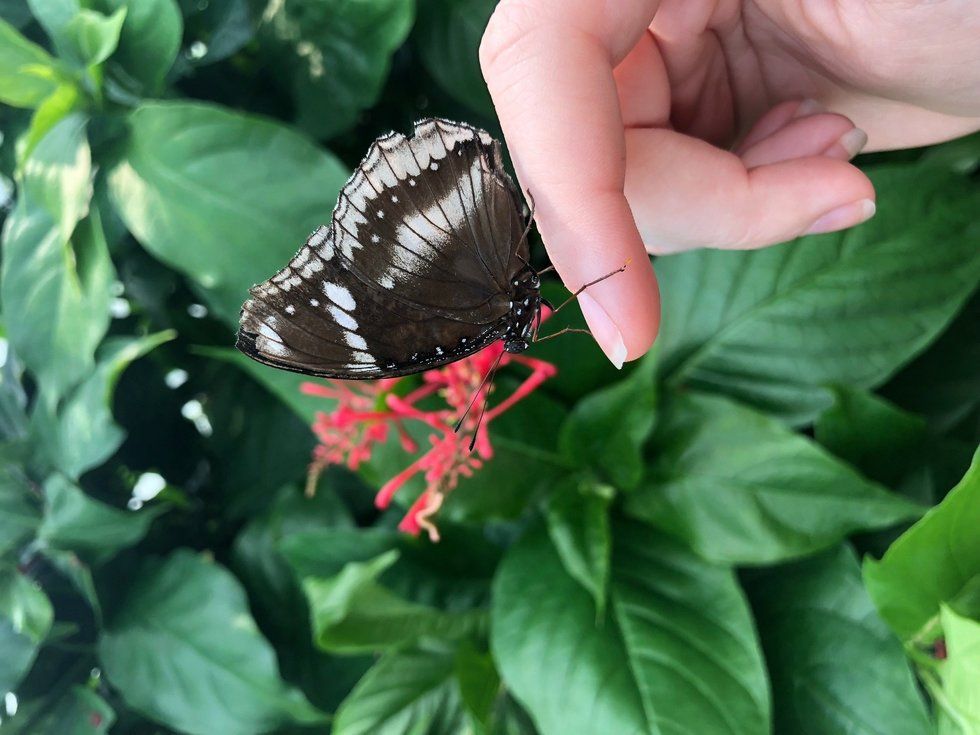 The Butterfly House was absolutely gorgeous. When we arrived, they had different insects inside and the observatory with the butterflies. The moment we entered, we were surrounded by colorful insects. A lot of them aren't afraid of humans so we got some amazing pictures.
18. Playlist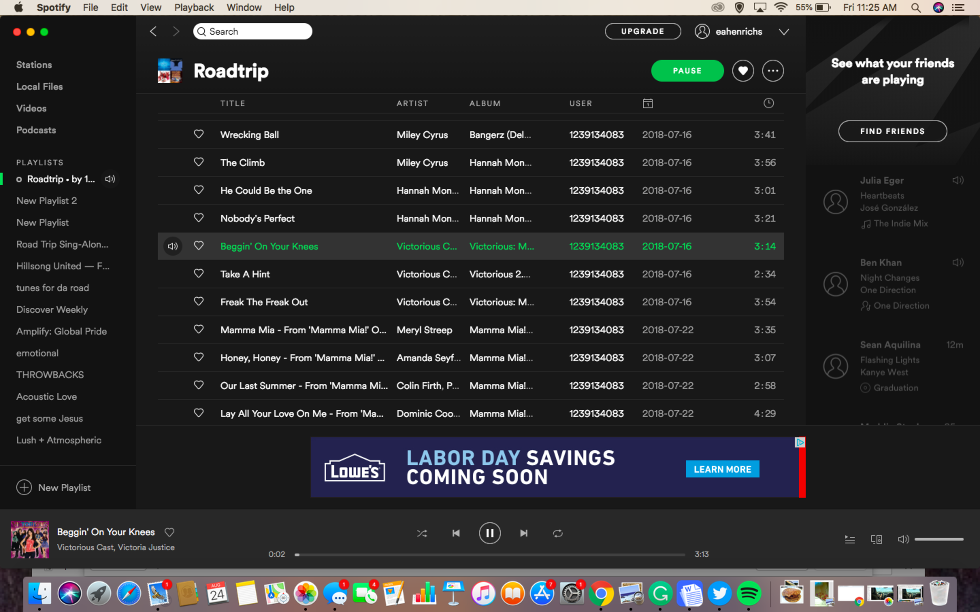 Every road trip needs a great playlist.
19. The baby that wouldn't shut up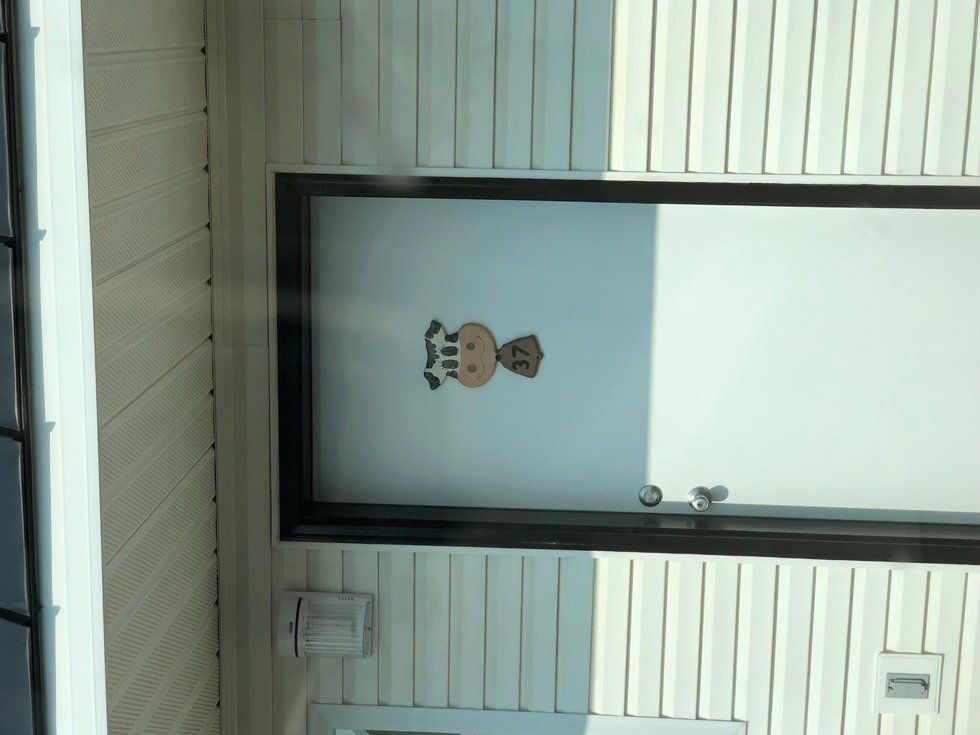 Alright, so we're broke college kids just wanting to have a good time. We don't need to stay anywhere fancy or ~aesthetically pleasing~. At our motel there was this neighbor of ours who cried for all of eternity. Okay, so I'm exaggerating. They cried for a long time though.
20. The toilet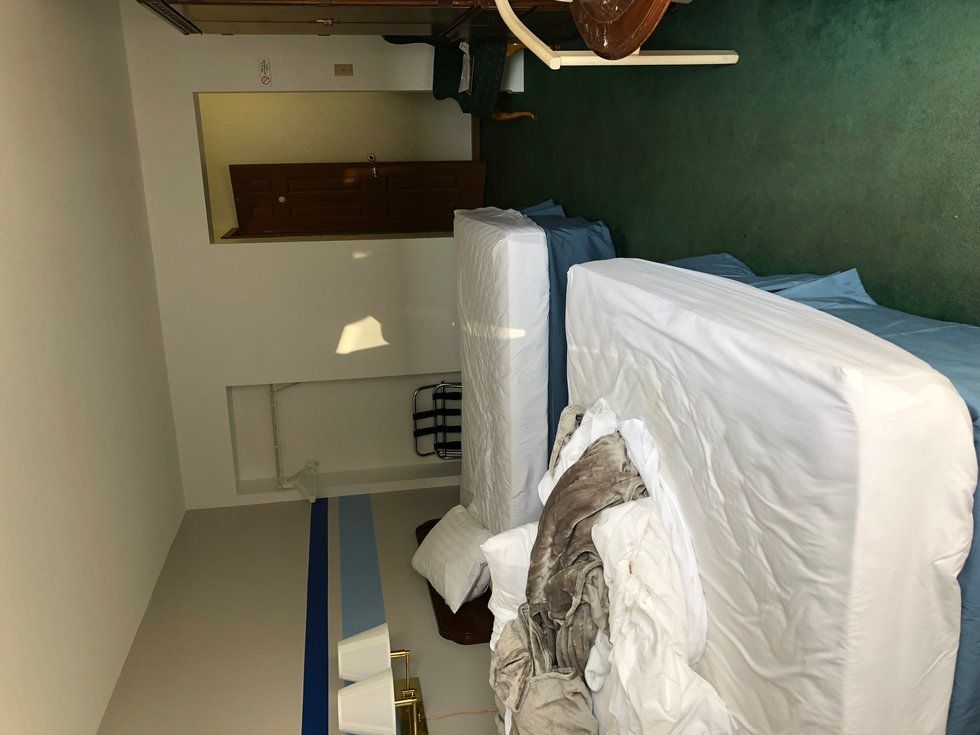 You know those stories you think are hilarious but probably shouldn't tell too many people? Yeah, that's this one. Many people are going to know now. Somehow, our toilet got clogged. We don't know what clogged it and maybe that's a good thing. Other Brittany or BA, flushed the toilet and the water stayed at the top. Then, Brittany the second decided to go as well. When she flushed the toilet, chaos broke out. It overflowed like Niagra Falls. I'm kidding it wasn't that bad, but she did scurry away. I ran to the bathroom with towels and we tried to contact management. It was probably 11 p.m. at that point so it took awhile.
21. What we learned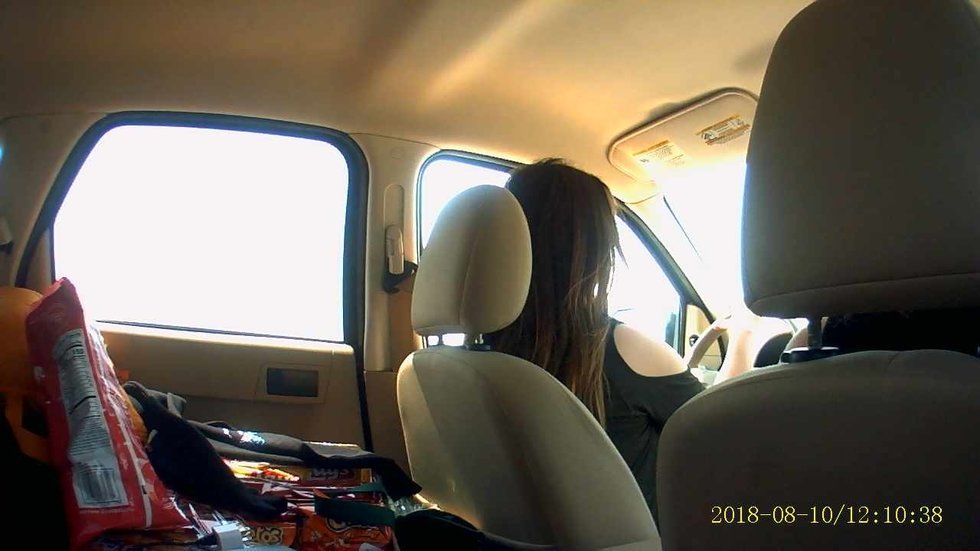 You need to have a few moments of peace and quiet from each other. When you spend three straight days with each other you need to take some time to yourself. We also learned taking trips are expensive no matter what. Activities can be at, food can be , gas is expensive when you add it all up, lodging is ,, and so on.
But all in all, we had a great experience and it's a trip we'll never forget.
All in all, the trip was great. It was nice to get away from our regular routine for a little bit.