For those that don't know, "Skin Wars" is a reality competition show on Game Show Network where contestants create a body art masterpiece for the $100,000 prize and the name of "Skin Wars" Champion. Unfortunately, the final season of "Skin Wars" aired in 2016. Now this past week, my sister, best friend and I have been binge watching this fun competition show on Netflix and it has been so fun to see the creativity flow from the contestants. This is a collaborative list of the reasons why this show should be brought back.
"Skin Wars" was the first television show devoted to body art.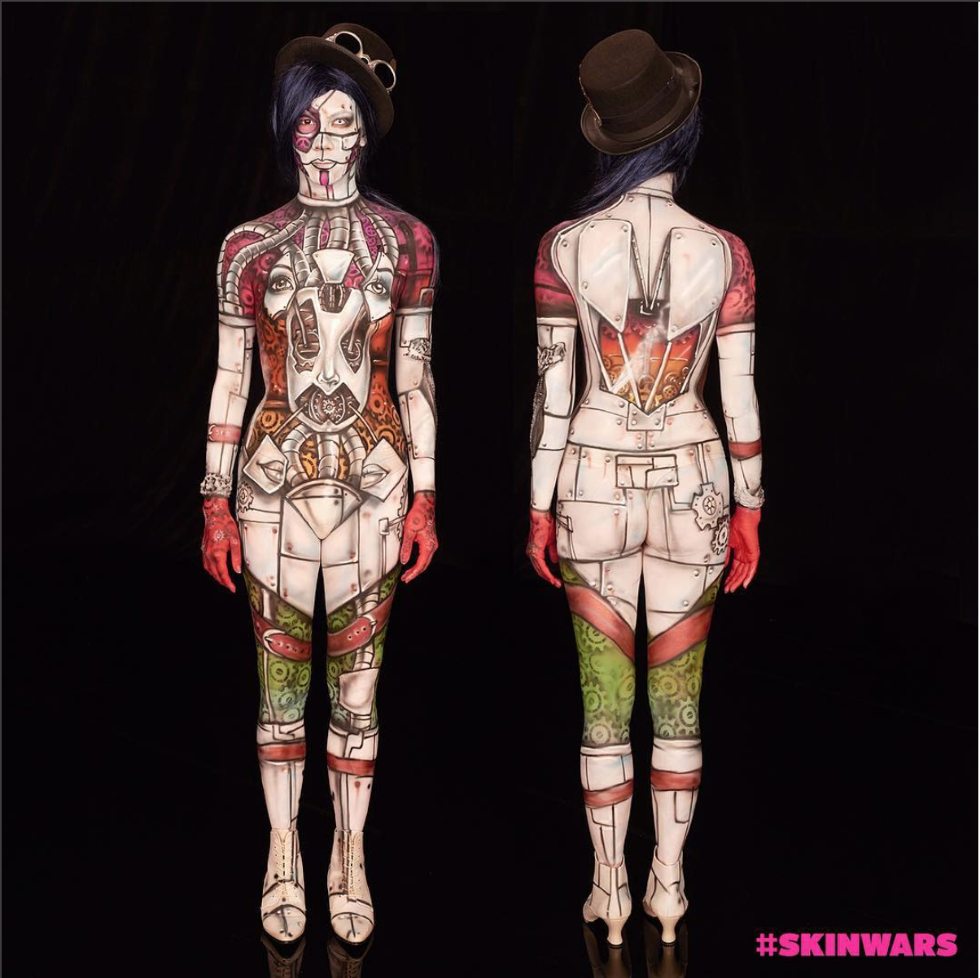 How cool is that? Body art is literally painting on a body. Whatever body you are painting is your canvas!
When I started watching the show, I thought it was going to be a show that was more focused on makeup (like "Face Off"), and watching this show blew me away with the things that some people create on a whole body. Each episode gives a concept or a theme and the contestants can create anything that comes to mind on a model.
"Skin Wars" combines talent, drama, and a little bit of comedy all together to create a fun show to watch. There have been many times that the three of us would be laughing at the contestants or yelling at something that they said. You get really caught up in it and it's hard to stop watching.
It focuses on talented artists rather than talent alone.
Most competition shows that you see lately are based on talent, meaning who can sing the best, or who can do the most interesting or unique "thing" in under 90 seconds. This show, however, takes you through (very quickly) on how long it takes to create something so detailed to the point that you can make the human body look like something else.
Camouflage a whole person into the background? Done. Make a human look like a demon? Check. Create a whole mythological story on a body? No problem. Anything that these contestants can conjure up is always amazing.
"Skin Wars" exposes audiences to a different topics/community.
Not only does "Skin Wars" expose you to the body painting community, but some of the models aren't just pretty faces. You've got drag queens, body builders, sumo wrestlers, twins, acrobats, and even more. As the audience, you are introduced to so many communities and if you aren't a part of them, it's a chance to learn something new about something different. Who knows, maybe one day "Skin Wars" will inspire you to do drag!
RuPaul is one of three judges.
Do I need to say more? IT'S RUPAUL.
"Skin Wars" was one of the last talent competitions on cable.
"Skin Wars" and "Face Off" were two of the last remaining talent competitions. "Face Off" just announced that this year will be its final season. So with "Skin Wars" not around for a couple of years now and "Face Off" in its final season, there won't be any talent competitions on cable. "Skin Wars" does seem to tie drama and competition into one big show where artists can express themselves.
It has been so fun seeing this show develop and it's kind of disheartening to know that it only lasted for three seasons. The art is phenomenal, the drama fun to watch, and it's super fun to watch with a group of people. But hey, they're on Netflix so you can binge and there's no commercials!