Bailey Ploughe wears a floral bucket hat and carries a camera around the bar, you might see him in a tie-dye shirt or even behind the stage. A Cameron Crowe attitude, at first glance, you might think this guy is just another EDM fan. But then you'll notice the strobe light in his eyes.
"Music has always been a passion for me, and I've always wanted to be involved in the music scene."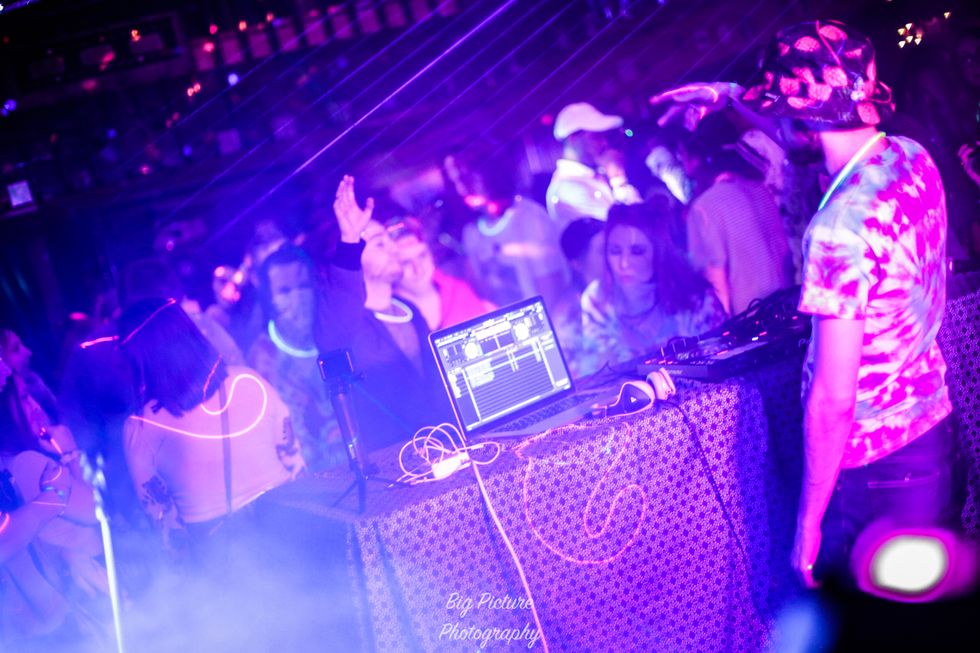 Photographer, videographer, DJ, promoter, producer, event coordinator, and even mattress store manager; Bailey has a lot to add to his resume. He owns Big Picture Photography as well as New Hippies Entertainment. And even with all of this, Bailey still has many goals and dreams left to fill.
"One of my life goals is to become a touring concert photographer with a big name EDM artist. So I started coordinating and promoting shows a couple of years ago so I could start building a portfolio of concert photography."
From booking and promoting shows, Bailey cut his teeth in the music industry. Bailey began hosting shows and parties with his friends, which were local DJs and musicians. This allowed Bailey to practice his show photography skills while also making a name for himself in the music scene and offering exposure to the artists.
"At this point in life it has turned into something bigger than helping me as a photographer, I am now pursing careers in promoting and as a musician."


What does Bailey Ploughe have planned next in the scene? Blursdays.
The weekly Thursday EDM event, Blursdays, will take place at Blu Lounge on Meridian Street in downtwon Indianapolis. New Hippies Entertainment teams up with Butler U EDM club to create this night of underground music. You can expect to hear house, dubstep, trap, and even drum and bass. The first week will have free entry and will include local DJs; Not Alex, Adi Mag, Ejion, BAI, and Luso.

Bailey's love for music drives his career but also gives him a chance to support others and encourage others in the creative industry.

"I want to help the local art community, I've started doing 'Creative of the Week' post on my New Hippies Entertainment Facebook page. I'll do an interview on any type of creative and then post 2-5 different posts about that creative throughout the week."

He is also in the works of planning an event to raise money for local high school art departments.
With entrepreneurs like Bailey Ploughe, the Indianapolis EDM scene continues to grow.

"I personally think that we have amazing talent in Indiana. We also have two amazing promotional companies in Indianapolis that bring big names out! Shout out to Indy Mojo and KID Presents!'

The first Blursday will be Thursday, March 29, at Blu Lounge in Indianapolis. Music starts at 9 p.m.