The brutal murder of a 17-year-old girl made headlines this Monday. Bianca Devins, a resident of Utica, New York, was allegedly killed by Brandon Clark, a 21-year-old from the nearby town of Bridgeport early in the morning of July 14. People began calling Utica Police after several concerning posts appeared on Clark's Instagram story, including a photo apparently of Bianca's corpse.
Devins attended a concert in Queens, New York, on the night of July 13th. Police speculate Clark became upset when Devins kissed another person at the concert. Police say they drove back upstate, where Clark is accused of slitting her throat with a large, black-handled knife. Police say Clark then took photos of her body in his SUV, moved her out of the vehicle and under a green tarp, and proceeded to lay next to her body and take selfies.
During this time, he alleged updated his Instagram bio to say, "10/06/97-07/14/19 Just know that I feel no pain now."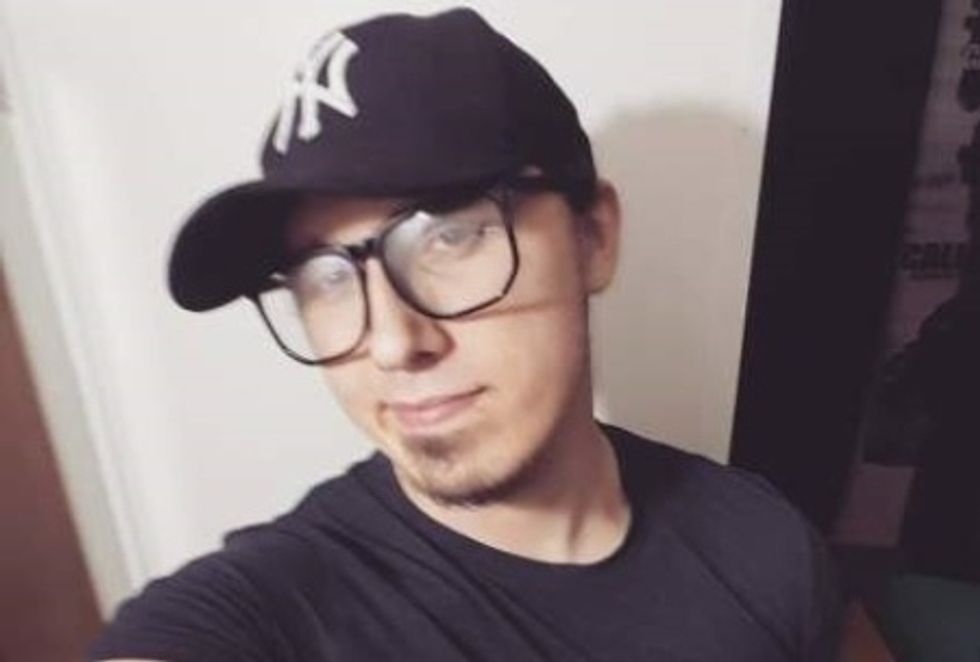 Photo of Brandon Clark posted to his now-deactivated Instagram.
Police responded to the calls made concerning his social media posts around 7:20 in the morning. Police say Clark threatened self-harm and made a deep cut to his own neck before being disarmed and sent to a nearby hospital to undergo surgery.

By Monday morning, the hashtags #RIPBianca and #YesJuliet (Clark's Instagram name) were trending on Twitter. While people flooded the tags with condolences for Devins's family, some users also posted photos of her body as well. Clark allegedly shared the gruesome photos of Devins's body on not only his Instagram story, but in a server on gaming-focused chat app Discord with all of Devins's friends, as well as 4chan, a website with a history of creating and distributing disturbing content.
Unfortunately, Bianca Devins's murder went viral in part because people sought out the pictures Clark apparently took and posted.
By all accounts, Devins was a frequent internet user, like most teenagers today, mostly active on Instagram and Discord. This is how she came into contact with her alleged murderer. The details regarding the nature of Devins and Clarks's relationship are still cloudy, as friends of the victim have claimed that the two were not mutually romantic, family members have referred to him as her boyfriend. Many friends of the victim have referred to Clark as an obsessed "orbiter," a term coined by netizens to describe an individual, usually male, who is hopelessly in love with a girl uninterested in him.

Reports have also referred to Devins as an "e-girl" due to both her looks and the general nature of her accounts. Negative remarks regarding the online behavior of Devins have been rampant in the hashtags, claiming that she was both a drug addict and solicitor of child pornography. A YouTuber even hosted a "celebratory" stream entitled "INSTAGRAM HERO KILLS THOT," which has since been taken down.
Devins's murder has created room for a discussion relating to the treatment of women and girls both online and in real life. In the wake of the #MeToo movement, it seems that people are still eager to victim blame. No one deserves to have their murder broadcast across multiple social media platforms. Additionally, this crime has exposed the disgusting behavior of fame-hungry accounts who were claiming to have the photos of Devins in order to gain popularity.
Bianca Devins had her entire life before her. While her family and community mourn, the internet has already moved on, hungry for the next shocking event. Devins was more than an "e-girl" apparently murdered by an insane love interest. Devins was a teenager, fresh out of high school, who enjoyed sharing photos of her makeup and outfits online, as well as a lover of music and art. A classmate of Devins referred to her as "always kind, always forgiving."
According to Spectrum Local News, Devins was planning on attending Mohawk Valley Community College this upcoming fall. A vigil for the teen was held July 16.