As much as we all appreciate a little ABBA in our lives, some songs are just a little easier to dance to than others. Mamma Mia! Here We Go Again is filled with bop after bop, there's no denying it, but I think we can all agree that there's are some that we can get down to easier than others.
18. "The Day Before You Came"

Even though Meryl's performance of "The Day Before You Came" is amazing, there's really nothing that makes this song easy to dance to. It's quite slow and there's nothing really happy about the song period so it makes it a little difficult to want to get up on your feet and dance to it. It's more of a song to sit and cry to instead of stand and dance to, not a song to put on your party playlist, that's for sure...
17. "My Love, My Life"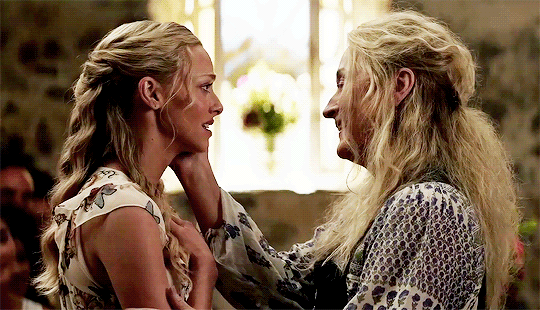 "My Love, My Life" is such a heartwarming yet sad song. It's not easy to get through the song without crying, hearing Amanda as Sophie and Meryl as Donna sing together in the little church on the hill. It's a tear-jerker instead of a dancing song, to say the least. It brings a little more to dance about compared to "The Day Before You Came" but at the same time there really isn't any way to dance to this unless you're going to a quite sad dance.
16. "I Wonder"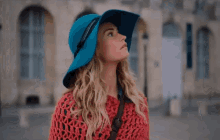 "I Wonder" clearly expresses young Donna's desire to go see the world and become her own person. It's the kind of song that backs you want to pack your bags and go on your own trip to France without a single care in the world, but it isn't really a song you want to get up and dance to. It's a beautiful song that you could be entranced to if you were watching someone perform it on Broadway, but this would be the song to let the singer have the show instead of trying to dance to the beat of it.
15. "I've Been Waiting For You"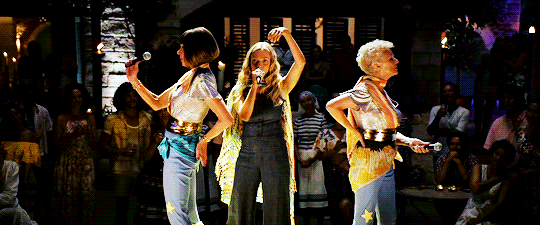 One of the most heartfelt songs in the movie "I've Been Waiting For You" unfortunately still has a pretty low ranking on the danceable scale. It's a wholesome moment where Sophie finally gets to be a part of the Dynamos and take her mother's place, but it isn't a song where you can get up and dance to it without a doubt. If anything, I feel like you'd be crying like Rosie at every opportunity instead of getting lost within the lyrics as you danced the night away. The chorus saves the day and makes it a slow song you could dance to, but you'd probably be tearing up as you did nonetheless.
14. "I Have A Dream"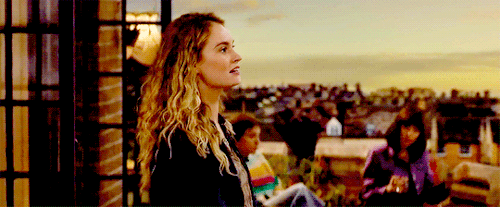 "I Have A Dream" in 'Mamma Mia! Here We Go Again' has a little bit more of a beat than in the first movie. It's got a little bit more Greek flair with the instruments in the back, giving you a little bit of room to dance to if you'd like. It's not a song you'd get pulled on the dance floor for, but it's one where you could sway back and forth and dance to slowly once the chorus kicked in.
13. "Andante, Andante"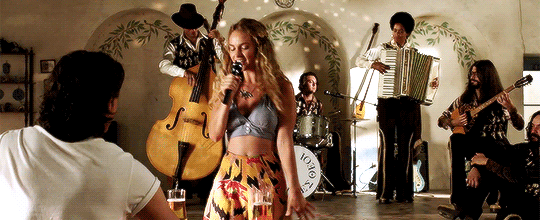 This song is absolutely the slow but danceable song on the playlist. It's the one where the DJ would call for everyone to grab their partners to dance together. I'm sure everyone could easily see themselves slow dancing, swaying back and forth with their partner as they looked up at the stars or something of the sort. It's quite romantic, and despite the slow gentle speed, I could see this being played as a party is winding down.
12. "One Of Us"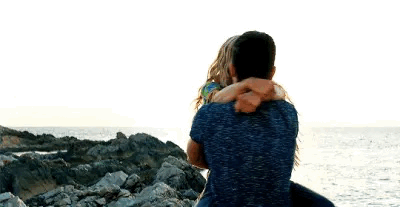 Even though this is one of my favorite songs in the whole movie, it doesn't give the best beat or tune to dance to. The choreography of the movie with Sophie and Sky walking around their bedrooms was definitely the best fit for the song. The best thing to do while listening to this song is to simply lay on your bed and stare at the ceiling while thinking about your significant other. It does have a good steady beat though which sets it at its current spot!
11. "The Name of The Game"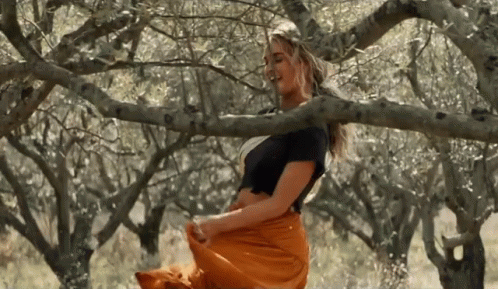 Lilly James kills "The Name Of The Game" without a doubt. Her voice and the beat keep the song aren't the most upbeat as other songs in the movie, but they have something special to them that makes the song somewhat danceable. There's no way to sit still while listening to her on her adventure, growing as an individual and dealing with her struggles. I'm sure we could all see ourselves going through a little forest swaying while singing "The Name Of The Game" under our breaths, as long as we had some cool backup singers and the rhythm of drums too!
10. "Fernando"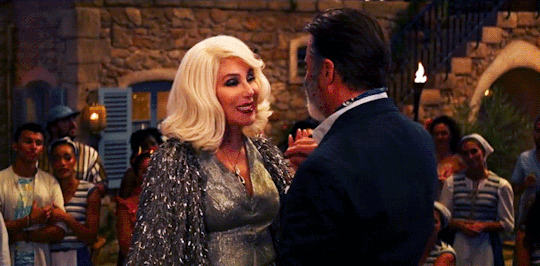 "Fernando" is one of those songs that you can sing at the top of your lungs, but dancing to it is a little bit of a different story. It's not like it's not danceable to, but it's one of those where you'd feel better walking down a flight of stairs staring directly at your long lost love as Cher does. It comes in at the middle of the pack pretty much, it's not so slow that you can't dance to it, but there are definitely other songs that are better.
9. "Knowing Me, Knowing You"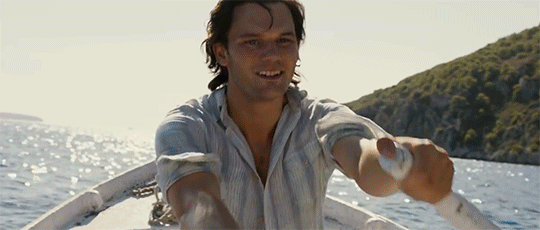 Watching young Donna slowly fall in love with Sam and their adventures can tug on anyone's heartstrings, but what about its danceability? Though it starts off slow, the beat picks up as the song goes along. It's not a headbanger of a song, but it's surely a song you can spin around to and fall into the moment with, especially when the chorus comes on. If you're going through a breakup, this is the song to dance your heart out to.
8. "Kisses of Fire"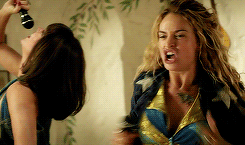 Whenever "Kisses of Fire" turns on the Spotify playlist, I can't help but laugh. It would totally take the number one spot on the silliest song on the soundtrack, it's one you can't help but jam to as it comes on. It fits the disco feeling that is so wrapped around 'Mamma Mia!' in general to the point where it makes you want to get out on that dance floor and just jump around. It totally deserves its high spot of number 8 on the list.
7. "Why Did It Have To Be Me?"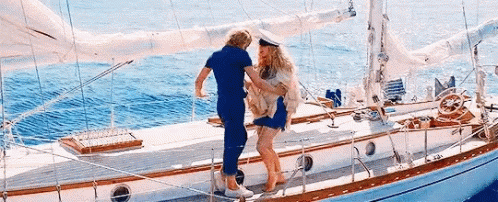 "Why Did It Have To Be Me" is a song that pulls you up on your feet to dance without a doubt, just like Bill and Donna on Bill's boat. It's totally a partner dance, so grab your significant other or your best friend and tug them along on your shenanigans. The only downer to this song is the depressing middle with Harry being left behind by Donna (poor guy!) but nonetheless, it's a song where you can't help but sing along and hope that one day you get picked up by a pretty guy with a boat!
6. "Angel Eyes"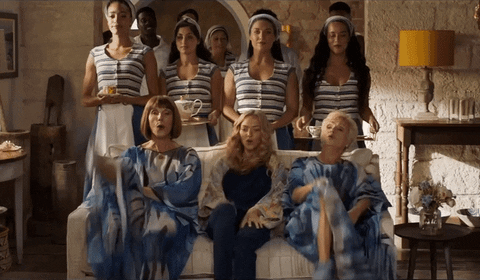 "Angel Eyes" isn't your typical song to dance to. Sure, it's an absolute bop, but it's not your average party song. It's definitely the song that you'd sing to in your bedroom and dance to as you rip up old photos of your ex, but it's one that you can't help but sway to. If you aren't dancing like Rosie, Tonya, and Sophie, kicking your feet up as you dance on your outdoor tiling around your gorgeous Greek hotel, well, I hate to break it to you, but you aren't doing it right.
5. "Super Trouper"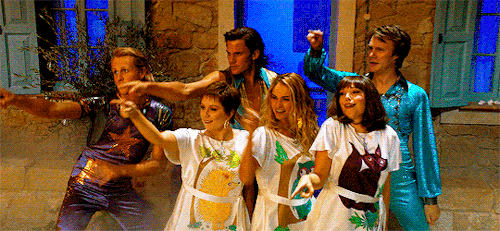 I'll admit if I was ranking the song from 'Mamma Mia!' instead of 'Mamma Mia! Here We Go Again', "Super Trouper" probably would have been closer to number one. Even though it's still a song you want to dance to, it doesn't have as good of a dancing feel like the first version of "Super Trouper". Nothing can beat the original Dynamos in their version of the song, sorry Cher!
4. "Waterloo"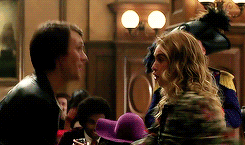 Although we can't be dancing around in a fancy restaurant in Paris with young Harry, "Waterloo" can get anyone up on their toes mimicking the amazing choreography. It's a song that instantly makes you want to get up and run around, maybe with a baguette sword in your hand as you try to woo your not forever lover. It takes the spot of fourth place for its fun saxophone and rocking guitar the whole way through the song.
3. "When I Kissed The Teacher"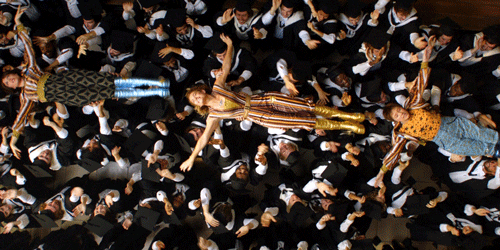 As the first song in the movie, it truly starts the plot with a bang! If "When I Kissed The Teacher" can get the entire Oxford graduating class of '79 to get out of their seats and ride bicycles all the way to their lake, there's no way that it can't get its listeners to get up and dance. The beat is upbeat and fun, it's basically impossible not to smile and sing along.
2. "Mamma Mia"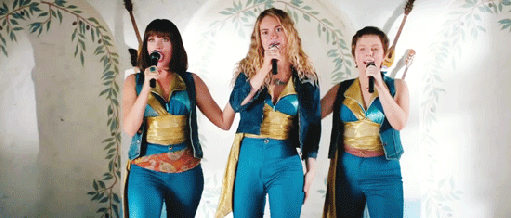 Although it's not straight action from the very beginning like in the first movie, "Mamma Mia" no doubt deserves second place. It's a song that almost anyone can relate to, singing and dancing about heartbreak. We can all pull a young Donna and bring in a crowd from outside, jumping on stage singing our hearts out to the rapid action beat of "Mamma Mia"! It's simply contagious.
1. "Dancing Queen"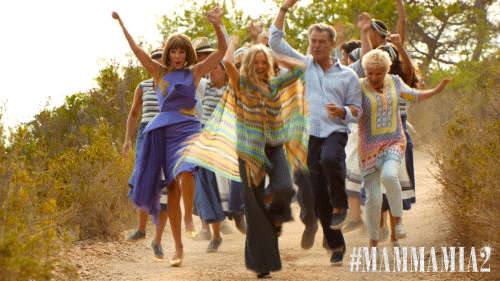 If it wasn't the obvious choice for the number 1 spot, here it is! Dancing Queen is the one and only song with 'dance' in the name and its rightfully there. Hearing the piano in the beginning instantly makes everyone want to get on their feet and start to dance. Whether you're just jumping up and down trying to recreate Donna jumping on her bed in the first moving or doing your own version of disco, there's no way you can't get up and skip around when it comes on.