Holiday drinks are substantially better than pumpkin spice and no one can change my mind.
1. Caramel Brûlée Latte 
Espresso, steamed milk, and caramel brûlée sauce topped with whip cream and bits of caramel.
2. Peppermint Mocha 
Honestly, the peppermint mocha and caramel brûlée latte are tied for first. These are my two favorite holiday drinks; I order them on rotation. The best part of this drink is definitely the chocolate curls on top.
You can also order the peppermint mocha as a frappucino, but who drinks cold drinks in the middle of winter?
3. Chestnut Praline Chai Latte 
During every season other than Christmas, chai tea is my go to drink. The chestnut praline chai latte adds a holiday twist that'll make you want to roast chestnuts over an open fire and maybe sing a Christmas carol or two.
4. Chestnut Praline Latte
Basically the same as the drink above, minus the spice and flavor of chai.
5. Holiday Spice Flat White 
In general, a flat white is a really good, simple drink, excluding all the "froofy" ingredients of the other holiday drinks. Simply a classic.
6. Gingerbread Latte
I love the mix of sweet and spice that comes with this drink, plus, the ground nutmeg on top is an added flavor bonus that really makes you feel warm and toasty on the inside.
7. Toasted White Chocolate Mocha 
This drink is a little too much on the sweet side for me, but also I'm not a supporter of traditional white chocolate mocha. Sorry not sorry.
8. Eggnog Latte
Eggnog for sure weirds me out, despite the fact that it is a holiday staple. Not a fan. Again, sorry not sorry.
Happy sipping!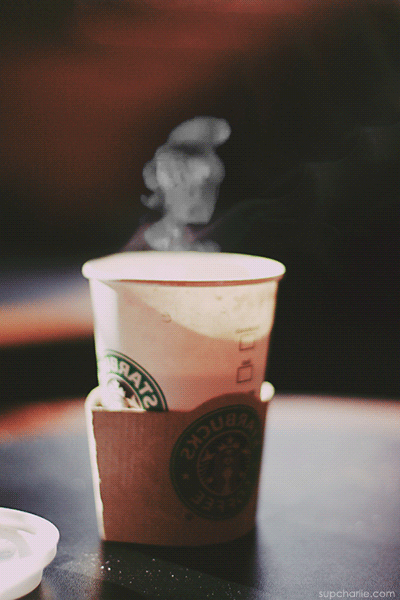 media2.giphy.com