- I don't use heat styling products much at all anymore, but when I do, it has to be something high-quality that won't damage my hair.
- When I first tried the Bellami Professional Flat Iron, it was on third-day hair, and I was immediately amazed by the way it transformed my somewhat greasy hair into looking like it had just been giving a bouncy blowout by my stylist.
- I wrap each section of hair around the medium one-inch flat iron instead of pulling it through the standard way, so I get bouncy waves instead of straight hair.
- I've used it about a dozen times now over the past several months, and though my hair is a bit frizzy afterward, it's my go-to when I want to look and feel a bit more done-up than usual and don't have the patience to spend more than ten minutes doing it.
I broke up with most of my heat styling products a long time ago. But on occasion, I like to put a bit more effort into my look (from the neck up, at least). I have really limp, straight hair naturally, so I'm always looking for something to add a bit more volume and for more hair to have that healthy, natural, bouncy waves look.

When the Bellami Triple Shine Professional Digital Flat Iron was sent to me, I had already heard a lot about the brand. The brand's extensions have famously donned several red carpets, and tons of people swear by them for big events. The latter won't be happening for me any time soon, but I was very excited to see what the brand had to offer in terms of heat tools.
I was breaking my no-heat-tools streak of nearly a year, but I was intrigued enough to make that sacrifice. When I first tried it out, it was on third-day hair. My strands were limp and greasy at the time, something I did on purpose to see how far the promise of "vibrant shine" could really go. Plus, I figured I was washing my hair shortly anyway, so I didn't have anything to lose.
The first thing I noticed was how quickly it heats up. Though the temperature goes up to 430 degrees Fahrenheit, I set it to 350, and by the time the digital screen updated its temperature to 340, my hair was already sectioned off with clips, sprayed with a good heat protectant, and ready to be styled.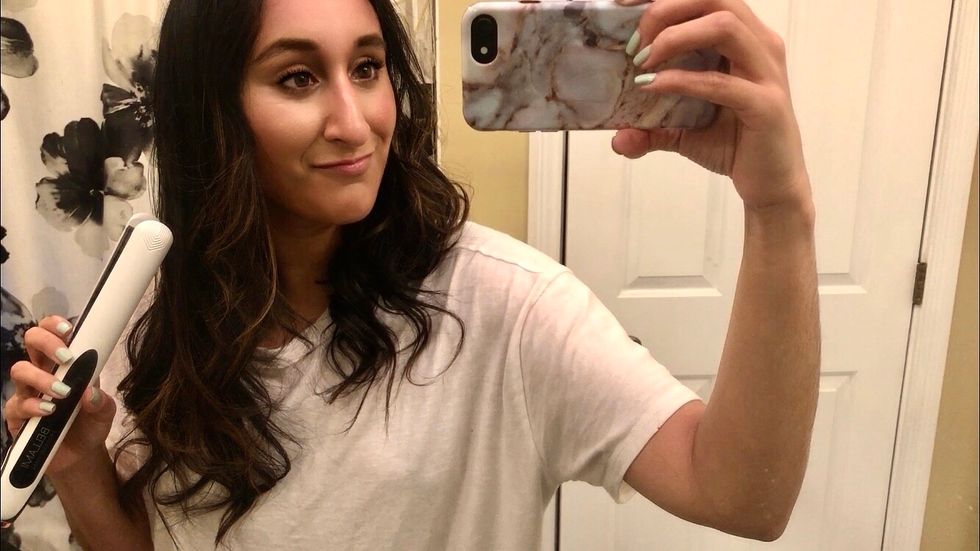 How I Used It
I sectioned off the top part of my hair from the bottom for maximum volume, pulling each strand towards the ceiling, wrapping it around the straightener rather than through it — that's the key to getting waves rather than just straightening it. Pass each strand of hair quickly for the least amount of heat damage. Because of the high-quality blend of black diamond, graphene, and ceramic in this straightener, you really won't need any more than one quick pass for each strand of hair.
At first, you'll feel like you have serious Shirley Temple curls going on. Trust me, this won't last. If you have hair that's really resistant to curling, waving, or any type of volume, resist brushing your fingers through the curls for at least ten minutes after you're done.
Spray with hairspray if you are feeling really serious, and let them cool so that the curls have a moment to set in place before you brush your fingers through them, as much as you'd like till you get the desired level of waves. If you really just want a soft "just spent the day at the beach," natural wave, brush your fingers through immediately.
Usually, after using a heat styling product like this, my hair will feel really dried out and coarse, so I'll top it with a dry oil to bring the shine back to my hair. But honestly, this has some unique effect on my hair that makes it revive my hairstyle, soaking up any grease, and extending my style for at least two more days — so I can go even longer without washing.
Conclusion
If you have frizzy hair, this may not be the one for you, because it does seem to make my hair a bit frizzy. A bit of anti-frizz cream seems to fix that, but that's the only con I'd say about this, and it hasn't stopped me from using the tool nearly once a week for the past three to four months.
Because this extends the time I can take in between washing my hair, and makes my hair look just as shiny and polished as it does after seeing my stylist, this will forever be a go-to for me. The biggest pro of this, though, is the way it does my hair so quickly. I'm so cautious about over-damaging my hair with heat tools, and since one quick pass of this through my hair gets the style I'm looking for, I don't feel like I'm over-frying my hair.
For $130, I'd definitely say it's worth the price. When it comes to heat styling products, it's never a good idea to go cheap. Yes, you can find alternatives for way less than that, and they may even get you the same curls or waves. But, I've made that mistake and ended up with extremely damaged, coarse, and thinning hair — a mistake I'll never make again thanks to this flat iron.
Buy the BELLAMI Triple Shine Professional Digital Flat Iron on their website for $130.