This story that I wrote is originally published for the Spectator, Concordia University Chicago's newspaper; however, I decided to share it on the Odyssey as well.
As most students are preoccupied with keeping up with their classes, some still find time to join clubs and activities on campus as further pursuing their interest in the arts. Art Club held its first meeting on Thursday, January 25th, 2018 with colorfully creative service project: tie-dying socks for the local children's museum, Wonder Works for the third year in a row.
Art Club has been run by Molly Miklosz since she was a freshman at Concordia University Chicago. Her goal for the club was to inspire others to recognize art as both an enjoyment and helpful contribution to the community.
"As a student studying Art Education, I see art club as a means of fostering an appreciation for art. We strive to have art club be as welcoming of a place as possible, so that everyone can participate and create--regardless of their major," said Miklosz.
Adilene Franco, Sophomore, is one of the participants in Art Club who enjoys participating because it could help her explore more art techniques as well as support her future endeavors.
"I am interest in implying art into my future career, so the different activities in art club can open me up to different types of art forms," said Franco.
Wonder Works
The first service project of the year was to help out the Wonder Works is a children's nonprofit museum located in Oak Park that encourages interactive learning among younger children by simulating a mini town playground that they can play in. Wonder Works motto is, "It's all about learning through creative play." (http://www.wonder-works.org/index.html)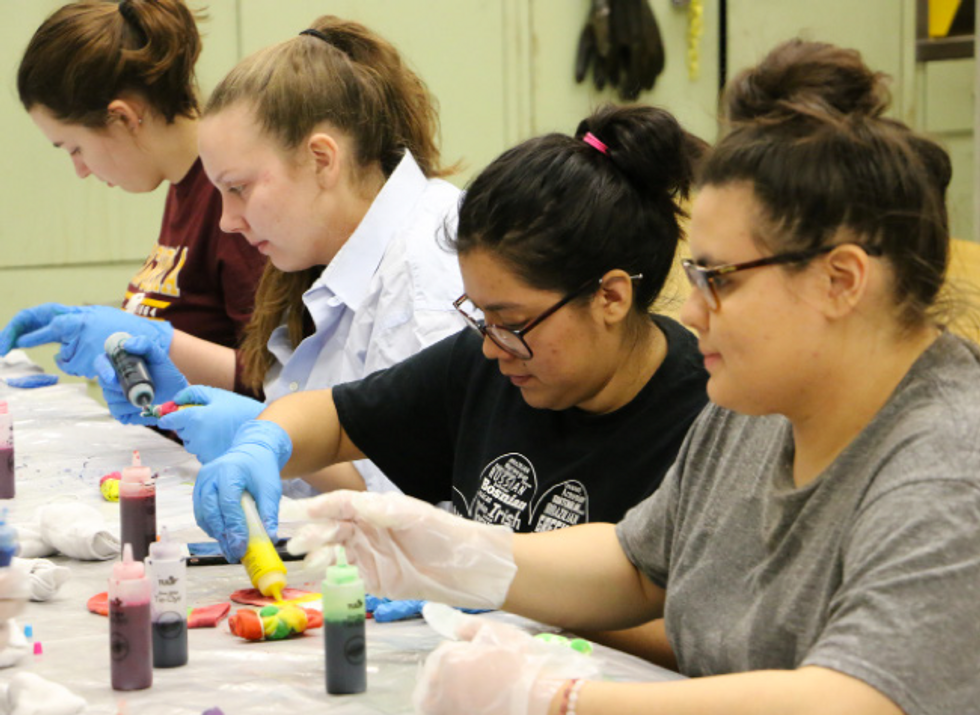 Molly Miklosz, Junior, wanted to support that mission by organizing a tie-dying sock project in the first meeting, as she was assigned a few years ago that all campus clubs had to participate in community projects.
"I was drawn to the museum because it caters to the community by providing children with all sorts of ways to solve problems creatively. The museum encourages children to unleash their imaginations through art, performance, design, building and so much more," said Molly Miklosz.
The only requirement for the children at the Wonder Works museum is to wear socks as they enter the playground, by having Art Club tie-dying creative colorful designs onto their socks, all children who visit the museum will be able to participate.
Among other activities that Art Club has created in the past include working with Women's Ministry for a painting night with fellowship and working with Latino Student Union to paint sugar skulls for the Day of the Dead holiday, where a handful of students came to contribute.
Miklosz is planning a mural project on campus; however, there are difficulties setting a time that would work for a large number of students. However, other activities that are upcoming are the Bob Ross Painting Night and incorporating fiber arts in the form of basket weaving.
Although, she only spoiled a few ideas, she is open to suggestions from students and welcomes all to participate in the meetings on Monday at 6-7:30pm in Kretzmann 159.