Art, in all its various forms, is an important part of our culture, society, and lives. Art has been proven to relieve stress, encourage creative thinking, and increase feelings of empathy.
"Art washes away from the soul the dust of everyday life." ― Pablo Picasso
Activities like painting, sculpting, drawing, and photography are relaxing and rewarding hobbies that can lower one's stress level and leave him or her feeling mentally clear and calm, according to recent mental health studies. Creating art provides a distraction and gives the brain a break from its usual thoughts. It acts as a form of meditation since it focuses the mind by forcing the creator to slow down and concentrate on details.
"Every child is an artist. The problem is how to remain an artist once he grows up." ― Pablo Picasso
Art also encourages creative thinking, as discovered in a study conducted by Dr. Lawrence Katz. He found that mental decline was due to the loss of communication between brain cells, not due to the death of brain cells. He discovered that art served to exercise the brain cells and keep them communicating. It stimulates creative thinking and encourages healthy, communicative brain cells.
"Painting is poetry that is seen rather than felt, and poetry is painting that is felt rather than seen." ― Leonardo da Vinci
Art even creates long-lasting feelings of empathy. According to a study by Semir Zeki, a neurologist at the University College London, students who visited a museum not only showed increased critical thinking skills, but they also exhibited greater empathy regarding how people lived in the past and expressed greater tolerance towards people different than themselves. He also discovered that the simple act of viewing art provides pleasure, much like falling in love. Brain scans have since revealed that looking at works of art triggers a surge of dopamine in the same area of the brain that registers romantic love. Increased levels of dopamine have been known to decrease depression and encourage feelings of happiness in all people.
Giphy
"One ought, every day at least, to hear a little song, read a good poem, see a fine picture, and, if it were possible, to speak a few reasonable words." ― Johann Wolfgang von Goethe
Studies prove children with musical training perform better in math, language, and reading. Training in the arts also improves overall behavior and reduces impulsiveness in young children. Art has been proven to relieve stress, encourage creative thinking, and increase feelings of empathy in all people, even young children.
"Art and love are the same thing: It's the process of seeing yourself in things that are not you." ― Chuck Klosterman
So if you're feeling down, feeling stressed, or feeling anxious, the best thing for you might just be picking up a paintbrush, appreciating some art, or listening to music. The power of art is unprecedented. And with all the stress we have in the world, we need all the help we can get.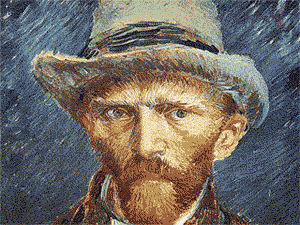 Giphy