As a spokesperson for animal rights since I was 12, I've watched the United States with hope for the state of animal rights to improve and flourish. The United States certainly has many basics covered for animal rights, and nearly every state and territory treat animal abuse as a felony (with the exception of South Dakota and Guam). But this isn't enough to protect helpless creatures, and when I discovered how much was left to change and improve, it lit a fire in me to join the fight and give a voice to the voiceless.
Animal Rights encompasses so much, so I want to focus on the areas that have become the most prominently debated and have reached many state houses and senates in order to be voted on. Animal testing, the selling of shelter animals in stores, and wildlife hunting regulations. There is so much more out there, however, and so many bills can use your support and possibly testimony, so checking with your local animal rights groups to see what can be done is always helpful.
Animal testing is detested by many and supported by others. Elle Woods and her fictional journey to ending animal testing with the help of her dog Bruiser might have made viewers think animal testing could be easily defeated, but it sadly isn't anywhere near our current reality. Animal testing will take many more years to end, and currently exists in every state in the U.S. However, four states have taken the step forward and banned animal testing for cosmetics, including California, New Jersey, New York, and Virginia. Animal activists will continue to push states toward joining these four and end the cruel cosmetic testing on animals.
While animal testing will be a behemoth to end entirely, a few states have seen incredible success with passing 'The Right to Release' bill. This is a bill championed by activists, and beagles who survived animal testing, and were released to loving homes. Currently, most animal testing labs will euthanize their test subjects once they are no longer needed. This is almost always unnecessary, as the animals (many of which are beagles, due to their forgiving nature) are usually healthy enough to live out many more years of life. The Right to Release, which has been supported by numerous labs themselves, would allow these animals to be adopted out through the lab, or given to a shelter. I was able to join supporters and watch the bill pass the Oregon Senate unanimously.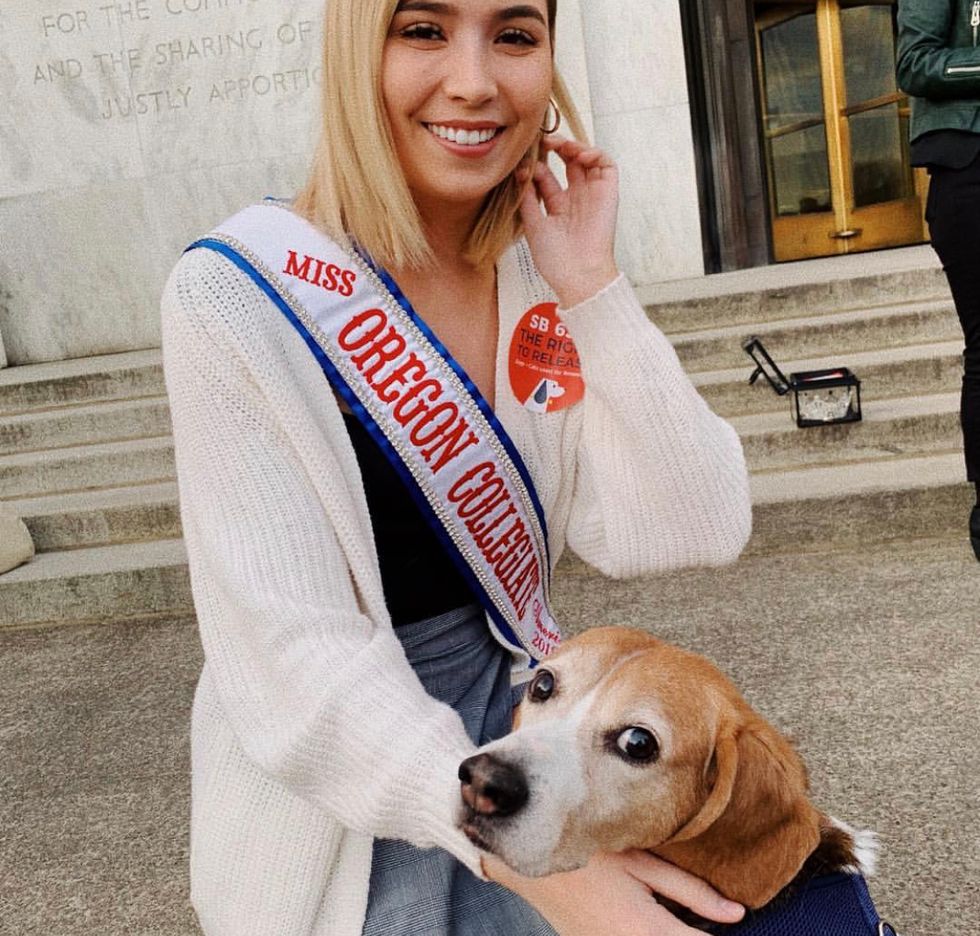 Animal testing survivor Leila and Emma
Animal adoption is a great option for finding an incredible animal who will fit into your life and family. However, many stores around the U.S. still sell animals from mills, where hundreds of animals are bred and raised in poor conditions. These animals may be adorable and tempting to people passing by, but many of these pets end up becoming sickly, and can commonly develop conditions that lead to short lives. California and Maryland have passed a bill requiring animals sold be shelter animals, and dozens of others have had it proposed or are currently voting on the issue. Unfortunately for Oregonians, this bill was killed in the House Business and Labor Committee. Hopefully, in time this bill can return for a vote. The goal of this bill is for stores to promote the adoption of shelter pets instead of supporting puppy mills. By doing so, loving animals who need a home will be given that chance.
Although pets are usually the first thing that comes to mind with animal rights, there are millions of wild animals in the United States who also deserve rights, and are being supported by activists. In the past few years, the news has been filled with stories of unlawful killings of mother bears and their cubs, defenseless and sleeping at the time of their death. President Trump has publicly supported removing the ban, therefore allowing hunters to legally kill them. Additionally, the U.S. Department of the Interior has proposed removing legislation prohibiting sport hunting practices in National Parks, designed to preserve the parks and wildlife. Positive hunting issues have been presented throughout the country as well, though. New Jersey has regulated harming endangered animals, and Oregon has proposed a bill to stop gruesome coyote hunting contests.
Animal Rights will continue to be an issue of give and take, but there will always be dedicated people who want the best for animals and will take to lobbying, fundraising and campaigning to make the differences needed to save and protect the pets and wildlife alike in the United States.