Teenagers today flock to places like Urban Outfitters and Forever 21, where many of the seasonal styles are trends from the 90's. These are popular because they have become huge nostalgic pieces, reminiscent of our parents days as young adults. Even kids who have no connection to the 90's participate in this recycling of fashion due to their pure fascination in the time period.
But what will be the next reclaimed era of style? The answer is easily, the early 2000's. When Brittany Spears ruled the track suit and Ashley Tisdale was never seen without a skirt layered over baggy jeans. This iconic time in style will be what our kids are asking us about in the years to come, and I can't wait!
Metallic everything will be the new plaid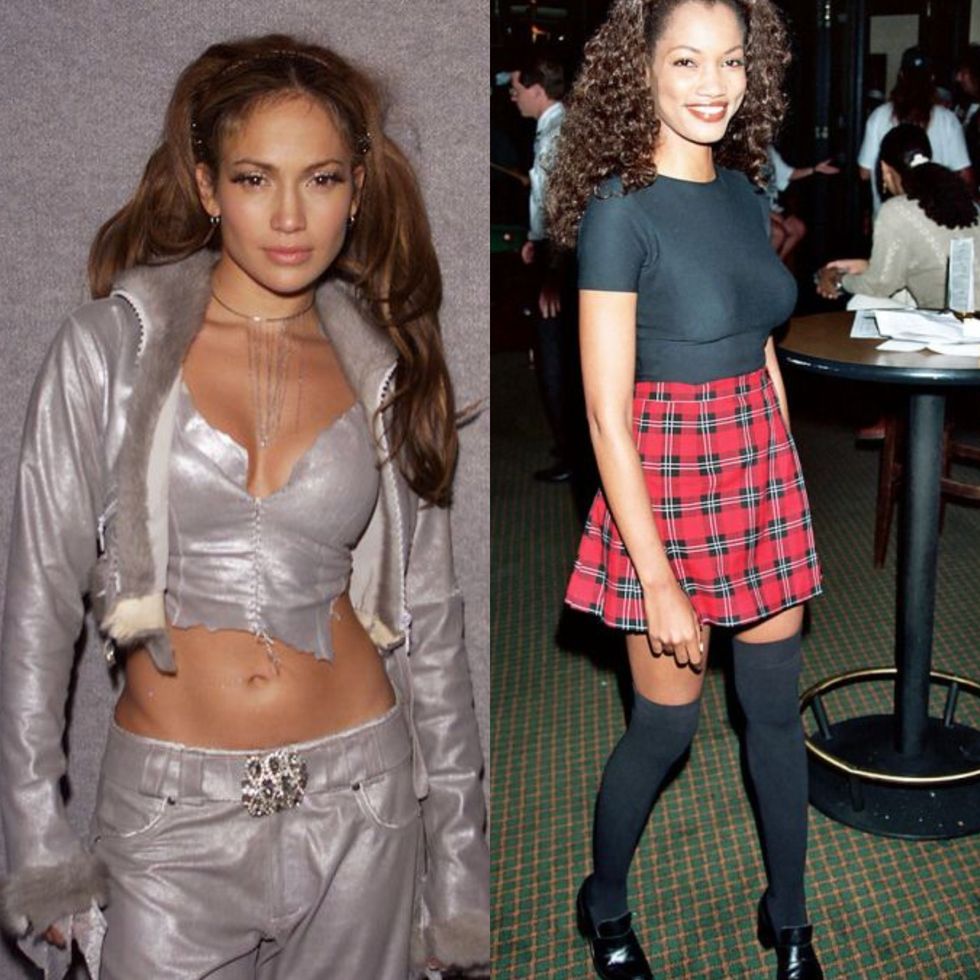 https://i.pinimg.com/originals/6b/34/01/6b3401eff767d3356b2381455c5e50e0.jpg and https://i.pinimg.com/originals/96/d5/0b/96d50b79ab7a98b541f8b3ede0c96c32.jpg
Jennifer Lopez's metallic get up (2000) and Garcelle Beauvais's plaid skirt (1994).
Houndstooth pattern will be the new shape prints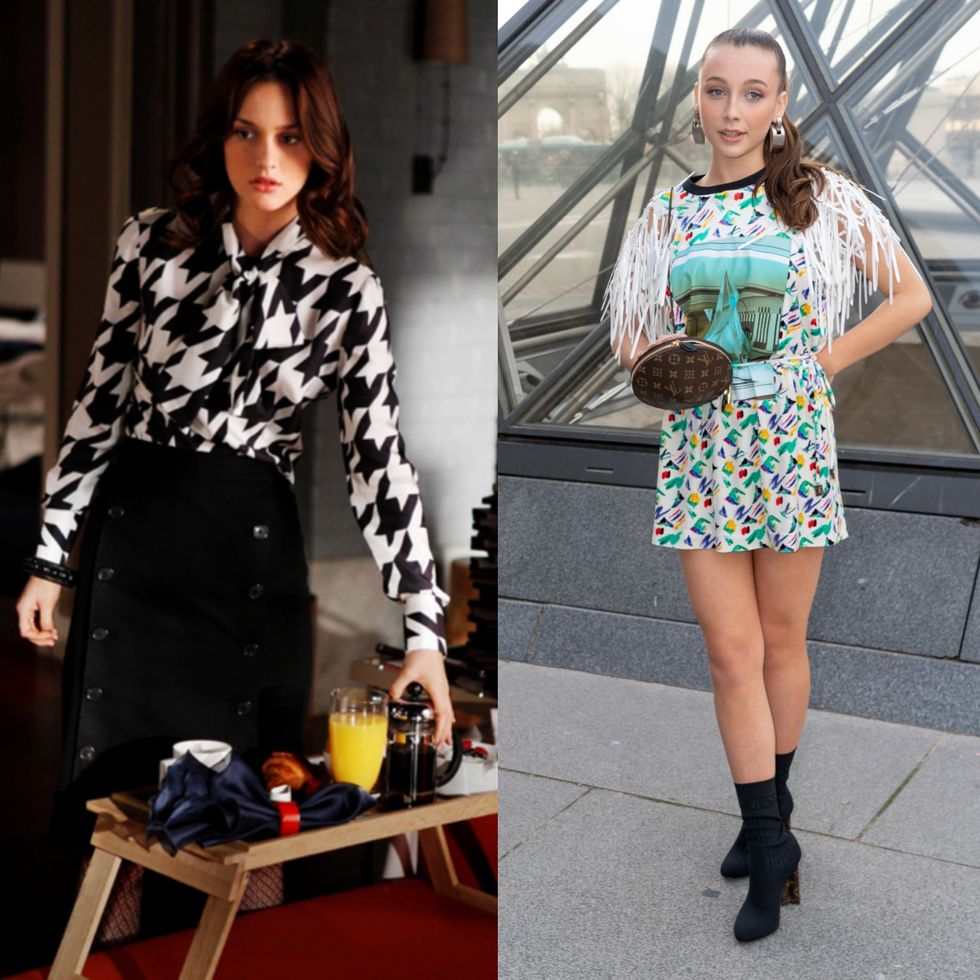 https://i.pinimg.com/originals/ab/1f/a1/ab1fa1cdca6acf20df4471dc0d9476e3.png and https://www.hawtcelebs.com/wp-content/uploads/2019/03/emma-chamberlain-at-louis-vuitton-show-at-paris-fashion-week-03-05-2019-0.jpg
Blair Waldorf from Gossip Girl wearing the classic Houndstooth print (2007) and Emma Chamberlain wearing a Louis Vuitton dress with the 90s-esque shapes pattern on it (2019).
Faux sports tops will be the new skate brands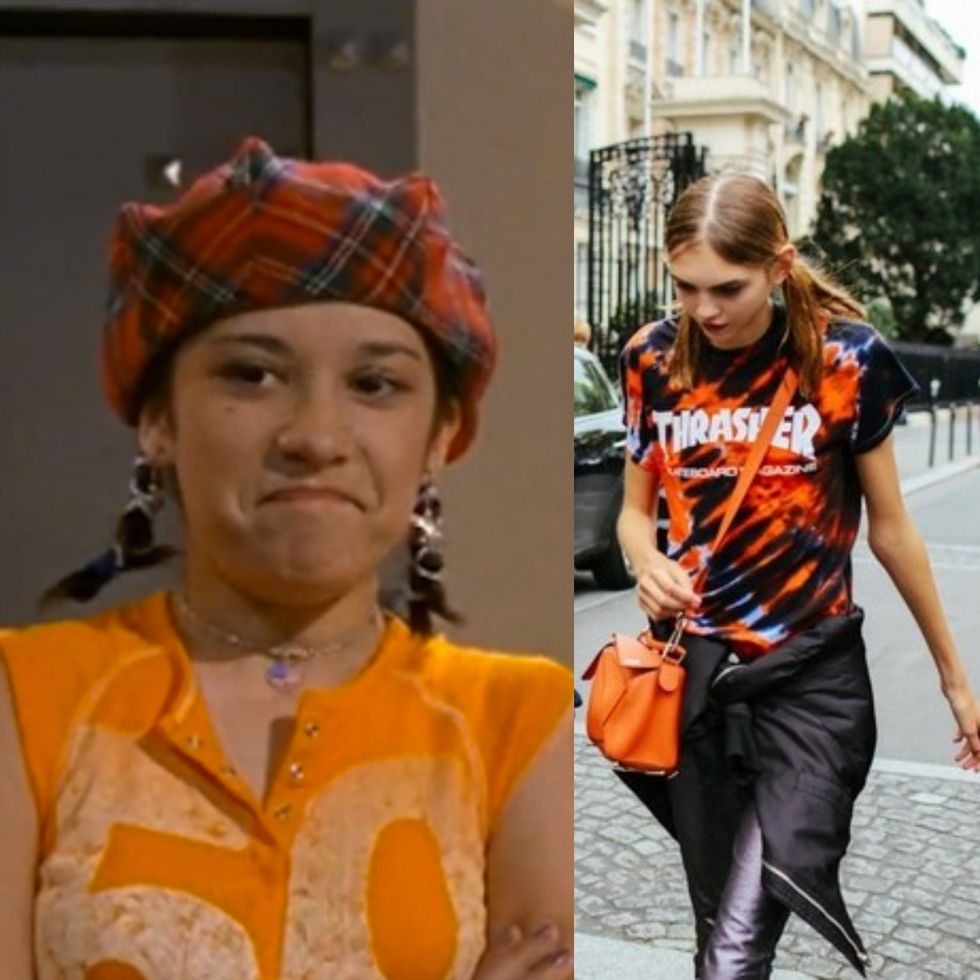 https://i.pinimg.com/originals/0e/59/2b/0e592bbed6030cb26cc04ac453225773.jpg and https://www.vogue.com/article/how-did-thrasher-tee-become-model-off-duty-staple
Miranda from Lizzie Mcguire wearing a jersey top (2001) and a model wearing the popular 90s Thrasher brand tee.
Low-rise pants will be the new mom jeans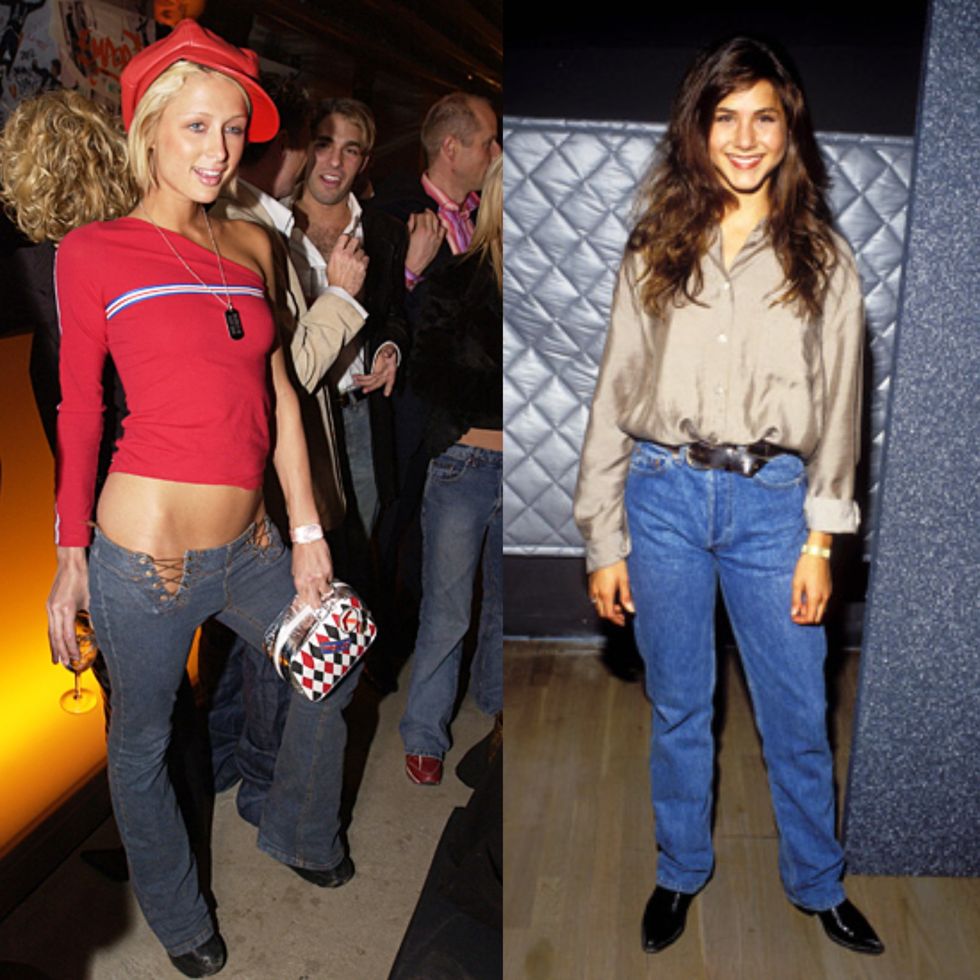 http://www.mtv.com/news/wp-content/uploads/style/2014/06/low-rise-jeans-paris-hilton.jpg and http://www.snakkle.com/wp-content/uploads/2012/02/jennifer-aniston-mom-jeans-red-carpet-1990-photo-GC.jpg
Paris Hilton wearing low rise jeans (2002) and Jennifer Aniston sporting mom jeans (1990).
Logo hand bags will be the new mini backpacks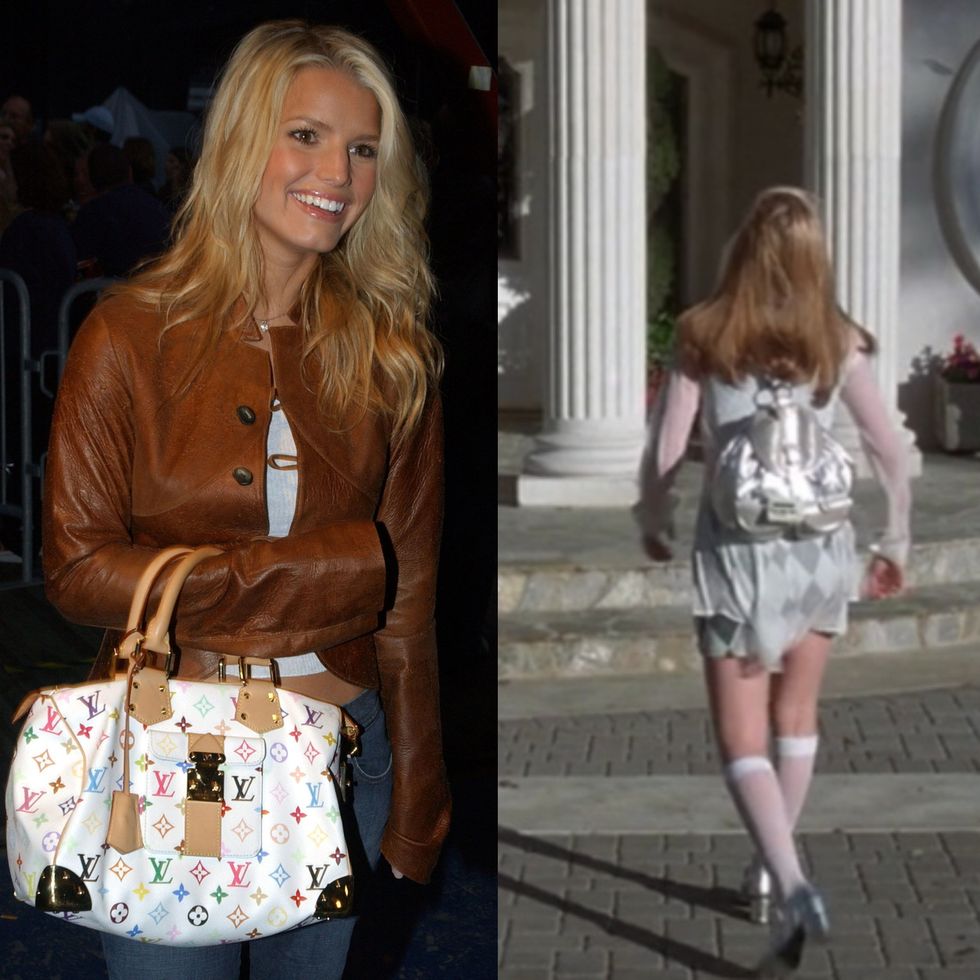 https://www.glamour.com/story/louis-vuitton-discontinuing-murakami-monogram-bags and https://jennynovelloblog.files.wordpress.com/2017/08/cher2.jpg
Jessica Simpson with Louis Vuitton logo bag (2003) and Cher Horowitz's tiny backpack in Clueless (1995).
Eccentric hair accessories will be the new tiny sunglasses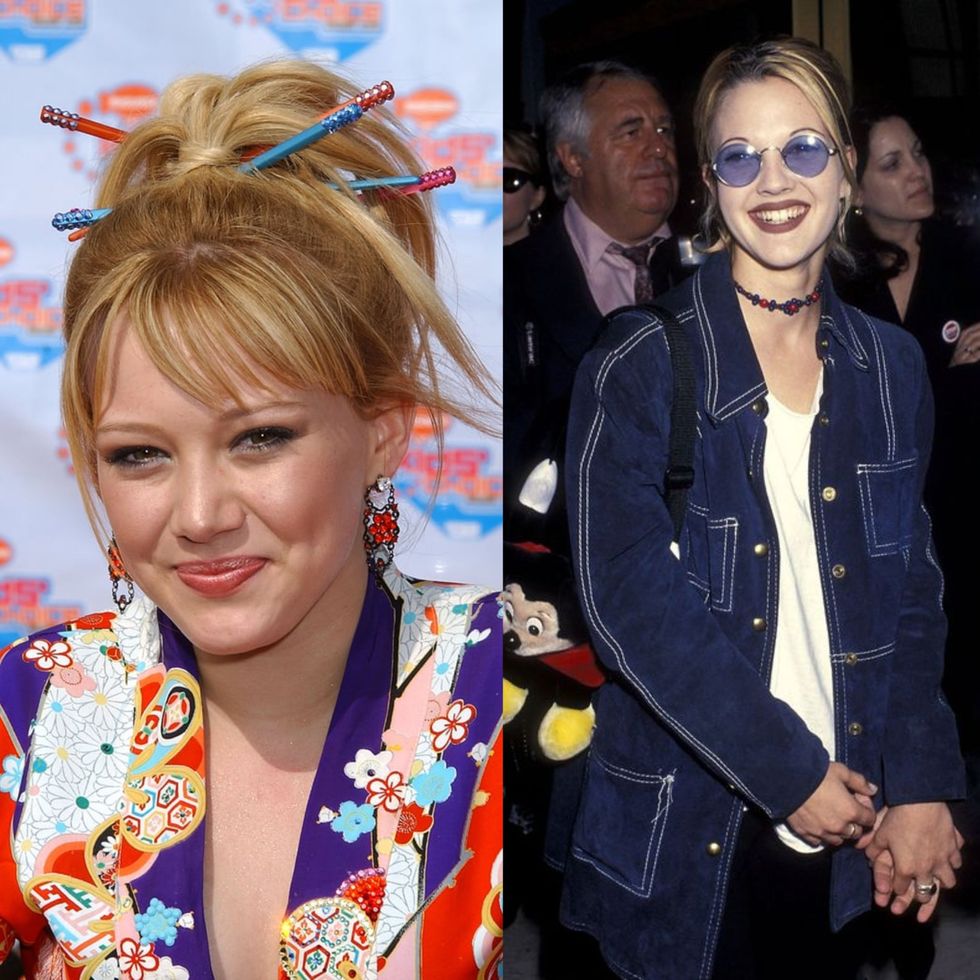 https://media1.popsugar-assets.com/files/thumbor/yIPOy4K0TWSemqtgv67CWVOBMuA/fit-in/1024x1024/filters:format_auto-!!-:strip_icc-!!-/2016/09/28/772/n/1922153/6391dae4b68d62bf_GettyImages-104976736/i/Leave-Hair-Chopsticks.jpg and https://thefashiontag.com/wp-content/uploads/2017/01/2017-sunglasses-trend-90s-small-sunglasses-12.jpg
Hilary Duff, queen of hair accessories (2002) and Drew Barrymore with tiny Aaliyah sunnies in the 90's.
Corset tops will be the new casual lingerie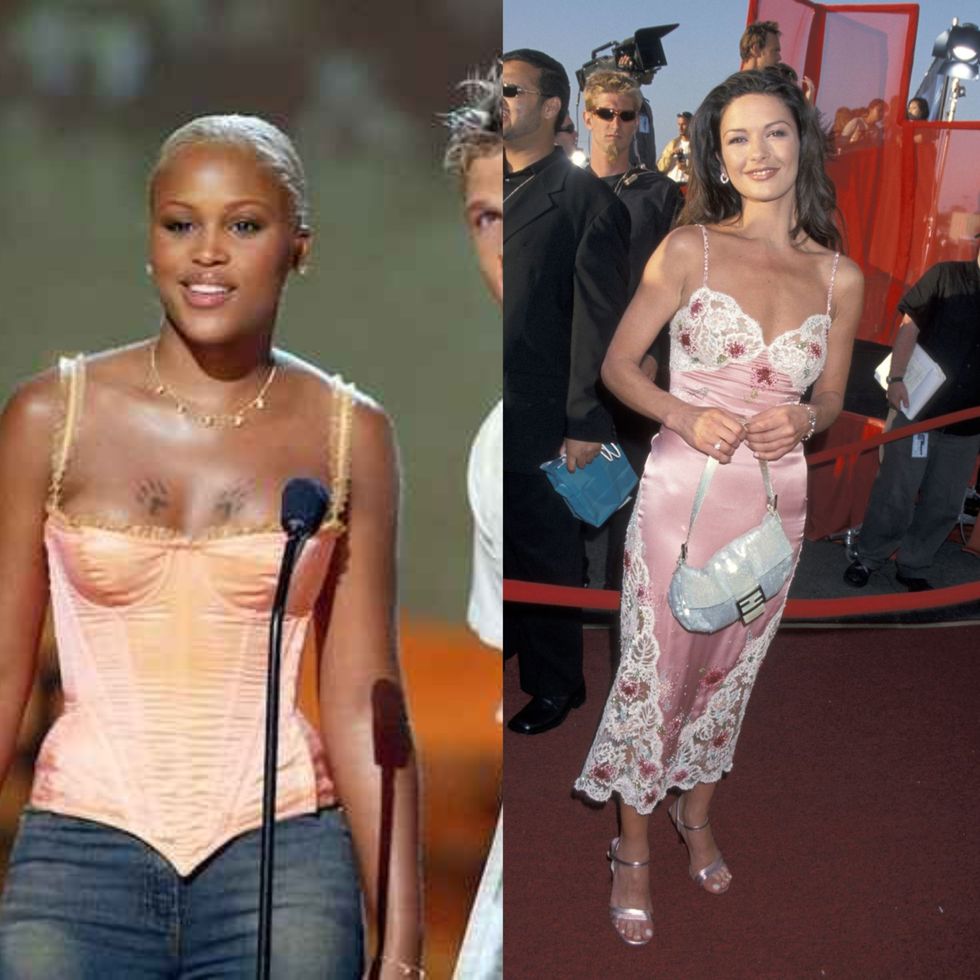 https://media.gettyimages.com/photos/eve-and-nick-carter-at-the-teen-choice-awards-2002-held-at-the-in-picture-id2260312?s=612x612 and https://www.cosmopolitan.com/style-beauty/fashion/news/g4736/celebrities-in-lingerie-mtv-movie-awards/?slide=6
Eve in a corset top at the 2002 Teen Choice Awards and Catherine Zeta-Jones wearing a lingerie dress (1999).
Kitten heels will be the new platform shoes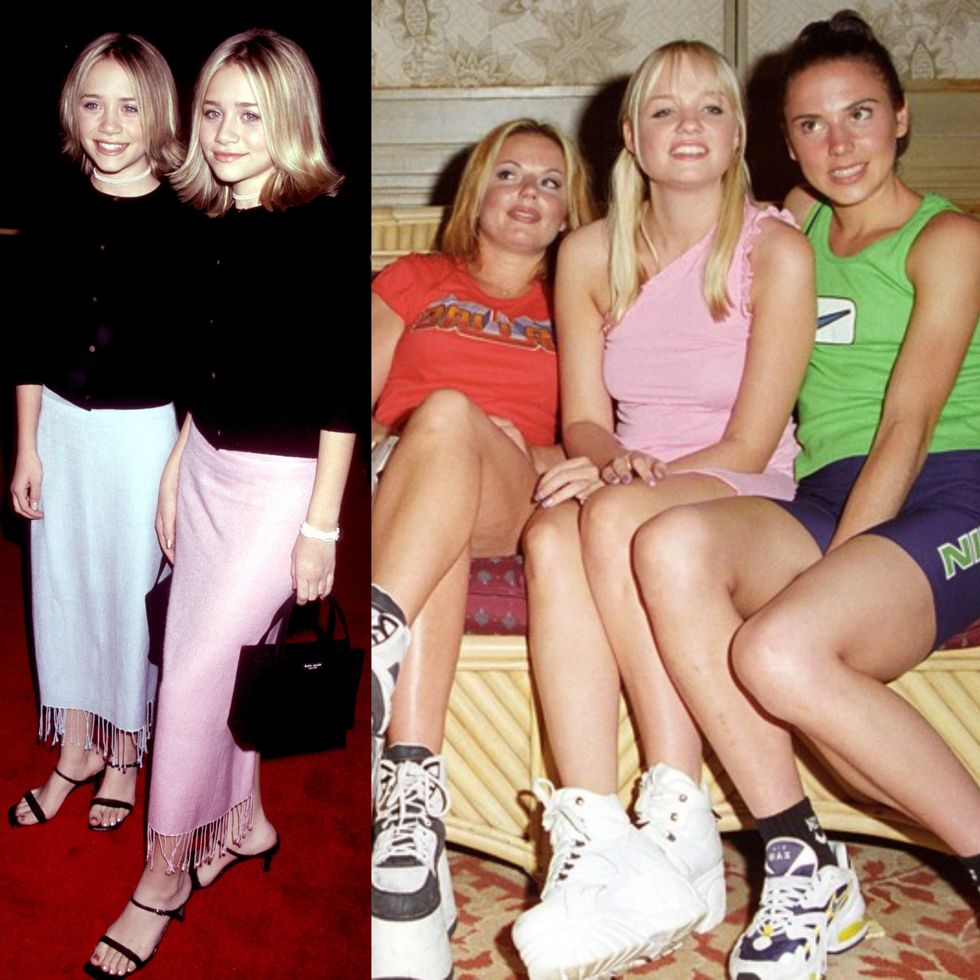 http://media.glamour.com/photos/57e023ed362f532f5d986f46/master/w_1508/olsen-twins-1999-kitten-heels.jpg and https://mondrian.mashable.com/uploads%252Fcard%252Fimage%252F10371%252FGettyImages-76448801.jpg%252F950x534__filters%253Aquality%252890%2529.jpg?signature=GEGks_K_TSXBFuwYMAvxTNtSltU=&source=https%3A%2F%2Fblueprint-api-production.s3.amazonaws.com
The Olsen Twins in kitten heels (2000) and The Spice Girls in platform sneakers (1997).
Cardigans will be the new puffer jackets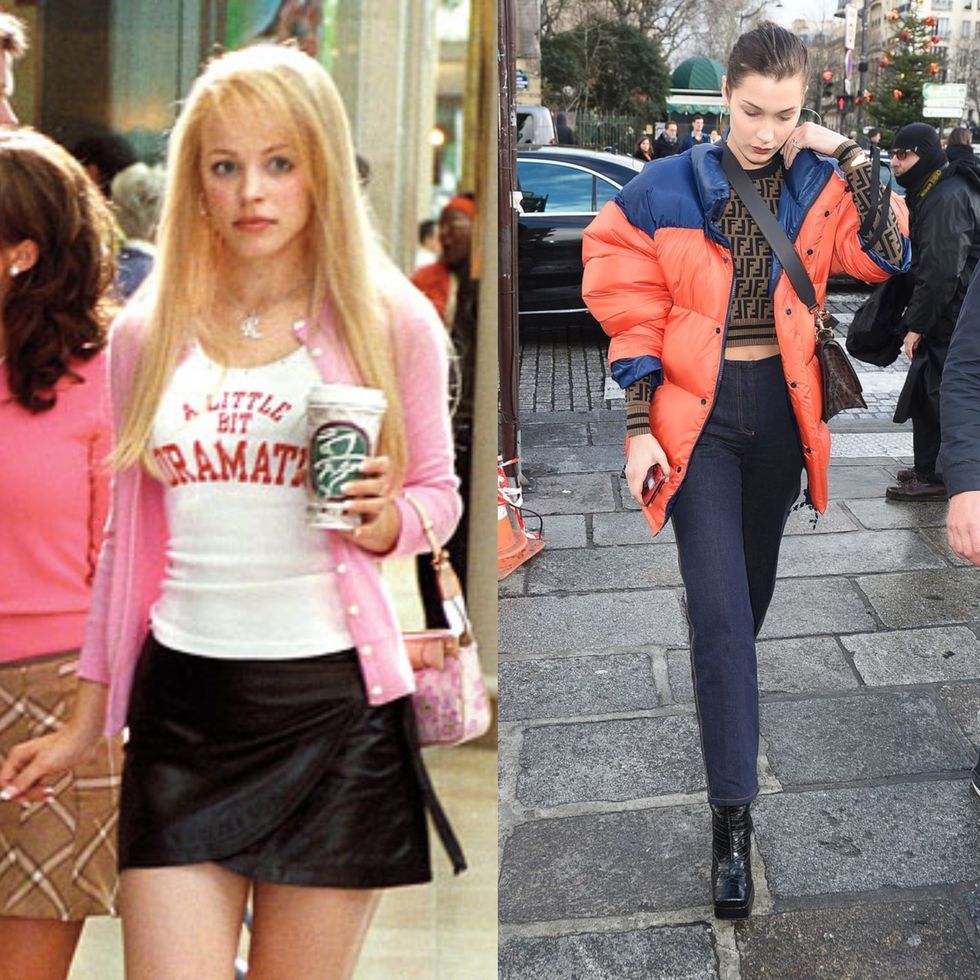 https://images.hellogiggles.com/uploads/2016/07/19060526/mean-girls.jpg and https://i.pinimg.com/originals/49/29/a5/4929a560eb5b3cf8be8133c27b41a2db.jpg
Regina George from Mean Girls sports the popular cardigan style (2004) and Bella Hadid wearing a 90's inspired puffer jacket.
Designer track suits will be the new biker shorts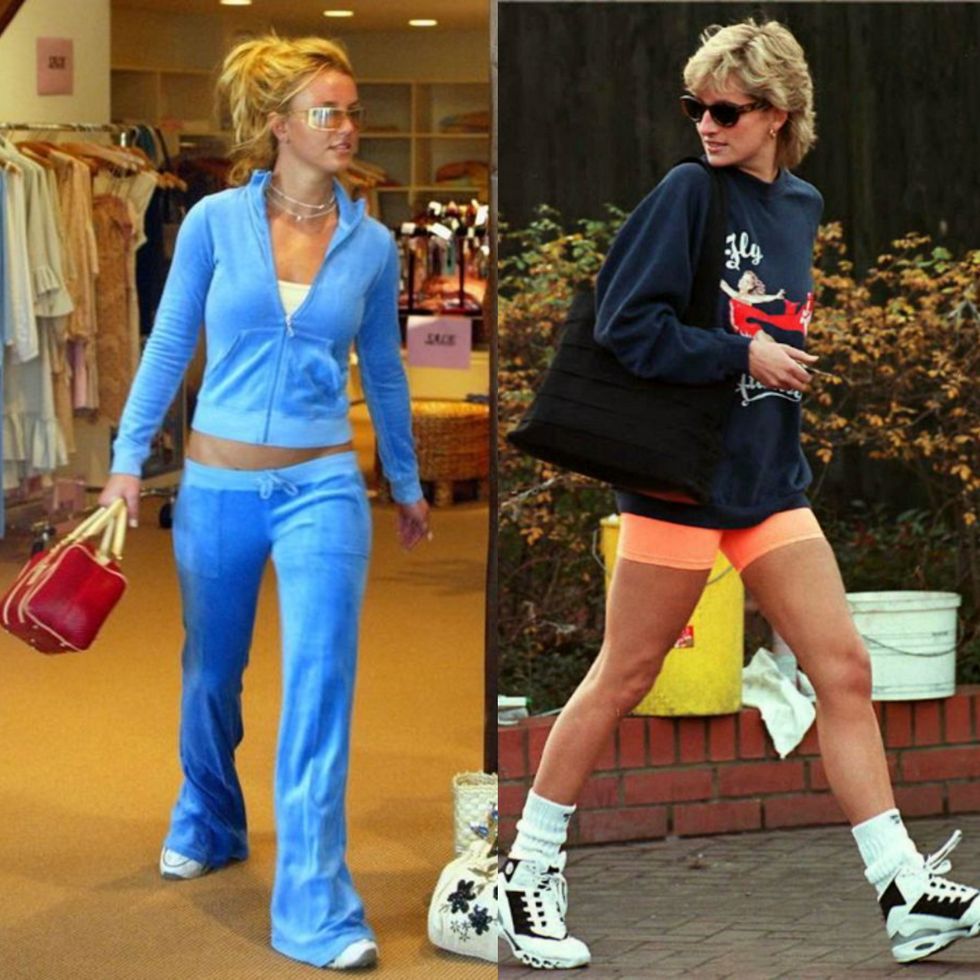 https://i.pinimg.com/originals/5b/31/71/5b31714fea5fc48da7c0b8d48e56751d.jpg and https://i.pinimg.com/originals/91/76/59/9176598b38975bd65f5931a16a97ee34.png
Britney Spears wearing a Juicy Couture tracksuit in the early 2000s and Princess Diana sporting the biker shorts trend in the 90's.
Some may absolutely despise the early 2000s fashion. But when it makes its way back to mainstream stores and our kids are dressing in these looks, the nostalgia will be unreal!