There is nothing more fun than going on a senior trip with all your best friends, you will truly make memories that will last a lifetime.
The days spent in the beating sun all together is simply indescribable, and with that comes nine things everyone can relate to by the end of the week.
1. You all looked forward the trip the second it was booked
Even months in advance, everyone knew it was going to be a trip of a lifetime. The second the trip was booked, and it became official, everyone started counting down the days and would constantly talk about how excited they were for the week away.


2. You bought way too many bathing suits in the weeks leading up to the trip
Everyone loves rocking their newest swim suits the second they hop off the plane, which is exactly why you felt the need to buy way more suits than one would ever need. Sometime the excitement would get the best of us!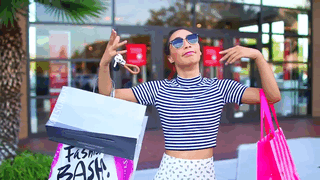 3. You would constantly look up photos of the resort
As the days passed and the trip would slowly get closer and closer, you would always find yourself looking up pictures of your destination and send pictures of it to your group message, so you could share the excitement with your best friends.
4. As you began packing to leave, all your girlfriends would send pictures of the outfits they planned on wearing to make sure everyone liked it
"Is this okay, you think?", "HELP! Do you guys like this?", "Will this make me look tan?". Of course, no outfit choice could be okayed unless you ran it past 20 girls first!
5. All your parents were shocked after seeing the crazy side to you and your best friends
Really nothing can prepare a parent for witnessing a whole friend group in action together, especially on vacation. But hey, kids will be kids! However, they never got too mad, because most of the time the parents were right by your side, having just as much fun!
6. Every morning you would turn to you friend and say "I can't do that again, tonight"
But of course, you did!
7. Tequila is your worst enemy after the trip
Especially if you went to Mexico, even the thought of it brings back horrible, yet fun memories.
8. You always look back at old pictures and videos from the trip
It is always fun go look and reminisce on the trip and think about all amazing laughs you shared together. The posed pictures are always the cutest, however the ones with crazy stories behind them or no explanation are even better.
9. You can all agree it was the best trip ever
You and all your friends would give practically anything to be able to relive that week, or even a day of it. Everyone was simply happy the whole week, with no complaints and not a worry in the world.