The holidays are right around the corner, and what better way to prepare than to drink delicious hot chocolate. Nowadays, there are so many ways to make hot chocolate, so here are 8 amazing ways to enjoy hot chocolate on a cold day.
1. Peanut Butter Hot Chocolate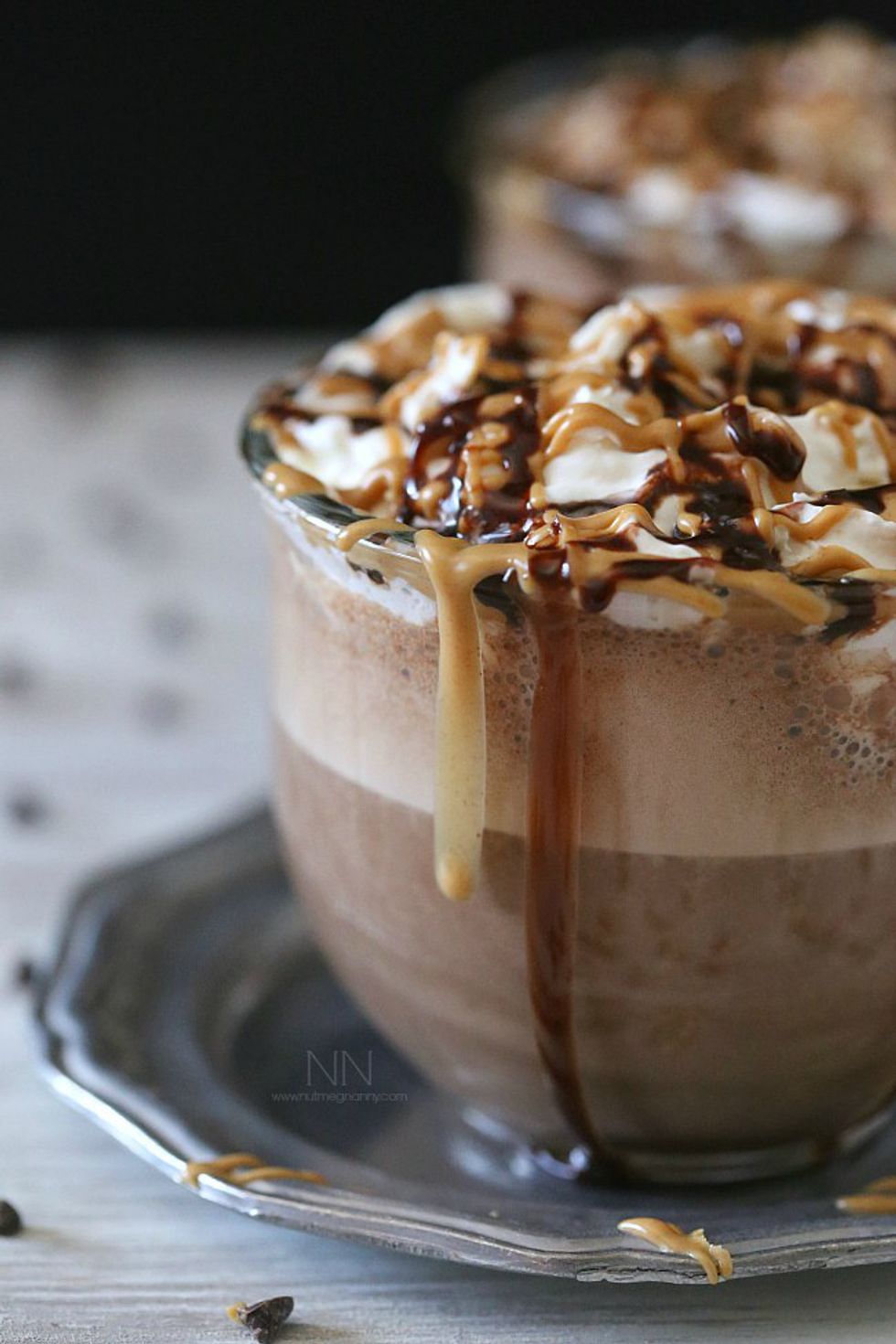 Simmer milk and cream until hot to the touch and steaming.
Add in your chocolate and stir until smooth and melted.
Stir in peanut butter until just melted.
Pour the mixture into a big ol' mug.
Top with mini mallows and enjoy.
2. White Hot Chocolate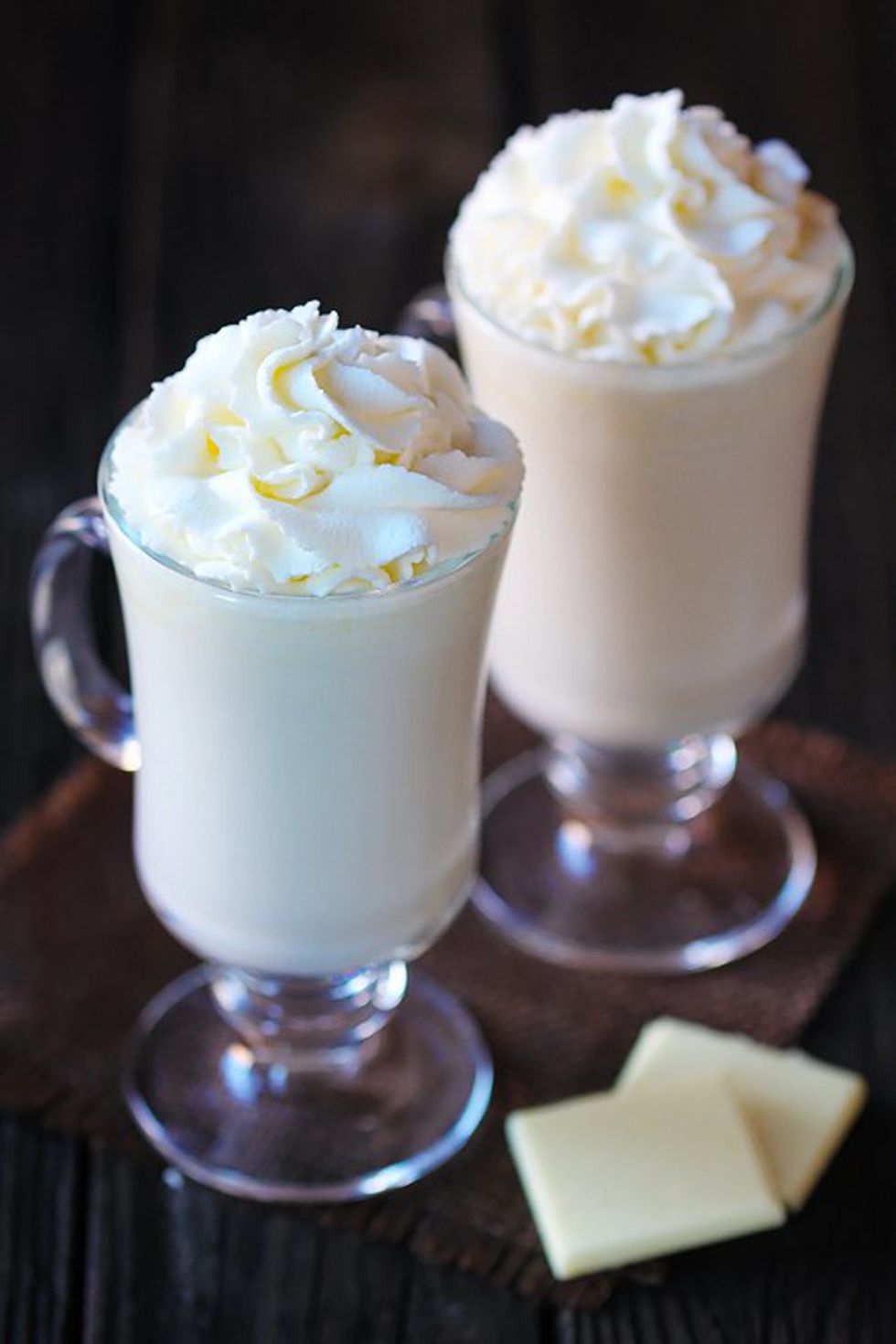 INGREDIENTS:
4 cups of milk of your choice (or you can substitute heavy cream or half and half, or do a mixture)
1 tsp. vanilla extract
8 oz. white chocolate, chopped into small pieces (or white chocolate chips)
whipped cream or marshmallows for topping
DIRECTIONS:
Stir together milk, vanilla and chopped white chocolate in a medium saucepan. Cook over medium-low heat, stirring occasionally, until the white hot chocolate comes to a simmer. (Do not let it come to a boil.) Remove from heat and serve immediately, topped with whipped cream or marshmallows if desired.
3. Gingerbread Hot Chocolate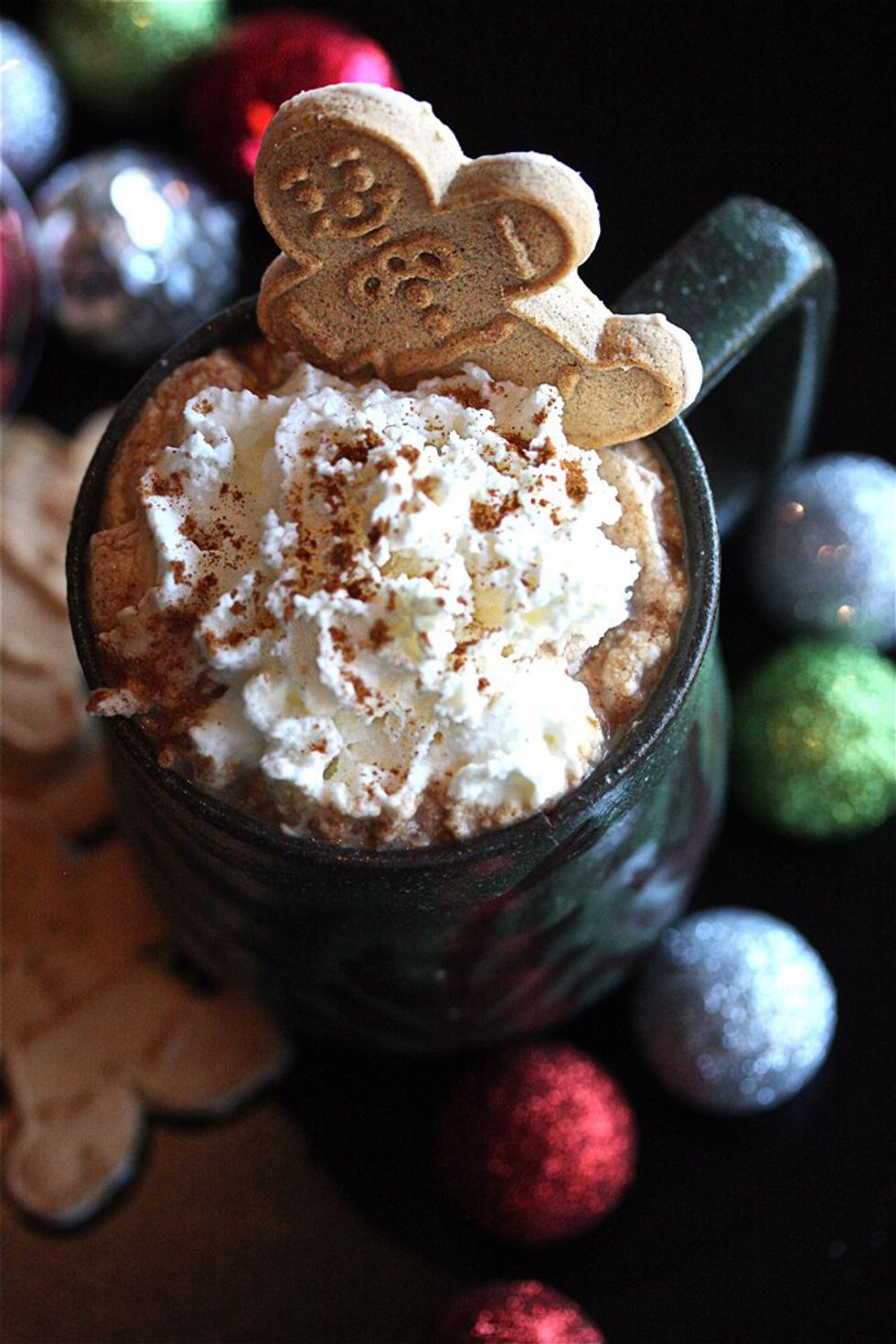 Ingredients
4 cups milk
½ cup cocoa powder
¼ cup brown sugar
¼ cup white sugar
½ teaspoon ground cinnamon
½ teaspoon allspice
½ teaspoon ground ginger
½ teaspoon vanilla extract
¼ teaspoon sea salt
whipped cream for topping
Instructions
In a medium saucepan over low heat, heat milk. While warming the milk, combine the cocoa powder, brown sugar, sugar, cinnamon, allspice, and ginger in a small bowl. Whisk into the milk until hot. Serve with whipped cream and sprinkle with cinnamon.
4. Peppermint Hot Chocolate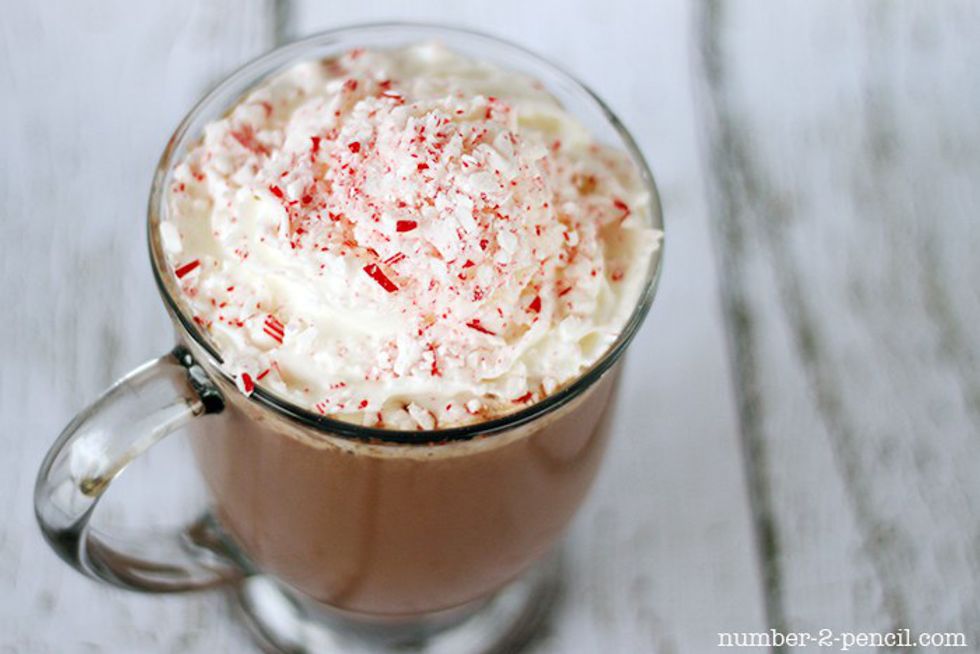 2 cups of milk
2 cups of heavy cream
1 to 1 1/2 cups of semi sweet chocolate chips
1/2 teaspoon of vanilla extract
1/2 teaspoon of peppermint extract
Whipped cream
Crushed candy cane
Directions: Measure chocolate chips into a large heatproof bowl. Heat milk and cream over medium heat until hot, but not boiling. Stir occasionally while heating. Once hot, pour mixture into bowl over chocolate chips. Add vanilla and peppermint extract. Whisk until chocolate chips are completely melted. Serve with whipped cream and crushed candy cane sprinkled on top.
5. Nutella Hot Chocolate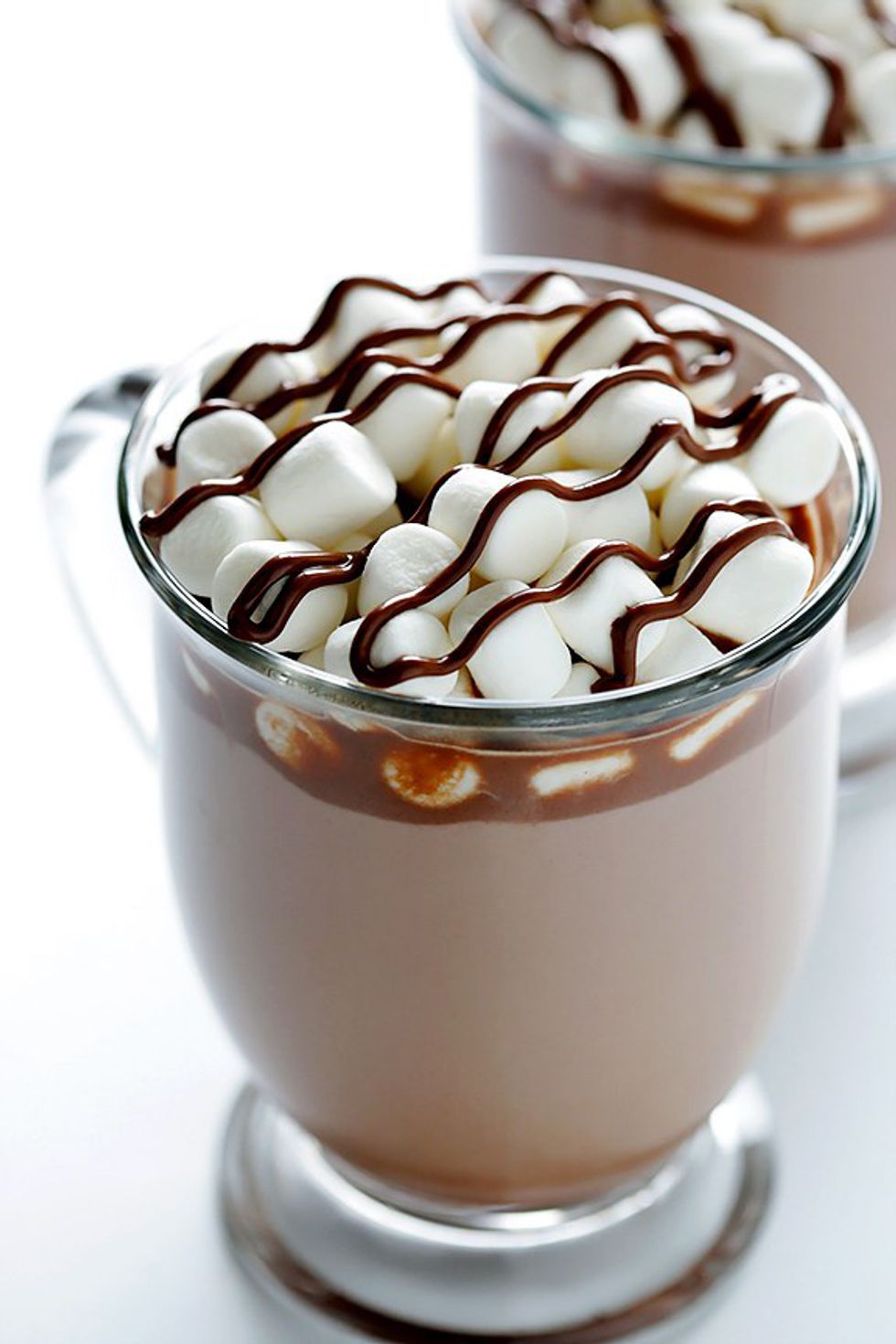 INGREDIENTS:
2 Tbsp. Nutella

1 cup milk (any kind)

optional toppings: whipped cream, marshmallows, chocolate syrup, chocolate shavings
DIRECTIONS:
1. Heat milk in a small saucepan over medium-high heat until steaming (not boiling), stirring occasionally.
2. Add in the Nutella, and whisk until dissolved.
3.Serve immediately, either plain or with your desired toppings.
6. Vegan Chai Hot Chocolate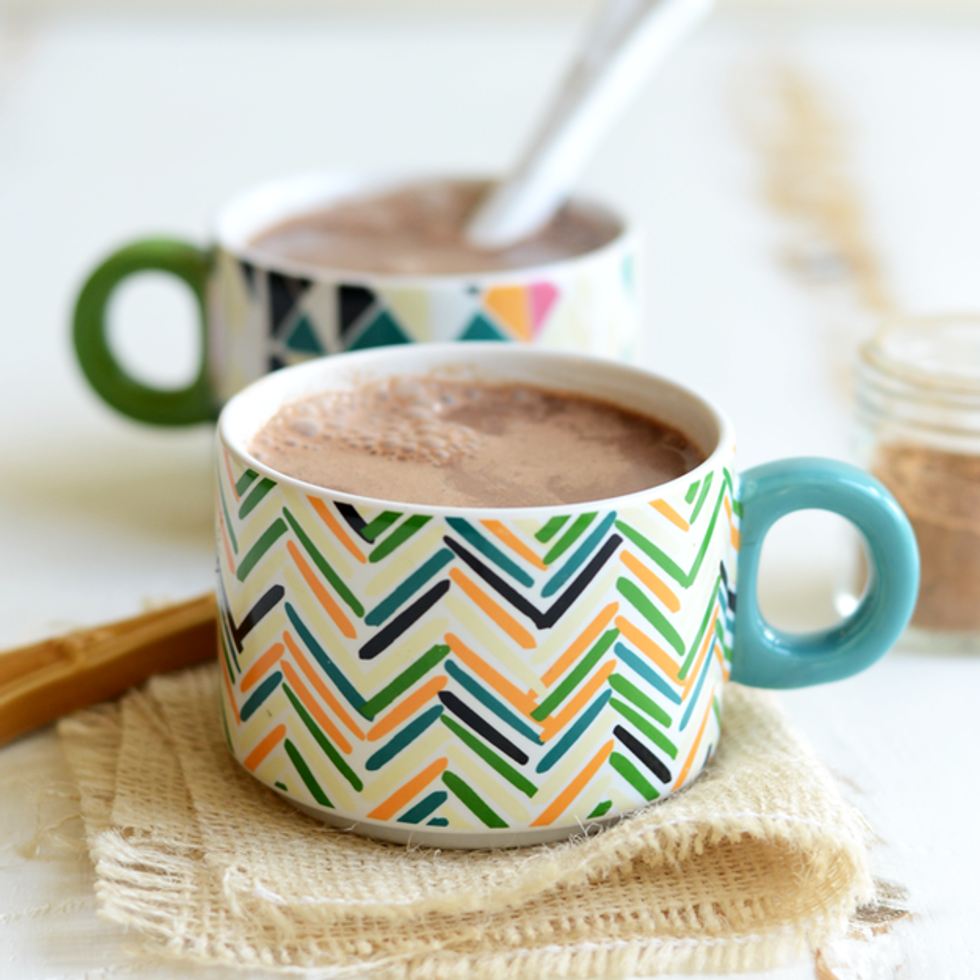 Ingredients:
2 cups vanilla almond milk, sweetened (I used Silk Original)
2 tablespoons cocoa powder
1 teaspoon DIY Chai Spice
Instructions:
Place all ingredients in a medium size sauce pan. Bring to a rolling boil and stir until spices and cocoa powder have dissolved. Reduce heat and let simmer for 3-5 minutes.
7. S'mores Hot Chocolate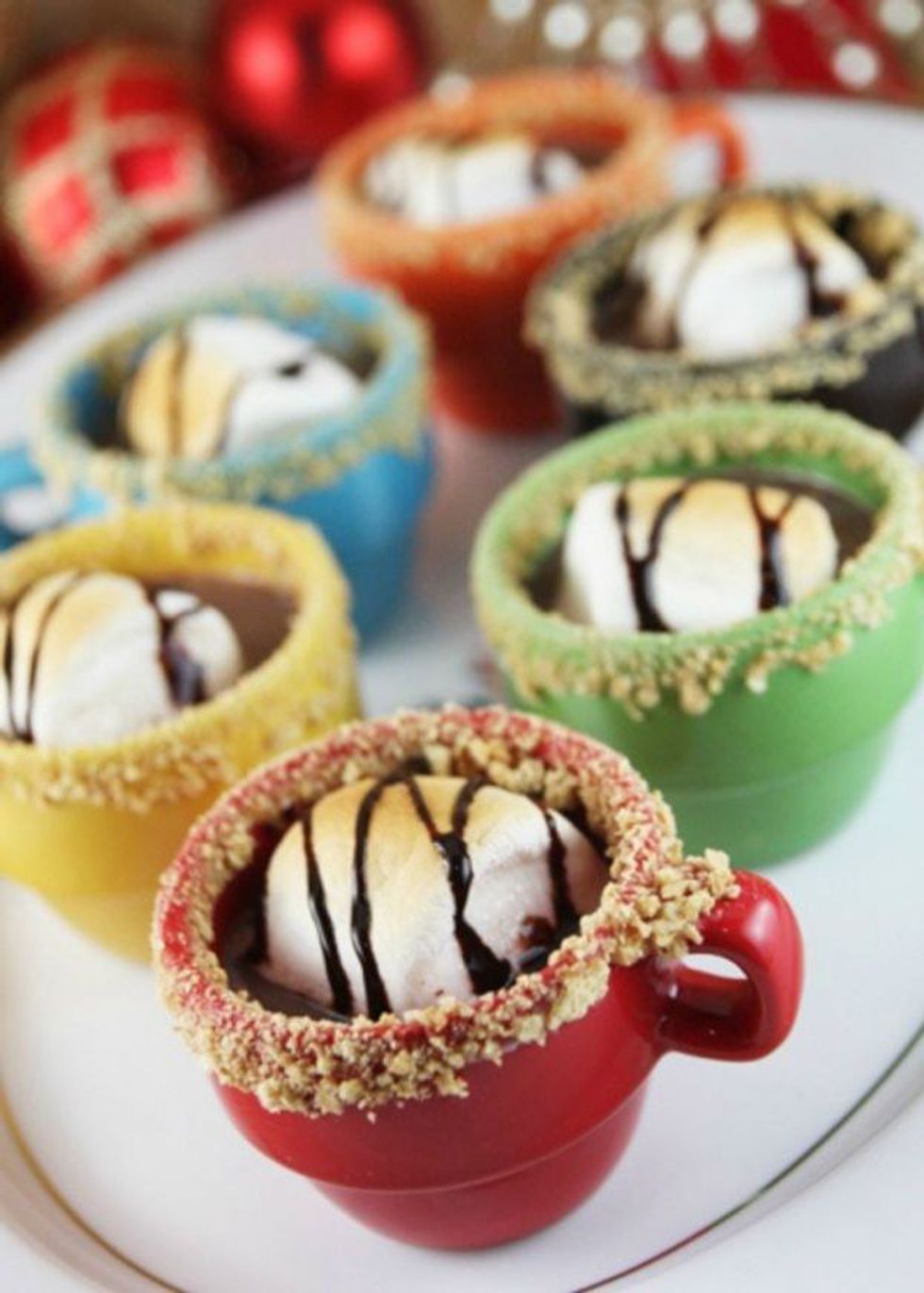 4 cups whole milk
2 4oz Hershey's chocolate bars
2 Tbs butter, melted
2 graham crackers, crushed
8 large marshmallows
Chocolate syrup
4 mugs or 8 espresso sized mugs
Place melted butter in a small, shallow dish that's as large around as your mug. Place crushed graham crackers in another dish of the same size. Flip your mugs upside-down and dip the rim first in melted butter and then in the crushed graham crackers. Break the chocolate into pieces and place one half bar in each mug. Heat milk to a simmer, and then pour one cup into each mug over the chocolate. Set aside.
Place marshmallows on a parchment lined baking sheet. Place under the broiler in the oven on low heat. Watch constantly and remove from oven when toasted and browned.
Stir hot milk mixture to distribute melted chocolate. Top each mug with 2-3 toasted marshmallows and drizzle with chocolate syrup.
8. Pink Hot Chocolate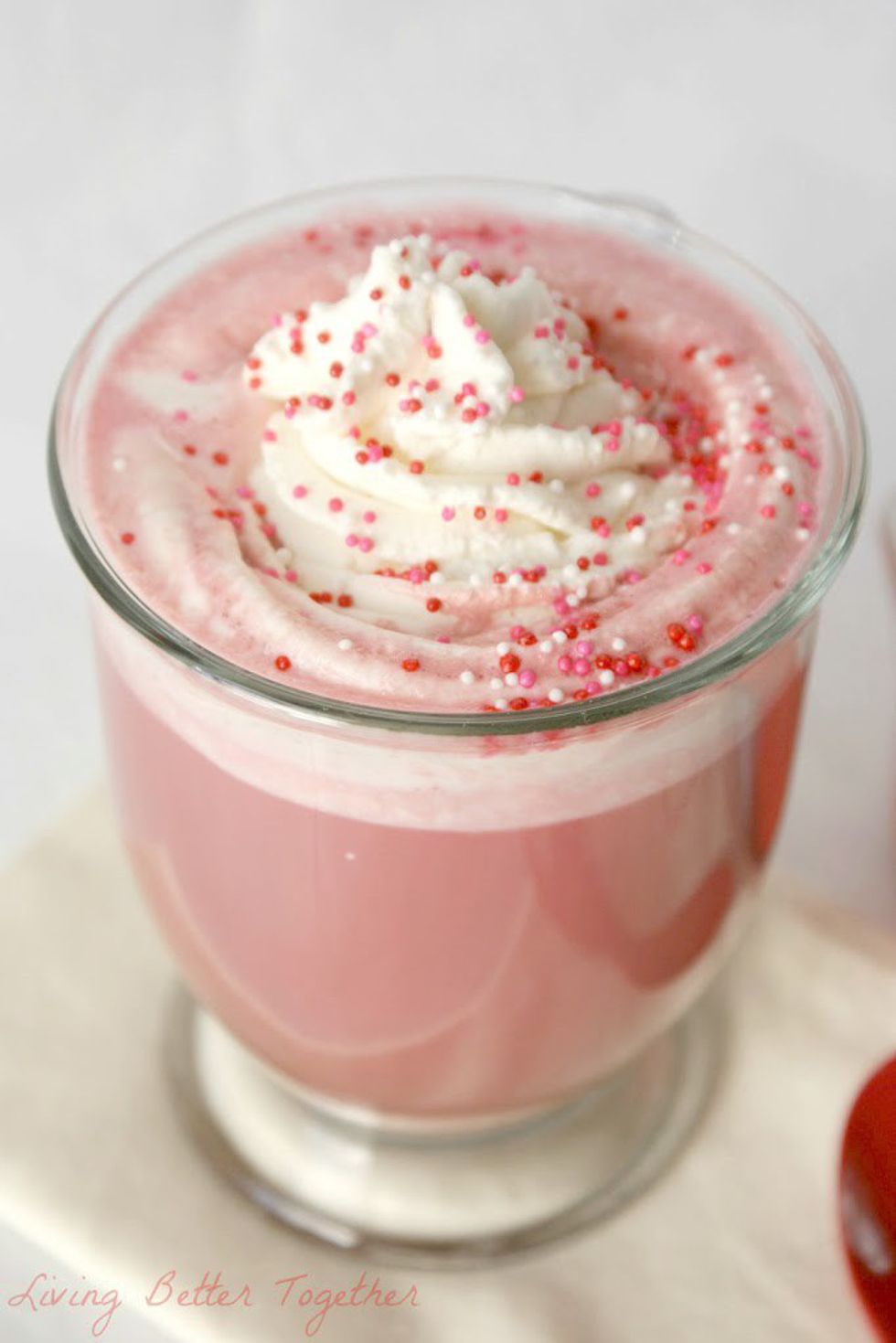 Ingredients:
2 cups Milk (I used Almond Milk, it paired really nicely with the white chocolate)
1/2 cup White Chocolate Sauce
1 tsp Vanilla Extract
1 tsp Red Food Coloring (add more if needed)
Sprinkles
Directions:
Wisk together milk, white chocolate sauce, and vanilla in a small pot over medium heat.
Bring to a simmer and transfer to a mug.
Top with whipped cream and sprinkles!