I started this as a sort of experiment for myself. It basically came out of nowhere. After texting my friend Julia, we soon found a few places to go with only an idea of what we were searching for. All in all, we ended up at 5 stores, give or take the one that was closed due to illness and the other that simply existed solely on Google. We ventured out of our town, despite the not-so-small town we live in, but wanted the adventure, for part of it as well. Our first store was one that has clothing and other home things. Despite being a consignment store, it has this chic element to it that makes the store.
Though, while Julia had success at our first store, neither of us really had luck at the second store as it was closed due to illness. So, after some wandering around downtown Wheaton a bit and failing to find anything else remotely close, we drove to our third destination. This place was a cute boutique we found through google in Lombard called The Ladies Room Resale Boutique.
At this point, having gone to 3 stores:
Julia: 2
Meghan: 0
It's not that it was a competition, but Julia seemed to be having more luck at finding items than I was. Our next store our next store wasn't too much of a success either it's seemed to have a weird not quite vintage store. Having gone to four stores and being unsure of what exactly what I was looking for but also the fact of that the weather was cloudy and rainy and we ourselves were running out of time for the day. So it was about then that we decided to stop by Plato's Closet before heading home. While we both found some cute clothes there, I was the only one walking out with a couple of items. Our adventures not quite complete, but not too unsuccessful. The final count being:
Julia: 2
Meghan: 2
In total, having given myself a challenge and a matching budget, things turned out somewhat better than I expected. For a couple of reasons, for one- I wasn't entirely sure of what I was looking for and for two- saving money is always a plus. My total was $11 for 2 tank tops. I'm not talking plain t-shirt tanks, but nice ones that can go with multiple outfits.
Just for grins, here's a picture of Julia and I: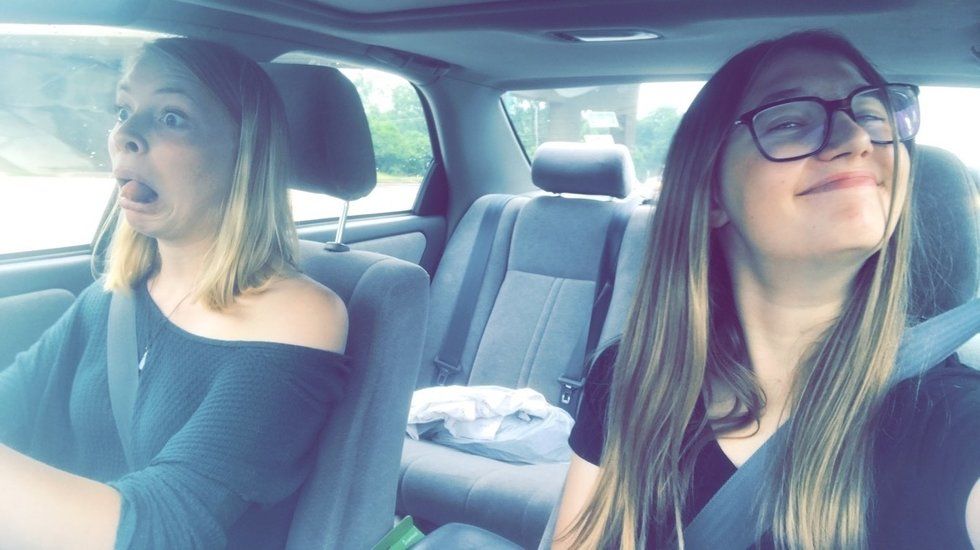 We're just a couple of weirdosMe via Snapchat