If you're crying and thinking: "my 2020 dating life is toast," think again. Because according to experts, quarantine is actually the perfect time to find love. And it makes sense, right? I mean, Cameron and Lauren found it on "Love Is Blind," didn't they? So since we're essentially forced to date people from our very own pods right now, there's hope for us all!
In case you don't know where to begin, though, I'm here to help! Below is a 30-day challenge made for you to connect with potential lovers while in quarantine. Whether you're looking for "the one" or simply hoping for some virtual company, this is a fun challenge that will make social distancing a lot more fun and challenge you to step out of your comfort zone.
Note: don't be intimidated by the possibility of rejection, it happens and life goes on. Own it and have fun!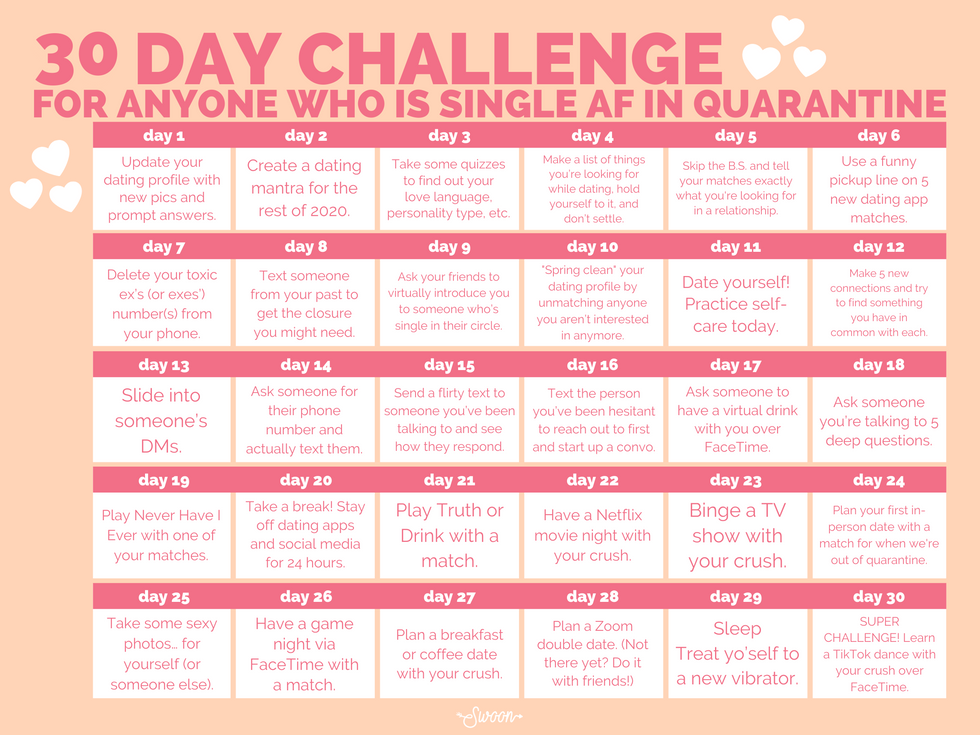 Day 1:
Update your dating profile with new pics and prompt answers
Day 2:
Create a dating mantra for the rest of 2020
Day 3:
Take some quizzes to find out your love language, personality type, etc.
Day 4:
Make a list of things you're looking for while dating, hold yourself to it, and don't settle
Day 5:
Skip the B.S. and tell your matches exactly what you're looking for in a relationship
Day 7:
Delete your toxic ex's (or exes') number(s) from your phone
Day 8:
Text someone from your past to get the closure you might need
Day 9:
Ask your friends to virtually introduce you to someone who's single in their circle
Day 10:
"Spring clean" your dating profile by unmatching anyone you aren't interested in anymore (look out for these dating profile red flags).
Day 11:
Date yourself! Practice self-care today
Day 12:
Make 5 new connections and try to find something you have in common with each
Day 13:
Slide into someone's DMs
Day 14:
Ask someone for their phone number and actually text them
Day 15:
Send a flirty text to someone you've been talking to and see how they respond
Day 16:
Text the person you've been hesitant to reach out to first and start up a convo
Day 17:
Ask someone to have a virtual drink with you over FaceTime
Day 19:
Play Never Have I Ever with one of your matches
Day 20:
Take a break! Stay off dating apps and social media for 24 hours
Day 24:
Plan your first in-person date with a match for when we're out of quarantine
Day 25:
Take some sexy photos… for yourself (or someone else)
Day 27:
Plan a breakfast or coffee date with your crush
Day 28:
Plan a Zoom double date (Not there yet? Do it with friends!)
Day 30:
SUPER CHALLENGE! Learn a TikTok dance with your crush over FaceTime
Shop For The Challenge
As an Amazon Affiliate partner, Odyssey may earn a portion of qualifying sales.
Follow Swoon on Instagram.