One of the best ways to decorate a home if you are someone who appreciates luxury goods is to buy into the luxury homeware that many designer brands sell. For many, it is way out of our price range. Here are three DIY projects that I have personally tried out myself, and I will give you the resources to try then out on your own!
1. A logo letter is the perfect customizable gift.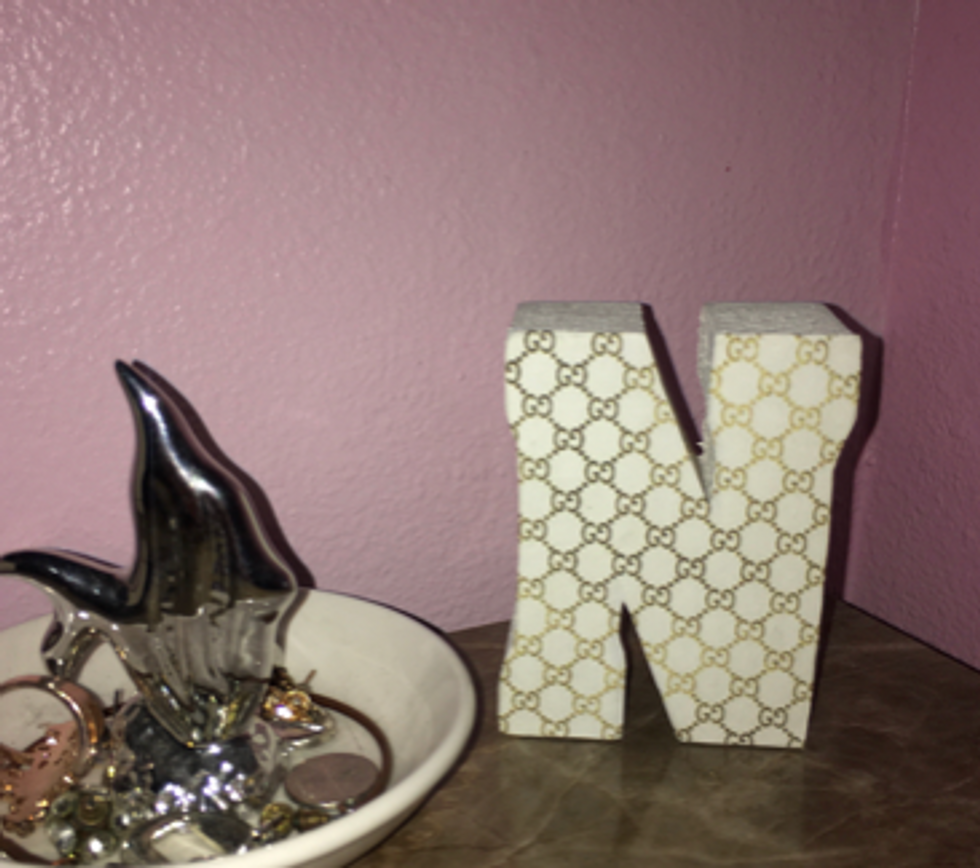 Gucci Letter
Nicole Clawson
What you need:
-Wooden letter from a craft store
-Pencil
-Paint
-Glue stick
-Computer and printer
-Scissors
Duration: 1 hour (can vary depending on drying time)

Price: Less than $5

Directions:
1. First paint the whole letter by your chosen colored paint. For this example, I did white. Two even coats will cover the wood color. Let each coat dry for 15-20 minutes.
2. Find a picture of a logo online you like, save it and print it out.
3. Trace the logo with your wood letter. Cut out paper.
4. Glue the paper to the wooden letter, let dry, and you're done!
This is a simple, cute, and personal piece that's great to make as a gift for your friend using their favorite brand!
2. Use your perfume bottle for inspiration!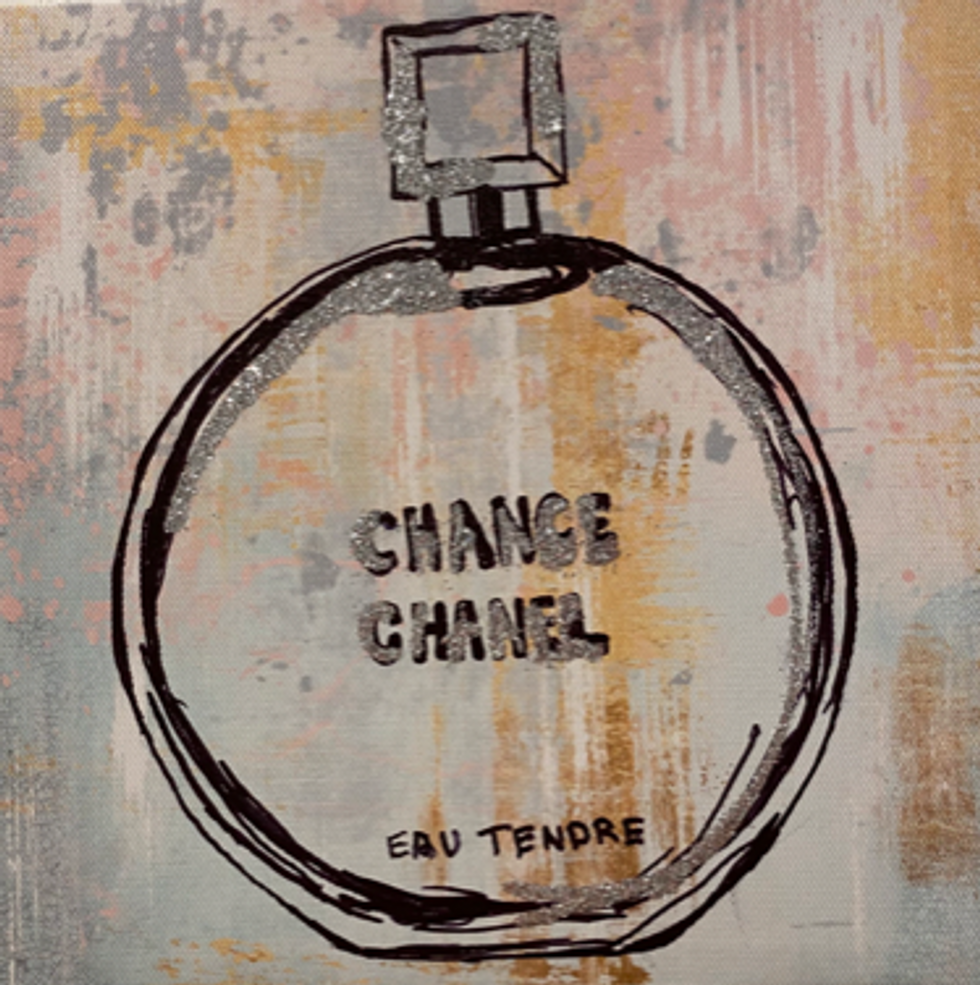 Chanel Chance drawing
Katie Peles
What you need:

-Printed canvas from Dollar Tree
-Pencil
-Black marker
-Glue
-Glitter
Duration: 20-30 minutes

Price: Less than $5

Directions:

1. Pick out your favorite perfume bottle and draw the shape of the bottle in pencil.
2. Trace over pencil with marker. Add extra lines around in marker to add character, and let dry.
3. Put glue on the drawing where sparkles will go. Shake glitter onto glue.
4. Let dry for 10 minutes.
5. Shake off excess glitter. Fill in any spots where more glitter is desired.
This affordable craft is not only cute, but it lets everyone know your favorite perfume!
3. Try a flower arrangement.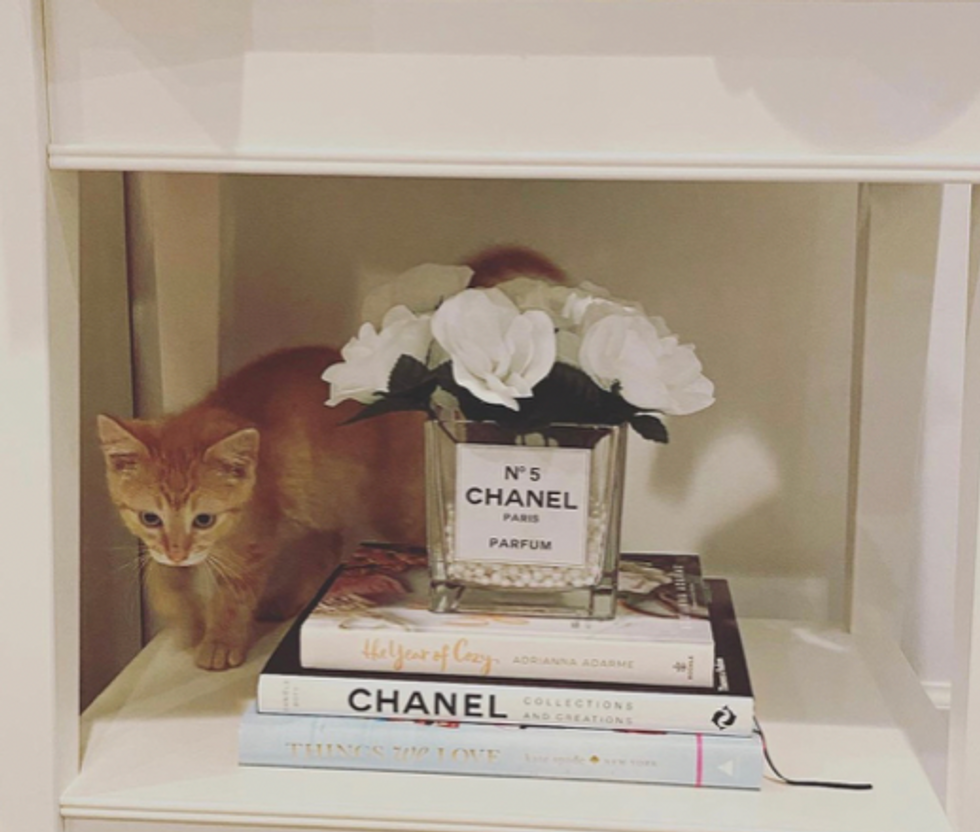 flowers in vase by cat
Katie Peles
What you need:
-Square glass vase
-Fake flowers
-Heavy duty scissors
-Computer and printer
-Glue stick
- Pearls (optional)
Duration: 20-35 minutes
Price: $2-13 dollars depending on vase size

Directions:

1. Cut down flower stems with heavy duty scissors so that the stems are 4 to 5 inches long.
2. Print out your favorite perfume logo and cut it to desired size of vase.
3. Glue paper to vase.
3. Fill vase with pearls.
4. Bend flower stems slightly and place in vase.
Just like that, you have a luxury flower arrangement.
These three DIY designer dupes are simple and look amazing! Try one or try them all! They are inexpensive and customizable ways to decorate your home!