Fun fact: I've been a Stylist for the past 5 years with the clothing store that got me through college. Tracking fashion trends has become second nature to me. I've seen so many new pieces that are key to adding a little flare and fun into your basics. Pops of color as you push out of your comfort zone is such a great way to express yourself in this upcoming season. You don't need to follow trends, you should be wearing whatever makes you happy-- but if you're looking to change up your everyday apparel, I got you.
1. Trending Spring Colors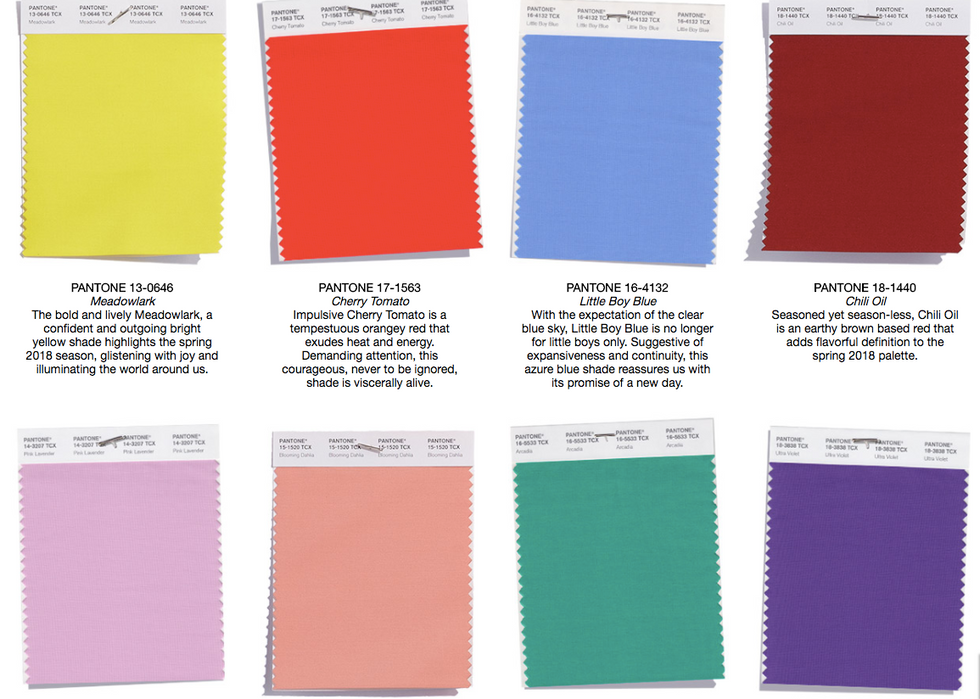 According to Pantone Color Institute, Meadowlark-- that stunning yellow is the number one color that you will be seeing on the wracks this Spring. Yellow is a color of happiness, wearing it not only can boost your confidence, but it brightens up any April shower. Personally, I've been loving Arcadia, that blueish green 7 shades in and Chili Oil, that burnt red one in the first row. They're so retro, but has such an ability to give a new twist.
2. Ruching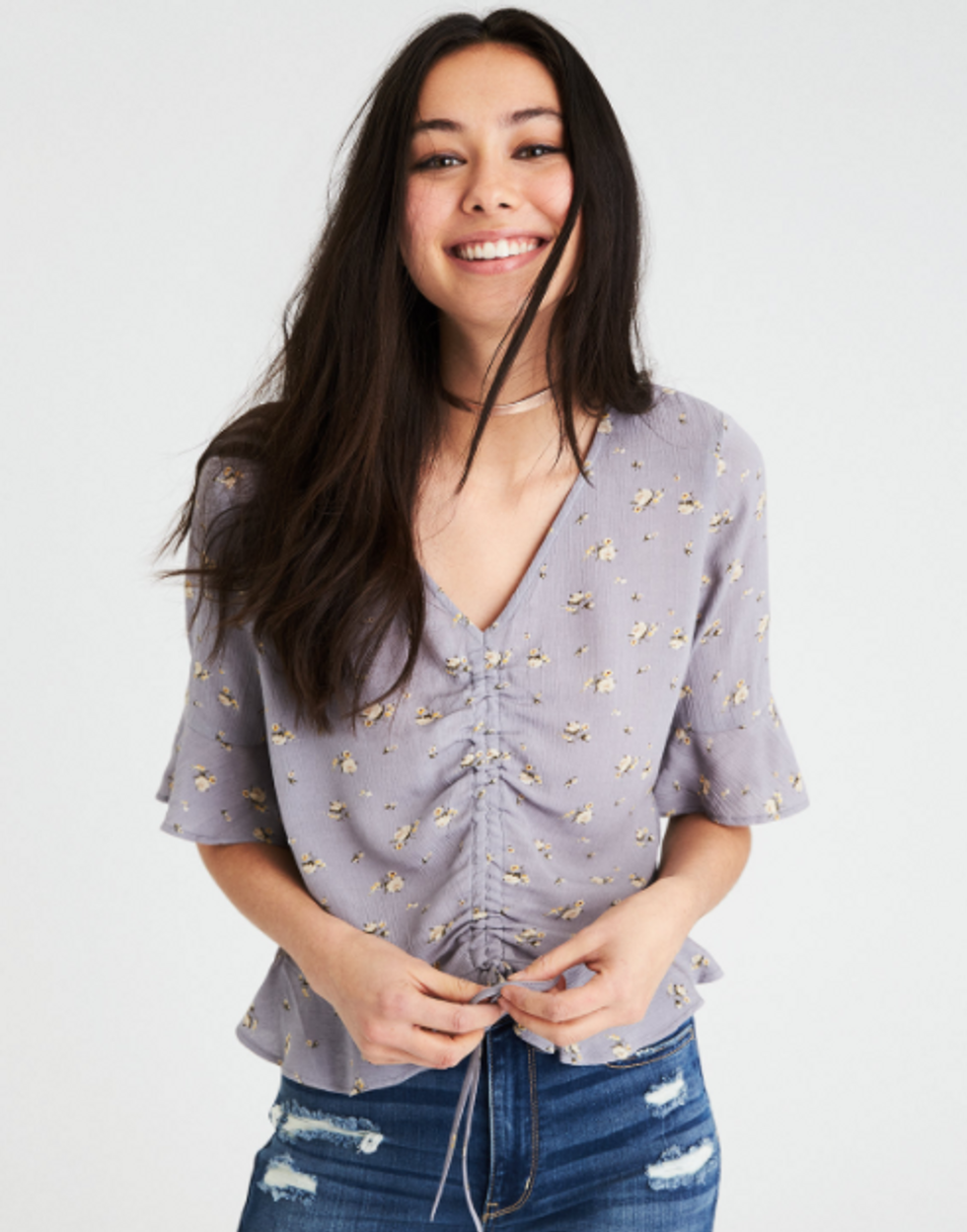 Ruched tops that peplum at the bottom are seriously so trendy right now. They're different, but still give a vintage vibe, which seems to be a huge hit for this Spring. With a small simple floral, they're very girly, very flattering and very comfortable.
3. Wide leg Jumpsuits
Not only do they make you look so put together, but for real it feels like your strutting around in pajamas all day. They make for the perfect early May girl gang bunch date. With a straw hat and a cute nude wedge, I promise you will be the talk of the town. ALSO, vertical strips tend to make you look thinner and longer. Totally a win win.
4. Embroidered Denim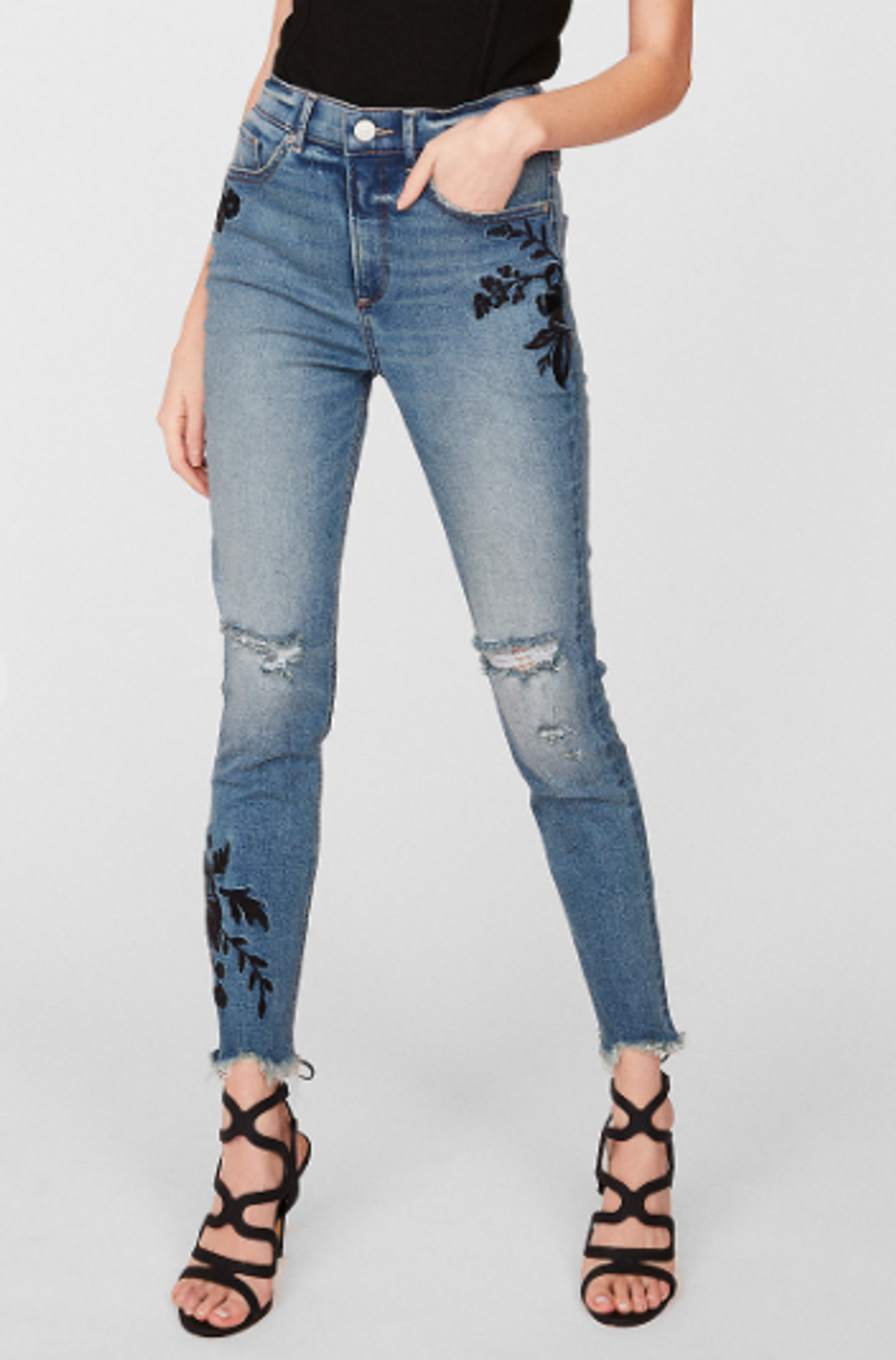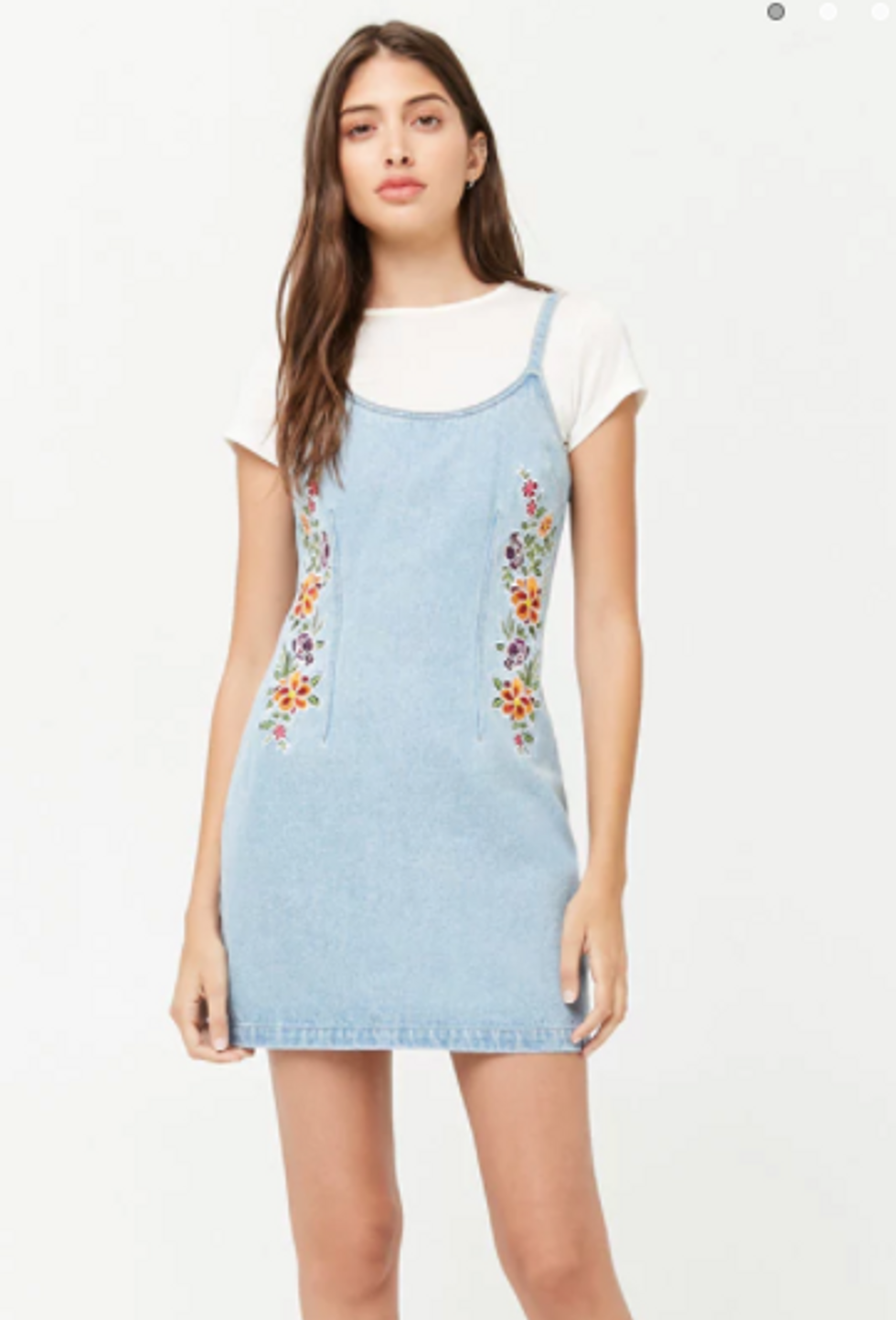 I love this trend with my whole heart. Everyone has their basic go to denim, but embroidery gives them a little more personality. It's not too out there, but it's a step outside the typical comfort zone. Its fun to push it, trust me the compliments will be rolling in. Help tip: high waisted jeans create hourglass figures since they hug a little higher than a low rise that sits at your hips.
5. Tie and cut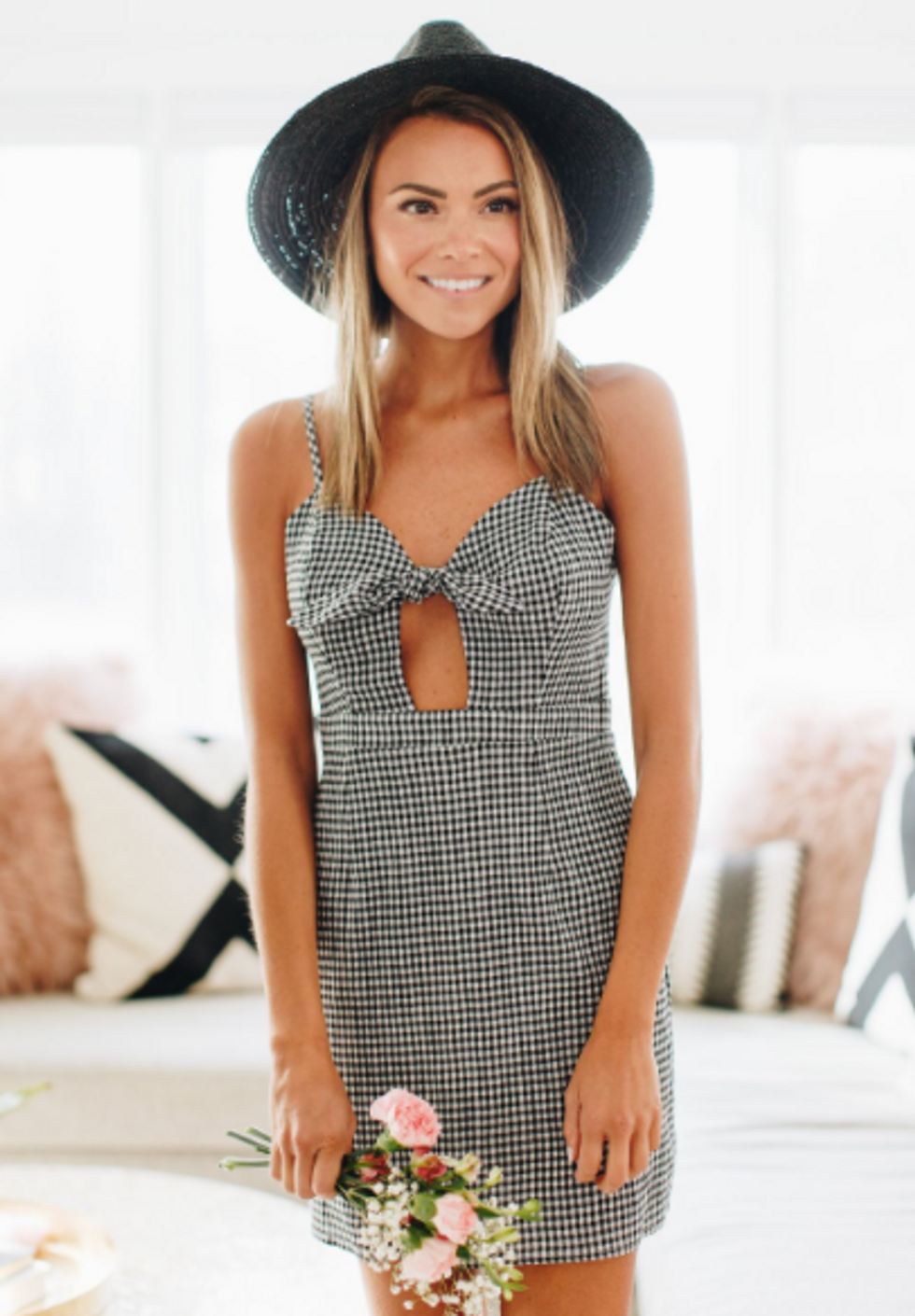 Picture the first 70 degree weekend of the year with a sweet dress like this one. It's cute, but also has that ever so slight sex appeal.
Side note: gingham is such a timeless classic that's perfect for a trend like this.
6. Mules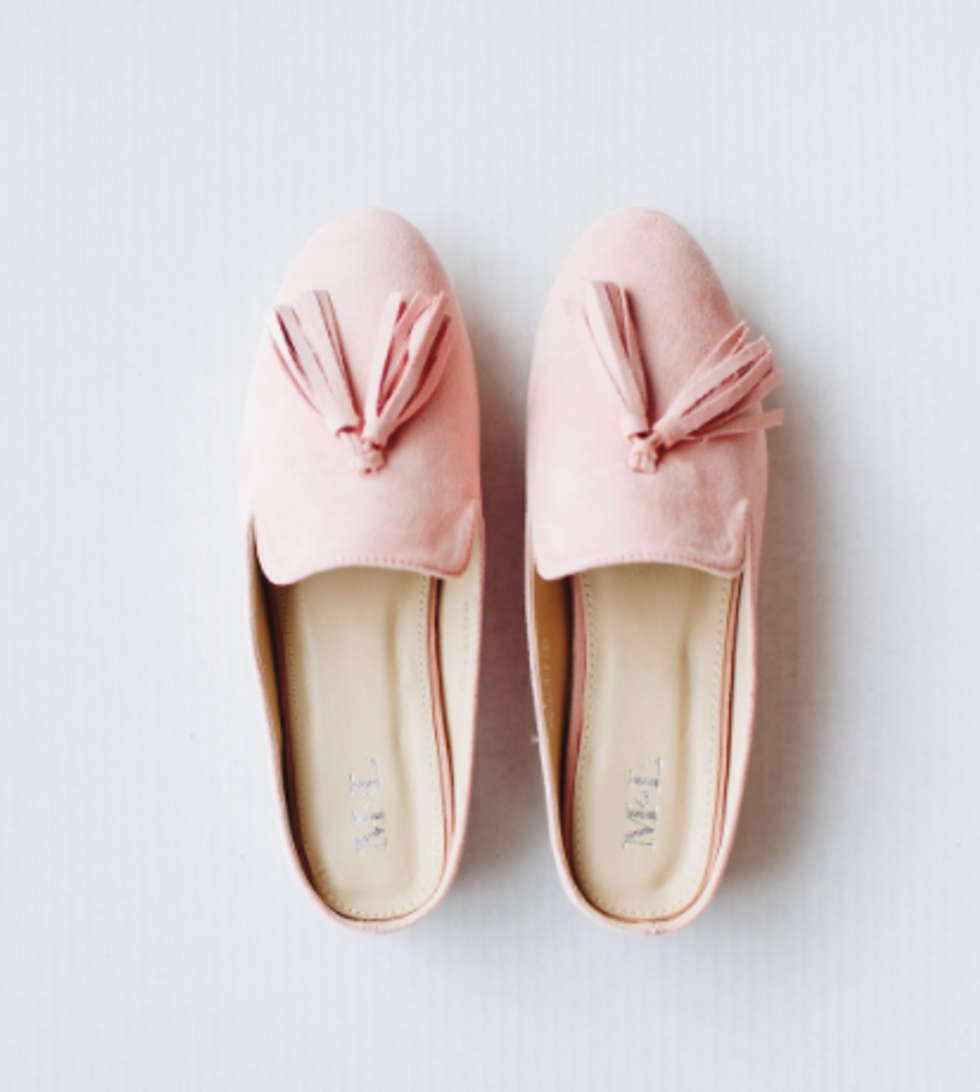 Completely different from what we're used to seeing in shoes, but this smart trend completes any spring outfit. They're a great excuse to pop some color into any black and white look. With a little dress or those embroidered skinnies, I would say it would be double take worthy.
7. Straw circle bags


This little summer circle is the perfect way to add a twist to transition into summer as the warmer weather rolls around. If you're strolling around your beach town in the middle of May, add this with a light skinnies or a maxi dress and soak up the sun.