Hi, I'm Camryn and it's been 294 days since I hung up my marching band uniform for the final time. High school marching band taught me invaluable lessons, introduced me to some of my closest friends and gifted me memories I will always treasure. It's safe to say I'm missing it immensely this year, so here's the things I miss the most. Don't worry- I cut myself off after twenty.
1. September Evening Rehearsals
After surviving band camp and the whole month of August, September is the sweet spot for marching band. The show is coming along, anticipation of the first competition is rising, and now that it's finally fall, you can make it through rehearsal without getting completely sweaty.
2. Stand Tunes
I can't think of a better way to spend a Friday night than playing music, singing, and dancing with your best friends. It's been far too long since I've screamed the lyrics to "Basket Case".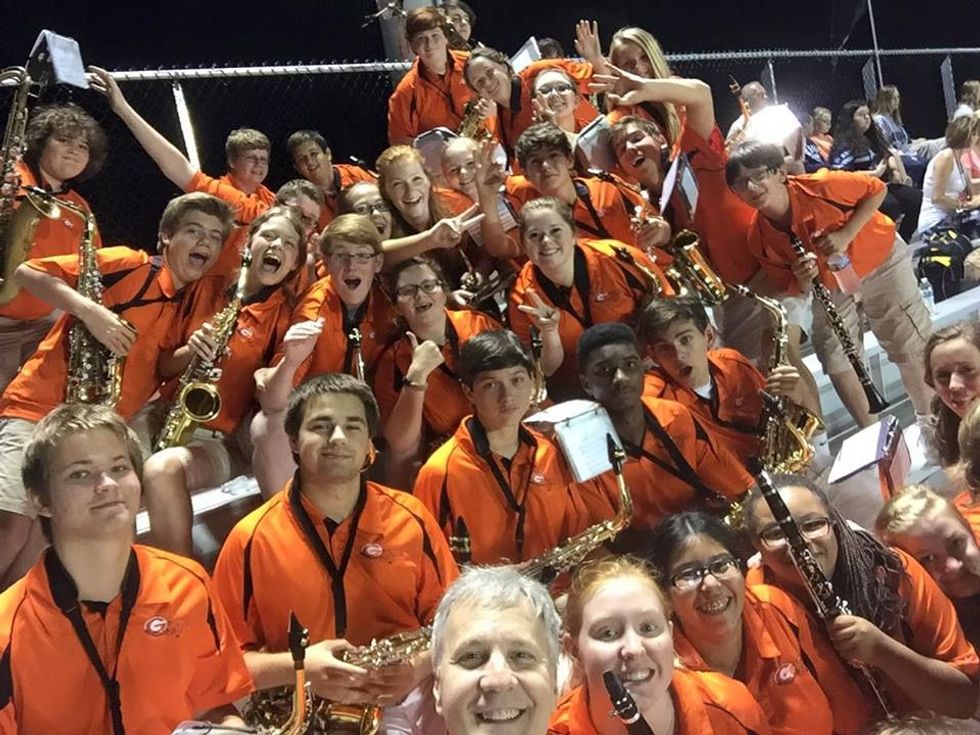 3. Band Trips

Whether it's a week in Hawaii or a day trip to a marching contest, traveling is so much more fun with the band. Though fitting two people and two instruments in a bus seat can be quite uncomfortable, it's all worth it in the end.
4. Backwards Marching a Really Large Step Size
Specific, I know, but my favorite way to march was backwards, with a large step size, and at a fast tempo. It's the closest to flying I'll ever get and it always made me feel powerful.
5. Section Bonding
Christmas parties, hot wing challenges, section shirts, water breaks, and pre-competition breakfasts. There's so many traditions within each individual section, and each section has their own personality. But if you're not in the sax section, you're wrong.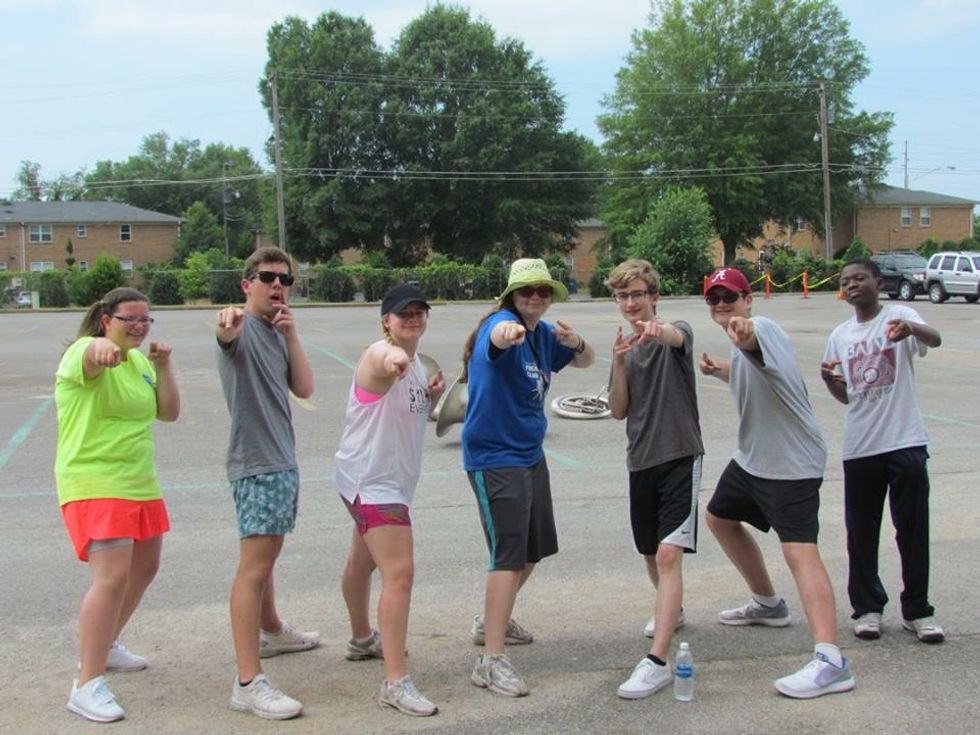 6. Being Called to Attention
Before leaving for a competition, my band would always call each individual section to attention, followed by calling the whole band to attention. I can't even begin to articulate the pride and love I would feel hearing the sound of my band echo off the band room walls.
7. Really High, Really Tight Buns

Maybe not the most relatable things for boys in band, but for the girls...well, we have to get our hair in the shako somehow!
8. Pep Rallies
Don't tell my band directors I said this, but if you look past the extreme volume and complete chaos, pep rallies are kind of fun. Sorry, Mr. Vernon.
9. Stretches
There's nothing some toe lifts and arm circles can't prepare you for.
10. Late Night Waffle House
It's 11 p.m. and you just got back from the game. You're sweaty, wearing knee-high black socks and Dinkles, and look like a fool. It's the perfect time for a subpar waffle.
11. Competition Awards
I love the feeling I get from standing at attention in the bleachers while the announcer calls out your band's scores and awards. The nerves, the anticipation, and the hugs afterwards are some of the finer things in life.
12. Tan Lines
I am 100% proud that my ankles are four shades lighter than my calves.
13. Fundamentals
I know, I know. Why are we marching forward sixteen counts for the eighth time in a row?! But, looking back, suffering through fundamentals is a great bonding experience, and I would give a lot to march one more box drill.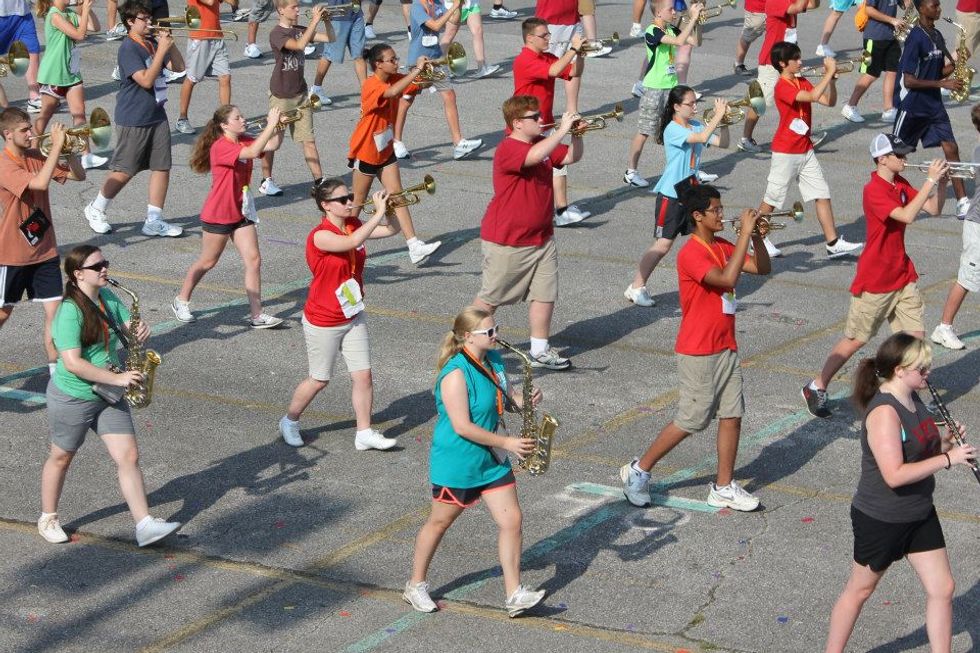 14. Platforms
My band never used platforms until my senior year, but I'm so glad we did. My favorite moment from any show I ever marched is quickly marching to the platform, swiftly climbing onto it, playing the woodwind feature, and then fearfully clinging to my horn (and my life) while leaping off to head to the next set.
15. Section Skits
It's Friday of band camp and that can only mean one thing- time to mock the other sections and try to find a new way to say that flutes are giggly and trumpets are arrogant.
16. The Band Room

The first place I went each morning and the last place I went before I left school, this room holds so many memories. From talking with friends before class, eating lunch during band camp, and having it be my own space in a large school, the band room has a special spot in my heart.
17. Duct Tape
Duct tape on my flip folder, duct tape on my water jug, duct tape on my shoes, duct tape everywhere! When setting sets during band camp, you can easily go through half a roll of tape, and then you find traces of it the rest of the season.
18. Sun, wind, rain...
Some of my favorite memories are when the weather was far from ideal. Marching for four hours on the pavement when it's over 100 degrees? Fantastic! Toughing out freezing temperatures to cheer on the football team? Sounds good! Marching in the Hollywood Christmas Parade while it's pouring rain? Count me in! Whatever the weather, the show must go on.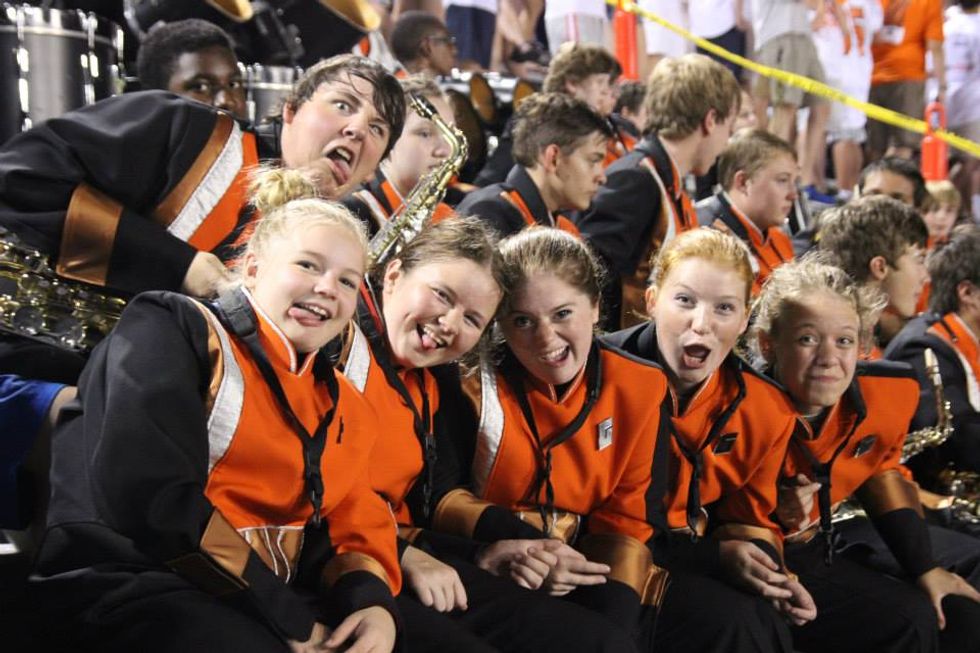 19. Showing up Early
In band, early is on time and on time is late. And late? Well, that's just unacceptable. After four years of this lifestyle, I'm struggling to break free. I arrived twenty-four minutes early for a class on Wednesday. Help me.
20. The Passion and the Love
If you asked me to name the most joyous moment of my life, I wouldn't even have to think about it. My final marching contest. Standing in the final pose. Looking out at the sea of people, but knowing my favorites were on either side of me. Sweaty, tired, and shaking, but standing strong in that proud stance. And then, when it was time to march off the field, losing all the strength I just held. As I cried marching off the field, I could feel four years of hard work, friendship, and passion hold me up. I'll never forget standing in the grass after the performance hugging my friends as tight as I've ever hugged anyone. We may have looked weak, holding on to each other and sobbing, but I've never felt so strong, confident, and unstoppable. That's what passion can do.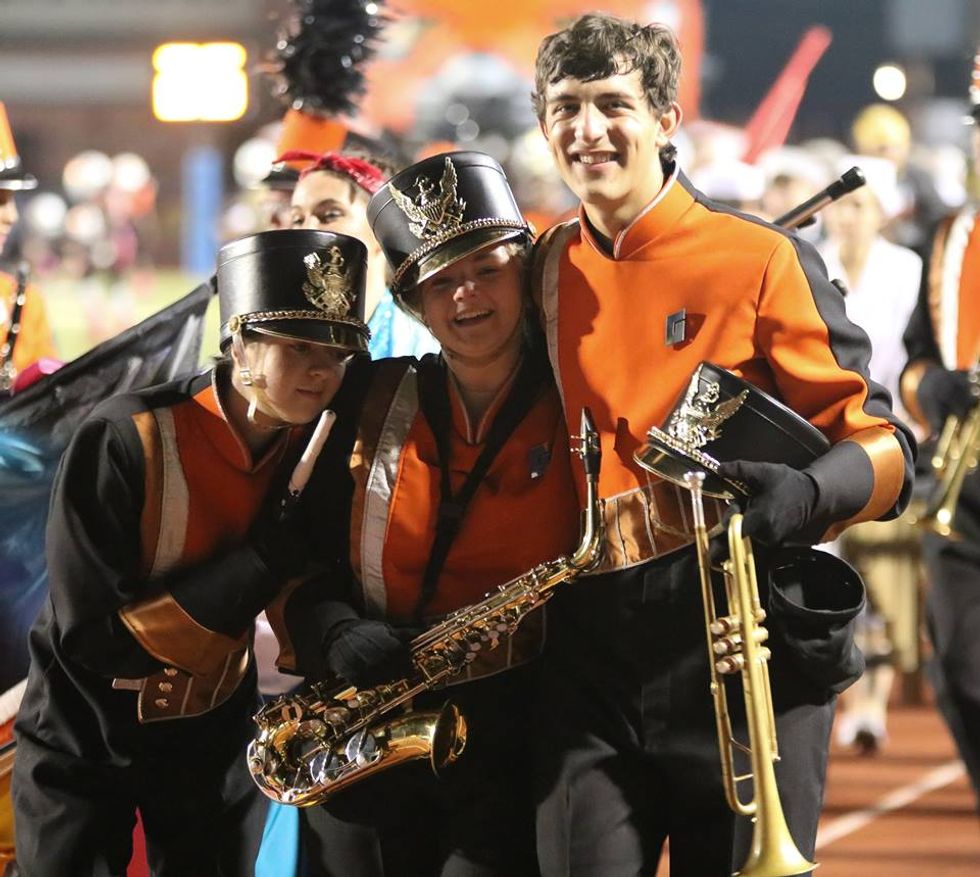 So, if you're in a marching band, take it all in. Go to every rehearsal with a smile on your face because one day, there won't be a rehearsal to go to. One day, you'll wish you could do that drill, just "one more time". One day, you'll hear someone say a phrase that was a joke in band, and your eyes will fill with tears as you realize how much you miss it, so you'll go to your dorm room and write an article about it...or is that just me? No matter what, I hope everyone has the opportunity to once in their life be a part of something so much bigger than themselves, so that they, too, can be granted the gifts of grit, family, and passion.
Photo credits to Donna Harper, Clayton Newkirk, Jan Newsome and many other band parents who graciously donate their time and talents.