Growing up in a Haitian household can be a bit frustrating from the many rules but highly entertaining. From the food to the funny catch phrases, being Haitian can be a ball. These 20 signs that I gathered up together are merely for entertainment, even though they are in fact true to many. I'm sure that not only Haitians can relate to these situations.
1. Not being allowed to sleep over anyone's house.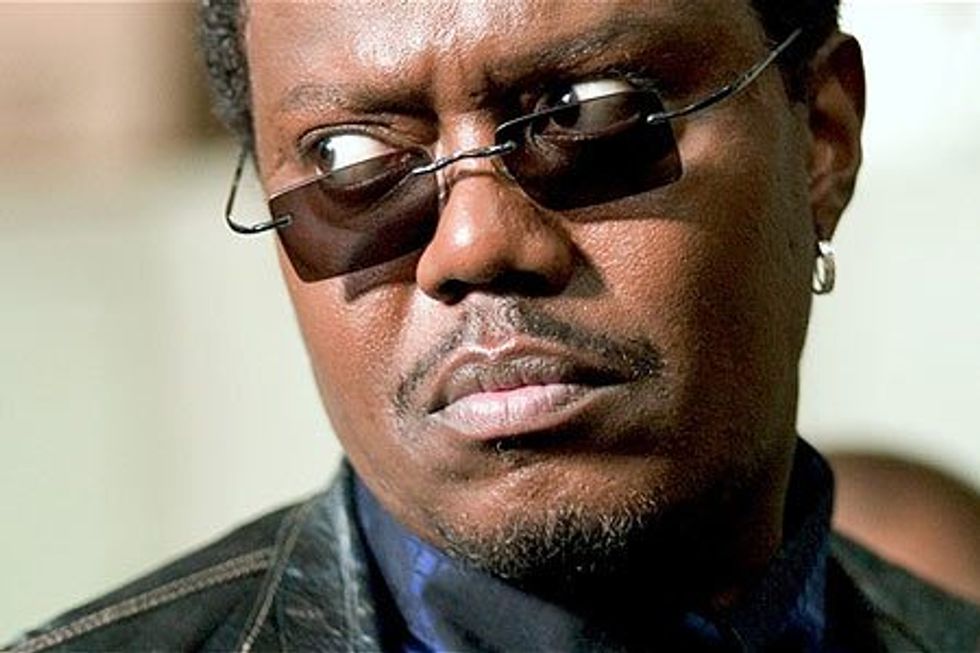 You'll get the response of "Eske ou pa genyen you kabonn?" (You don't have a bed?) or "Ou pa gen kay?" (You don't have a house?). You may also get this look...

2. Trick or treating was forbidden because Halloween is for "lougawou" (witch)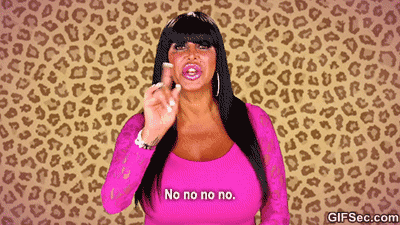 Celebrating Halloween is a big no no.

3. When you step into a room, you have to greet everyone with a kiss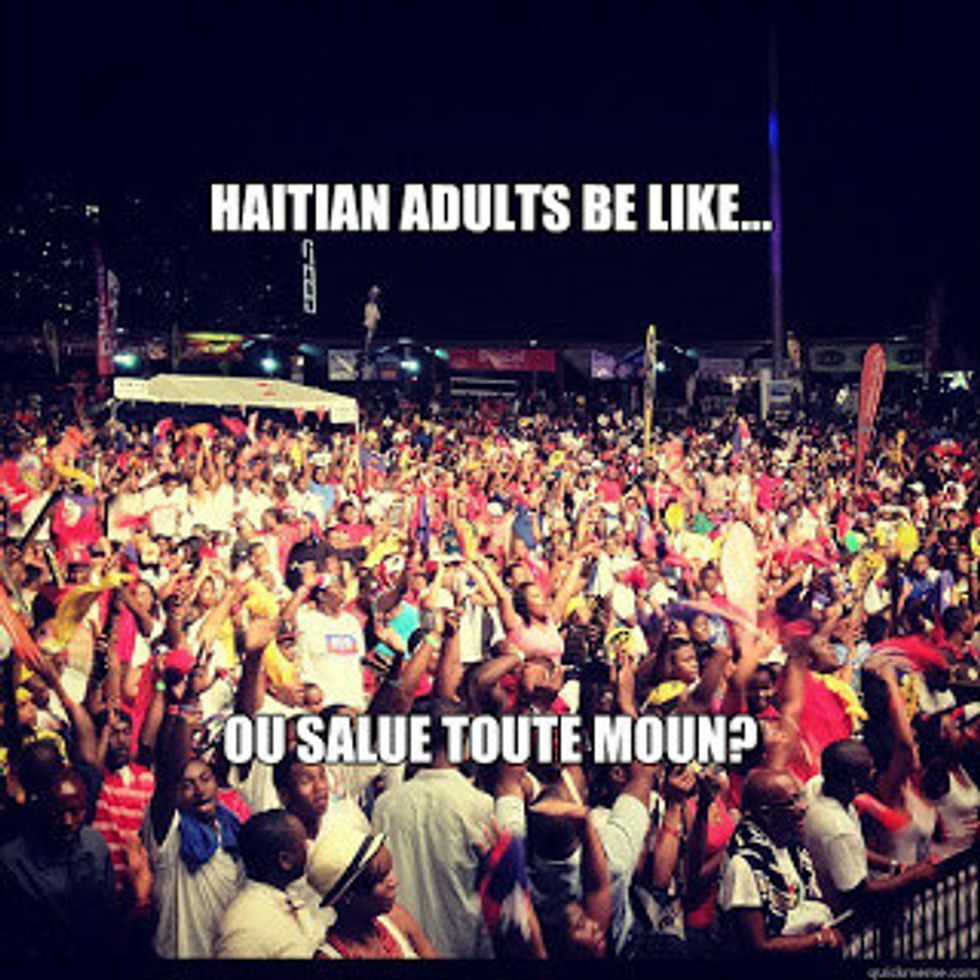 It doesn't matter how many people there are, you have to greet everyone.
Translation: Did you greet everyone?
4. You eat rice every other day, if not everyday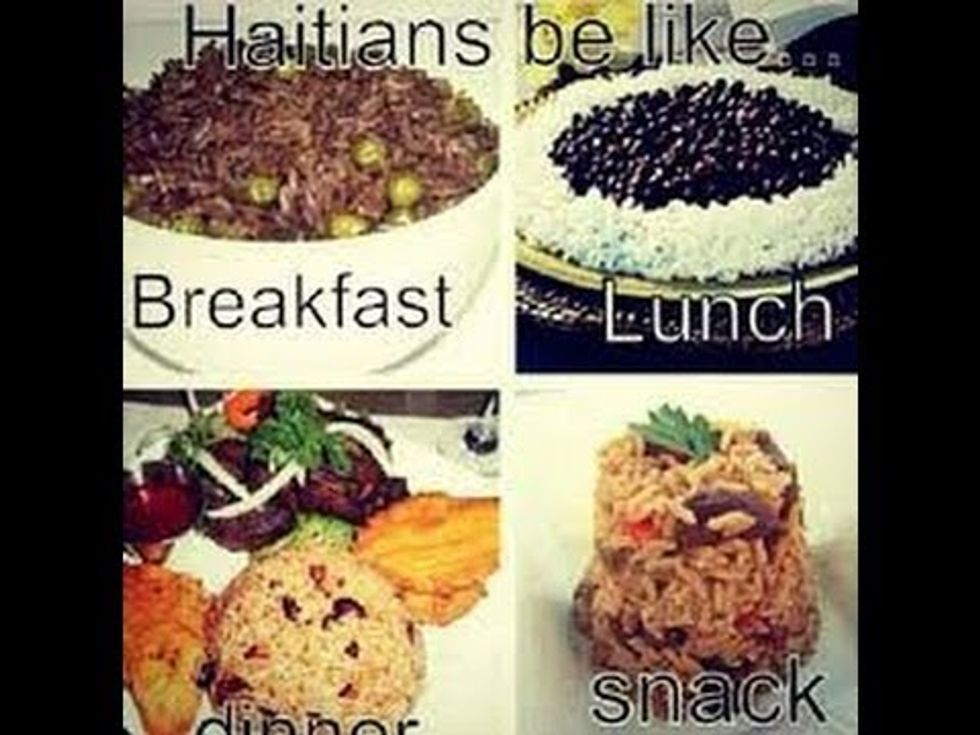 Rice is everything.

5. A party, gathering, etc. never starts on time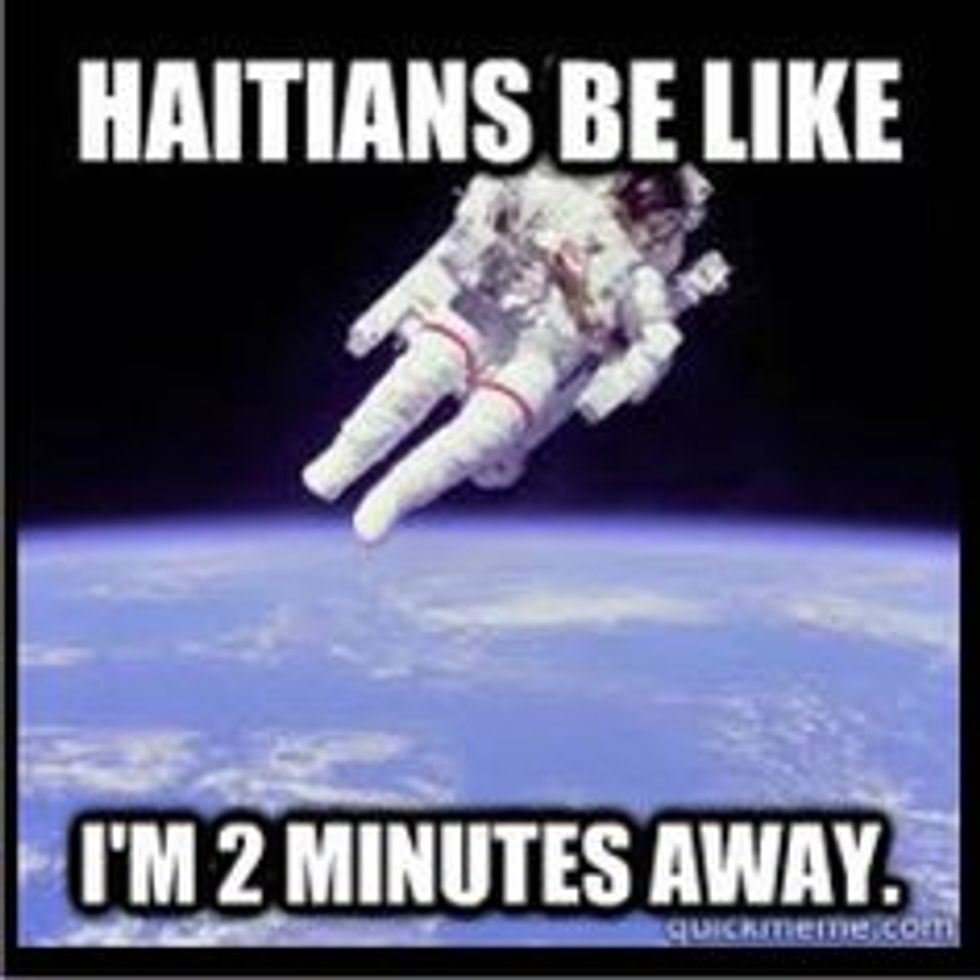 Let's say a party starts at 7 o'clock. You have to tell your fellow Haitians that it starts at 5 so they MIGHT actually have a chance of coming on time. *Whispers* which probably isn't likely.

6. Majority of Haitian men and women have Marie and Jean in front of their names
Knowing which Jean and which Marie someone is talking about is confusing.

7. You think that Haitian food is heaven on earth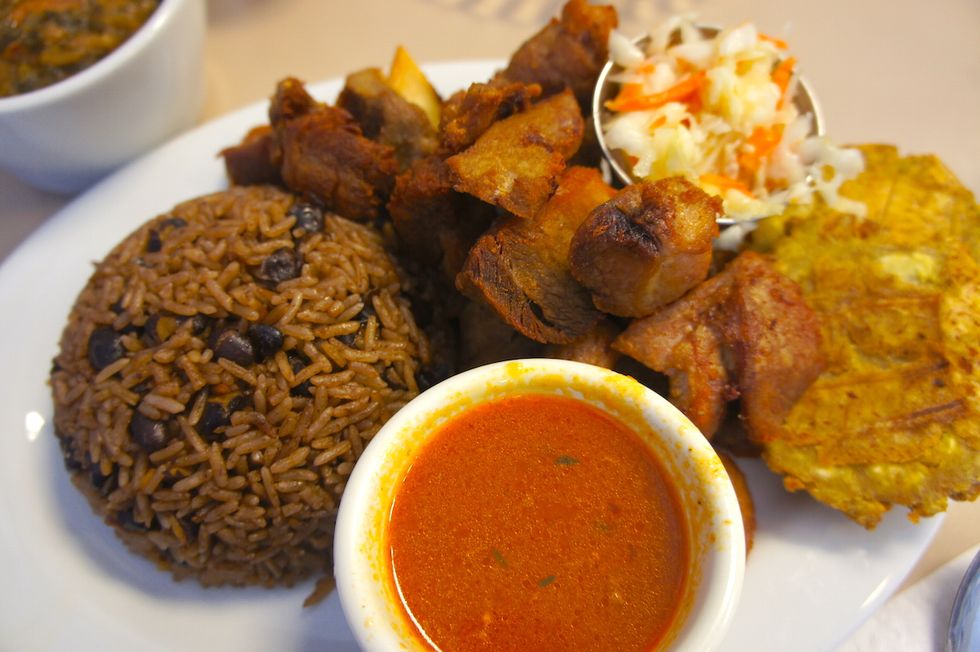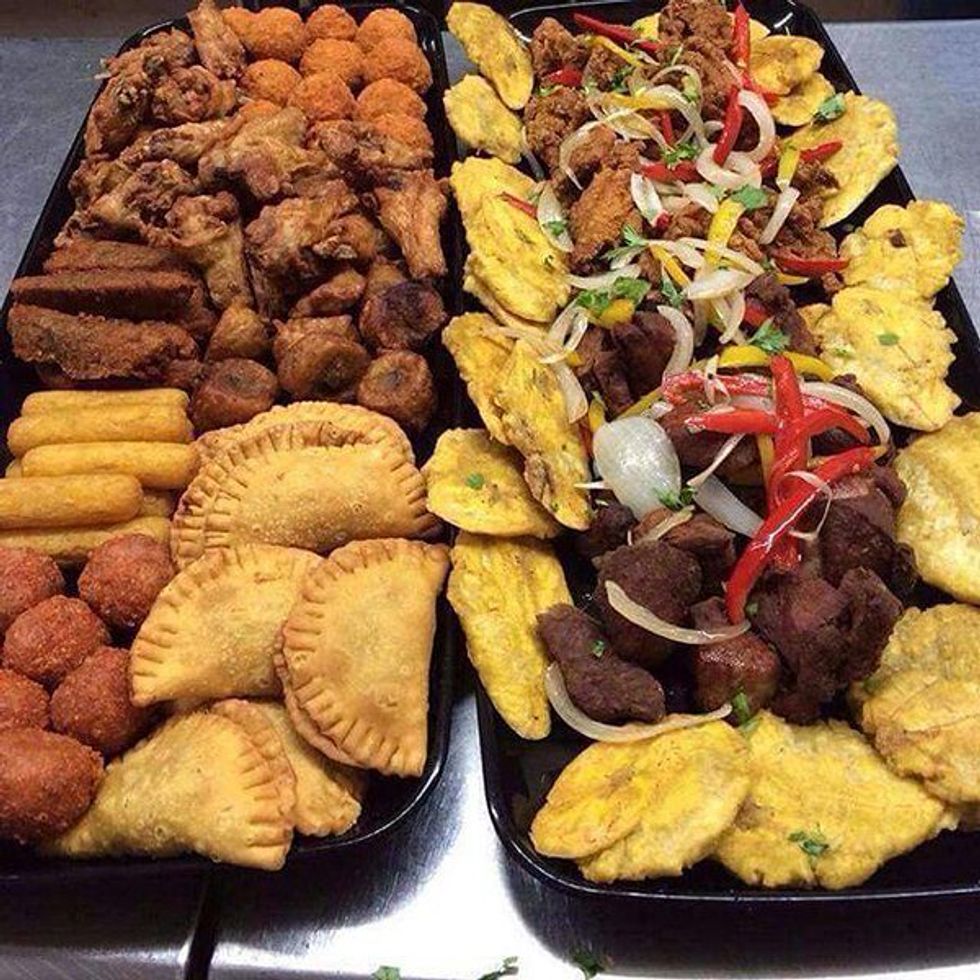 Because it is..

8. The butter in the fridge might not actually be butter.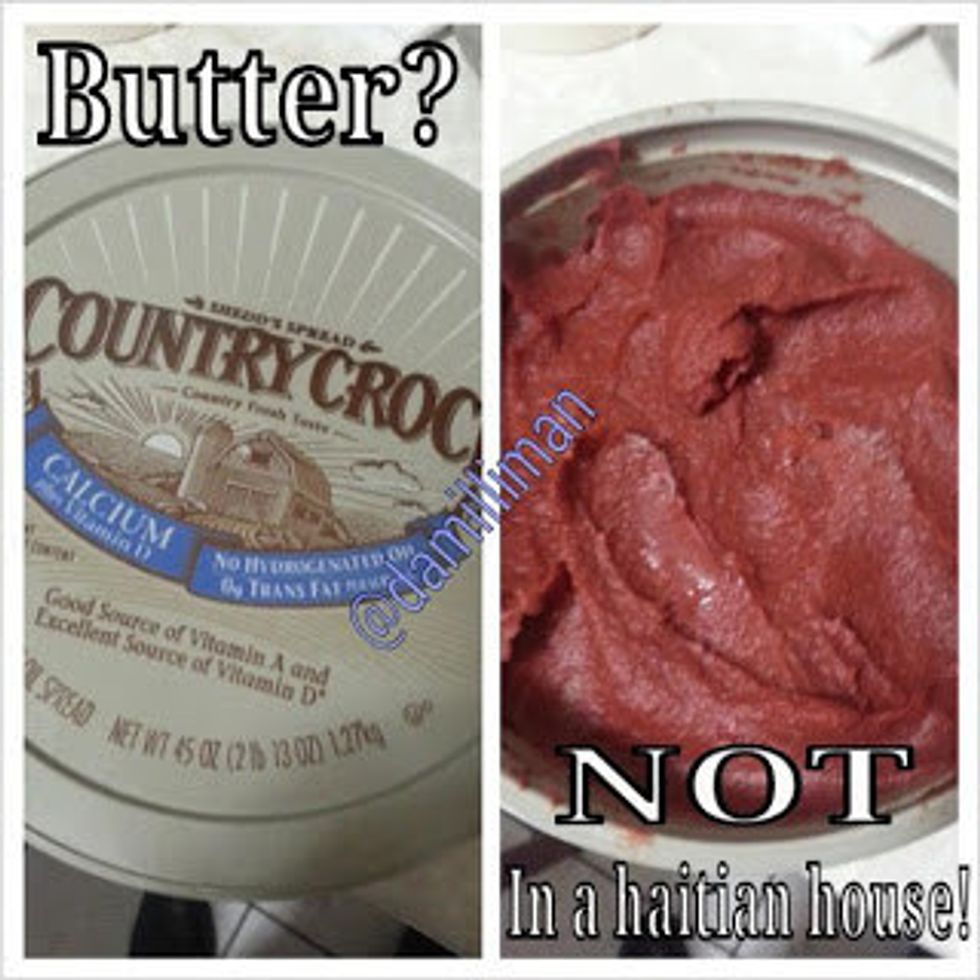 It's either leftovers or tomato paste.

9. New Year's Day = Soup Joumou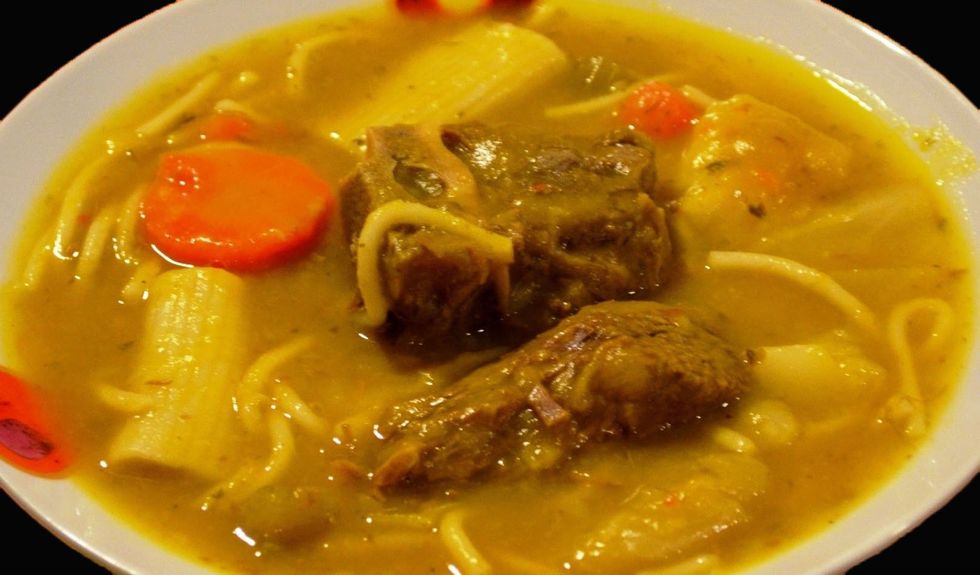 On January 1st, Haitians celebrate their independence day. Part of the celebration is making soup joumou (squash soup) aka one of the best things ever.

10. Everyone knows the song "Chokola" by Alan Cave
11. Throwing out food is not an option
You're not allowed to leave the table until everything on your plate is gone.
12. You're not allowed to whistle because it's considered rude..
I still don't understand this.
13. When your parents talk to relatives in Haiti, you swear the whole world can hear them.
Might as well call news 12 to give a live broadcast of the conversation since everyone can hear it
14. You've had at least one person ask you, "Do you speak Haitian?"
Haitian isn't a language, it's a nationality. We speak CREOLE.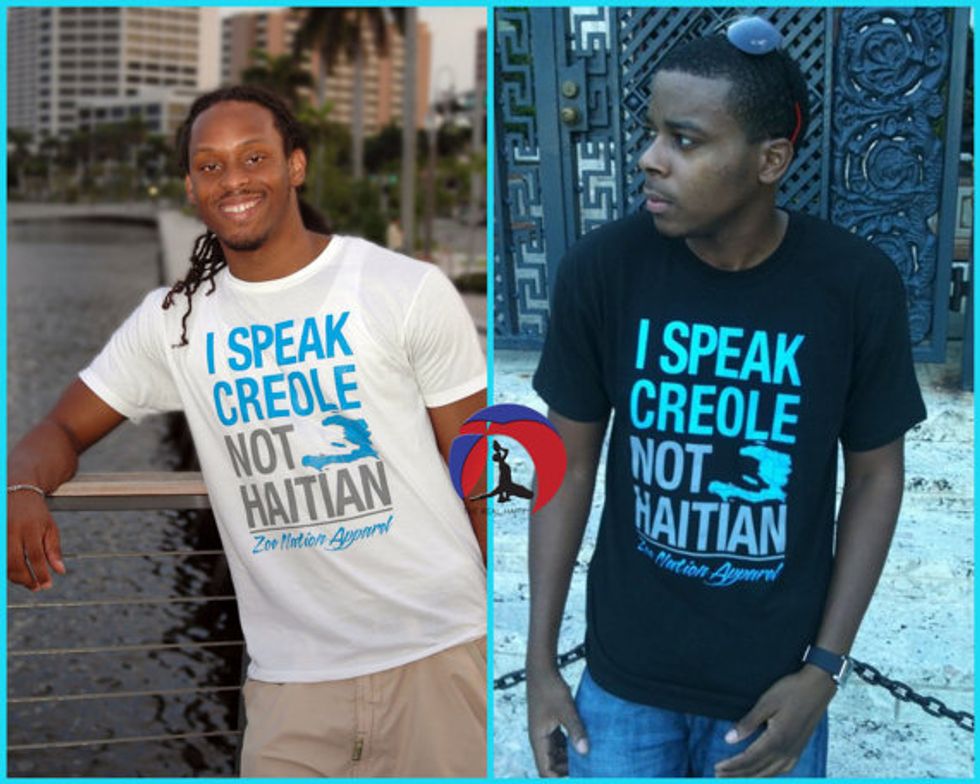 Haitian isn't a language. It's a nationality. We speak CREOLE.

15. The media only shows one side of Haiti.
But there are other sides..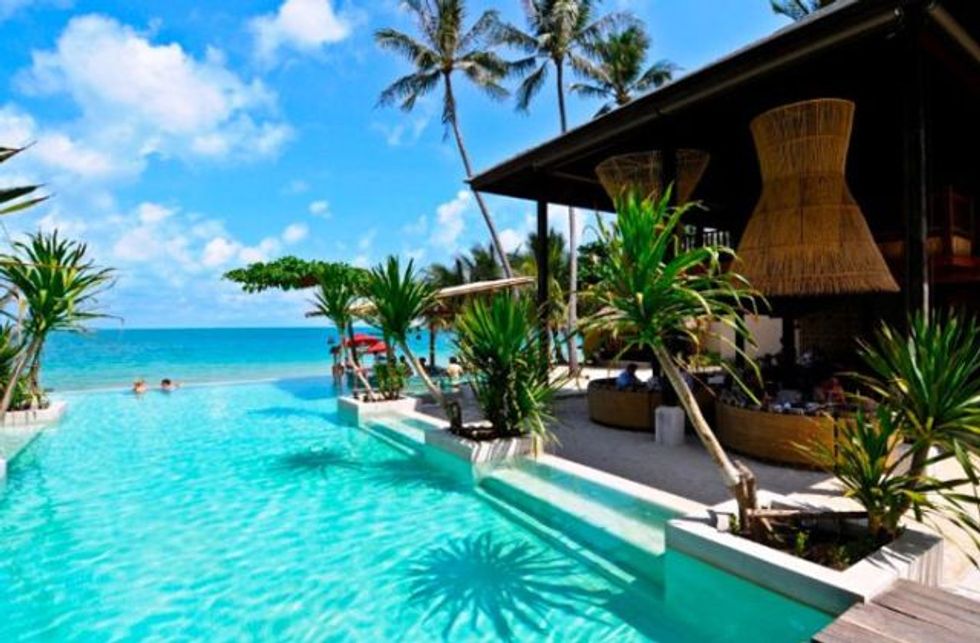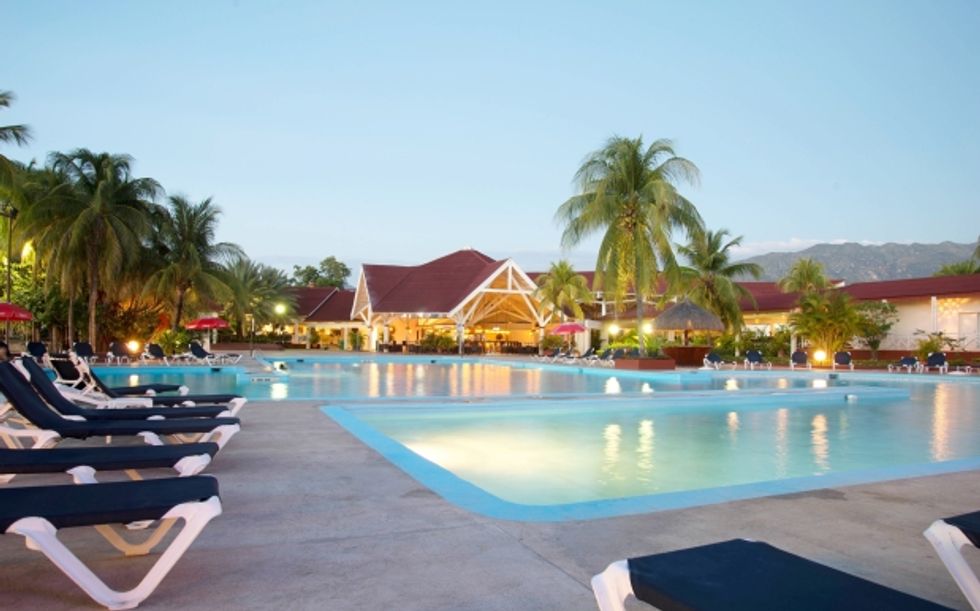 16. When you have plans to do something with your friends but your mom "had a dream"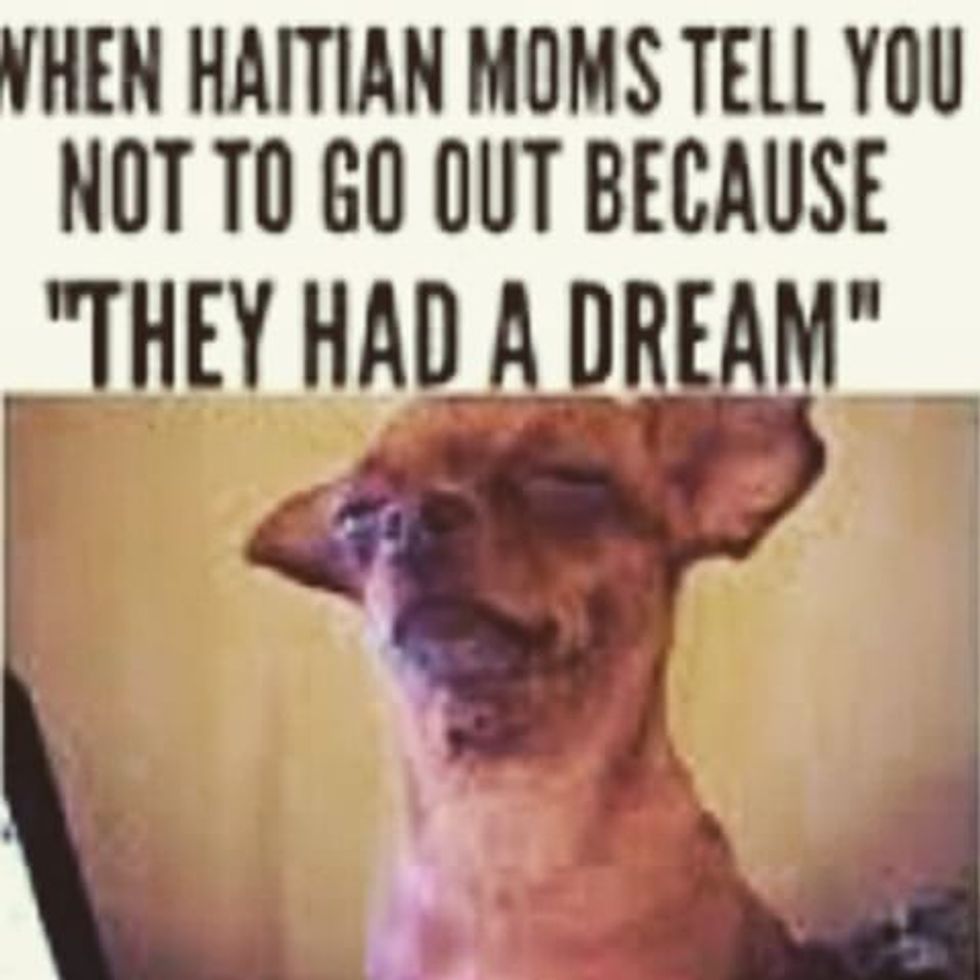 You're either not going out anymore or you're given a lecture to be careful.

17. Asking for fast food gets this response: "Genyen manje lakay la" (there's food at home)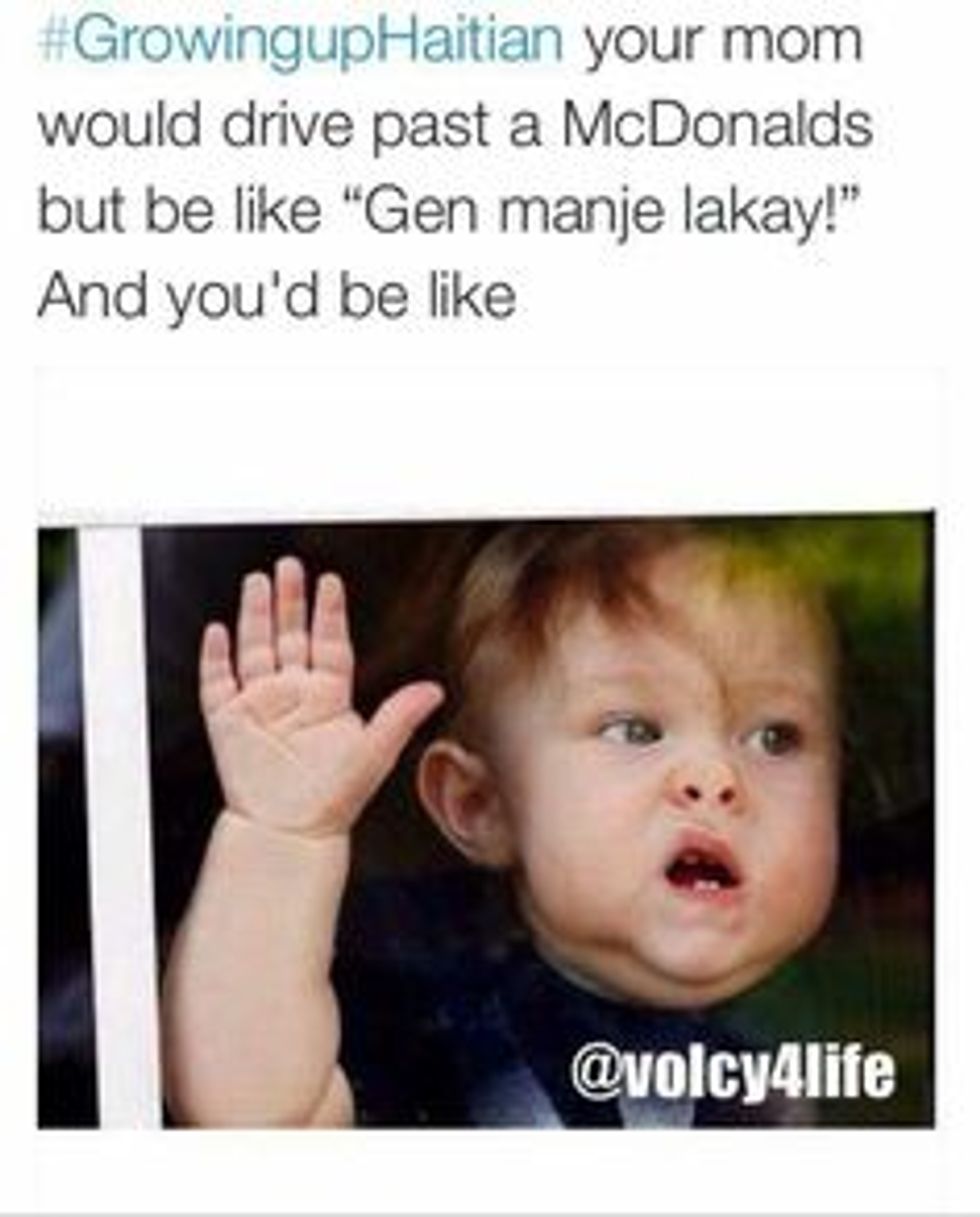 This was so disappointing.

18. You've been told "Wap kon George" (you're going to know George) but don't know who George is
You still don't know.
19. Your mom makes you homemade remedies when you're sick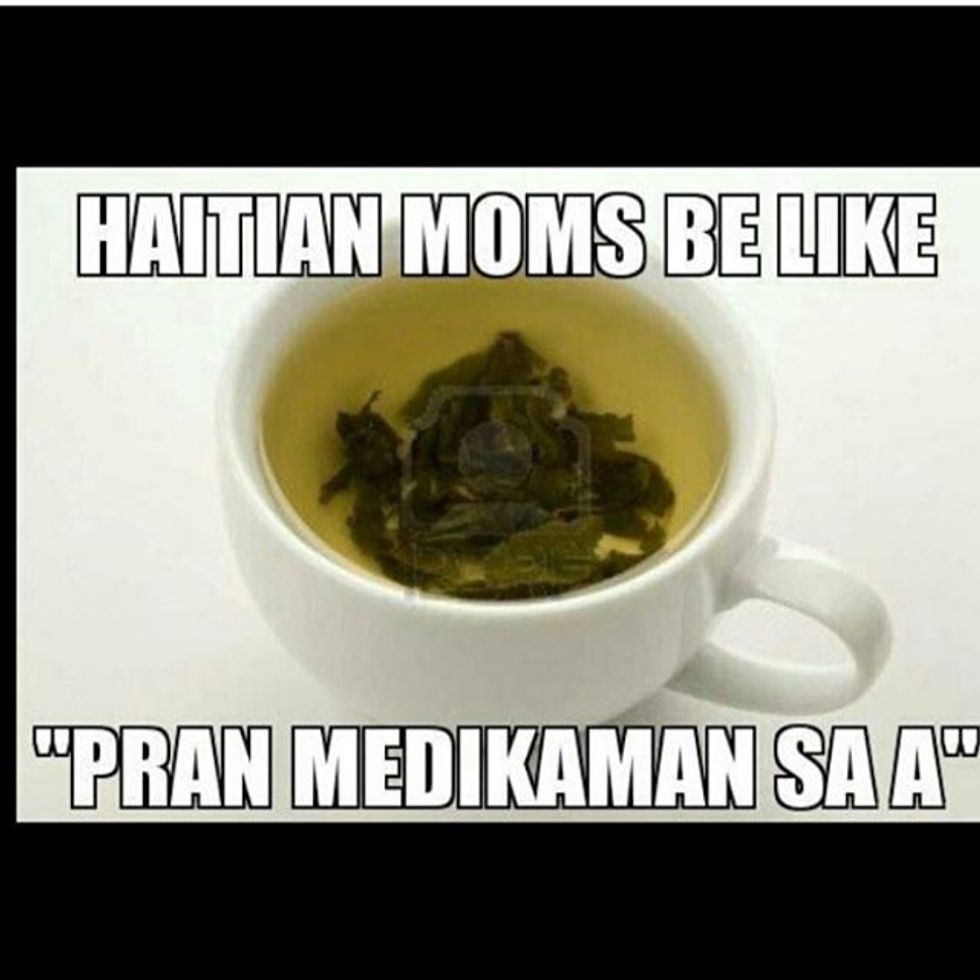 They're usually disgusting but actually work.

Translation: Take this medication
20. Leaving a party with a lot of food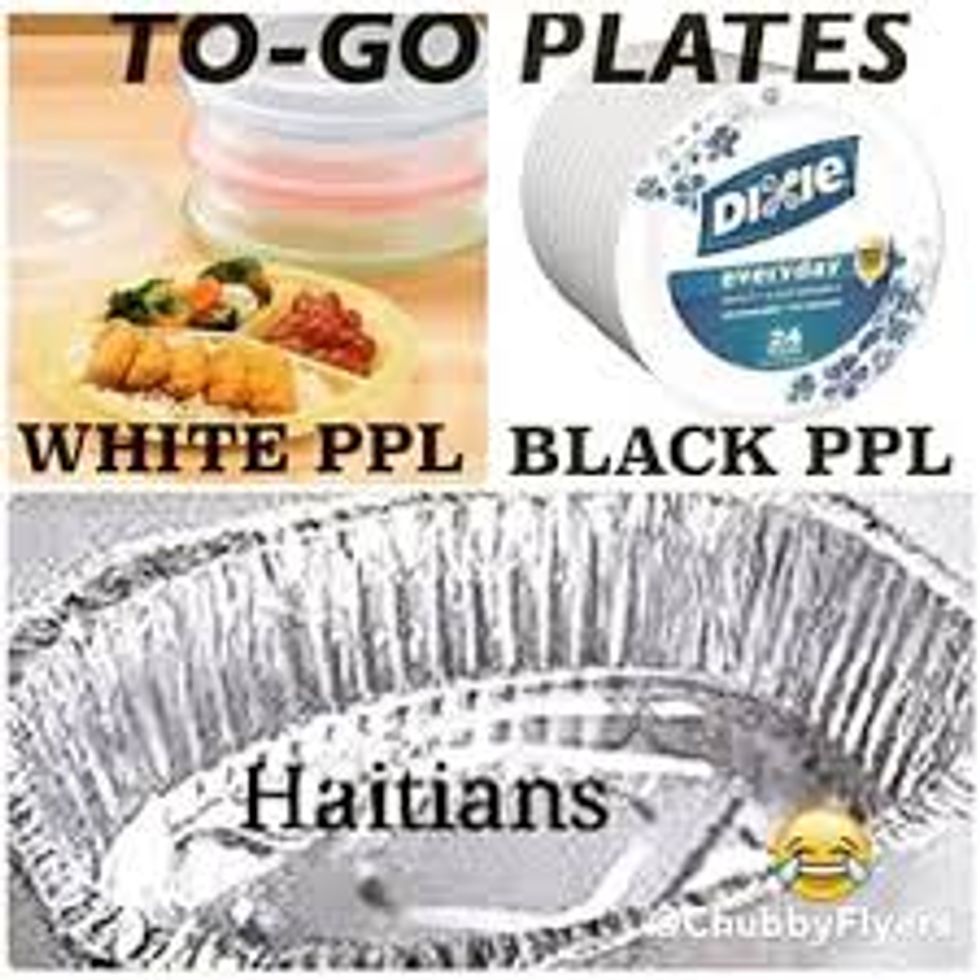 I hope you guys could relate and laugh as much as I did while writing this. Every culture has their flaws but you have to learn how to embrace or make a joke out of them. Have an amazing week everyone, xo