So, I'm turning 21 this summer, and I have alcohol on the brain. So naturally I'm being a girl and hitting up Pinterest (do people still use that?) to get drink ideas for my first big night at the bar. I'm really excited for them to stick my ID against my forehead, but I'm even more excited to taste test. Mixed drinks are actually an art. Drinks are created in a delicious mixture to make you feel very, very happy. What can make life any better than a rum and coke in one hand, and something woozy in the other? Here is a list I have compiled of what I will try, most likely not all in one night.
1. Moscato Strawberry Lemonade
Okay, so I love strawberries, and lemonade is my favorite drink. Throwing moscato into those can only average it out to heaven. To make this you would need 1 bottle of pink moscato, 6 cups of lemonade, ¼ cups of strawberry vodka, frozen strawberry slices, lemon slices and a large pitcher to pass it around in!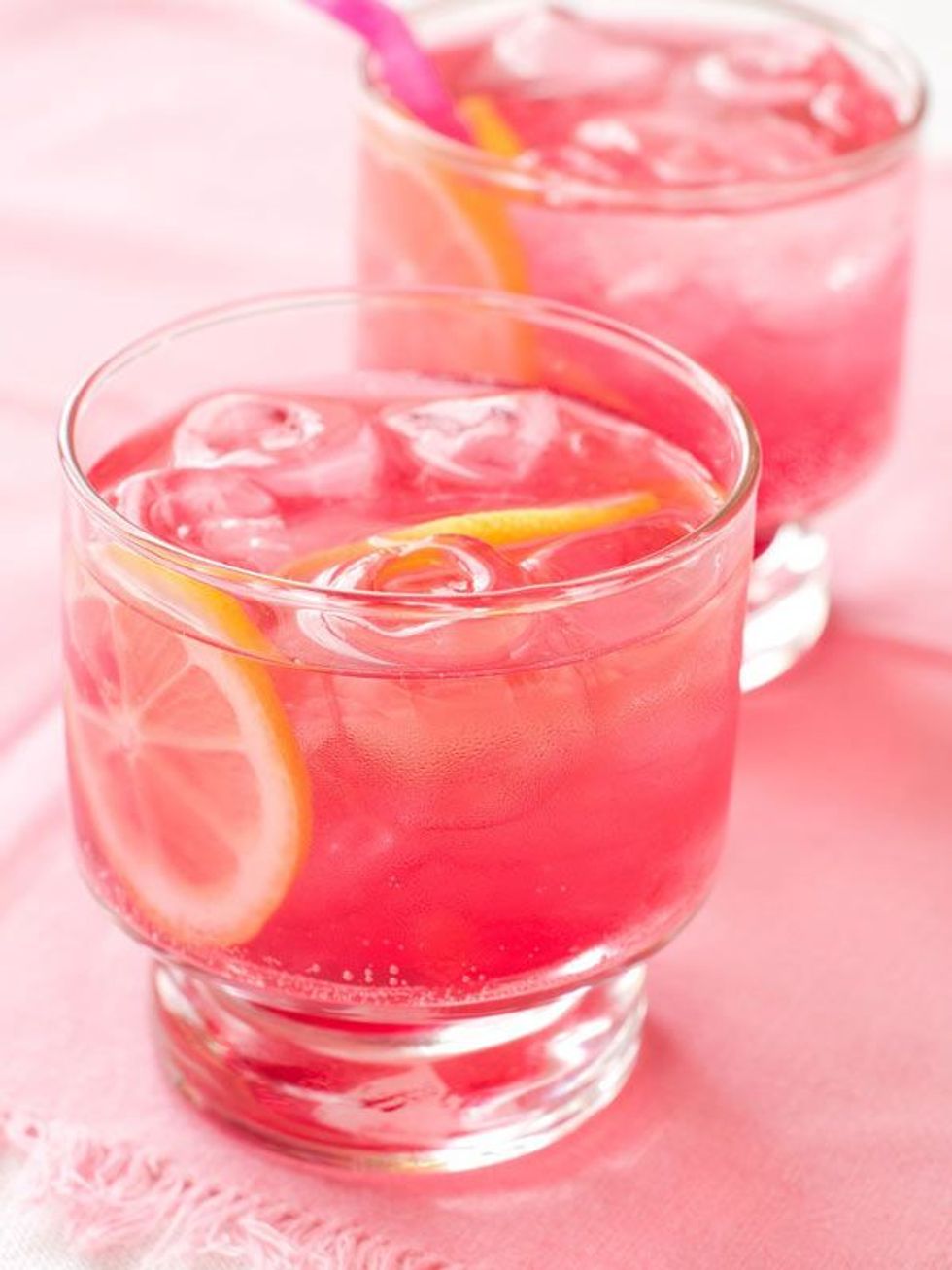 2. Mermaid Water
Mermaids are real, that's why they have their own drink, duh. You'll need Captain Morgan Spiced Rum, Malibu Coconut Rum, pineapple juice, Blue Curacao, and some lime juice!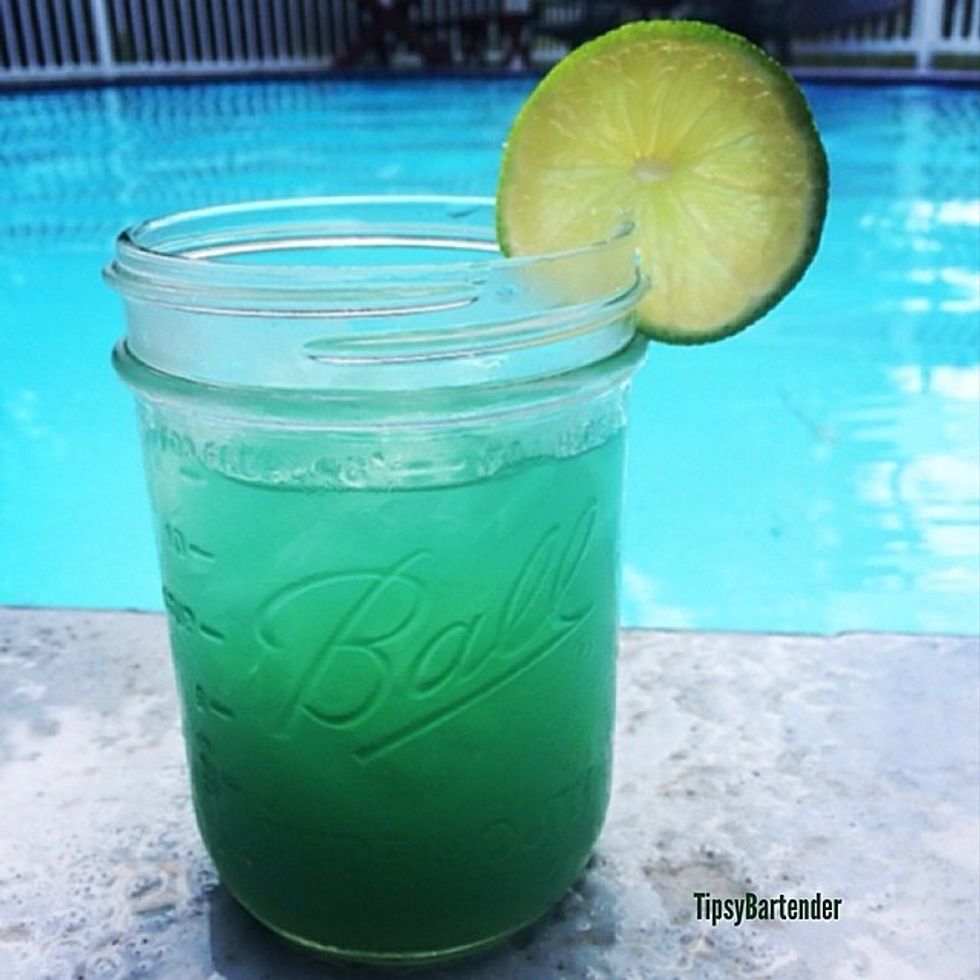 3. Mango Tequila Sunrise
I literally love anything in the flavor of mango, so I'm looking forward to this one. 3 oz. of orange juice, 1.5 oz. of Cuervo Gold Tequila, 1 oz. of mango puree, .5 oz. of Sailor Jerry Spiced Rum, .5 oz. of grenadine, an orange slice and a cherry to top it all off!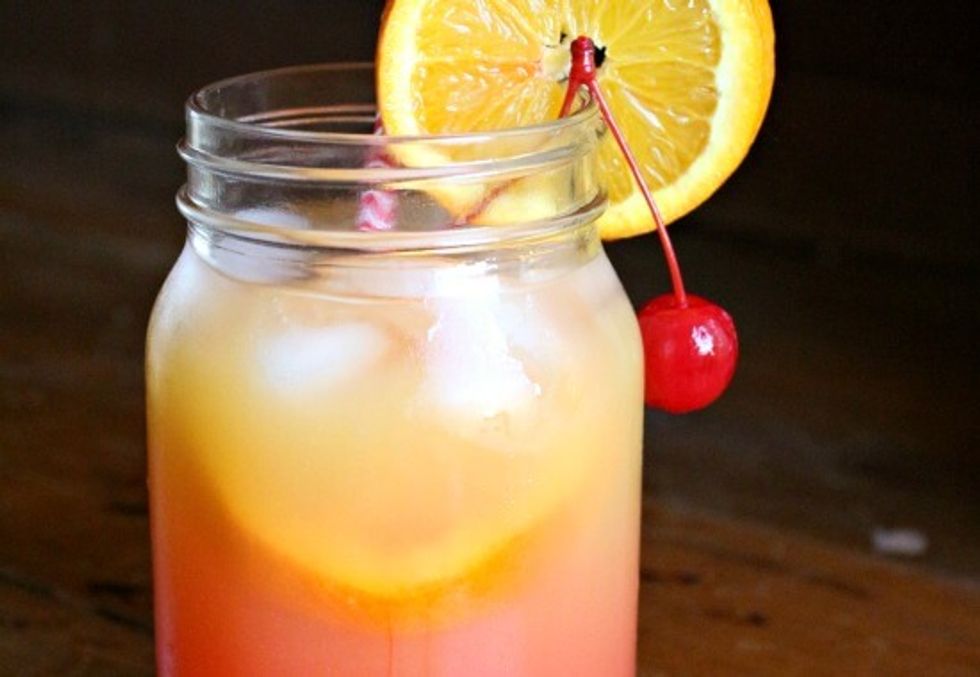 4. Malibu Pineapple Smoothie
This one looks like a good pool-side drink, and also only needs a few ingredients; Malibu Rum, fresh pineapple, and ice!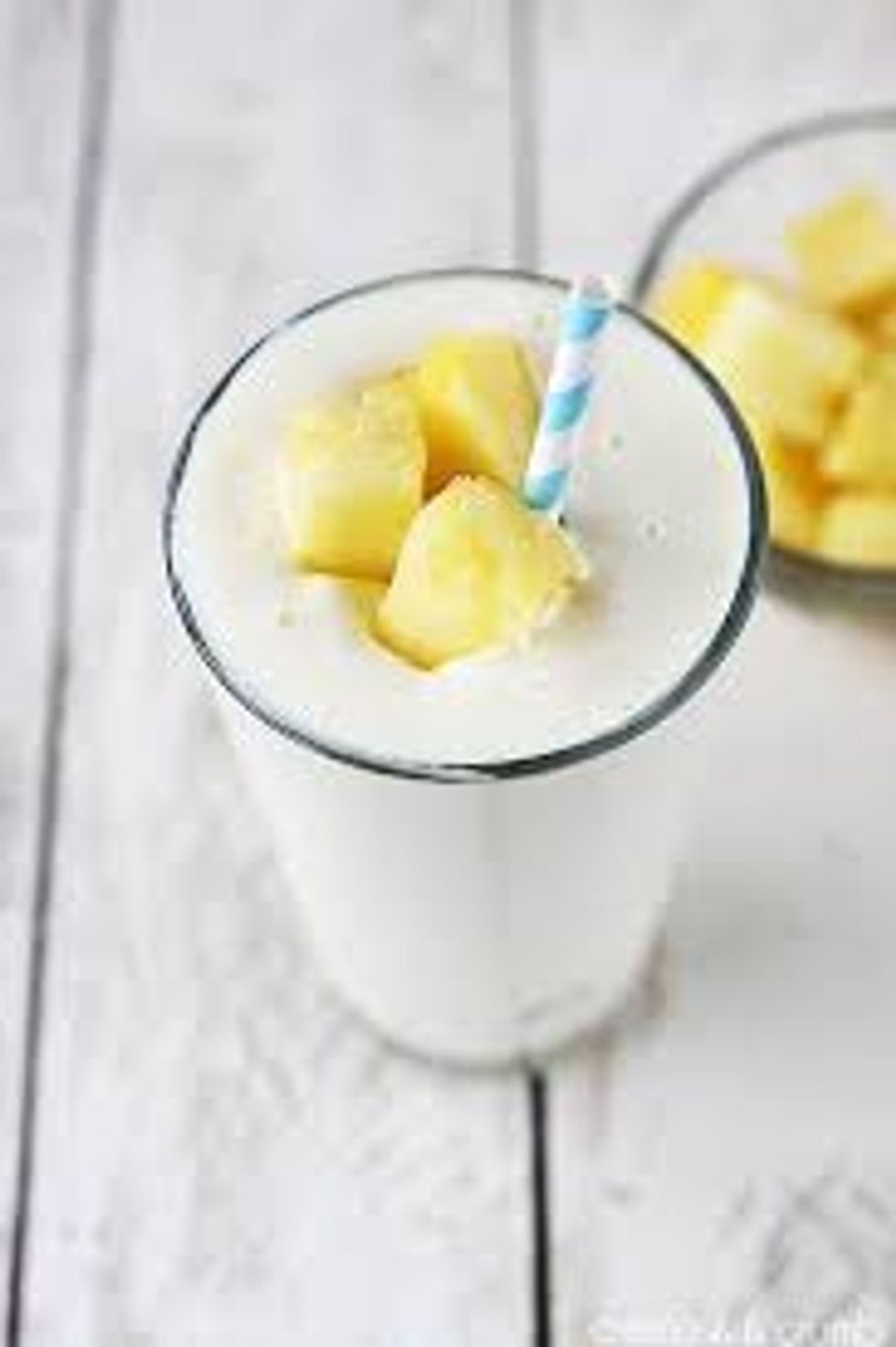 5. Pineapple Rum Punch
I really like pineapple okay? So of course you're going to need fresh pineapple, 3 cups of ginger ale, 3 cups of pineapple juice and 1 cup of Malibu Rum, yum.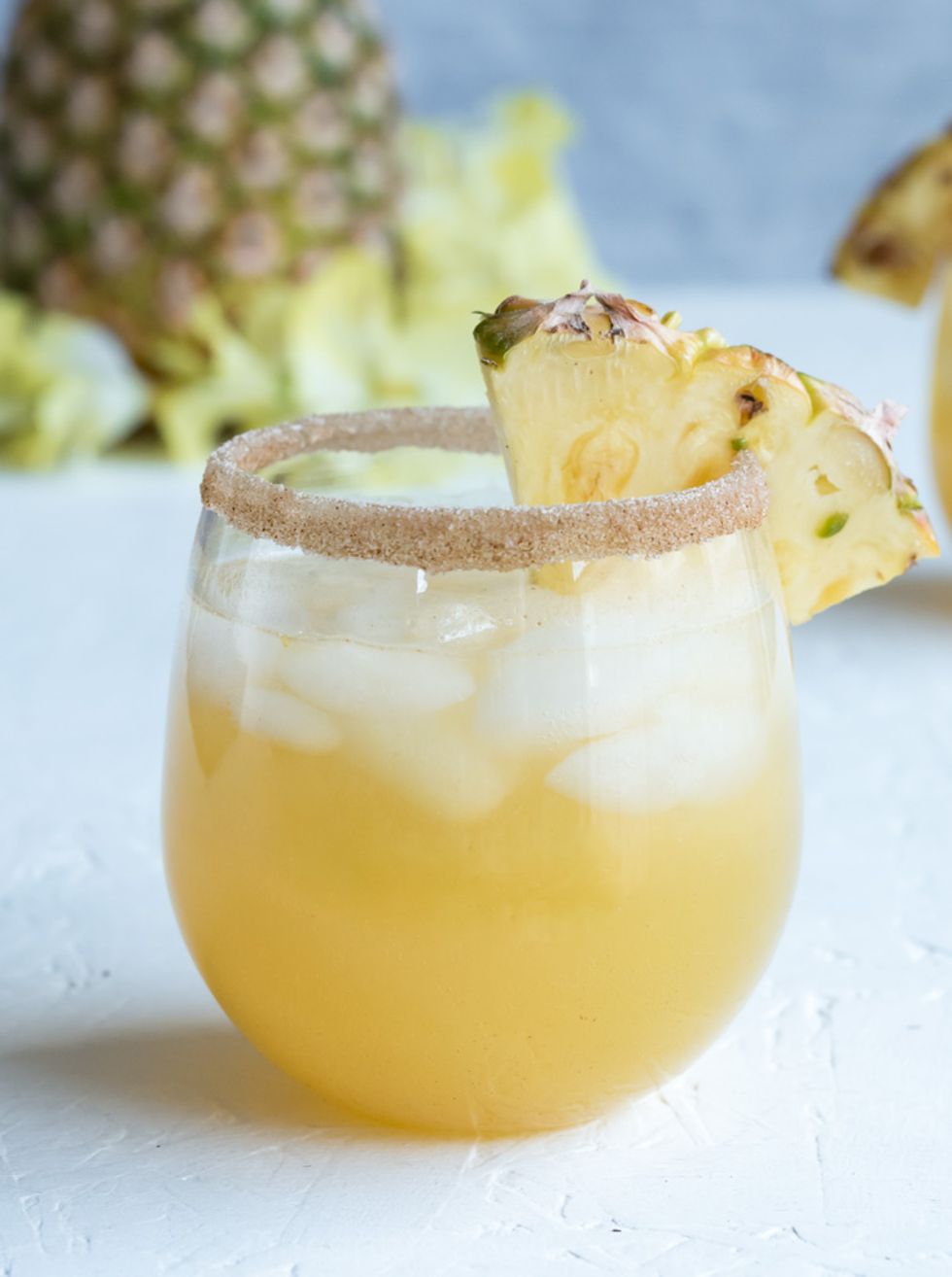 6. Beachside Peach
Nothing better than a peach in the sweet summer time. 1.5 oz. of Smirnoff Peach, 1.5 oz. of pineapple juice, 1.5 oz. of cranberry juice cocktail, .25 oz. of fresh lime juice, & 2 oz. of ginger ale!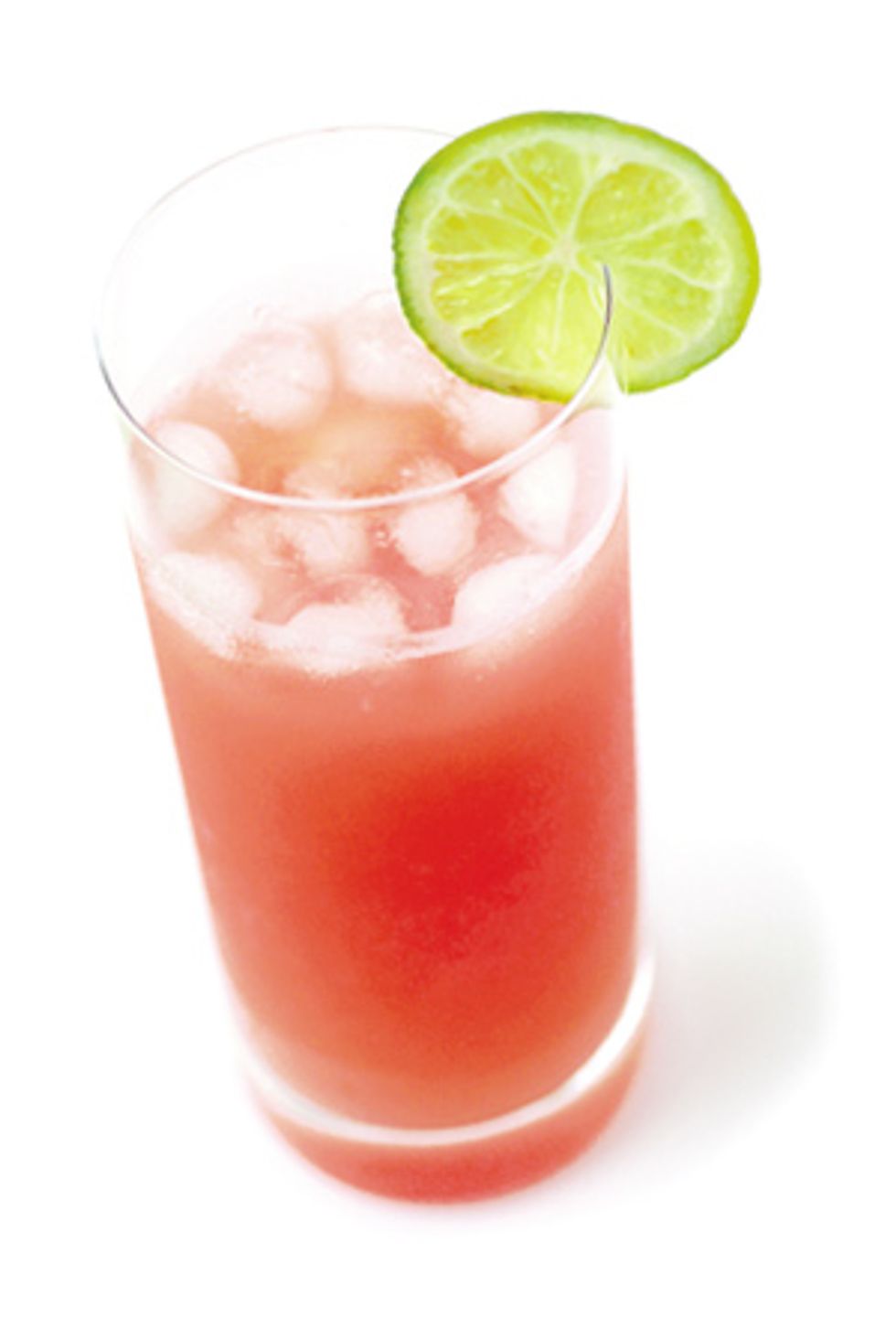 7. Adios Motherf*cker
I'm not going to list what this all consists of because it will probably make you gag. If I were to drink this on my 21st birthday, I don't think I'd see my 22nd… It's worth a SHOT though, right? Click the picture to take the risk for yourself!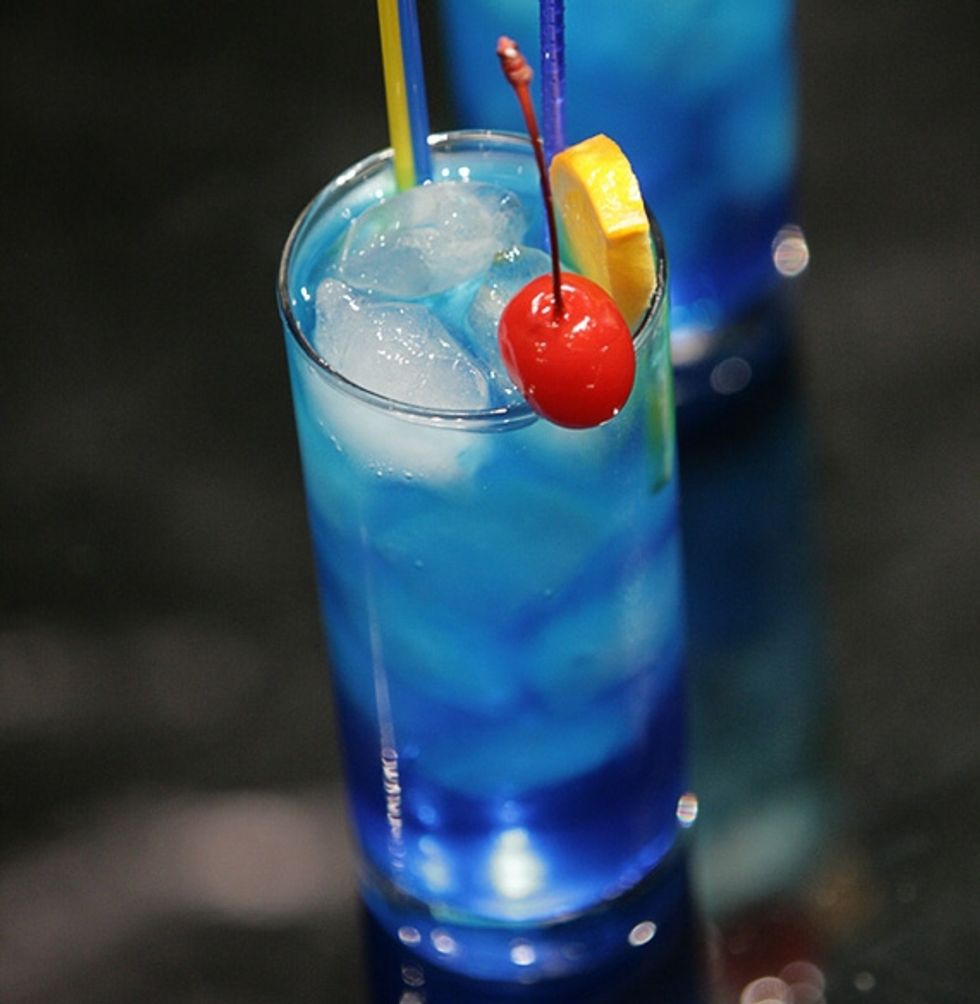 8. Blue Hawaiian
You'll only need 3 ingredients plus ice; 1 ounce of Coconut Rum, 1 ounce of Blue Curacao, 2 ounces of pineapple juice, some ice & some pineapple and maraschino cherries to top!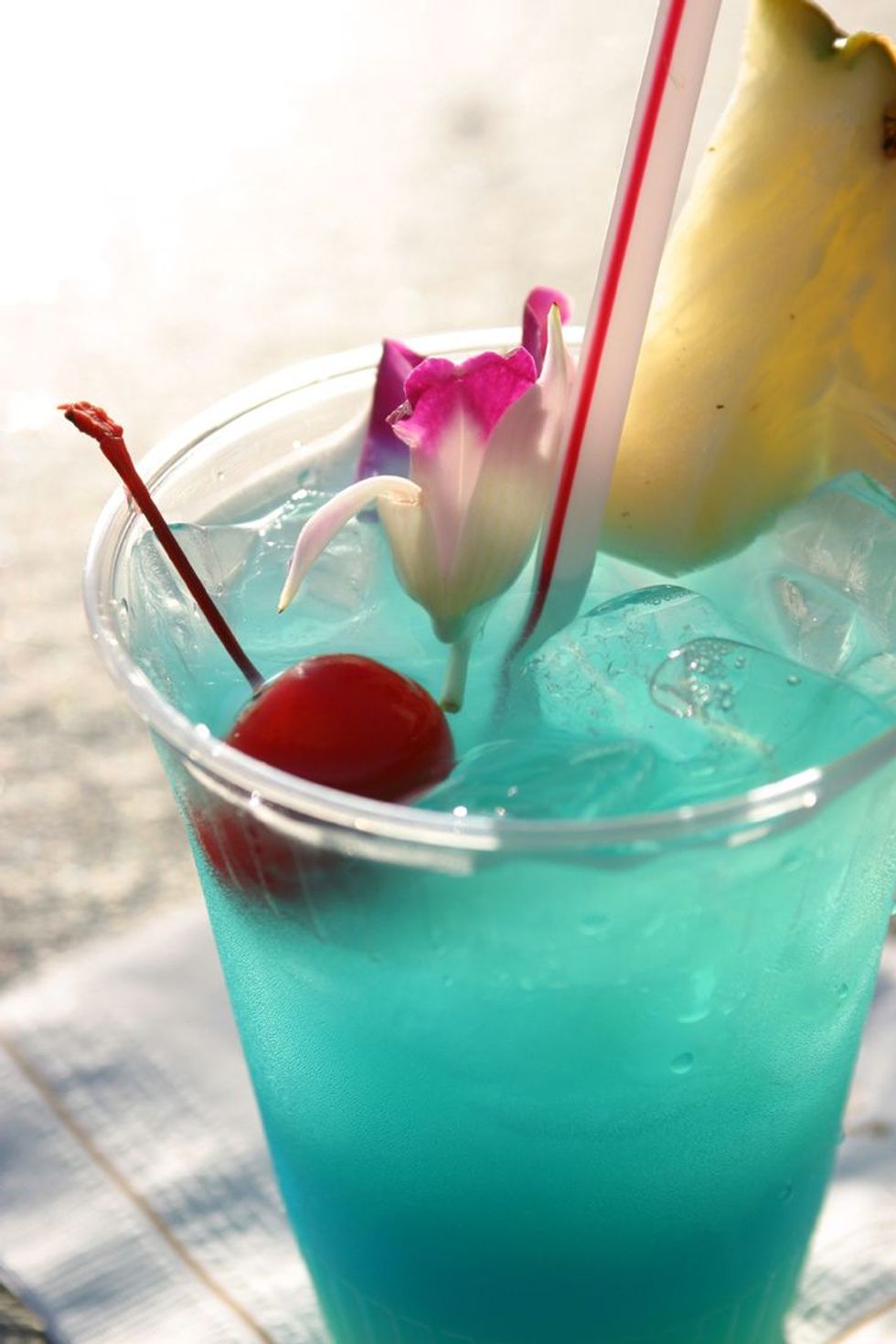 9. Sex on the Beach
Just because it honestly sounds intriguing… 1.5 oz. of vodka, 1 oz. of peach schnapps, 3 oz. of cranberry juice, 3 oz. of orange juice and some ice.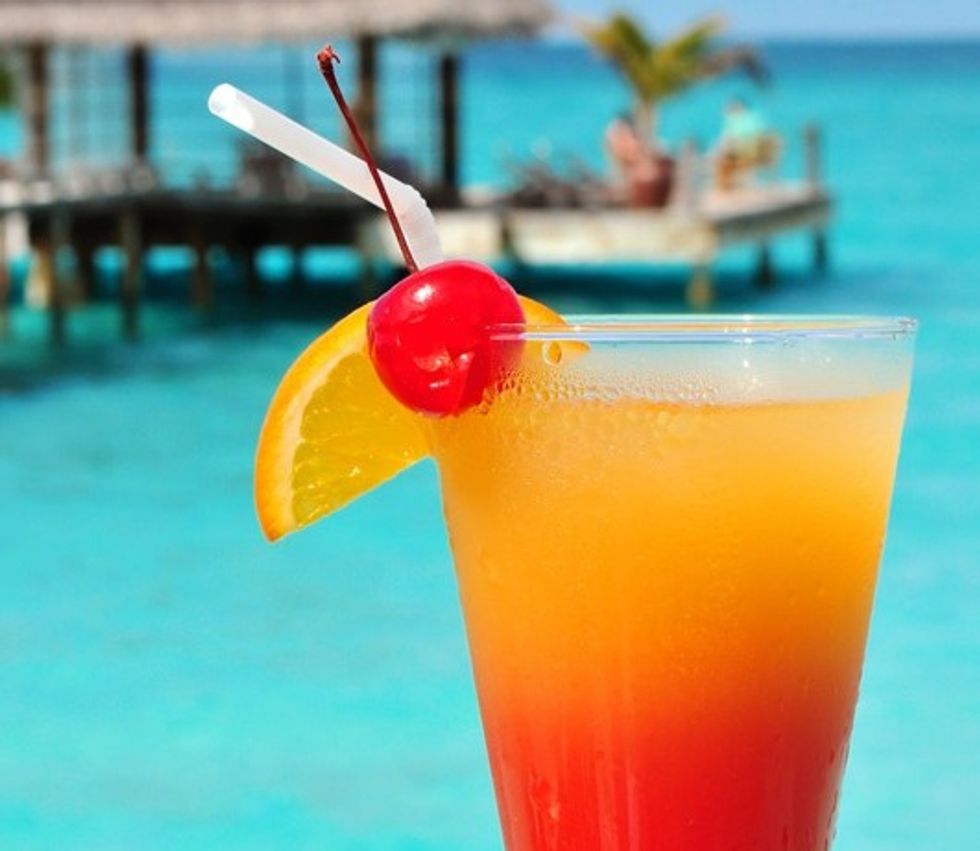 10. Cake by the Ocean Cocktail
I will request this song as I sip this by the bar. You will need 2 oz. of cake flavored vodka, 2 oz. of coconut rum, 2 oz. of pineapple juice, 2 oz. of orange juice, club soda (optional) and some maraschino cherries, pineapple, orange slices and sprinkles around the rim.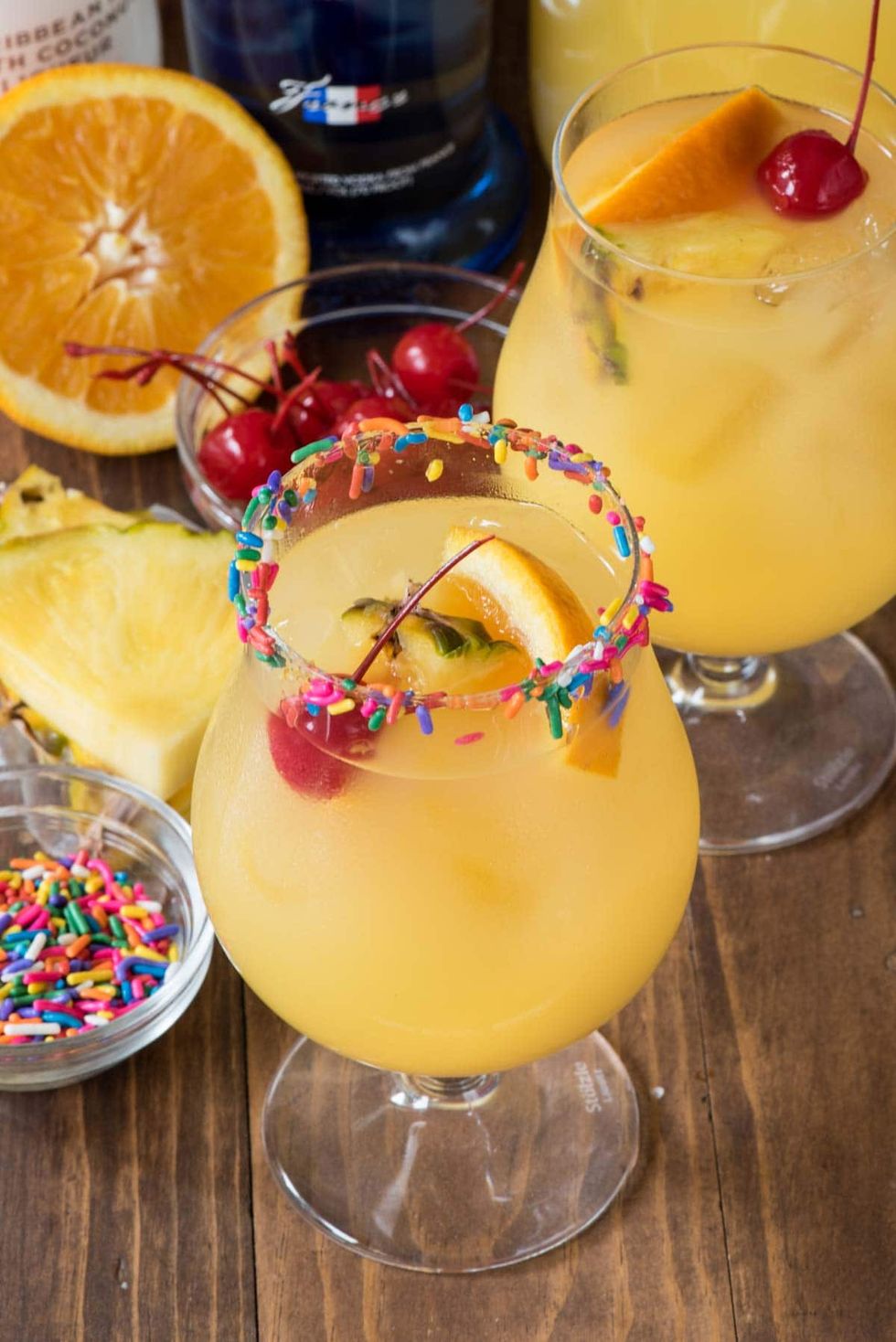 11. Lick Her Right
Sounds um… Interesting! 1 oz. of orange vodka, 1 oz. of peach schnapps, 6 oz. of pineapple juice, topped off with blue vodka and strawberries!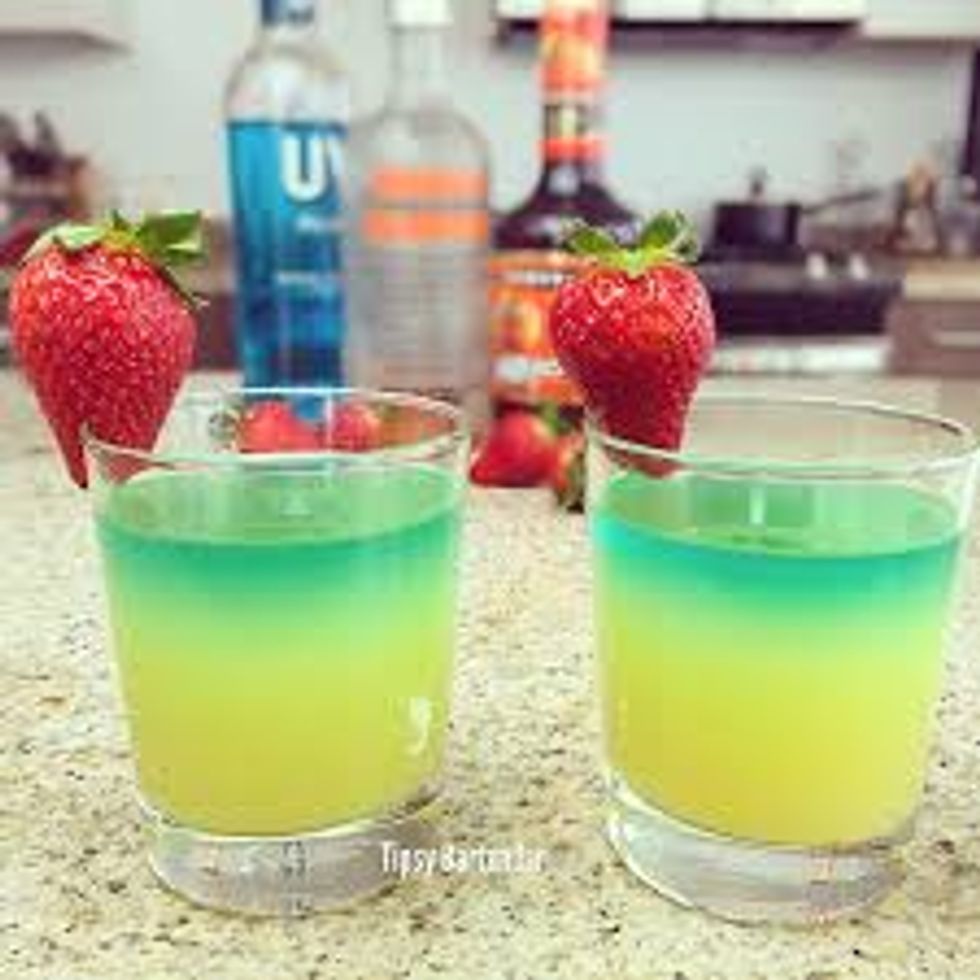 12. Twisted Mermaid Rum Bowl
Okay this just looks too pretty to drink, but I'll just have to suck it up; 1.5 oz. of Blue Curacao, 1 oz. of rum in each of these flavors- coconut, strawberry, pineapple, mango, banana, fruit. You'll also need 1.5 oz. of orange juice, 2 oz. of passion fruit juice and a splash of cranberry juice!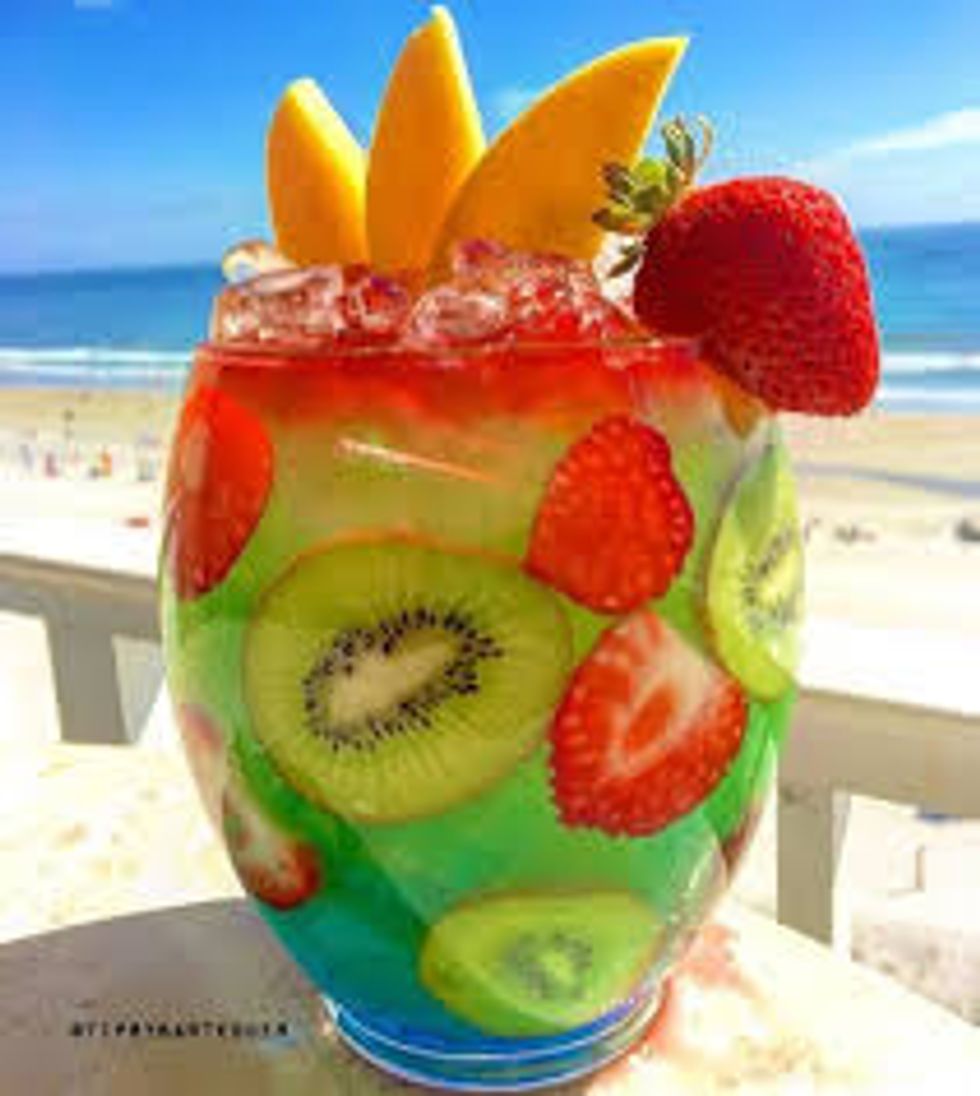 13. The Perfect Lemon Drop Martini
Lemonade is my favorite drink, therefore this may become my favorite martini when I'm legal. You'll need ¾ cup of lemonade, 2 shots of either citrus or lemon vodka, granulated sugar and 2 cups of water or club soda.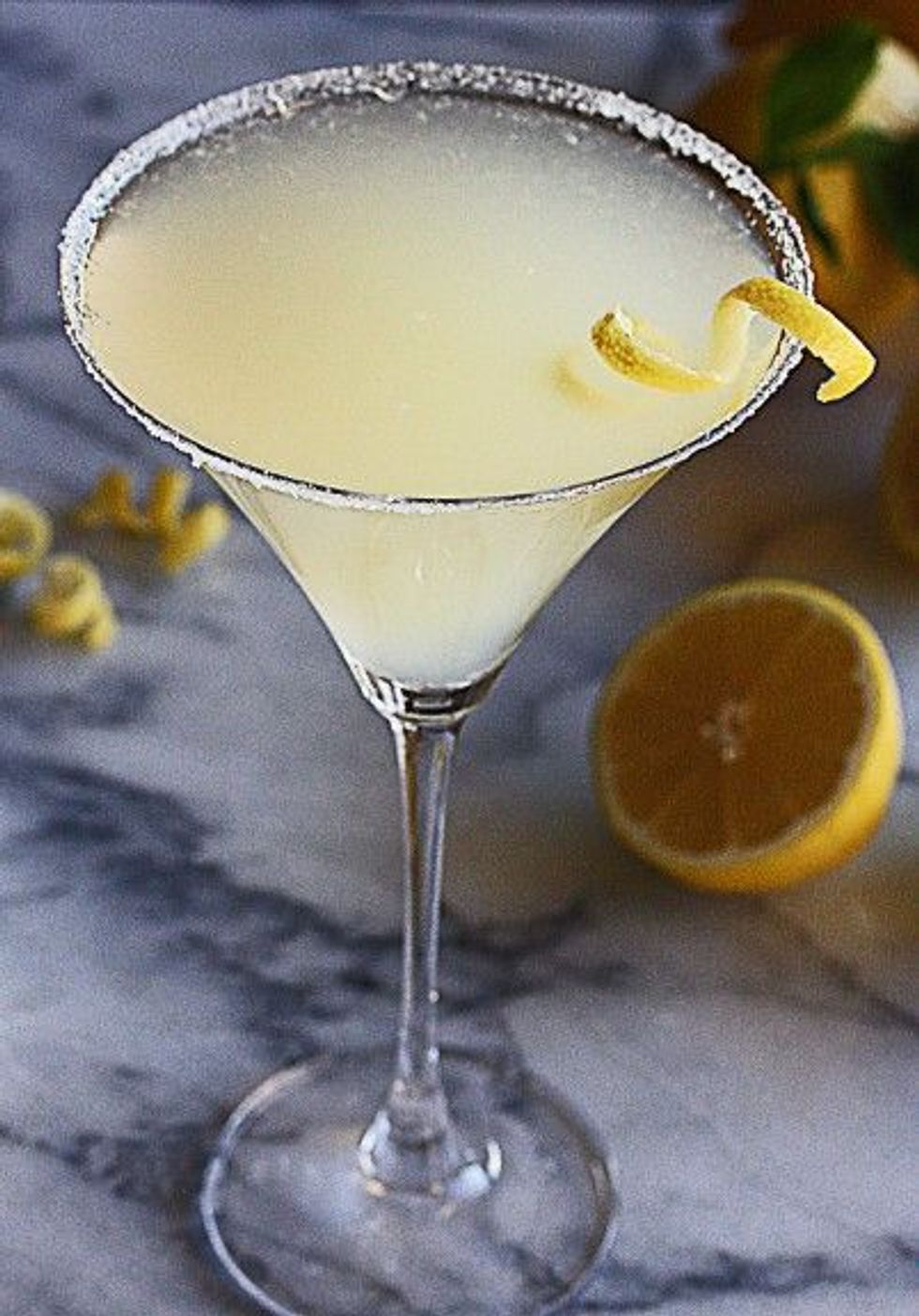 14. Long Island Iced Tea
I've heard some classy stories that follow drinking these… Do I even go there? Absolutely. You'll need some vodka, tequila, rum, gin, triple sec, sweet and sour mix, Coca-Cola, lemon & ice!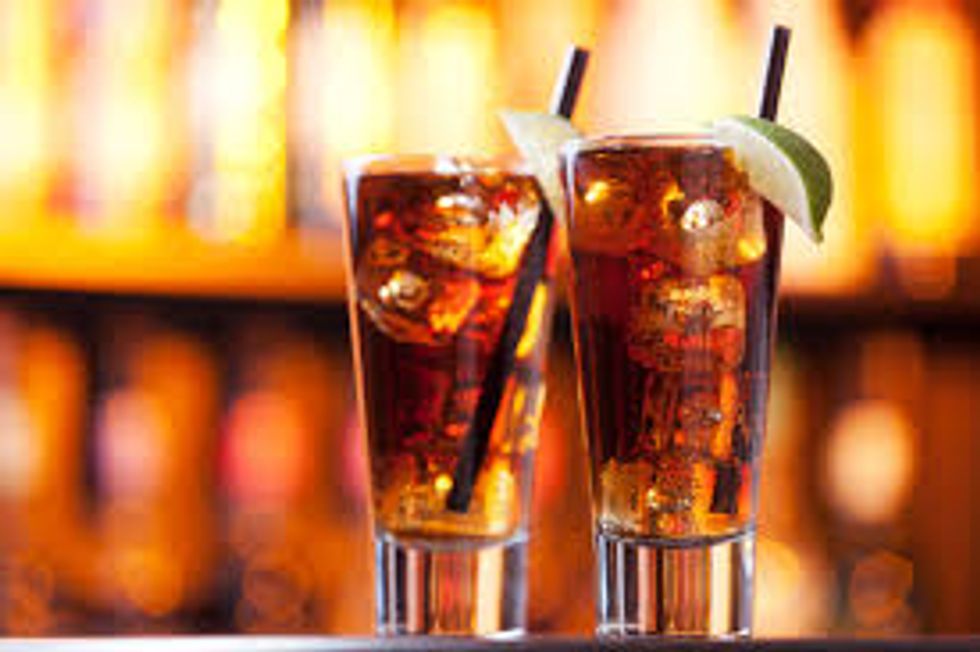 15. Rum & Coke
You know what this consists of, if you don't you're probably already really drunk.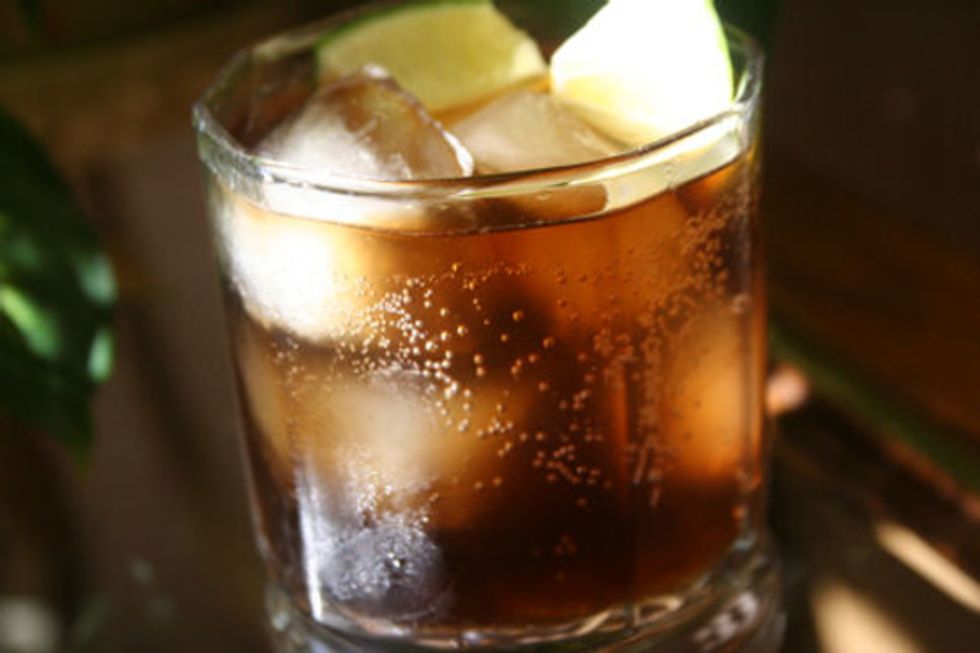 You're welcome.