I could give you statistics about the millions of dogs that are put down every day, the dogs that don't make it out to find a loving family, the dogs that never find freedom; but I'm sick of seeing numbers.

Those numbers represent a life that didn't get to really live, but when you look at the numbers, you don't always see that life. So here are the real reasons you should adopt from a shelter or rescue.
10. Daisy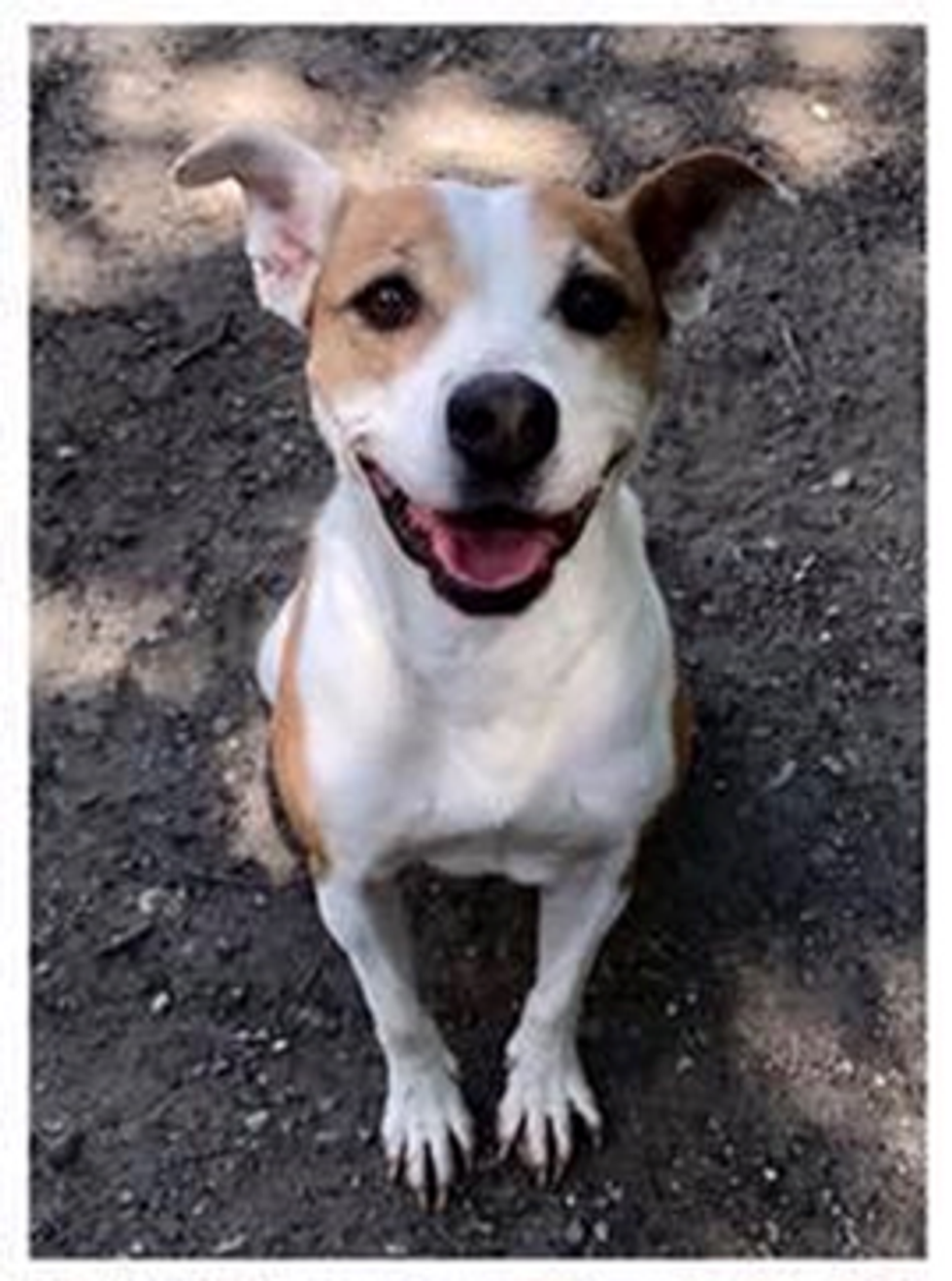 Hi, my name is Daisy. I've been at the shelter since July 2017. I don't remember much about my life before I came here, but I know I don't like it here much. I like the volunteers that take me outside to play and the staff that feed me and clean my kennel, but other than that it's boring here and there are always dogs barking at me.

It gets me really wound up, sometimes I want to play with the other dogs so I bounce off the walls in my small little kennel barking along with them. Other times I just want them to stop, but both kind of look the same. I look kind of crazy in my kennel come to think of it, but I'm just bored and I get excited when someone walks by because that means I may get a treat or I may get to go play!
I love to be outside. I run around with dogs on the other side of my fence, I bring tennis balls back and forth to the humans, and I love to shake around a good plush toy. When I'm not playing or I get tired I like to lay with the humans and get a good rub down. They tell me I'm pretty and that I'm a good girl, but if that's true why am I still here? I just want someone to love me when all of the staff and volunteers leave for the night. I wish a family would come and bring me home.
Daisy is the reason you should adopt from a shelter or rescue. (Currently available through Saginaw County Animal Care & Control)
9. Penny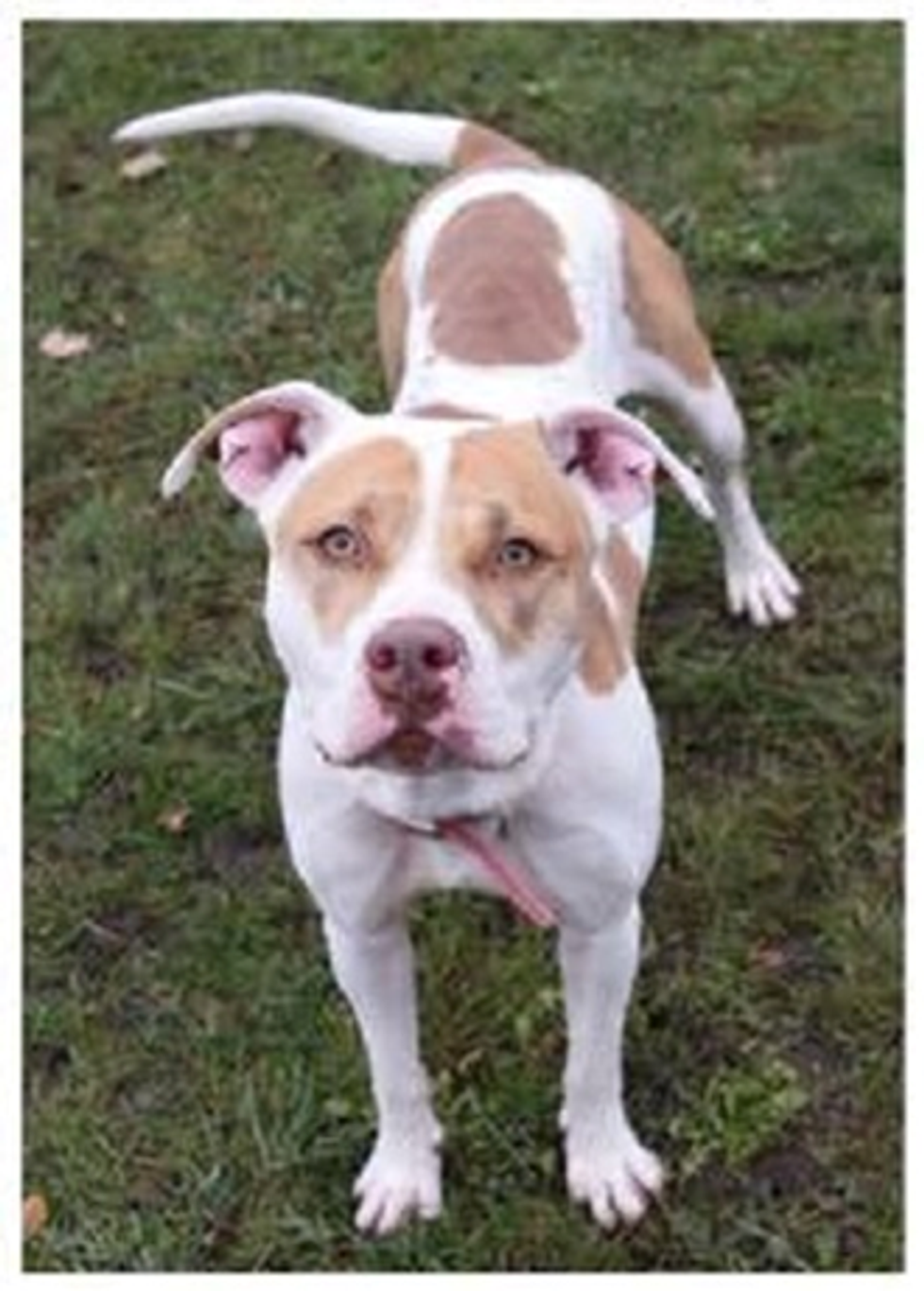 Hi, my name is Penny and I've been at the shelter since October of 2017. I was at the shelter once before this long visit of mine. In July of 2017, my brother and I got really scared when I was outside because of all the fireworks that were going off in my neighborhood. We ran to try and get away from the noise but it seemed to be everywhere.
We were picked up and brought to the shelter, but a few days later our family found out we were there and came to get us. I was so relieved! Back in October, I got out again on my own when I was left outside and was brought to the shelter. This time no one came for me. I had a really big family, with my brother, lots of humans (old and young), and even lots of cats! I miss them a lot, but I wonder if they miss me.
I like to play with the humans at the shelter; they throw tennis balls for me and bring them back and I never get sick of it. I love to run after the toys, and the humans tell me I look like a deer when I prance after them.
As nice as the humans are though, I miss having a family. I don't look very happy in my pictures or in my kennel because it's cramped and loud there. I just want someone to take me home where it's peaceful and quiet so I can relax and play in peace.
Penny is the reason you should adopt from a shelter or rescue. (Currently available through Saginaw County Animal Care & Control)
8. Harley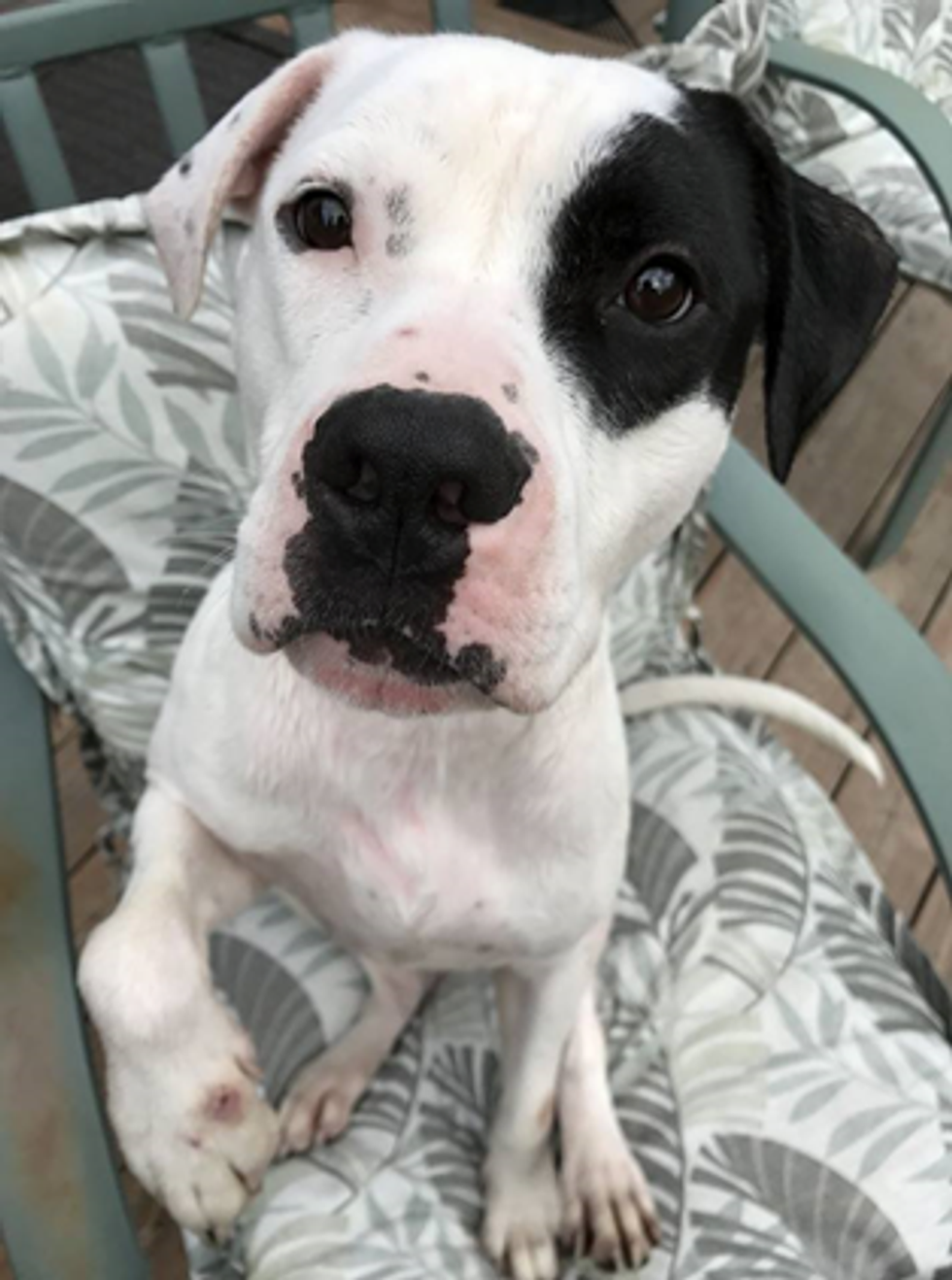 When I was at the shelter it seemed like no one wanted me. I was there for about a year, and in that time I even went into a training program to teach me some manners. When the training program was done, no one adopted me, so I had to go back to the shelter. I was so sad I couldn't remember any of the things I had been taught and I didn't want to.
I just wanted to be free. But finally, my day came when my new family came to get me. My name was Bradley when I was at the shelter, but that was in the past so I have a new name now. My family calls me Harley. I love them so much. With them, I get to run and play almost all the time, and I even have a grandma now!
My grandma has diabetes and uses an insulin machine to regulate her blood sugar. Sometimes her sugar gets too high or too low, so instead of playing I bug her to check it when I can tell it is off. One time her machine came unplugged overnight so I woke her up and kept her up until she noticed it. My family seems to think it's really amazing that I do this since they never taught me how to, but I just love them so much, if anything ever happened to them I would feel even more broken than I did when I was left at the shelter.
Harley is the reason you should adopt from a shelter or rescue.
7. Mardeau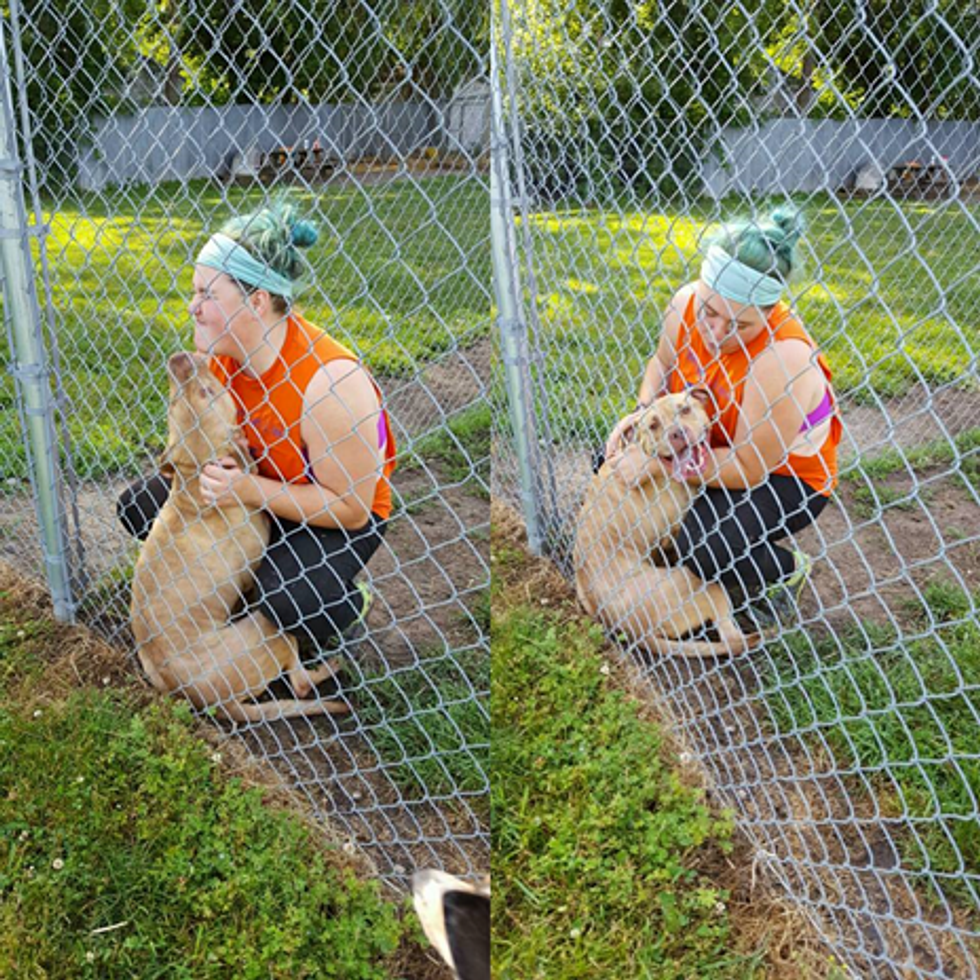 I came to the shelter in the spring of 2016. This is a picture of me and one of the volunteers. She took me outside every Saturday to play and cuddle; she told me I was a good boy and that she loved me, and always said sorry when it was time to go in.
I never wanted to go back into my small kennel, but there were so many other dogs she had to take out that I usually only got 15 minutes to play outside a day. I was really happy when I was taken into a home later that fall!
But they didn't take very good care of me, I'm not sure what I did wrong, but I ended up back at the shelter about a year later, but I looked so different the volunteer (the one who loved me and cuddled me and played with me every week for sixth months) didn't even recognize me!
I was skinny and my paws weren't in great shape either. I was dirty and didn't look very well taken care of. After being back for several weeks, my volunteer took me outside and realized who I was. She was so sad, she held me and cried. I was sad too; I didn't want to play at first I just wanted to be close to whoever took me out of my kennel.
After a while, I livened up and made the most of my time outside my kennel, and even went into the training program Harley was talking about! One of the staff members there fell in love with me and took me home. I have a great life now, with people who love me the way I always should have been loved to begin with.
Mardeau is the reason you should adopt from a shelter or rescue.
6. Paige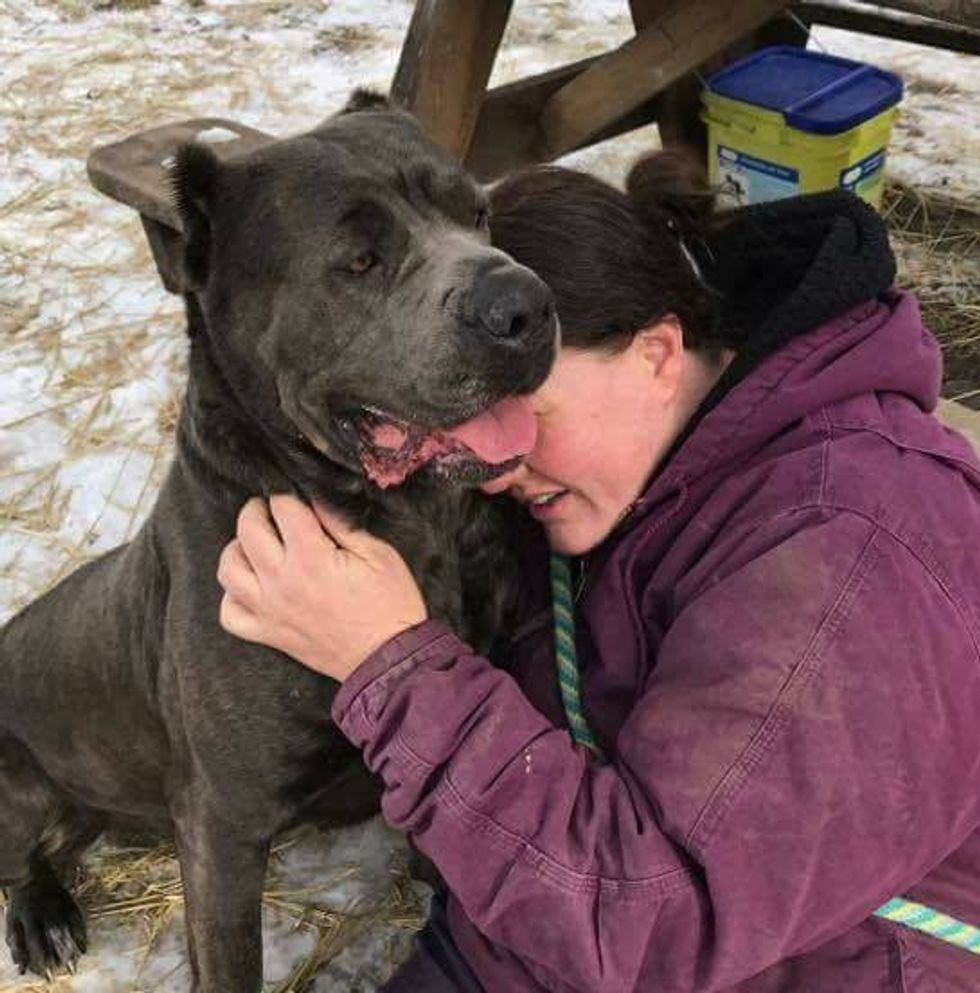 Hi, my name is Paige these days. When I came to the shelter I had been confiscated from my owners because I was running around the streets with my son and I was scared and trying to protect him. Our humans weren't great people and they didn't take good care of us. Just look at my ears or lack thereof.

My son and I got to sleep in kennels next to each other and go out in yards next to each other, but because I was so protective of him and we were both so big we couldn't be together. Some people think I'm scary, but I'm just a gentle giant who loves hugs and stuffed toys.

We were at the shelter for over a year when I finally went to a different rescue to get better views from a family. I had to leave my son behind. I hope he is out there happy somewhere. We both deserve it.

Paige is the reason you should adopt from a shelter or rescue.
5. Shiann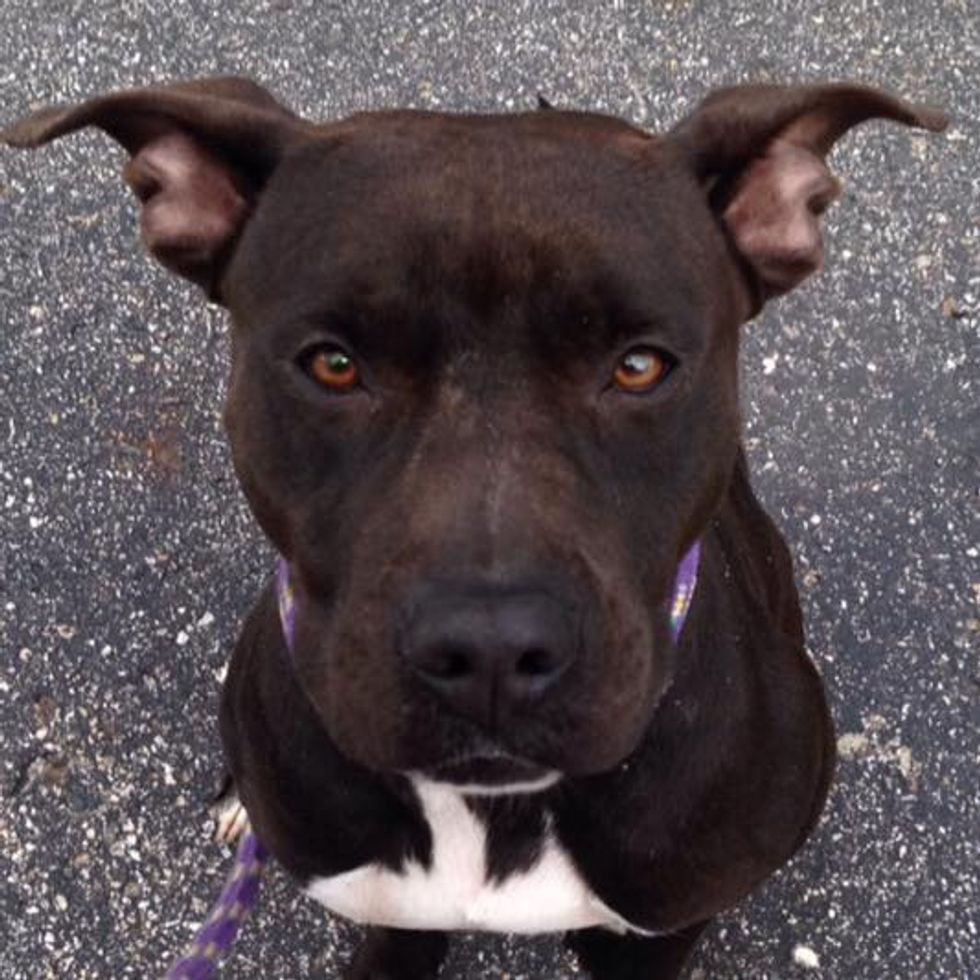 Hi, my name is Shiann. I came to the shelter as a stray, but I was always meant to be with a family. After some time at the shelter I was adopted and I was so excited to go home with my new mom. I tried to be the best girl I could for her, but it wasn't good enough.
She kept me in my kennel all the time; I wasn't allowed to come out often. I don't know why she brought me home because she didn't really seem to like me. Eventually, she had a friend of hers bring me back. Once I was back, the volunteers were horrified to find that the woman who adopted me had never gone to get my stitches out from being spayed months earlier.
I was devastated, to say the least. I just wanted someone to take me home for good and love me. Finally, my time came again. Another woman came to the shelter looking for an emotional support dog, and I was suggested. My new mom and I fell in love, and she took me home. She looks after me and I look after her, it's the match we both needed and I am finally happy.

Shiann is the reason you should adopt from a shelter or rescue.
4. Champ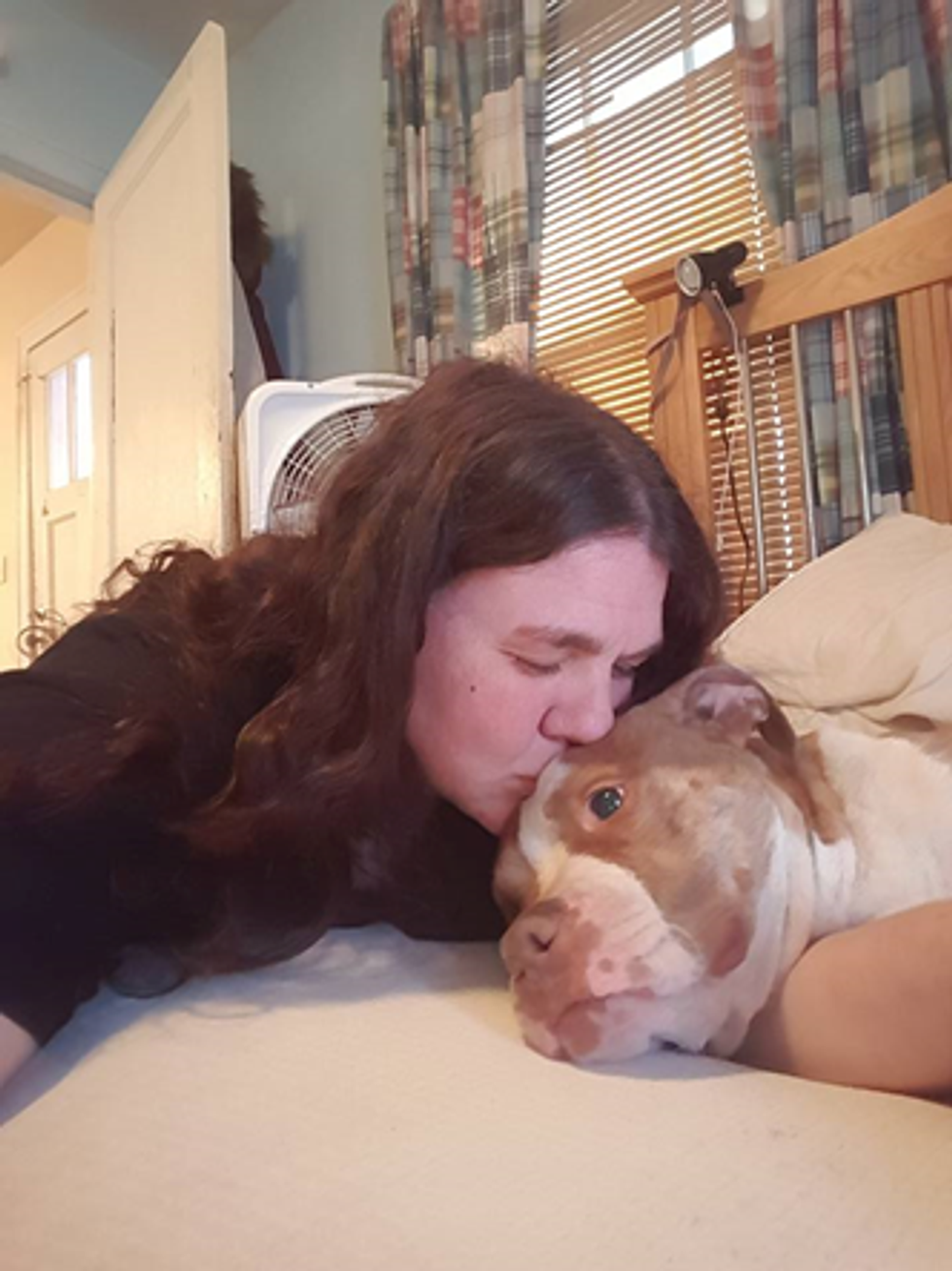 My name is Champ. I came to the shelter with my brother Bdub; I'm not sure where he is now, but I hope he is happy like I am. We both deserved a happy ending. I'm an older gentleman now, but in my younger days, I wasn't taken care of. The staff at the shelter brought us here because our old neighbors kept calling them to come check on us.

When they came out for the second time, they saved my life. We had been tied outside for a long time, and I got bored and scared and tried to climb over the dog house. I was nearly choking to death when they got there. My teeth had been filed down so far they were infected and rotting -- a trait that is often seen among bait dogs in dog fighting.
I was at the shelter for nearly a year while they tried to bring up charges against my old humans. Finally, the day came where my new mom could take me home. Now I get to sleep in a bed and eat food covered in good stuff like peanut butter and coconut oil and pumpkin.

I have a mom and dad, a grandma, two sisters, a foster brother, a human brother and sister, and a handful of cat friends. I never imagined these many people would love me, but they do. And I love them.

Champ is the reason you should adopt from a shelter or rescue.
3. Perry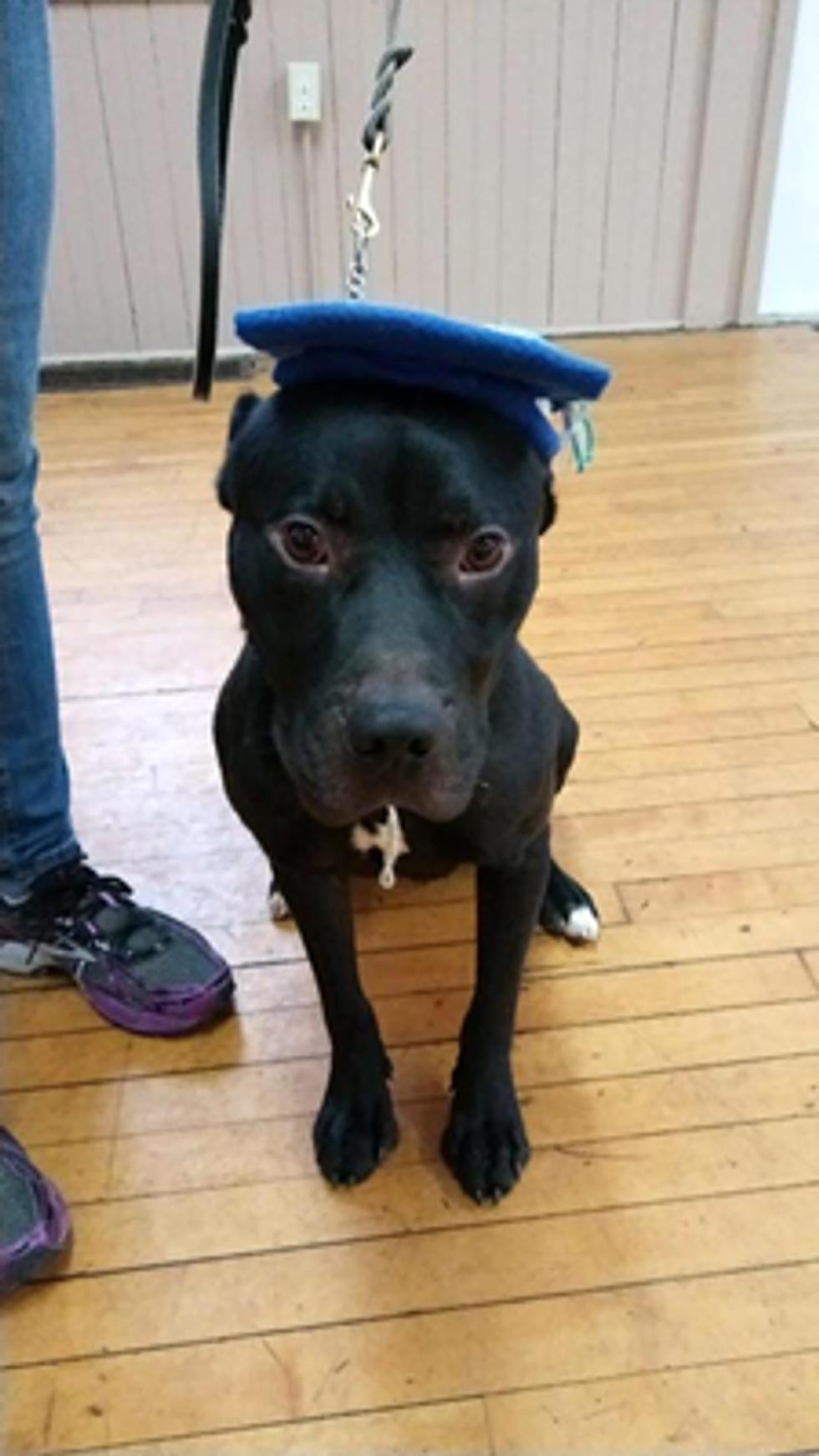 This was Perry.

Perry can't tell you his story because he didn't make it out of the shelter. Perry came to the shelter very scared of his surroundings. When he was out of his kennel he never wanted to be far from a human's side. Walking him past any large or loud objects was difficult; when he was scared like this, he would flatten himself to the ground and refuse to move. This happened a lot.
But like many dogs, he became surer of himself and began to show a very sweet and playful side. Anything big and loud still scared him quite a bit, so he went into a training program to give him some confidence. The picture above is the day he graduated from the program.
He was a great dog, and he would have made someone a great pet if he'd gotten out in time. When I say "in time" I don't mean that he had a selected number of days before he was deemed unadoptable. Not many places do it that way, rather it depends on the animal. Perry's demeanor deteriorated after being at the shelter for too long.
Some dogs can handle the stress better than others, and in Perry's case, he just couldn't handle it. He became very difficult to handle, despite his training. His playful personality became uncontrollable and dangerous for him to be handled by humans. It became unfair to keep him in that environment, with the state his mind was turning to.
Perry was euthanized not for space, and not because he wasn't a good dog. Perry was euthanized because his mind could not take being in the shelter; he needed a family and no one ever came for him.

Perry is the reason you should adopt from a shelter or rescue.
2. Blaze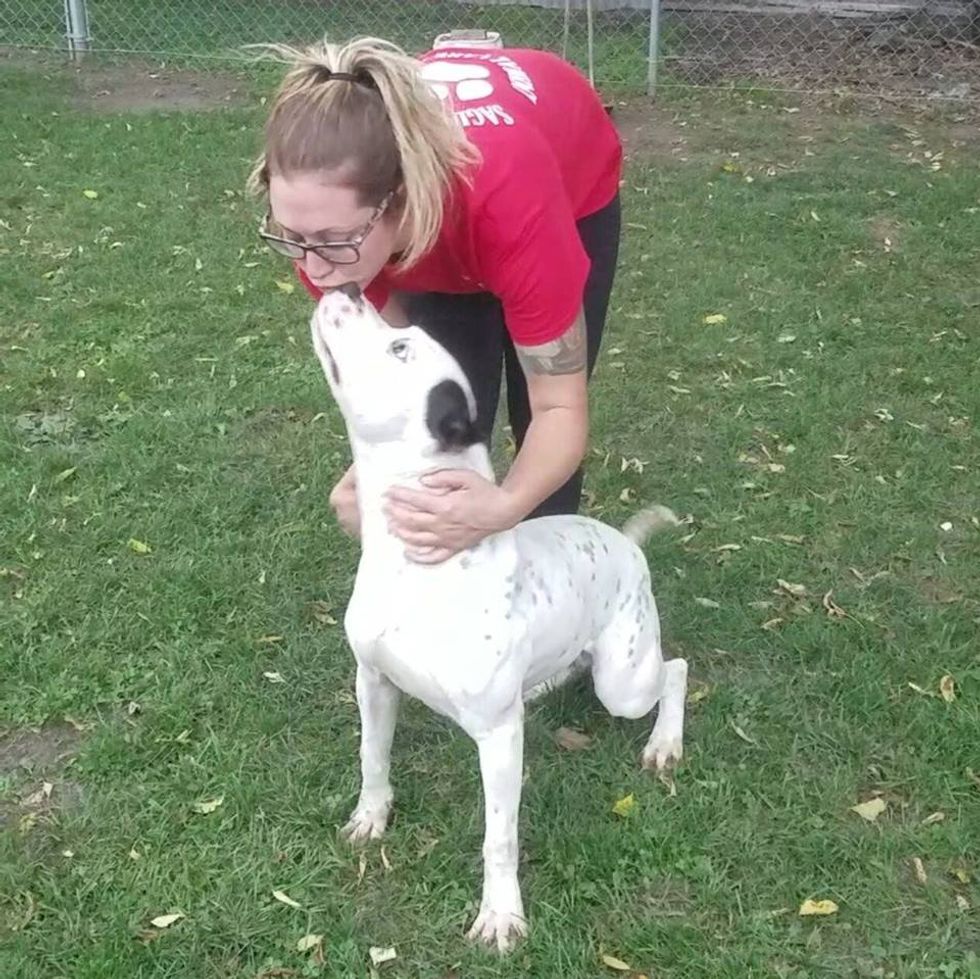 This was Blaze.

Blaze didn't make it out to tell you his story. Blaze was a sweet boy who loved to cuddle with all the humans that loved him at the shelter. But Blaze was not as sweet with other dogs. When he first came to shelter his aggression towards other dogs was manageable. Staff and volunteers walked him away from other dogs and he played outside by himself. He was content with his humans as long as no other dogs were around.
As time went on, just like Perry, his mind began to slip. His biggest trigger was other dogs and every day all day he was surrounded by 80+ dogs barkeing and bouncing around in their kennels. It became dangerous walking him through the kennels just to take him outside to go potty.
Blaze wasn't euthanized because his time was up, there wasn't space, or because he was a bad dog. Blaze was euthanized because even though he was a sweet boy, he became disturbed and it was no longer safe for him, the other dogs, or the people who cared about him to keep him there.

Had someone chosen him before this happened, he would be a happy dog in a home right now.

Blaze is the reason you should adopt from a shelter or rescue.
1. Maddie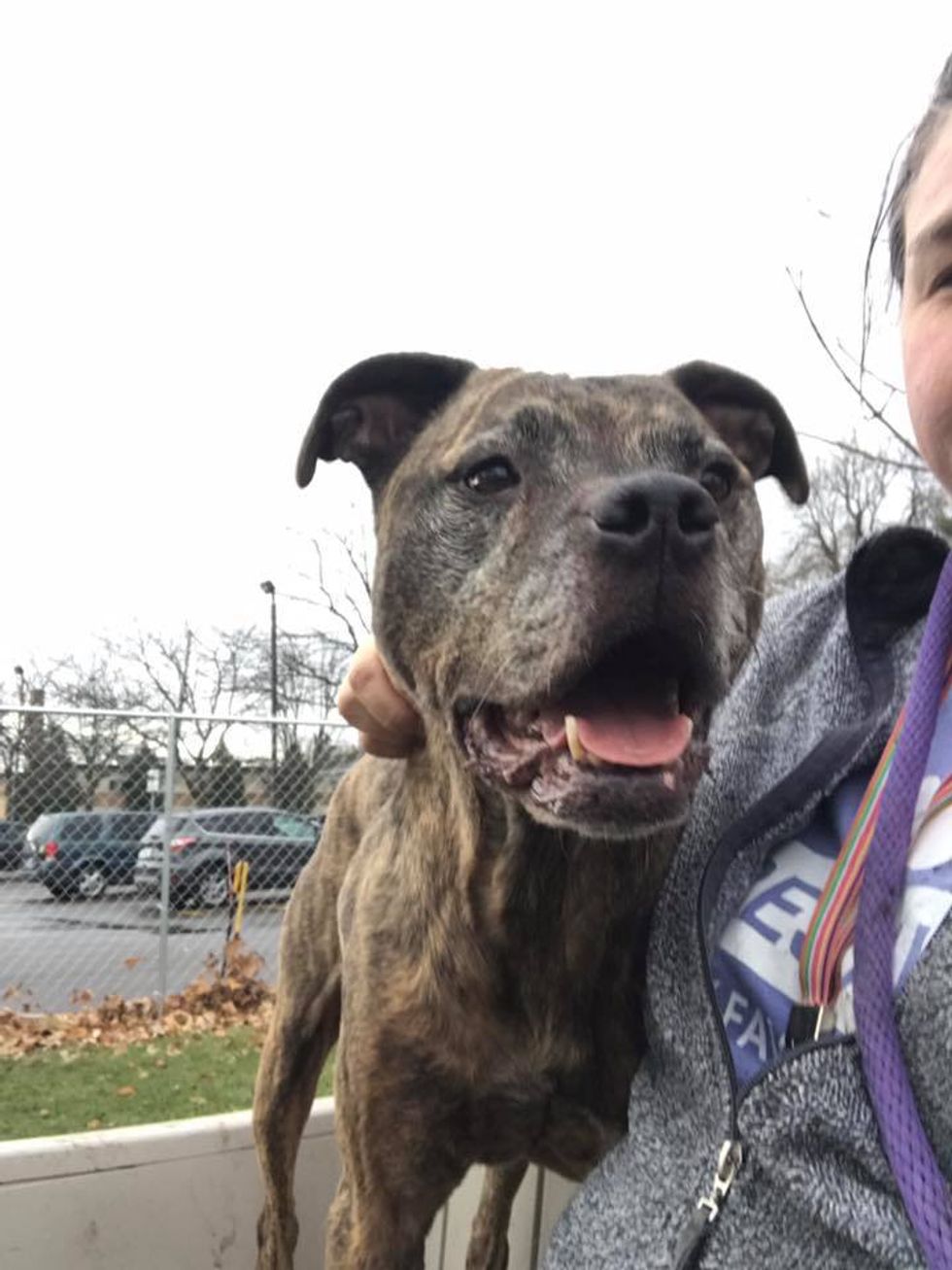 This was Maddie.

Maddie was a sweet girl, but that still couldn't save her. Maddie was an older dog, around 7 years old and she was not a fan of other dogs. With both of these qualities, she was a hard candidate for adoption. But for anyone who wanted an older dog and had no other dogs, she would have been a great pet. She had been a pet before she came to us for seven years, but her family gave her to us because they "couldn't bring her to the new house".
She was a lover and an old soul, but she still liked to play and have fun. When she began limping and acting less playful than usual staff and volunteers became worried. She went in to see the vet, and the news was heartbreaking: Maddie had bone cancer.
At best they could amputate a limb, but even then the prognosis was not great. The risks were great and it just wasn't fair to her, a dog that was already 7 years old, was not getting adopted, and would have to try and heal in this loud and scary environment.

If someone had taken her home sooner, maybe she would have had a place to heal in peace, or at the least, live out her last days in a home surrounded by people who loved her.
Maddie was not euthanized for space or because she wasn't a good dog; she was a great dog. Maddie was euthanized because she was sick and this just isn't the place for sick dogs to heal in peace.

Maddie is the reason you should adopt from a shelter or rescue.
All of these dogs come from sad stories. Some of these stories have happy endings, some of them don't, and for some of them, that is still to be determined. Every single one of these dogs was someone's pet at one point.
They weren't taken care of the way they should have been, they haven't been loved the way they should have been, and for some, they didn't die the way they should have. But this is the reality of life as a dog in a shelter. For each one of their stories, I could give you 100 more just like them.

It is scary and the people who dedicate their lives to these animals do what they can for them, but for every one of them there are a handful of backyard breeders with a couple litters each and 10 Facebook pages with thousands of people trying to sell dogs or a family who thinks shelter dogs aren't good enough.

Not everyone has the time to volunteer, but do what you can. Don't support people who make a few bucks off selling dogs and then dump the rest at a shelter. Support these dogs and give them a chance. There is no love like the love you get from a dog whose life you saved. They know it and they can feel it, and so will you.