Libertarian presidential candidate Gary Johnson made a grave mistake as he blanked when stumbled while answering a question about the Syrian refugee crisis on Thursday, asking "What is Aleppo?" in an interview on MSNBC. For those in the same boat as Johnson, Aleppo is the second largest city in Syria and has been a center point in the Syrian war and the refugee crisis. The city of Aleppo has been a symbol of suffering as the city as been victimized by numerous carpet bombings, and the people have been victims of the use of chemical warfare. Earlier this month, the image of this Syrian Alleopian child went viral bringing out the cruel circumstances these children have to go through.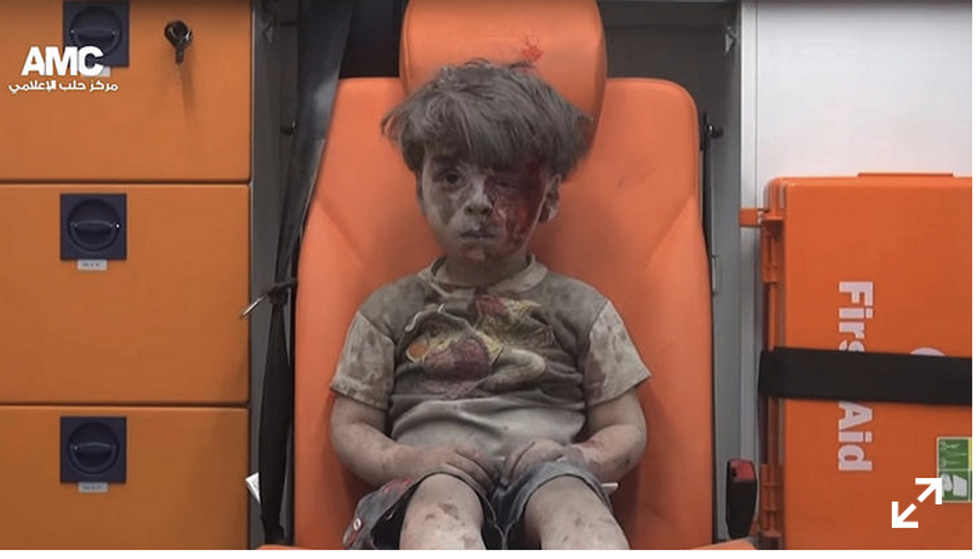 Here is a short excerpt from the interview here:
Barnicle: "What would you do if you were elected about Aleppo?"
Johnson: "About...?"
Barnicle: "Aleppo."
Johnson: "And what is Aleppo?"
Barnicle: "You're kidding."
Johnson: "No."
"Aleppo is in Syria -- it's the epicenter of the refugee crisis," Barnicle said.
"OK. Got it. With regard to Syria, I do think it is a mess," the Libertarian nominee said. He went on to explain his views of the country; you can watch the full interview here.
In a very eventful campaign season where there have been startling and shocking turns; the #whatisaleppo became another stunning storyline to the campaign season. Unfortunately, this was Johnson's first impression on many voters. Hours after Johnson's blank on national tv; the hashtag #WhatisAleppo became the number one trending hashtag throughout the day. Many political analysts view Johnson's initial lack of knowledge of Aleppo for grounds of disqualification from the presidential race. Later, after his mistake, Johnson issued this statement: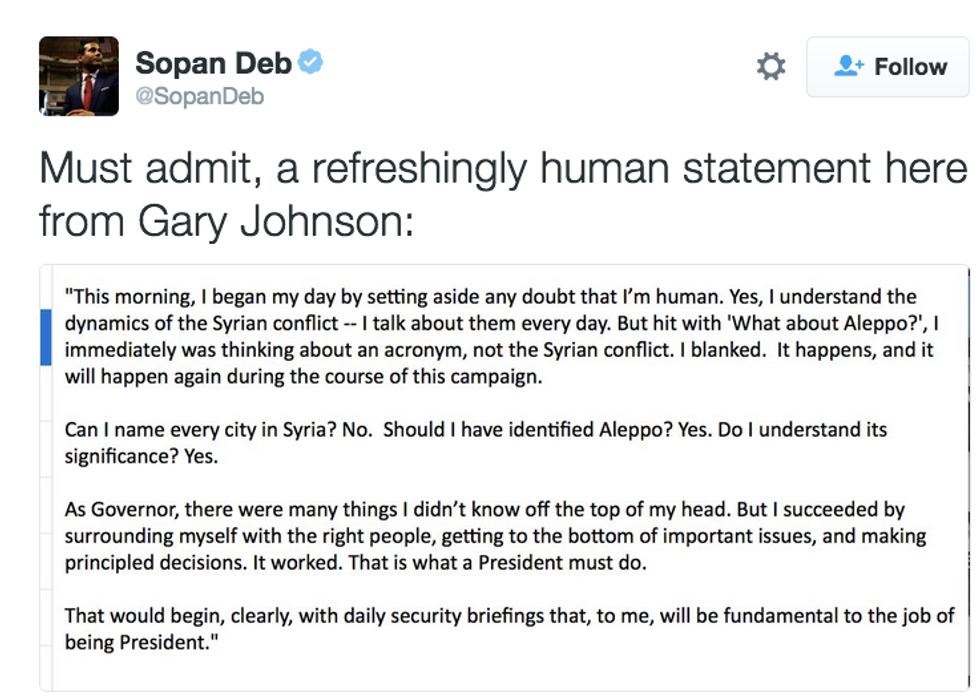 Foremost, as a presidential candidate Johnson has no excuse to not recognize the city of Aleppo. Even though foreign policy is one of his weakest attributes, Johnson should have been screened for specific issues of Syria. The Aleppo question should have never been an "I gotcha question." However, this one mistake does not disqualify Johnson from the presidential race. However, some of the people criticizing Johnson should exclude themselves from making an appearance in media.
My mom always told me, "If you are going to criticize someone you better know what your talking about, and make sure you are 100% in the right." Certain people didn't do that Christopher Hill, the former U.S. ambassador to Iraq, went on MSNBC to set things straight, making a complete fool of himself in the process. Hill arrogantly disparaged Johnson, while incorrectly describing Aleppo as the "capital of ISIS." Here is an expert from the interview, ""But the capital of ISIS — very much in the news, especially in the past two days, but for last two years. And for him to draw that kind of blank — and, by the way, boy was that a blank stare on his face. I was wondering if he was talking about something called 'an Aleppo,' and was confused by that. I couldn't figure it out. It was just mind-blowing," The video of the whole interview can be found here.
In addition, Times reporter Alan Repport shared a similar statement calling Aleppo the ISIS capital, while also mentioning it as an ISIS hotbed. Aleppo, since 2012, has been a site of intense fighting between rebels and the Syrian government. The eastern part of the city is controlled by mostly Islamist rebels; the western part is controlled by the government. As of yesterday afternoon the Times article has been revised and there is an editorial note on the bottom of the page. You can see the original content of Repport's misinformed news piece here. News Diffs is a fact-checking website that also monitors changed information in news stories. The message of the story is to make sure to fact check before you say something on the air, or you write an article for one of the world's most famous publications.
---
There are many things that we can learn from Johnson's mistake. First, I appreciate when stumbling upon the question about Aleppo, Johnson humbly he admitted that he did not know rather than giving a B.S. answer with zero substance. That is something that 95% of politicians would have done. Also, his heartfelt statement afterward where he owned up to his mistake showed good character. The way Johnson handled adversity today is a great model for citizens to going to follow, and it's the most important quality of a president. This hiccup has given Johnson more publicity than the total coverage of his last two third-party presidential runs combined. Johnson's not knowing what Aleppo is gave awareness to the common American of what Aleppo is.