As you saw in my last video, I'm focusing on an 8-Week Challenge to push my body outside of its comfort zone. I went over the different foods I'm eating and why I'm so intrigued by this idea of not eating Ben & Jerry's for the next two months.
Week 1 is down and I have to say, it's a very bitter-sweet feeling. I can't am not able to eat certain things I do on a regular basis. I'm not sure if you realize this, but if you live in New York City, it is nearly IMPOSSIBLE to not eat pizza or go out and get a drink on the weekends. No pizza.. no alcohol.. No Ben & Jerry's.
All jokes aside, it's ultimately been tough balancing my entire life around fitness and living a healthy lifestyle (girl, chill.. it's been one week). In my opinion, it is a full-time job in itself to make sure you are track with every little thing you do. Watching and measuring everything you put inside your body, drinking water in a certain number of ounces, eating at the CORRECT time (yes that's a thing), using different workouts on specific days throughout the week to target what you put in your body prior... It's understandable why so many people opt out of living this way because of how hard it is (girl, chill.. that WAS you one week ago). The food I'm eating is delicious but definitely, does not satisfy my sweet tooth. The workouts I'm doing are making me so incredibly sore, to the point that it hurts to move. I absolutely have no time for a social life right now. I wake up at 5 AM, get home at 9:30 PM every single day.
ALTHOUGH,
I will tell you this. I am so happy. I wake up feeling refreshed, energized and completely ready to take on whatever God puts in front of me. I have not had one headache (which is incredible considering I used to get them every day). MY BUTT GLUTES... GUYS... I dance around in my mirror, every day. No shame in my game.
I feel so good.
It's been one week and I already feel incredible. Having a passion for something that makes you feel good, look good and just BE GOOD is something that I am not ever going to take for granted again.
If you have a goal and are discouraged about it from your current progress, listen to me when I say, DO NOT GIVE UP.
It is so easy to throw in the towel and throw everything you've worked so hard for away. It is so easy to go back to where you were and how comfortable you used to feel without thinking twice about it. Easy isn't worth it. Easy will NEVER be worth it. Stay focused on what you're doing and why you started in the first place. Understand that the pain you feel because of how hard something is, DOES go away (and I'm not just talking about those perfect glutes either). The poem below is one my mom gave to me when I was a freshman in college. Almost 23-years-old- it's still above my desk to this day. I encourage you to print this poem out and hang it up where you can see it every day. It's a friendly reminder that all of the pain will be worth it, but you can not choose to quit. Keep going.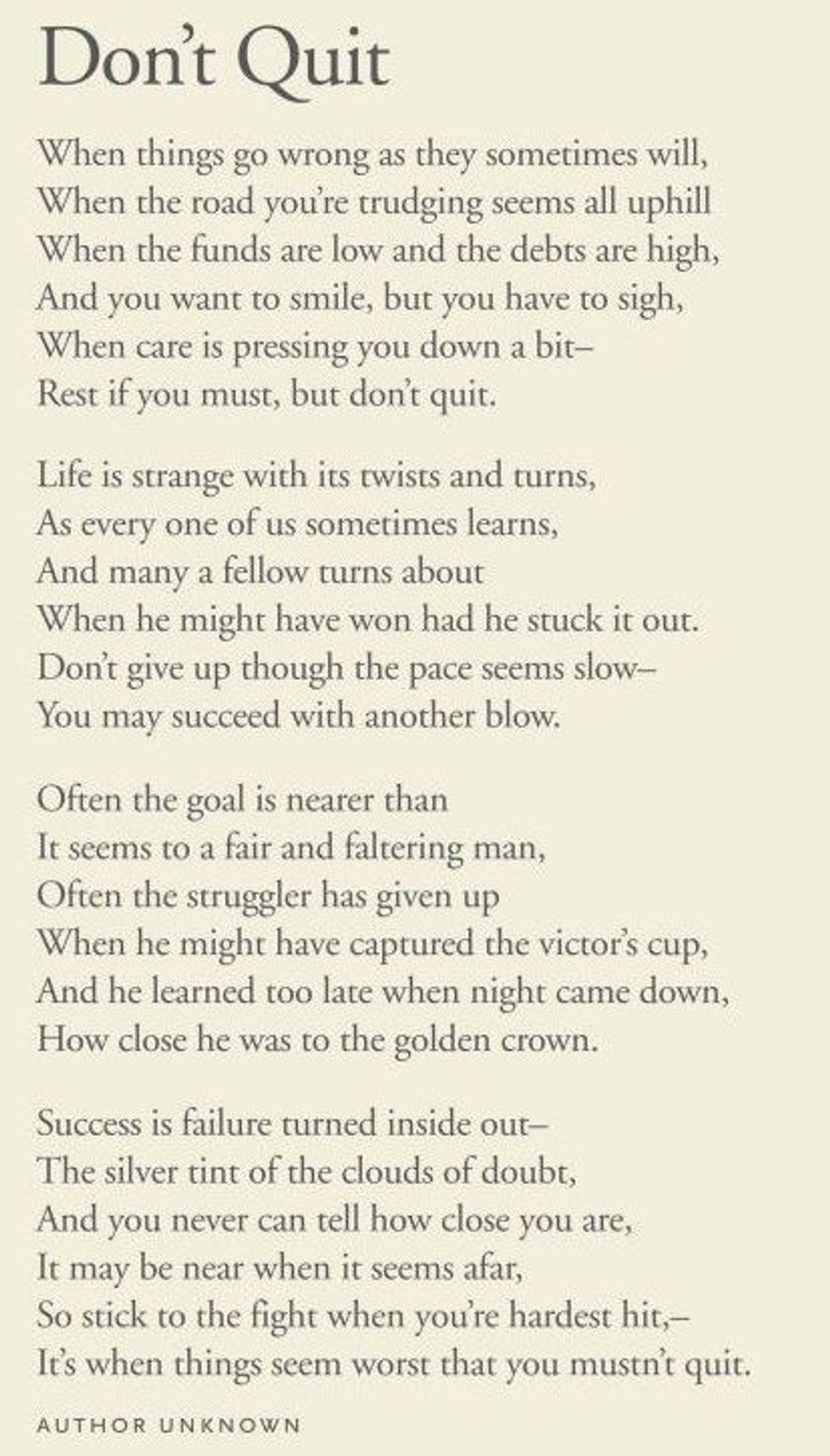 *I also filmed a couple arm/back/chest workouts this week which are included in this video!
If you''re not following me on social media... WHAT ARE YOU DOING?! Let's be friends!!!
Instagram: @megangustoff_ fitness
Twitter: @megangustoff1
MUSIC- Needed Me by Rihanna