Co-authored by Shanru Xu

On Nov. 30, Dekalb County fired one of its best P.E. coaches for disciplining an unruly student.
On Nov. 12, Coach O'Donnell, who students affectionately call "OD," and his PE class gathered inside the school gym for a routine PE lesson when a student disrupted the class by spinning around on the ground. OD sent the boy outside to stand on the wall as a punishment. It was raining. While the student could have stood under the awning that extended far from the gym, he chose to run in the rain, soaking his flimsy t-shirt in the 42 degree weather. When he went home, his parents, upset at his condition, complained to the district and sealed Coach OD's fate forever.
Without any proper investigation, OD was forced into retirement for simply doing his job.
As former Henderson students, we owe all respect to OD and his dedicated 39 years of teaching at Henderson Mill Elementary. He has never raised his voice or exhibited hostility. He is loved by his community: teachers, parents and even decade-old alumni who see him as a role model and praise his integrity, generosity and charisma. Ultimately, he is a gift to DeKalb and its already under-qualified teacher workforce. He deserves nothing but a second chance and a fair trial.
With the student's parents filing a media complaint and sending this issue viral on social media, DeKalb County has tried to dismiss the issue by simply tossing OD the curb. As of now, the coach is on administrative leave, risking all of his retirement savings and benefits. In response, dozens of protesters gathered outside the elementary school in support for his return, which pushed DeKalb to reconsider its decision. Now, as stated by the Superintendent Steve Green, the county is finally investigating the issue but has declined to provide any other information.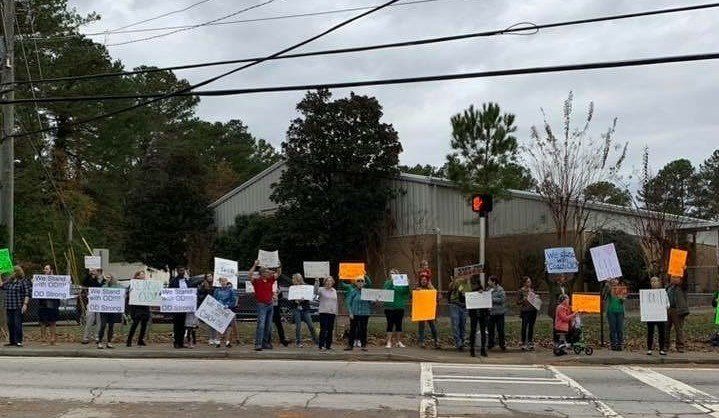 Protestors on a Friday afternoon. Emily Fiksman
This disappointing event, although not shocking, (DeKalb is notorious for bad decisions) exposes the risks teachers face every day, along with showing how much power the parents wield while also revealing the inability of the "higher-ups" to make an adequate and informed decision.
SEE ALSO: To The 4 Out of 7 Teachers Who Are Leaving Next Year, DeKalb Owes You An Apology
The implications of this event, however, go further than one P.E. coach and an unruly student.
For years, teachers in DeKalb County have faced a daunting battle, being "reassigned" or put on "temporary leave" for the smallest reasons.

Overprotective parents, anxious to blame the school district for the tiniest mistake regarding their children's education, are a major part of this problem. They may claim they are simply doing the best for their kids, but the cost is steep — great teachers sacrificed for one minor inconvenience in their kid's day.
And with the increased power that parents have, it's hard for the higher-ups to deny them. After all, one misstep could send legal actions tumbling into their laps, or in OD's case, allegations of "child abuse" could arise. Even worse, when parents directly contact a third party (like a news/media outlet) without first discussing the issue with school administration, it makes it that much harder for county officials to make a smart choice.
However, another problem stems from the fact that county officials lack the common sense to make these informed, intelligent choices. Instead of thinking ahead, officials make a spur-of-the-moment decision, neglecting to investigate details fully and thus unfairly disadvantaging the accused.
So, what will happen to the future of teaching? With no one to protect them from petty accusations, not even the county, current teachers feel endangered, while future teachers will feel discouraged from delving into the career of teaching. As a result, as the dangers of being a teacher increase, the number of teachers will decrease. Soon, the shortage of teachers will be even more dire than now.
The combination of overambitious parents and the rash decisions of county officials puts the profession of teaching at danger, and finding well-qualified teachers is becoming a much harder task.
OD was the source of our happiness during elementary school. At recess, we would jump around in circles, clambering for him to teach us how to play soccer. Other times, even on rainy days, he always created mini-triathlons with bowling pins, jump rope challenges and basketball hoops in which we competed for the victory title. He helped to shape us into healthy, active kids like no other coach has ever been able to do. Without OD, we would never have the friendships we currently have, and now, unfortunately, the kids at Henderson Mill will never have the chance to experience his legacy.
Together, students, parents and teachers themselves can combat this problem by speaking out against the decisions of county officials and calling attention to the problem of the scarcity of teachers. Together, we can reform DeKalb county for the better and provide the best quality education possible for young minds.
As for Coach OD, he's currently fighting to get his job back and trying to bring awareness to the plight of all teachers, especially those who work in DeKalb County. You can support his legal defense fees on his GoFundMe page.