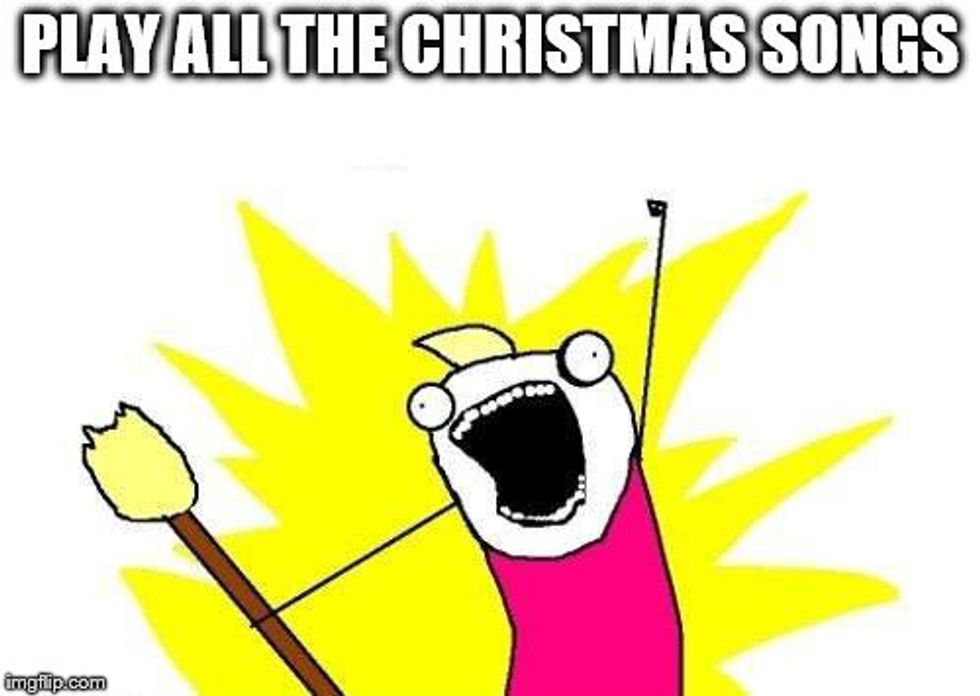 Now that it's December, I am an all-in, no holds barred, Christmas music fanatic. I could listen to it for hours. I guess that's probably a good thing given that from now until December 25th, it will be everywhere, in every place, every minute. However, in addition to all the normal, most well-known Christmas songs and hymns, there are a few of my favorites that are less recognized. And all for your enjoyment, I have collected them right here.
"I Want a Hippopotamus for Christmas" (1953)

I can't remember when I actually heard this song for the first time, but since then, its been a staple of my Christmas celebration. I've even written a parody or two of it for school projects. I love the way the little girl (originally Gayla Peevey) makes her exceedingly grand demands for Christmas. In fact, the little girl reminds me a lot of myself and my younger cousin, Bella. We both can get pretty sassy- if the situation so calls for it, of course! https://www.youtube.com/watch?v=2Dec9Jb_Ac4
"Dominick the Donkey" (1960)
The best part about this song has to be the constant "hee-haw" interjections throughout the lyrics. The song tells the story of Dominick, the Italian Christmas donkey. In a piece similar to Rudolph, Santa needs help delivering presents, and he chooses Dominick to help him climb hills. I dare you to try and listen to this song without laughing- it's so quirky! https://www.youtube.com/watch?v=hYlvfX3nwlc
"The Funky Little Drummer Boy" (2015)
As I was bringing Christmas decorations down from the attic two weeks ago, I turned on the Christmas Music Choice channel. While I was dancing around, "The Funky Little Drummer Boy" came on over the stereo. The artists, Sharon and The Dap-Kings, have been featured with musicians from Amy Winehouse to Michael Buble to Bruno Mars. Singing a remix of the traditional song, this version has a modern, jazzy sound, perfect for bouncing around! https://www.youtube.com/watch?v=SkU6JTOZiI8
"Christmas in Killarney" (1950)
Every Christmas, we host my daddy's family at our home for Christmas lunch. Every Christmas, after opening presents, we all dance around the house listening to old Christmas tapes as my parents put the finishing touches on our preparations. One of my daddy's favorites happens to be "Christmas in Killarney" by music legend, Bing Crosby. I most love the round, full Irish-sounding chords that fall with each group of words. The song also inspires the familial happiness that the holiday season invokes. https://www.youtube.com/watch?v=_KgoUNH2f8c
"Mele Kalikimaka" (1950)
While I may be in South Georgia and not Hawaii, "here we know that Christmas will be green and bright, the sun to shine by day and all the stars at night." Also sung by Bing Crosby, "Mele Kalikimaka" is by far one of the best Christmas songs ever. I love that how even thoguh most people associate Christmas with snow, some people's Christmases aren't defined by chilly white mornings. Some Christmases, like the ones we have in Tifton, are warm enough you can wear shorts all day. And there's not a thing wrong with it. https://www.youtube.com/watch?v=0XHk_8izVqY
"Text Me Merry Christmas" (2014)
Last year, I discovered the magic of Kristen Bell in "Veronica Mars." Last week, I discovered the magic of Kristen Bell in "Text Me Merry Christmas." In a hilarious, modern revamp of Christmas traditions, this song makes references to Facebook messages, LOLs, BRBs, and emojis, just to name a few. When my brother and I first heard it in my car, we had to turn it up loud, just marveling at its ingenuity. https://www.youtube.com/watch?v=EmhfdQlOiy0
SO-
In the midst of all the hustle and bustle, holly and jolly, Christmas music season and cheer, pay attention to the songs that might be playing around you. Although no one can beat the fame of "Jingle Bells" or "You're a Mean One, Mr. Grinch," we can still dream of bright Hawaiian Christmas days and hippos in two-car garages.