Featured
Every person, every couple celebrates Valentines in different ways, but there are a few things to keep in mind.
20807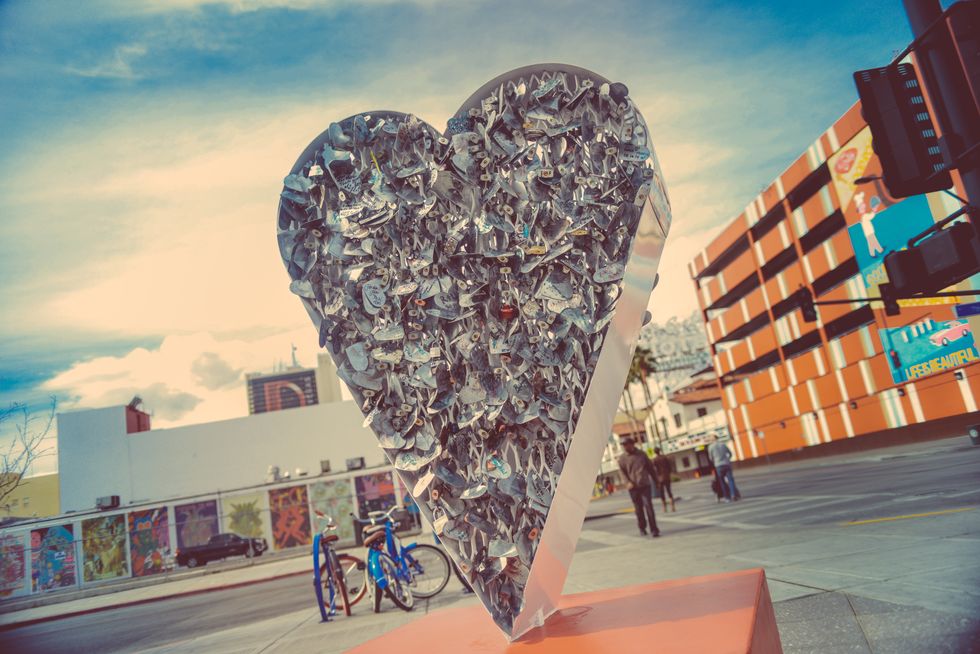 https://stokpic.com/project/love-heart-art-on-urban-street/
Ah, Valentines Day, a day of excitement for some and heart break for many. There are three kinds of people on Valentine's Day: the ones who make it a big deal, a little deal, and those who are single, but Valentine's Day can be fun for anyone if you have the right spirit in mind.
Valentine's Day can be a super exciting day, especially for new couples. People like to make it a big deal by getting all dressed up, going to a fancy dinner, and getting each other super nice gifts. All of this is super fun, but can take a toll on your wallet. If you do make Valentine's Day a big deal, ensure that the things you put your time and money into are something you want in the long run.
Making Valentine's Day a little deal can put more emphasis on your true feelings. Little deal Valentines may consist of going to a nice dinner and spending quality time with each other. Some gifts may be involved, but they are little and very meaningful gestures such as pictures, letters, or their favorite heart-shaped candy.
To some, being single on Valentine's Day can be a bummer, but a having a night with your best friends can be super fun too. The day does not have to be so dreaded like many feel when Valentine's Day is mentioned. A whole group of friends could go to dinner together and maybe even make little Valentines for everyone like we did in elementary school.
There are so many fun ways to celebrate Valentine's Day without having a significant other.
I have had the same boyfriend for over three and a half years and Valentine's Day has never been a huge deal to us. Every year we usually go to dinner together and enjoy being in each other's presence. We also write letters that we give to one another after dinner and read them one at a time to watch the other's reaction. My boyfriend is especially good with his words, so I usually end the letter with happy tears streaming down my face. I know I'm successful if I get him to tear up a little and smile from ear to ear. Some years we've also given each other gifts, like our favorite heart-shaped candy and pictures.
No matter what kind of gifts we exchange, we always have something interesting happen to us on Valentine's Day. The first one we celebrated together, we went to a nice pizzeria and, mid-dinner, snow starts falling outside. By the time we left the restaurant, the road and cars were covered.
The next year, we had planned to go to a burger joint because they had a fudge brownie milkshake special. We arrived to the restaurant and there had been a kitchen fire, so it was closed for the night. There's no telling what will happen this year!
In the end, there shouldn't be one day that defines your love for one another, your love can be displayed every day in the littlest or biggest ways, just make sure you talk with your significant other a bit in advance so you're on the same page. If you want Valentine's Day to be a big deal, tell them, and vice versa. If you don't express how you want to celebrate the holiday, you might end the night in disappointment. If you can't come to a compromise, make it balanced! Have a fancy dinner, but do small gifts, or something along those lines. As long as you communicate with the one you love, it will be a success!
Happy Valentine's Day!
Keep Reading...
Show less