"Boys will be boys" is a dangerous mentality.
I've heard it all over the place, and especially on the news where it doesn't belong; where it's the last place it should belong. Usually, when people find out that someone had a baby boy, their immediate response is, "Oh, get ready for broken furniture, noise, dirt, and them bringing back all types of girls." It leads down such a dangerous route and is a narrow view of what being "masculine" is. It's in quotations because gatekeeping the social norm of what "masculinity" and "femininity" is is silly to me, but that's for another article.
From the very beginning of a little boy's life, there is a confusing set of expectations that this small child will grow up with: doing all the dangerous things to become as tough as possible, to get as many girls as possible, to drink protein shakes and lift all the weights etc.
Why? Why is it seen as more "boyish" to give them a shooting game, to take away a doll that they're curious of and hand them an action figure instead. Why do we give them clothes full of dating when they're literally young enough to barely use a toilet correctly? I can't even count the uncomfortable amount of times I've heard a person talk to a little boy (who's not even 5) who looked at someone and suddenly their son is clearly in love and wants to marry that person. Forever 21 had a set of sexist clothes and it was taken away due to backlash. The sad part? These types of clothes are common all over the place. Try looking around in a local store and you'll realize the overly distinct difference of how people are raising their children differently.
Forever 21
A little boy tugs a little girl's hair, boys will be boys. A teenager kicks their door in rage, boys will be boys.
It's an excuse for behavior that shuts down any learning curve for changing their attitude.
"Boys will be boys" should be a funny line given to a group singing the Halo Theme song in the men's bathroom. "Boys will be boys" should be given to boys who're playing around, being silly, not harmful.
Masculine toxicity doesn't mean they're inherently bad. They don't pop out of the womb with harmful intentions. They're taught it. They're being taught to not show weakness, to love sports, to go after girls no matter who they are, but as long as they're gorgeous, catcall them if you need to, champ! Let her know how pretty she is and that your bed is free! You're a boy who loves theater? Ha. You like dancing ballet? Get. Out. Of. Here. You want to just have a couple of lady friends, but no actual romantic correlation? Ehhhh, Nah. We don't want that.
It's wrong, it's gross. It creates such a toxic social standard where men can't just support each other without being idolized that they're possibly gay. Newsflash for those who are going to try and play too much: gay people can have same-sex friends and not think about them in any romantic way (I should know, I am gay). Let boys support each other. Let them hug and give each other comfort as common as it is for a woman to wrap an arm over the other's shoulder.
Let them fool around and prank each other without causing public disruption. Let them learn about a line when enough is enough and too much means it's time to stop. Let them talk about their emotions. Let boys be boys, but let them be healthy.
Very rarely are boys taught how to handle their emotions. And when they open up, they're wrong to cry. Boys have emotions? Amazing! Scientific revelation!
No. Stop.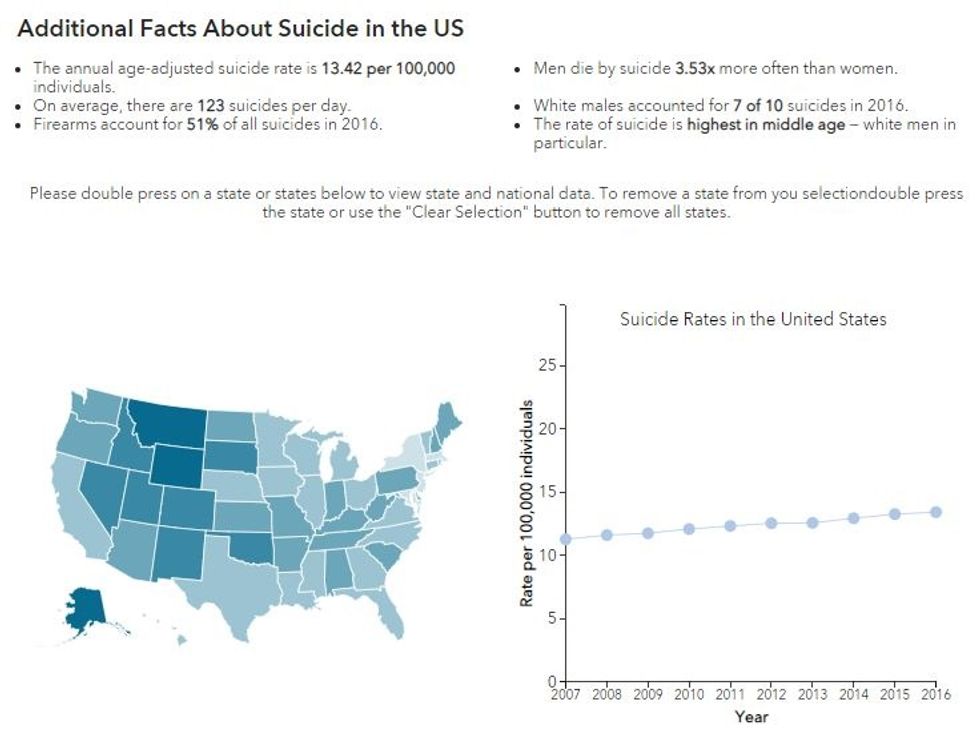 American Foundation for Suicide Prevention
The suicide rate for men remains almost 4x higher than those for women. Let them talk about their anxiety, their fears. Let them talk about what bothers them without making it a joke. Many mental illnesses for men go about unspoken, especially for depression and anxiety.
When will enough be enough?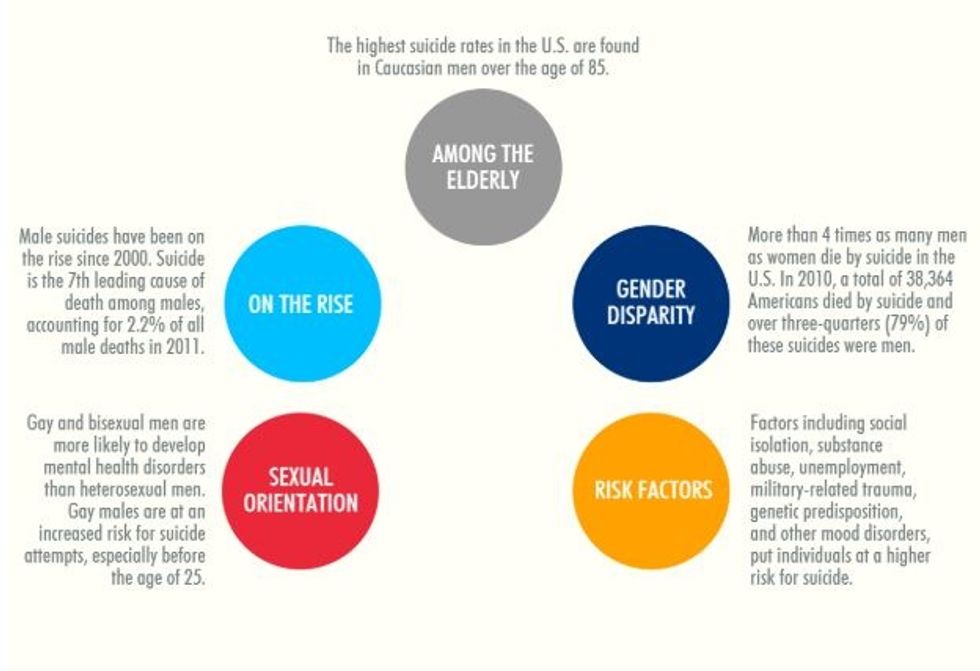 Mental Health America
Hearing "Boys will be boys" shouldn't cause a chill and anger to creep up our spines. Nothing excuses harm to others when the boy plays a joke and the joke is towards people who didn't want it. It should be funny. Healthy. It should be a silly line for a child doing the jig. Let boys be open. Let them be "feminine" and have fun. Let them be boys, taught to express their emotions in a healthy manner.
Let boys be boys.