Thanks to coronavirus (COVID-19), most of the United States has gone into its own version of quarantine. While no one loves this new way of life we're adjusting to, it's the necessity that will eventually help us fling open our front doors and frolic freely once again! Premature thinking? Maybe. But while we're in the midst of this quarantine time, we're chatting about the most terrifying, the funniest, and the weirdest thing that quarantine has forced us into recently.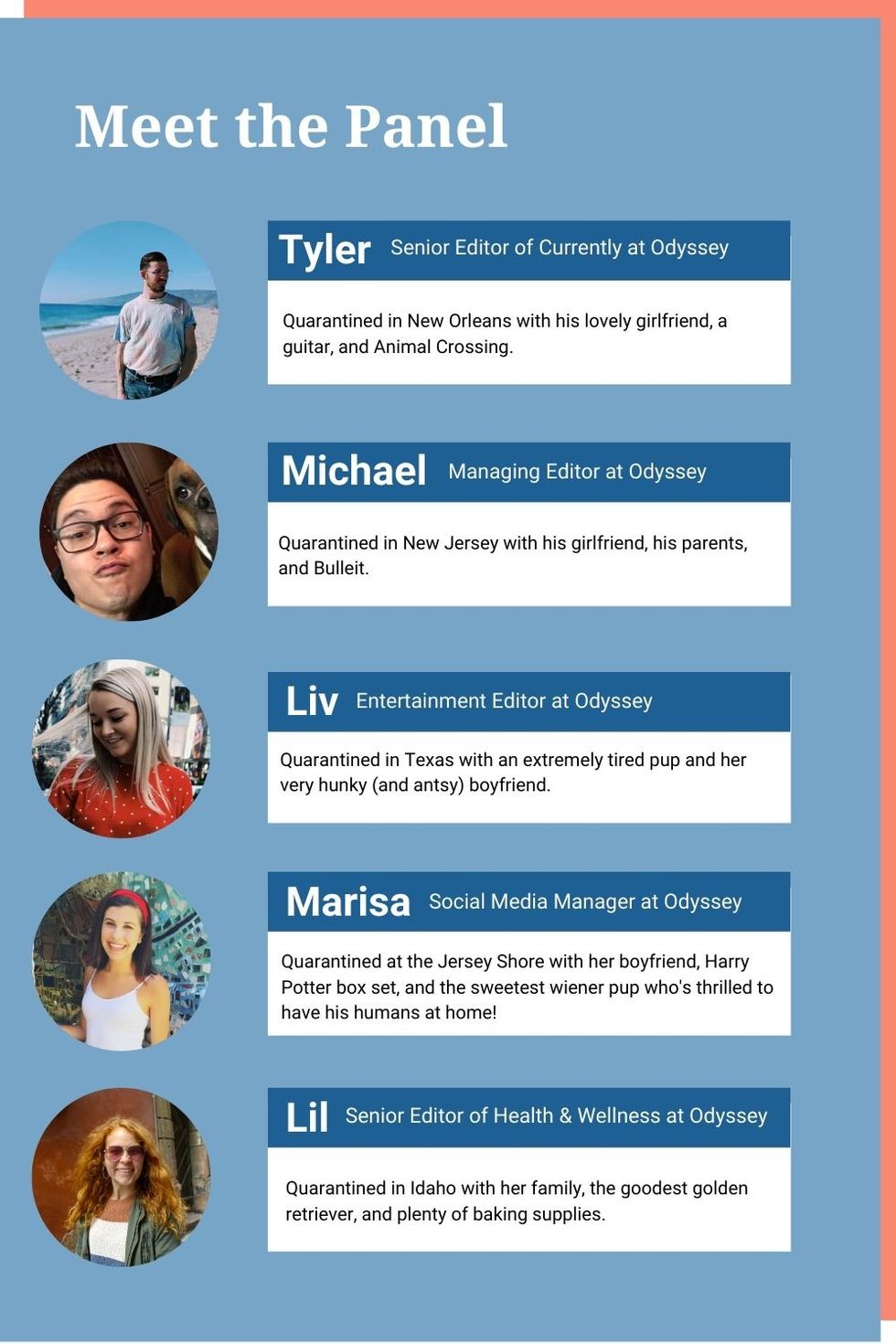 What did you miss the most this week? 
Tyler — I've missed riding my bike around the city, going to parks, and just generally breathing the outside air as much as I'm used to.
Michael — Sports. Until sports come back, my answer to this question will be sports.
Liv — This week I'm really missing my family. I live in Texas and they are in Pennsylvania, I was supposed to go home a few weeks ago but canceled the trip.
Marisa — This week I missed eating out with others the most. I used to look forward to evenings out with friends, family, or my boyfriend as a highlight of every week, and now I realize I really took those opportunities to get out and enjoy others' company for granted.
Lil — Last week would've been the beginning of the NBA playoffs. I miss sports so much.
What's the best thing to happen to you this week? 
Tyler — Sunsets. I live on the west side of my building and through the buildings, there is a little slit of sky. The sun comes down through it at around 7:30 every night and just fills my room with amazing light. And the feeling of those sunsets is indescribable. In light of being quarantined, they provide some lightness and clarity that I cannot get anywhere else.
Michael — I made nine consecutive shots on my basketball hoop in my backyard, and I have the video to prove it.
Liv — My apartment pool is closed and these two ducks come and swim and float in the pool every single day and it's the cutest thing.
Marisa — This weekend I got to spend time outside with my parents and watched our dogs play together all day. It was one of the best days of quarantine I've had yet.
Lil — The weather is now above 55 degrees and I could cry happy tears.
What social media account is your favorite right now? 
Tyler — Generally, just Animal Crossing threads on Instagram and Twitter.
Michael — @JoeyMulinaro is a great time.

Liv — @feminist on Instagram, so body and female positive that you can't help but feel like a boss bitch daily.
Marisa — I have to shout out @omsteve (Old Man Steve) on TikTok, a sweet 81-year-old man who makes the most heart-warming videos. Please check him out if you could use a smile.
Lil — I recently followed Mary Jelkovsky and she is so cool.
What did you buy online this week? 
Tyler — Groceries… and more groceries. Just all the groceries forever. That's it.
Michael — I rented "Signs" because I was in the mood to watch it and man, I love that movie so much. A great quarantine watch if you're looking for something a little bit more intense.
Liv — It would be an easier answer if you asked me what I didn't buy this week. My FAVORITE purchase is my new Himalayan Salt lamp that has been giving me life, it's the cutest little night light.
Marisa — My boyfriend and I ordered black sweats from Amazon that we plan to reverse tie-dye using bleach. I am incredibly excited about it.
Lil — I bought a cold brew coffee bottle, a cocktail bar set, and a new book. Apparently, I'm easily persuaded by free shipping.
Did you try anything new this week? 
Tyler — I sang in front of my partner which, while it isn't new, is vulnerable and felt new.
Michael — Well, my girlfriend and I re-located our quarantine location from Hoboken to South Jersey with my parents. So learning to live with my parents and girlfriend could definitely be described as "trying something new."
Liv — I purchased a keyboard (another one of my millions of purchases) and am teaching myself via YouTube to play!
Marisa — I tried several new recipes in the kitchen this week, my favorite being a bolognese sauce that I prepared with fresh homemade egg pasta. Delish! My next quarantine purchase just might be a pasta machine so that I can make fresh pasta on a regular basis.
Lil — I took a virtual Pilates class and it was a blast! I miss IRL studios, but ya gotta do what ya gotta do.
What has been the best internet dog you've seen this week? 
Tyler — I've been super into Vizslas lately. So it's got to be Olive.
Michael — I can't stop watching this.
Liv — Ollie, a dog posted by @weratedogs, had surgery and I donated to his costs and have been keeping up with his progress!
Marisa — Selfishly, I am choosing my own dog this week, Dill. You can find him on Instagram and Tiktok as @dilltheminidox. This week we posted a video of him attempting to howl, and it is too cute not to share.
Lil — Oh, @samsonofnorway is the fluffiest little love.
What have you been bingeing this week? 
Tyler — Still binging "Twin Peaks," but I watched "Too Hot To Handle" and…eh…
Michael — "Schitt's Creek" and I am officially in love with Alexis Rose, thank you for asking.
Liv — I binged "Too Hot To Handle" and rewatching old episodes of "The Office."
Marisa — I watched all of "Too Hot To Handle" in two days, because who didn't? I'm also making my way through "Schitt's Creek" and rewatching "Dawson's Creek" for the umpteenth time.
Lil — I started "West Wing" and now I'm ready to run for office.
What's the best snack you've had this week? 
Tyler — Lily's Crispy Rice Dark Chocolate.
Michael — Pizza! You eat it just like you do for breakfast, lunch, or dinner, but instead, you eat a piece in between those meals and it is a "snack." So good.
Liv — I've been loving flavored almonds lately, so tasty.
Marisa — In an effort to support one of my favorite local businesses, I ordered food from my favorite boardwalk pizzeria and had the most delicious, massively HUGE garlic knots. I wish I had more to much on now.
Lil — Just take a spoon to a jar of peanut butter, you'll never be disappointed.
Want to be a part of this panel in future weeks? Want to host a panel of your own? Email lily.moe@theodysseyonline.com for more information!
As an Amazon Affiliate partner, Odyssey may earn a portion of qualifying sales.