NYU is full of creative, talented, and driven young women doing amazing things. But what are the tools they need to succeed each and every day? I wanted to find out what some of these ladies carry in their bags in order to help them in daily their awesomeness. Take a look below inside the purses of just five incredible NYU female undergrads.
Alex Hanson, Gallatin 2018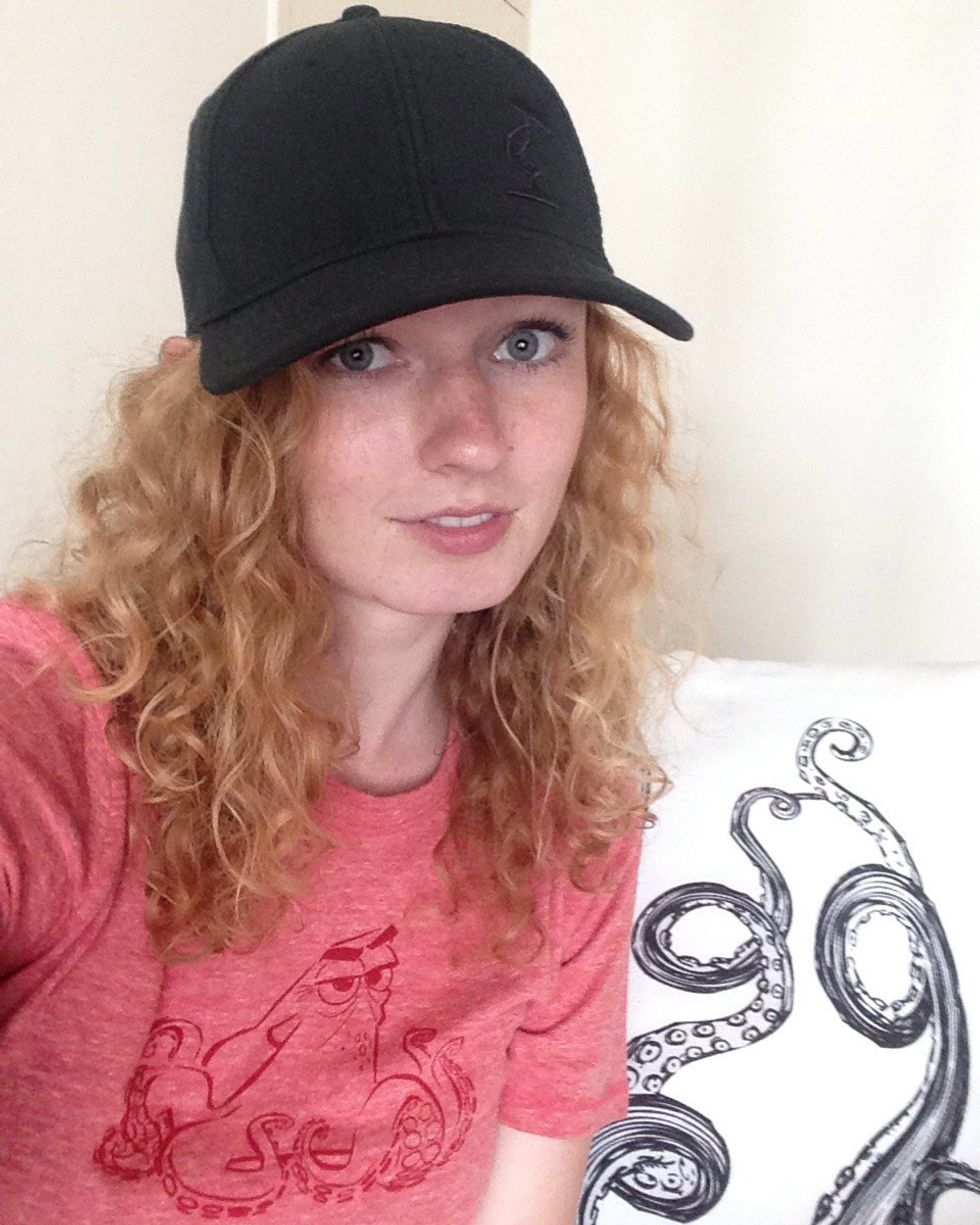 Alex Hanson is the founding editor of HERpothesis, a website and zine featuring creative work by young women inspired by STEAM (science, technology, engineering, art, and math). She has written for a fewotherplaces on the web, and is currently interning at StarTalk. You can find her sharing her enthusiasm for cephalopods and Kafka's The Metamorphosis on Twitter, @AlexHanson1316, and on Instagram, @alexhanson13.

Inside Alex's Bag...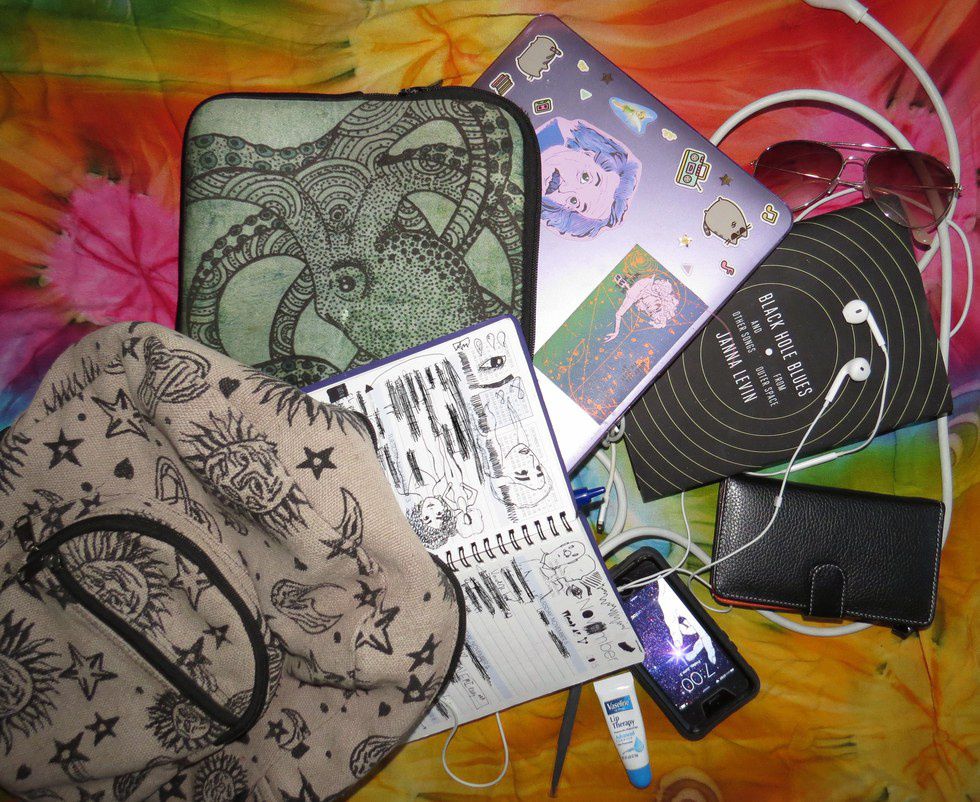 The Bag: "My best friend helped me pick out this astronomical gray backpack from a local shop in my Southern California hometown."
Laptop: "My computer features HERpothesis and Pusheen stickers. I keep it safe in a handy sleeve featuring an octopus on it."
iPhone: "I keep it in an Otterbox because I don't want deal with that cracked-phone-screen situation ever again."
Chargers & headphones: "I have to keep my mobile devices charged so I can watch videos of flapjack octopuses all day (did I mention I love cephalopods?)."
Planner: "My to-do list and constant doodling get me through the week."
Sunglasses: "A friend of mine calls these my Big Lebowski sunglasses."
Jenna Levin's Black Hole Blues and Other Songs From Outer Space: "It's all about the journey to the recent observation of gravitational waves, and the people that made it happen."
Vaseline Lip Balm: "I've had this tube for months—I'm starting to think it's an endless tube, and I'm not upset about that."
Black Eyeliner: "You never know when you might need to reapply it."
Wallet: "It's black on the outside with rainbow pockets on the inside, which hold my MetroCard and an old Disneyland ticket."
Grace Gao, Film/TV, Tisch 2017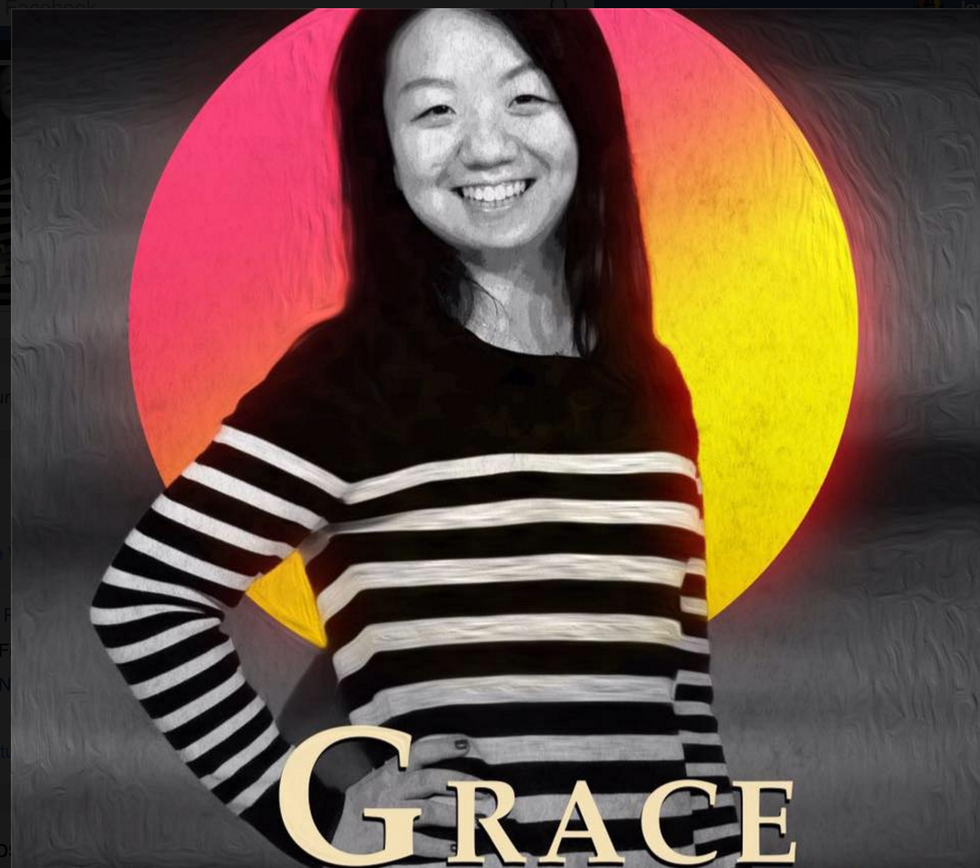 Originally from China, Grace moved to the United States at the age of 16, and attended high school in Irvine, California. Her films have received numerous accolades and recognitions from numerous festivals and awards, including the Hollywood International Independent Documentary Awards, the Cannes Film Festival, the Paris Short Film Festival and many others. They include a documentary short titled, "ALL UNDER HEAVEN ARE EQUAL," an experimental short film titled, "DIONYSUS & APOLLO", and her upcoming project "EDWARD & HIS CHOCOLATE," a narrative short film with experimental elements about a college student's battle with his chocolate addiction, while coping with his past failed relationship, which is also currently being developed into a ten-episode web series. In addition to writing and directing, Grace also holds an internship at the Producers Guild of America East in New York.
Inside Grace's Bag...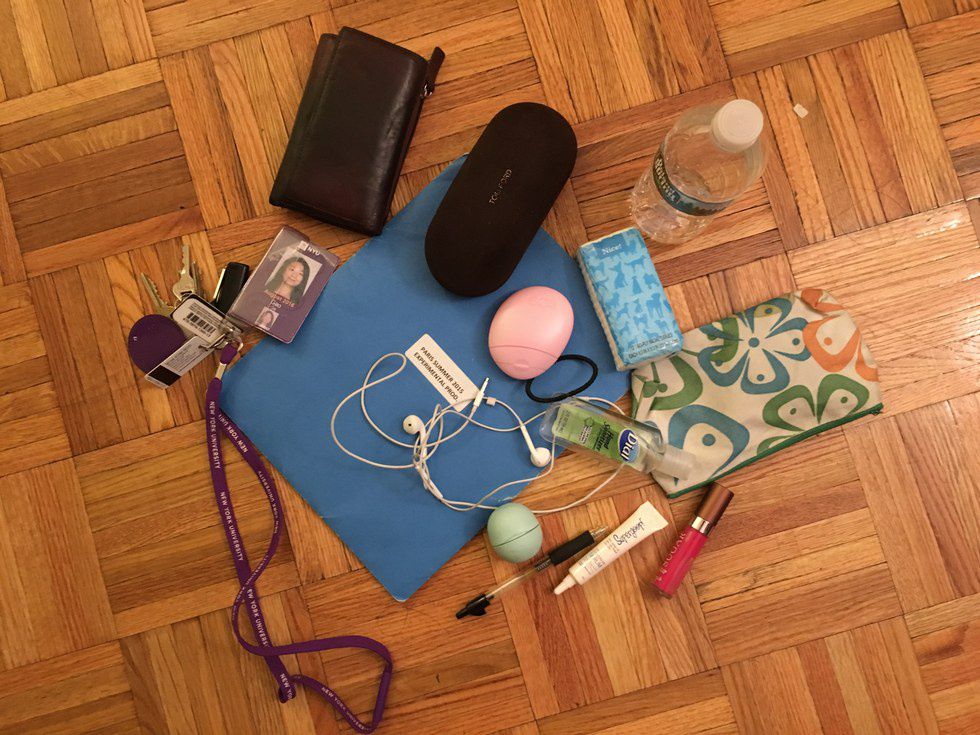 Brown Leather Wallet from Florence
: "Soft texture with tons of cardholder slots inside. A pocket in the back for coins and different currencies. Good for traveling."
A Plastic Bottle: "For daily hydration."
A Pack of Tissue Paper: "In case I need to wipe anything."
EOS Hand Cream: "To keep my hands moisturized."
EOS Lip Balm: "To keep my lips moisturized."
Hand Sanitizer: "Always keep the hands clean before eating."
A Hair Tie:" So my long hair won't get in my way of working and studying."
A Small Purse for Feminine Products: "So you don't need to carry your tampons or pads in public."
Travel Size Sunscreen: "So I don't get sunburned when on film sets."
Fresh Sugar Lip Glow: "Nice minimalistic makeup."
A Pen: "For reading and writing anytime."
Headphones: "Walking in NY streets with BG music."
A Folder: "To keep my paper and homework tidy."
Tom Ford Sunglasses with Case: "Good for summer time and style."
NYU ID and Keys: "Keep them altogether so I won't lose anything."
Valentina Rocha, Media, Culture, and Communications, Steinhardt 2018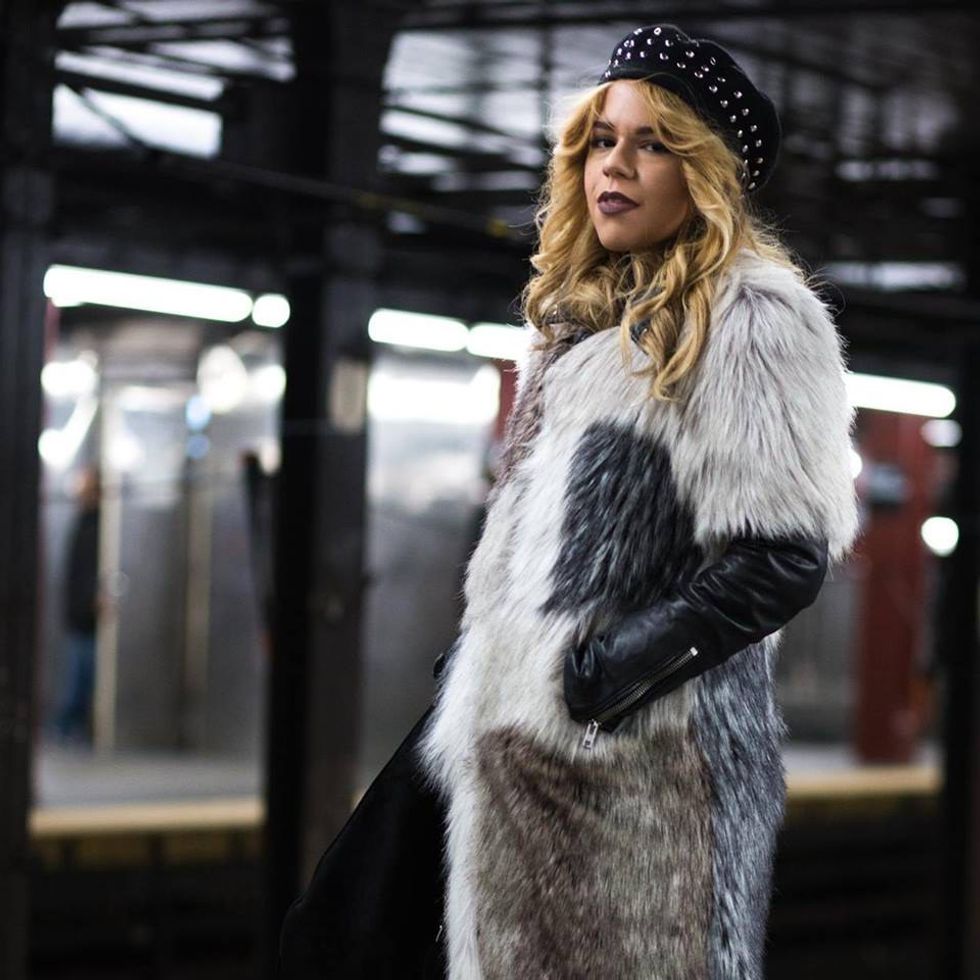 Valentina is an international student from Milan, Italy, who was born in Rio De Janeiro, Brazil. She is the current editor-in-chief of Verge Campus NYU, an online publication written by students, for students, about all things campus life, where they like to tell the stories that are often overlooked, and put fellow classmates under the spotlight. She also hosts a neo-psych/shoegaze/spacey-af radio show on WNYU (NYU's student-run radio station) called "The Spaceship," which airs every Saturday from 7 to 9pm. Val said she is, "Beyond thrilled to be selected for this fun look at the things I carry with me, and I'm somewhat surprised I don't happen to have more stuff lying around!"

Inside Valentina's Bag...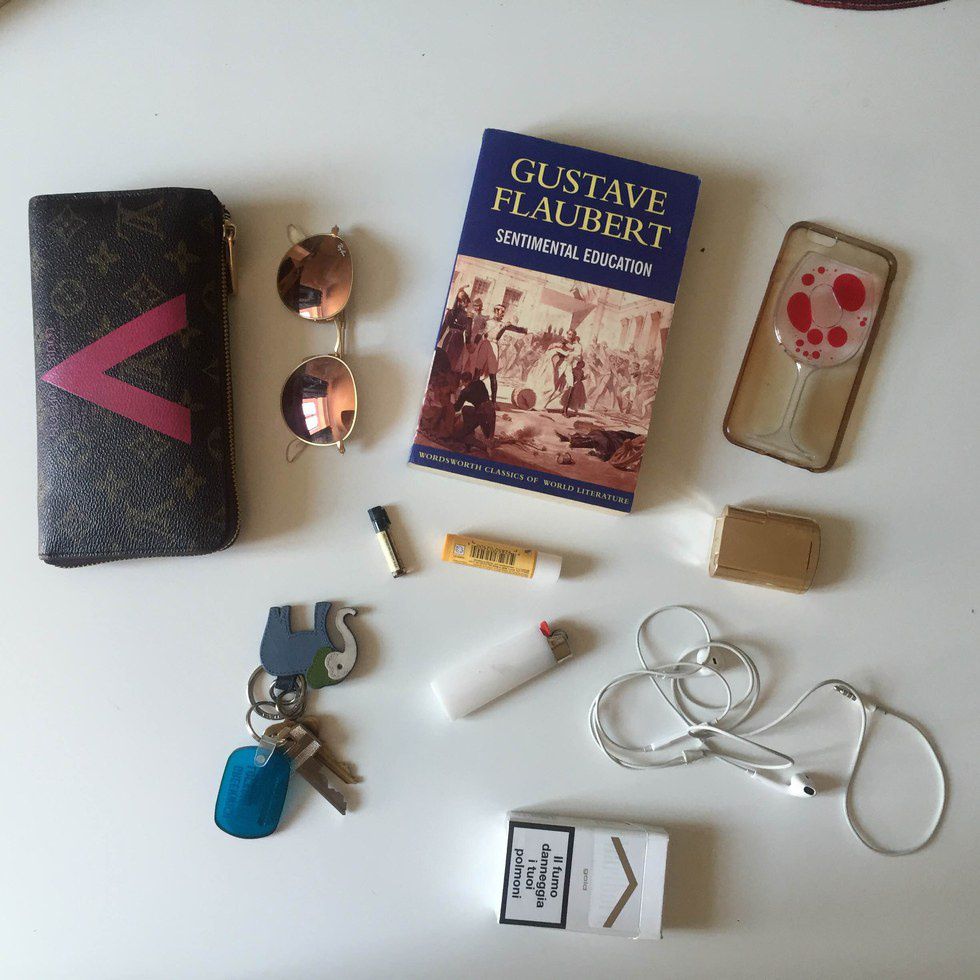 The Bag: "These are the contents in my Chanel black quilted bag. This one is my favorite because it's comfortable, lets me only carry what I actually need, and makes any outfit instantly ten times more stylish."

Rose Gold Sunglasses: "I've always wanted to see life through rose-tinted shades, and these Ray-Bans have such a light frame, you barely even feel them on."

"V" Wallet: "Why should we only carry our initials in necklace pendants? I say, if you casually happen to share one with a famous, needlessly luxurious brand, why not have it be gigantic and pink? It can stand for my name, but also Verge. Basically, I carry work wherever I go."
Book: "I can't leave my house without a book. They're usually 19th-century novels because I like to give my shoulders a good workout. Gustave Flaubert's Sentimental Education was with me at Gov Ball as well. Books are friends!"
Mini Perfume Oil Vial: "I'm obsessed with indie cosmetics, especially perfume. Underground brands make very unconventional, delicious scents. Case in point, this one is called 'Cocoa Absolute' by Solstice Scents. I like to rub some on my wrists and hair throughout the day, that makes it stay on forever."
Burt's Bees Lip Balm: "No matter which lipstick I have on, I need one of these in my bag. I like to try many different finishes, and if it results in my lips getting as dry as a desert, I gotta have some relief!"
Elephant Home Keys: "I actually have an elephant collection at home, so it makes sense that my keychain is an elephant too! These are my only pair of keys, so I better have them on me 24/7."
White Lighter: "Probably the most useful thing anyone can carry, without counting a Swiss Knife! Either someone else needs it, or I can use it."
Italian Cigarettes: "I may have left Italy, but Italy has not left me..."
Golden Sweetener Pill Box: "My parents introduced me to these Assugrin sweetener pills and my life has never been the same. I'm a coffee addict, so whenever I pop this into my drink, the Cappuccino game is significantly upped."
Apple Headphones: "They're usually a coiled mess that never leaves my bag anyways. I'm constantly listening to new music, whenever I'm out by myself, and discovering tracks to play on my show. Silence is unacceptable!"
Wine Glass Phone Cover: "This is a stand-in for my phone, which I was taking this picture with. Everyone asks about this case: I got it in Brazil, at the Botafogo Praia Shopping Mall, in Rio De Janeiro. It lets me live vicariously through the fact that I'm not legal in the U.S. yet."
Not Pictured, Endless Euro Coins: They're buried in the depths of my bag. I don't even know why they're still there!"
Diana King, Media, Culture, and Communications, Steinhardt 2019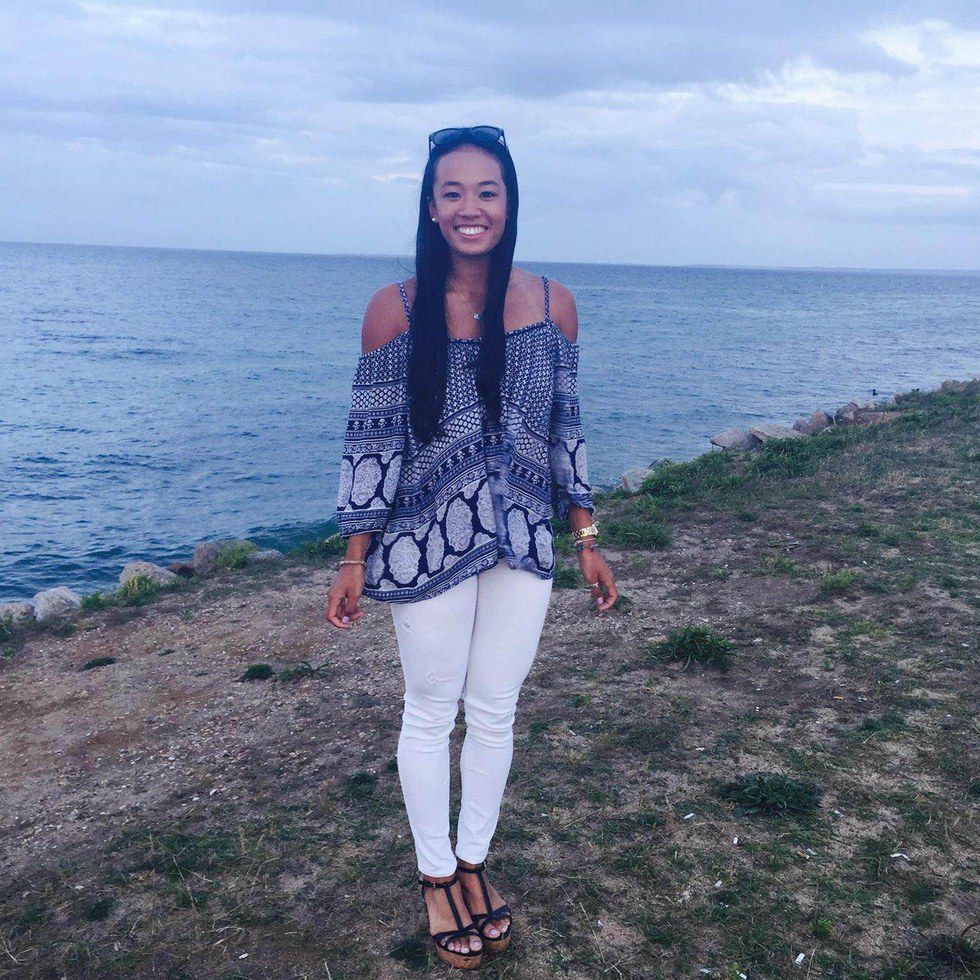 Diana is a rising sophomore and a member of the NYU Varsity softball team. She grew up in Rye, New York, so New York City is right in her backyard. She aspires to find a career in advertising or public relations. She played varsity tennis for five years in high school and used to dance. Additionally, she tries to workout every day and eat a clean diet, but she is also a college student...and eating clean isn't always the cheapest.

Inside Diana's Bag...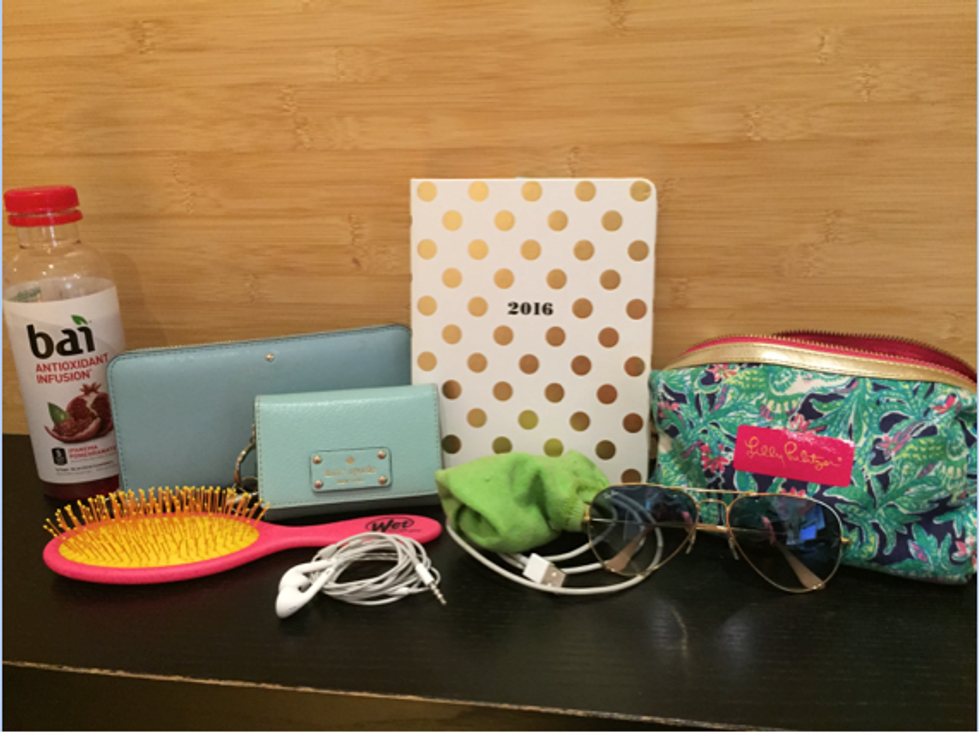 Longchamp Medium Bag: "I bring this bag everywhere with me. I've had it for years now and just fits everything I need in it. It's waterproof, light, and the best size for going out to dinner or casually hanging out with friends."
Bai Drink: "I recently just got into these drinks and they're delicious. I saw them in stores but never tried one until a few days ago. My favorite flavor is mango!"
Lily Pulitzer Cosmetic Bag: "I received this cosmetic bag as a gift and it's amazing. Super cute, a great gift and a perfect size. It doesn't take up a lot of space in my bag but holds a surprisingly large amount of items. I fit all my essentials in there. It's basically my life."
Neosporin/Purell/Band-Aids: "I'm probably the most injury prone person and I always find random cuts and bruises on my body. I'm always in a rush from softball or a workout and have to go straight to meals so I try to stay clean and healthy on the go."
Victoria's Secret Coconut Passion Perfume: "This perfume is incredible. The scent is strong and I hate smelling bad. Especially after I'm sweating a lot, I have to have a good scent and as you can tell in the picture, it's almost out. The size is super easy to travel with."
Tums: "I have a really sensitive stomach to a lot of food so I always have to be prepared with Tums. I love the smoothie flavor because it's just like candy."
Midol: "Every girl's necessity. I don't just carry it for myself. I have a whole team that needs them!"
Zyrtec: "When softball season first starts, my allergies are BRUTAL. How am I supposed to play when my eyes are itchy and I'm coughing and sneezing in the outfield? I can't go anywhere without taking Zyrtec."
Hair Tie/Contacts/Nail Filer/Nail Cutter: "As an athlete, I have to be prepared for anything. I've experienced ripping a contact, breaking hair ties and chipping nails. Being a pitcher, my nails always rip off so I have to make sure I'm taking care of them."
Lily Pulitzer Shell Mirror: "I received this as part of a purchase and it's great. It's adorable and has a really clear mirror."
Lucky Stones (Confidence/Patience): "I bought these stones in a cute story on Mamaroneck Avenue when I was in 8th grade. I've had them ever since and I like to believe they're my rabbit's foot. One says 'confidence' and the other says 'patience.' I play by these words."
EOS Lip Balm (Vanilla Mint): "I've tried every EOS flavor and this one is by far my favorite. It's super smooth and refreshing and when it gets really cold and dry in the winter, I like to always have lip moisturizer with me."
Kate Spade Planner: "By far one of my favorite planners. I usually have the Lily Pulitzer agenda but it's too big to bring around in my Longchamp bag. This one is the perfect size and very cute. Without my planner, I would be completely lost."
Ray-Ban Aviators: "I received these sunglasses for my 16th birthday and they're one of my favorites. They go with every outfit and they're one of a kind."
Kate Spade Wallet: "This wallet is great. It has a ton of pockets and is very spacious."
Kate Spade Card Holder: "As a student, I have to hold my school ID and room key. I like being able to put it all in one small place."
Apple Charger: "This one is pretty self-explanatory. Long bus rides to listening to music on walks through the city, my phone has never lasted a full day."
Apple Headphones: "Again, I listen to music more than I do anything else. When I'm walking to class, taking the subway, doing homework, or prepping for games, I always have to have my headphones."
Wet Brush Pro Hair Brush: "My dad introduced me to this brush and it's incredible. It's super soft on wet hair and doesn't rip my hair out. I hate when my hair gets knotty and I especially hate taking a shower and not brushing my hair afterwards. Definitely the best brush I've ever had."
Socks: "You'd be surprised how many times I've forgotten a pair of socks. I'll be in a rush going to practice from class or wherever I'm coming from and I just don't have socks! Luckily, I haven't forgotten socks in a long time, but you never now! I always like being prepared!"

Kaitlyn McNab, Gallatin 2019

Kaitlyn is a sophomore concentrating on creative writing, fashion journalism, and media & film with an intended minor in Africana Studies. She is a french-fry aficionado, seeking-help shopaholic, and pop culture junkie who hopes to tell stories for the rest of her life through all mediums of writing. She currently runs her lifestyle blog "Splendidly, Kait."

Inside Kaitlyn's Bag...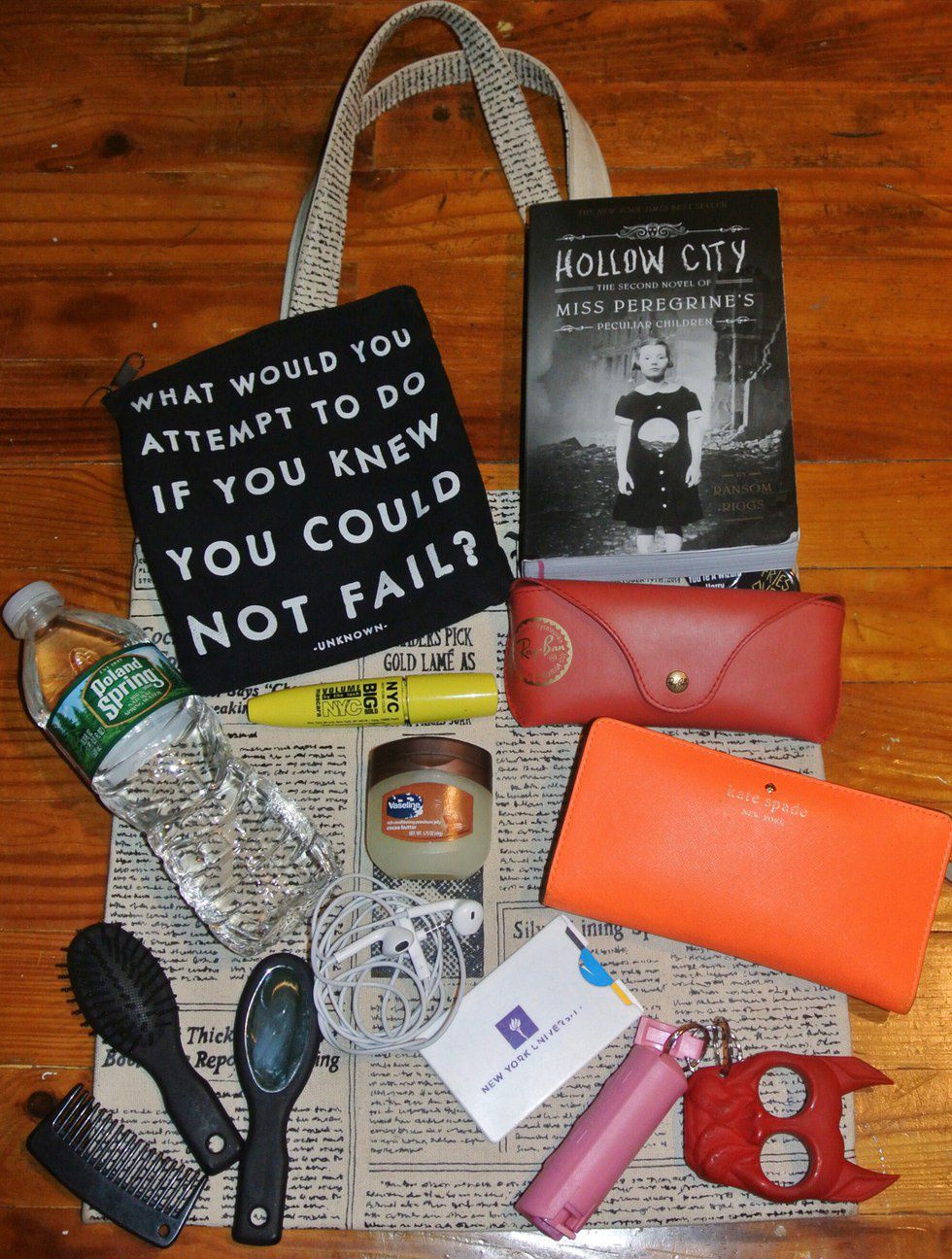 The Bag: "I like to think of myself as a fashionable writer, and this Kate Spade tote I received this past Christmas was the absolute perfect gift. The bag is covered in puns and resembles a newspaper. It doesn't get greater than this. I'm also addicted to tote bags because of how simple, practical, and stylish they are. I can dump my entire life in a tote and still look like I have my life together."
Quoted Pouch: "I bought this inspirational pouch at the NYU bookstore during my first week of school because I needed something to keep my essentials in. You know, essentials? The on-the-go pack of tissues, pill box, contact lens eye drops, lip balm, hand lotion, tampons… those kind of things."
Book: "Whatever I'm reading at the moment goes straight into the bag. At the moment, it is 'Hollow City' of the Miss Peregrine's Peculiar Children series. (Fantastically creepy!)"
NYC New York Color Big Bold Volume By the Lash Mascara: "If I had to wear only one makeup product for the rest of my life, it would be mascara. From luxury brands to drugstore, I don't discriminate. I love them all and they will travel with me everywhere."
Ray-Ban Sunglasses Case: "I recently got my first decent pair of sunglasses that cost more than $8! The most beautiful green mirrored Clubmasters in the world... yet, my track record with taking care of sunglasses shouldn't be discussed in length. And that is why they basically live inside their case. I can't take any risks."
Water Bottle: "I'm one of those thirsty people. The ones who drink 1 liter of water a day – minimum. Best believe you won't catch me out in these streets without a water bottle on hand."
Vaseline Cocoa Butter Petroleum Jelly: "Okay, major key alert. The real secret to soft lips? Exfoliation and Cocoa Butter Vaseline. It's not my lip gloss that's popping, it's my Vaseline."
Kate Spade Wallet: "I am totally obsessed with Kate Spade, if you haven't already noticed. My mom gave me this neon orange beauty about two years ago and I haven't switched it out for another wallet since."
Grooming Portable Trio: "A mini-brush, comb, and hand mirror that can be placed on a keychain and fit into any pocket of any bag. I bought the trio at Forever 21 for $4.50 but it has deemed itself priceless on many smeared lipstick and stray haired occasions."
Headphones: "My headphones are my life. Without them… I am lost."
MetroCard in New York University Card Holder: "I got this nifty card holder during Welcome Week last fall. MetroCards are flimsy and I lose things in my abyss of a bag very easily. This holder helps me find my card a lot faster. There's still a lot of digging around, but you get the point."
Pepper Spray and Brutus the Bulldog Self Defense Keychain: "During the majority of the year I live in one of the largest cities in the world, and these two babies are always on my person. Why be a damsel in distress? I can protect myself, thanks anyway, Prince Charming."