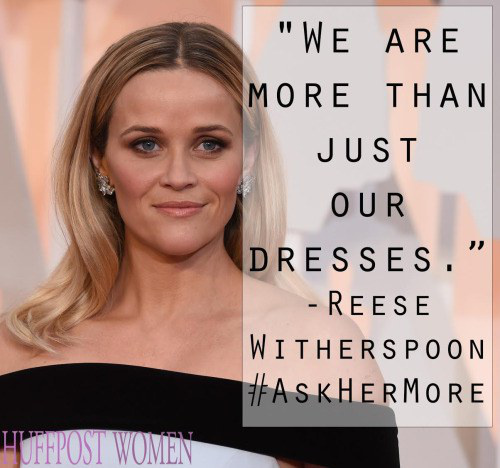 On the red carpet we love the fashion, glitz and glamour of it all, but this year, at the 87th Annual Academy Awards, many celebs endorsed the hashtag #AskHerMore. This hashtag is aimed at getting interviewers to ask women about their passions, new projects and about the causes she supports, rather than asking what she is wearing. With many actresses moving on to try other things in the entertainment business, it's important to support their new endeavors.
As much we love hearing about the designers and admiring the wonderfully over-the-top dresses they are wearing, it makes for a more important, and not to mention more interesting, pre-show red carpet to hear what new projects our favorite actresses are working on.
Some of the women backing #AskHerMore include Reese Witherspoon, Julianne Moore, Shonda Rimes, Patricia Arquette and Lena Dunham. These celebs combatted the questions about their dresses and makeup with some pretty witty comments. Reese Witherspoon was leading the movement on the red carpet with saying, "This is a movement to say we're more than just our dresses, there are 44 nominees this year that are women and we are so happy to be here and talk about the work that we've done. It's hard being a woman in Hollywood, or any industry."
While yes, the celebs on the red carpet do accept gorgeous dresses to wear to events and the designers deserve acknowledgement, these women are proving to be exceptional actresses that work very hard on their films. Interviewers should continue to brag on the designers, as well as the women wearing them. The red carpets are excellent places for celebrities to share their passions and the causes they support, so you gals go on about your bad selves and keep up the hard work. We love to hear what you're working on and see you rockin' the award shows at the same time.