Oktoberfest is an exciting time for many. If you're of age, you can join friends in the Beer Garden. It's also a celebration of German culture and the coming of fall. At Longwood University, it's a weekend full of fun events. Was Oktoberfest at Longwood a hit or a miss?
1. Color Wars
Color Wars is an event where the freshman and juniors stand on one side, and the sophomores and seniors stand on the side of a field. Both sides run and throw paint at each other, and whichever side throws the most paint wins. However, the typical trend is the seniors always win. This experience was fun getting to see students from all ages, friend groups, and grade levels come out in unity to do something together. The only downside was arriving at 3:50 and having to wait approximately 25 minutes to start. Yes, it's a silly tradition and yes, I did get paint in my eyes, but overall, it was most definitely worth attending.
Color Wars Rating: 7/10
2. Lunch & Dinner
For lunch, you could use a meal swipe, or pay 8.95 for buffet style options. The food choices included german sausages, pretzels, sides such as string beans and baked beans, freshly sliced watermelon, and desserts ranging from cookies to rice crispy treats. The food overall was better than what is usually served at the dining hall, but I would not have purchased food if I wasn't on a meal plan. It was not worth $8.95 worth of food.
As for dinner, the options were a hard shell taco or soft burrito, served with ground turkey meat. Again, this was served buffet style and could be paid for using a meal swipe or cash. Again, I do not think this was worth it. One, it did not flow with the Oktoberfest-theme. Secondly, the ground meat was dry and there was no sour cream to go with it. The dessert options were the same as lunch, which was rather disappointing because I expected some sort of apple-themed dessert to go with Oktoberfest. Overall, the food was better than the average day at the dining hall, but defiantly not worth spending your own money.
Food Rating: 6/10
3. The Performances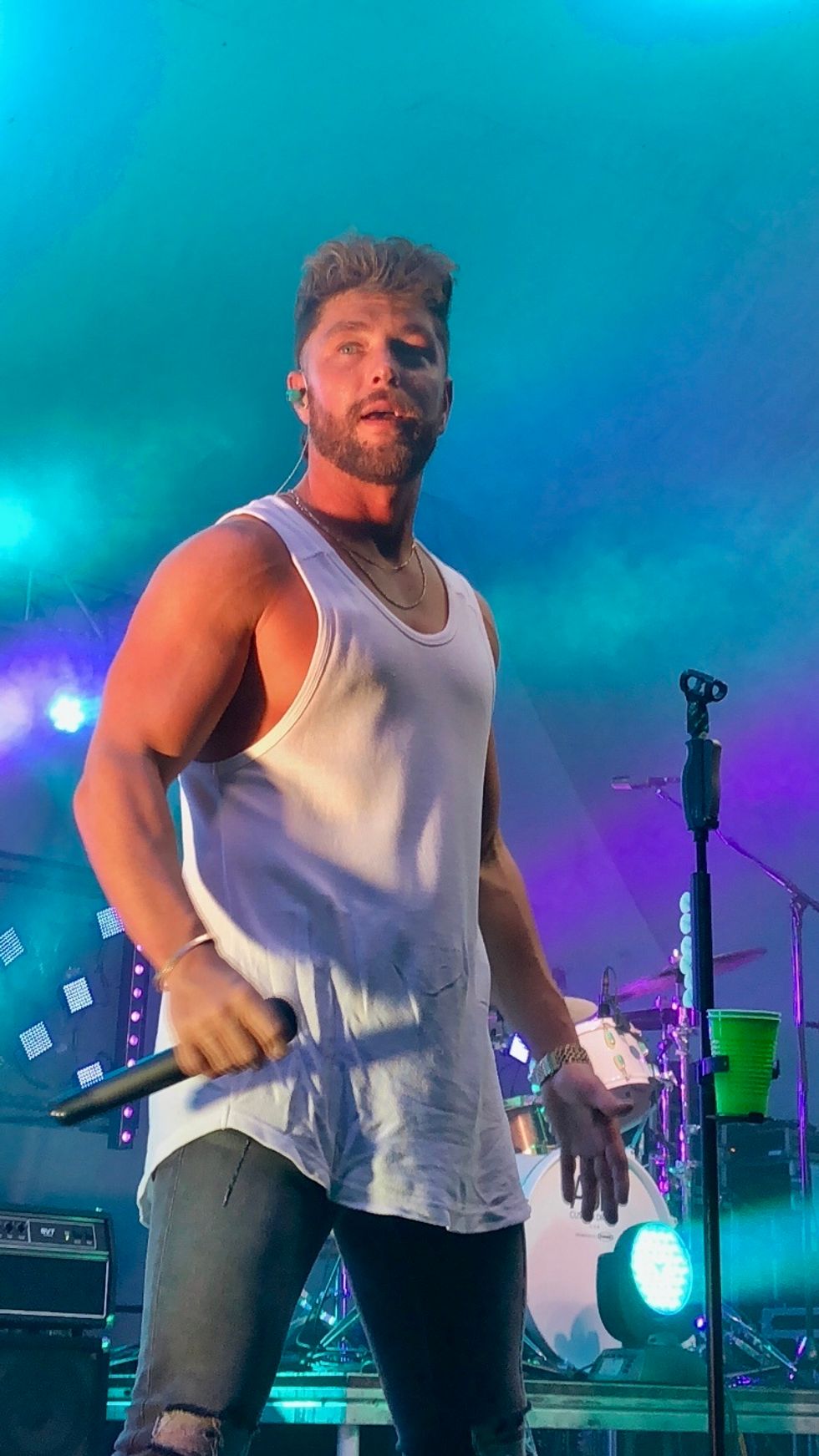 The concerts; Now this was the most exciting and probably the best part of the entire weekend. The two headline performers were Bryce Vine and Chris Lane. Bryce Vine performed at around 8:00 pm, while Chris Lane performed around 9:30 until 10:15 pm. Bryce Vine had great energy; he opened the crowd with his various hip-hop style dance moves, and his current songs. He also opened up about his personal relations to the songs, which is something you don't get to hear often at a concert.
Chris Lane, a country singer from Nashville, Tennessee, was the main act of the night. His charming country attitude and his interactive performance with the audience made it a wonderful experience. He took time to recognize the band, let his band members perform solos, and he even brought his nephew on stage to sing with him. The little kid was a ball of energy and really brought out the show. He also called up an audience member and sang to her in front of the whole crowd. Overall, he was an amazing performer and the perfect fit as the main act in a small town like Farmville.
Concert Rating: 9/10
Overall, I would definitely recommend Oktoberfest at Longwood University. Yes, the food could use improvement, and there could be more exciting activities to do during the day, but it is most definitely worth attending. If you're a freshman considering going next year, debating whether or not to bring friends out for the weekend, or even an upperclassman, I would recommend attending for a full weekend of fun.
Related Articles Around the Web