The biggest concern a lot of people have when it comes to being healthy is the price tag. Gym memberships, powders and food are all the components of being healthy; yet not everyone has the money to do it. Or they do...but they struggle with paying for things. Such as me. I am a college student who works 35 hours a weekend so I can pay for my groceries and living expenses. Thankfully I don't have to pay for a gym membership, but I do have to pay $80 for a summer pass once school is out. $80 is a lot of money, but it goes towards something I need, which is a gym that fits what I need. That is where the actual cost comes in; comparing something you need and something you want.
1. Budgeting is key.
I went shopping yesterday and only paid $20 for me to eat healthy for two weeks. This was lower than normal, because I was fortunate enough that someone in the house already bought me meats and salad mix. Typically my grocery haul is equal to $40 because of the salad, meats and fruits. However, $40 still isn't a lot of money.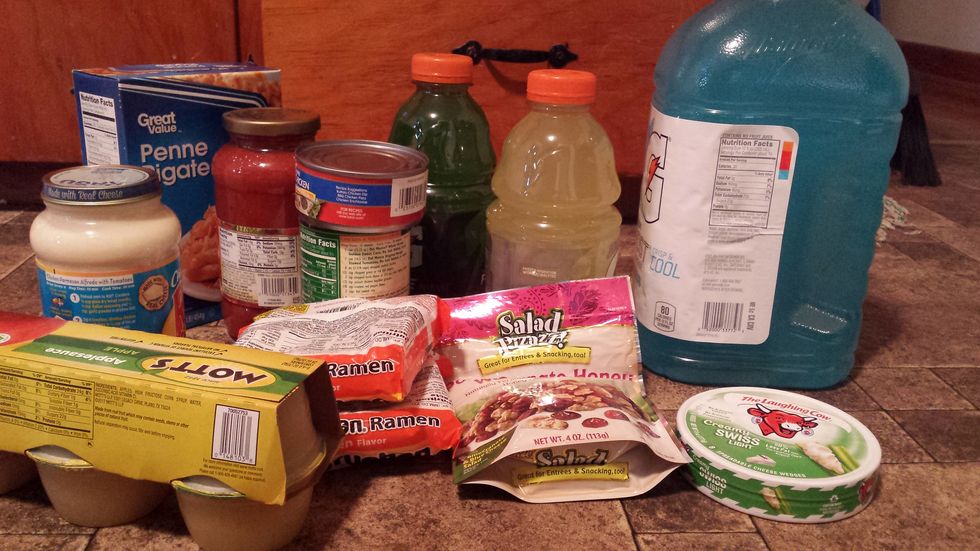 This is what cost me $20. The most expensive item was the Salad toppings; it was $4. All of this will last me two weeks. I like to shop for two weeks worth of groceries so I don't waste any food, and at the end of the two weeks I can compare what I have already and what I need to buy.
Why was this so cheap? Let give you an example: The Alfredo and Spaghetti are heart healthy, and I can make 5 dishes a piece with my Penne Pasta. If you notice, the Penne is great value, which is off brand. I learned that generic foods aren't terrible, a majority of time they have similar ingredients compared to the normal brands. Another part of my carbs is the Ramen Noodles. I mix this with a can of corn and beans, and now I have 2 meals.
With the can of chicken I can make sandwiches, and the cheese I can use for my pasta, sandwiches or a snack.
2. Learn what you can make with what little you have.
Notice I don't have bread or meats pictured. The reason for this is because I already have breads and someone in the house bought eggs and meats. As I explained, when I buy those items plus what's pictured above, my total comes to $40. Still very cheap.
Fruits and meats are typically the biggest expense. What I do is for one grocery haul I will pick up a bag of already cut and grilled chicken. The cost of it is $8, but it makes me 5 meals mixed with rice. This lasts me for the two weeks until I go shopping again. When I go shopping the next time, I choose to buy a package of meat (typically hamburger because burgers are amazing). This typically cost me $10, but I am only one person so it goes a long way.
3. You don't need to buy the whole store.
Dollar Stores are a blessing. You can find name brand items (smaller than regular, but for one person it works) for half of what a regular store cost. I usually get my bread and canned items there because it is much, much cheaper. Therefore, learn how to shop at different stores other than Walmart.
Food is 70% of what makes you healthy. You always have to eat right, or all the time you spend in the gym won't be worth it. The only things you need are pasta, meats, fruits/veggies and healthy snacks. It can be done in a cheap way because of generic brands and budgeting.
If you watch my YouTube video below, you'll hear me explain a lot more as to what I bought and how it last me.