On the first Monday of May, one of the most coveted annual events in fashion was hosted by Rihanna, Amal Clooney, Donatella Versace, Anna Wintour, and Steven and Christine Schwartzman. The Costume Institute located within the corridors of the Metropolitan Museum of Art was one of the three chosen venues to fully sanctify the institute's love for fashion. Anna Wintour's Costume Center and the medieval galleries of the Met's Fifth Avenue location are the other two.
Celebrities took their clothing choices to the next level with the prevailing theme being "Heavenly bodies: Fashion and The Catholic imagination.''
According to Vogue, it is "Designed to create a dialogue between fashion and the masterworks of religious art in the museum's holdings.'' By placing fashion within "the broader context of religious artistic production" (such as paintings and architecture), curator of the Costume Institute Andrew Bolton, who works alongside colleagues within the Cloisters and medieval galleries of the Met intends to show how "material Christianity'' has helped in forming the "Catholic imagination.'' He says it hasn't always been easy intersecting fashion with religion, or the "sacred and profane.'' The interplay between the two has been observed as something sartorial and often awe-inspiring in innovations.
If that isn't a mouthful, then several of the visual looks from the show will compensate just as well.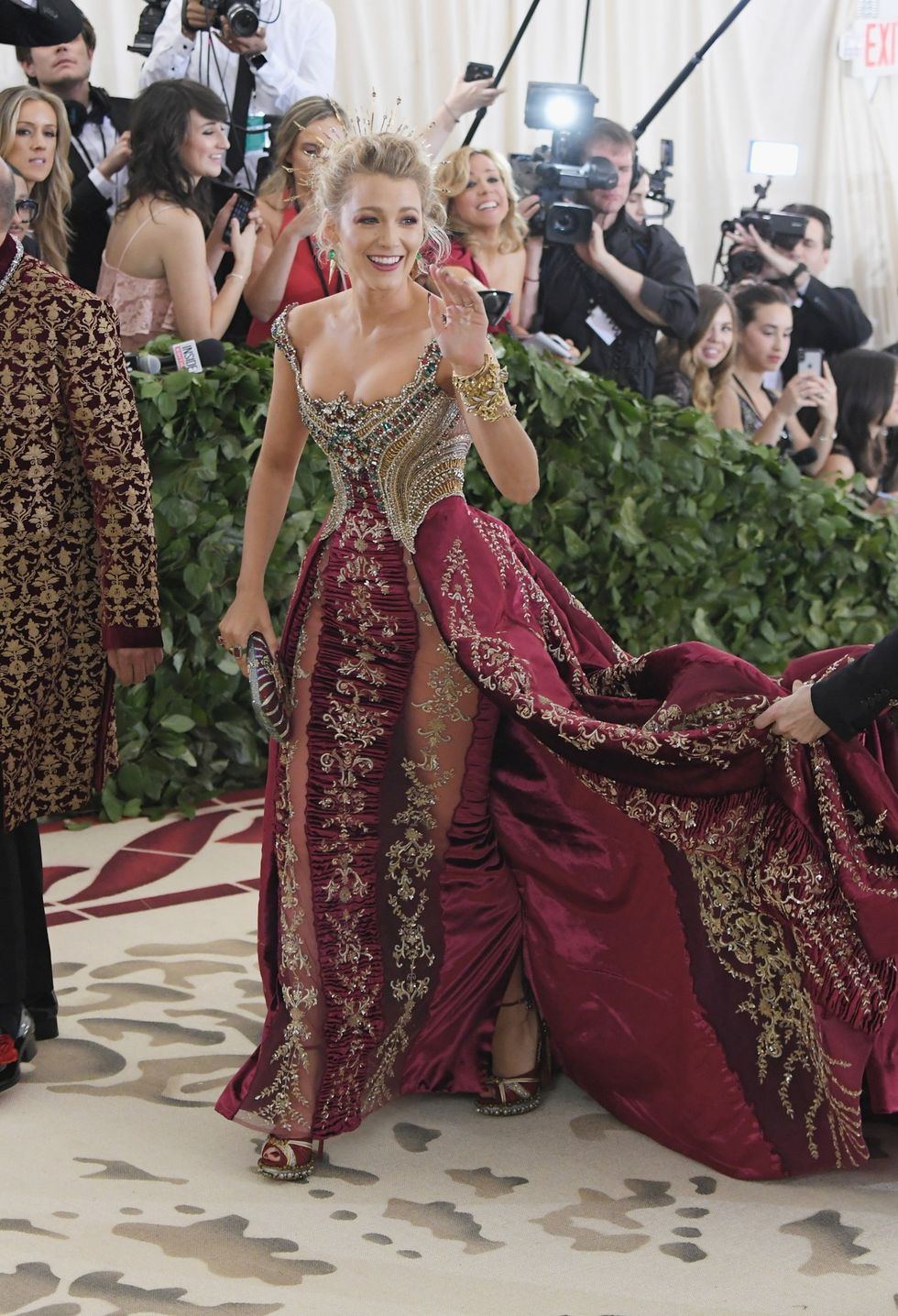 Blake Lively in Atelier Versace, Christian Louboutin shoes, and Lorraine Schwartz jewelry with a Judith Leiber Couture bag.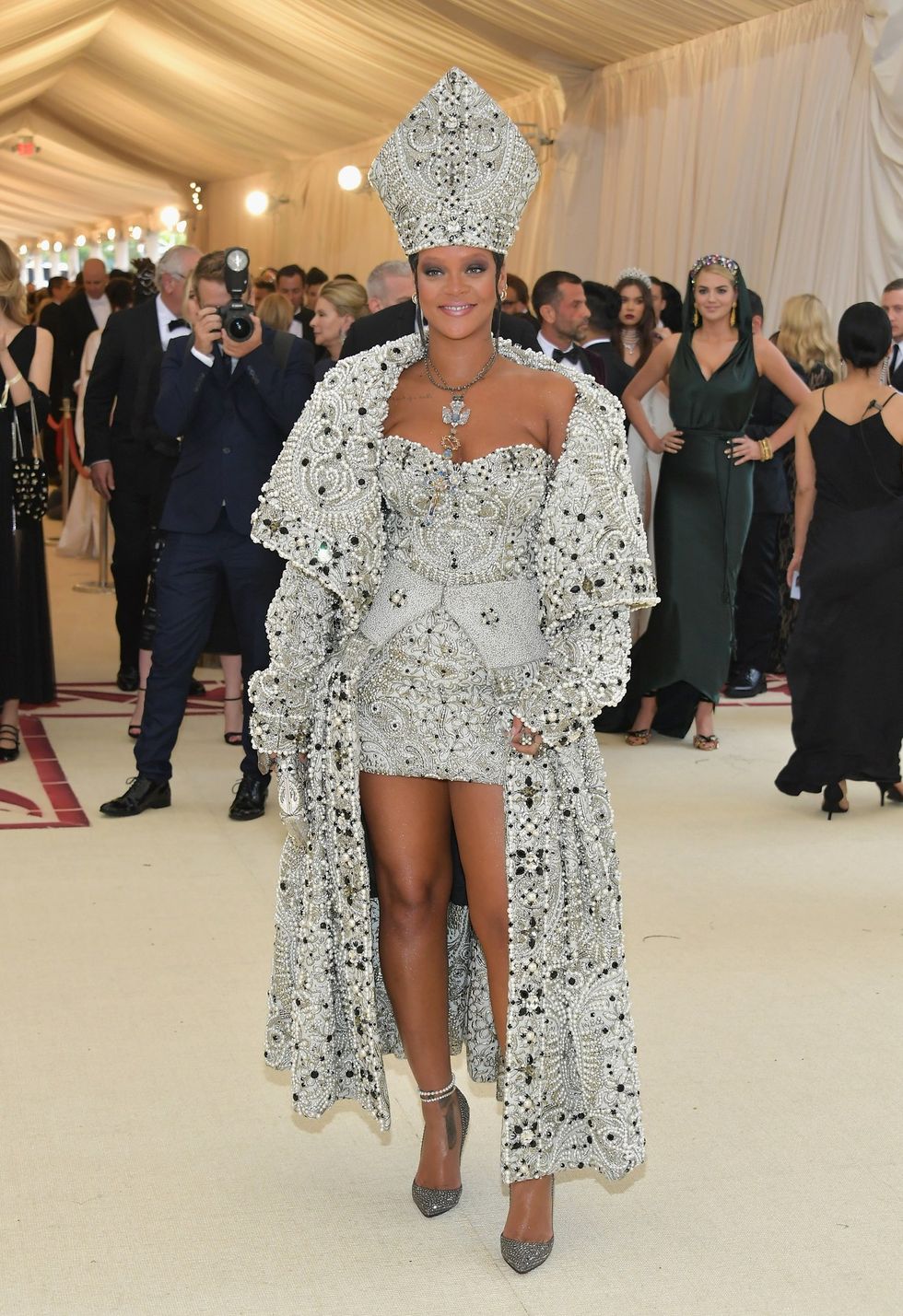 Rihanna channels the Pope in custom Maison Margiela by John Galliano with a custom Judith Leiber Couture clutch, Christian Louboutin shoes, Maria Tash jewelry, and Cartier jewelry.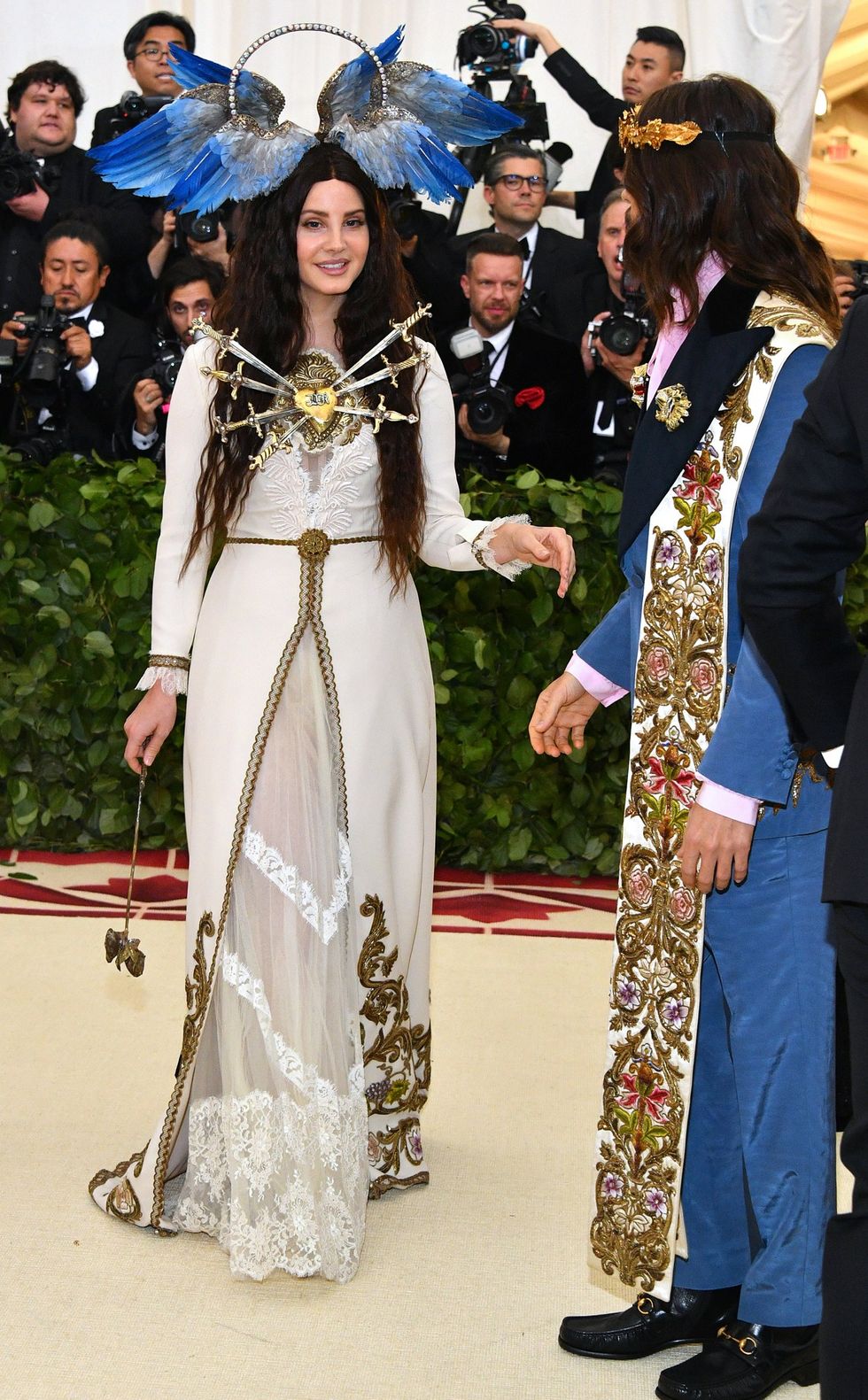 Lana Del Rey and Jared Leto, both in Gucci.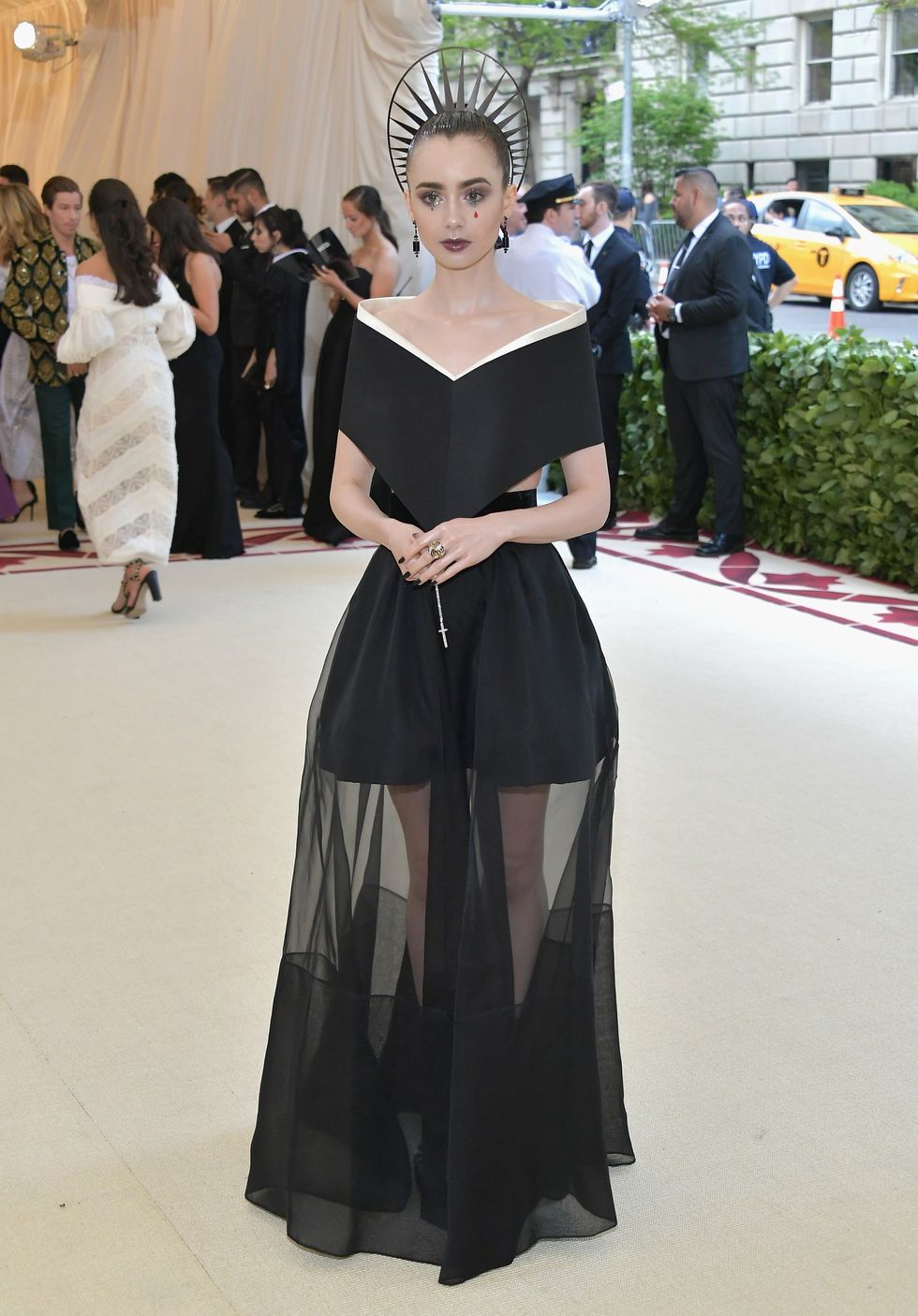 Lily Collins in Givenchy Haute Couture.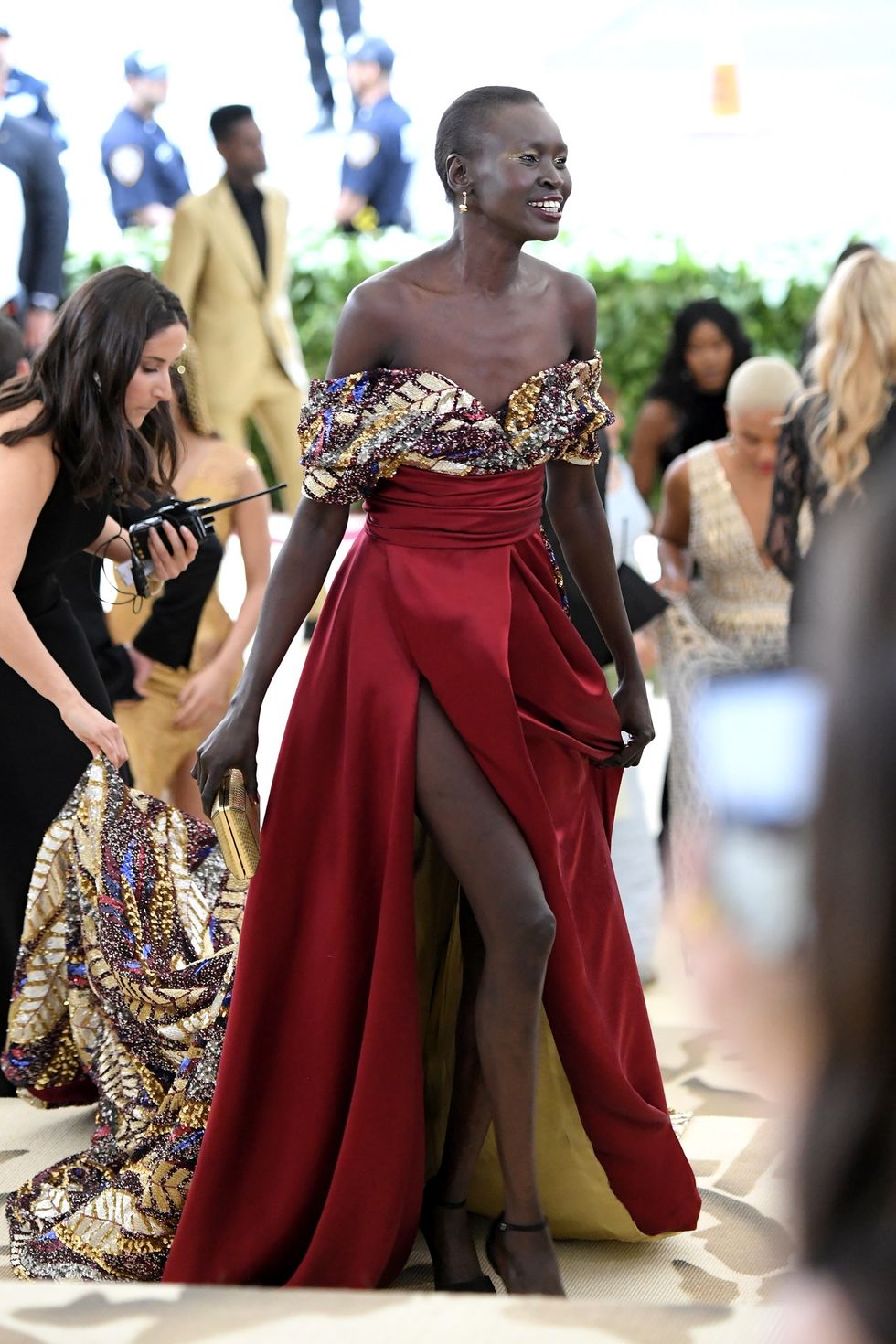 Alek Wek in H&M and Paul Andrew shoes.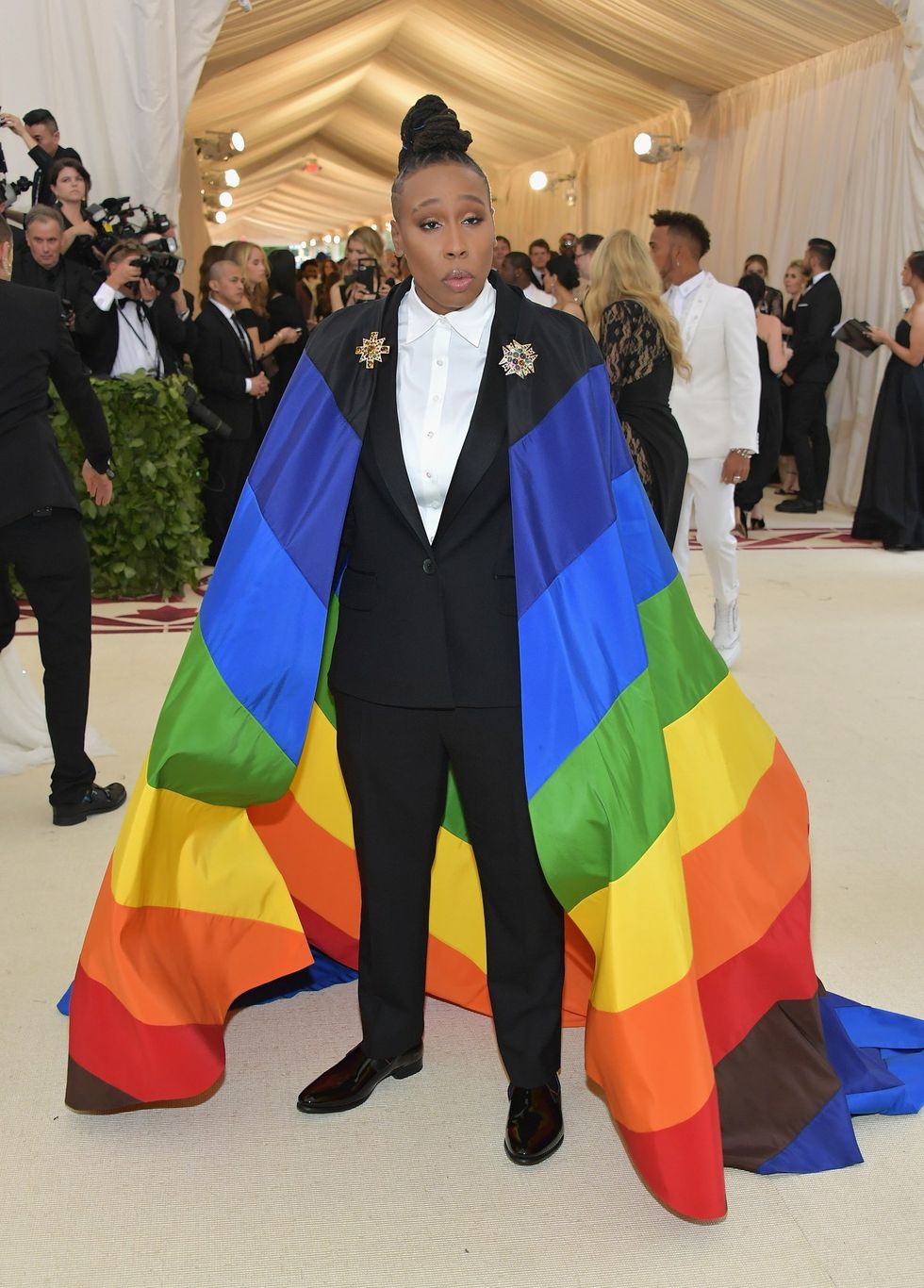 Representing the LGBT community in contrast to the opposed Catholic religion, Lena Waithe chose a rainbow cape overtop a Carolina Herrera suit.
"This is like my skin, I'm proud to be in it," said Ms. Waithe, who is a lesbian. "I've got the community on my back to make sure they know I've got them all the time."
"The theme to me is, like, 'Be yourself,'" she said. "You were made in God's image, right?"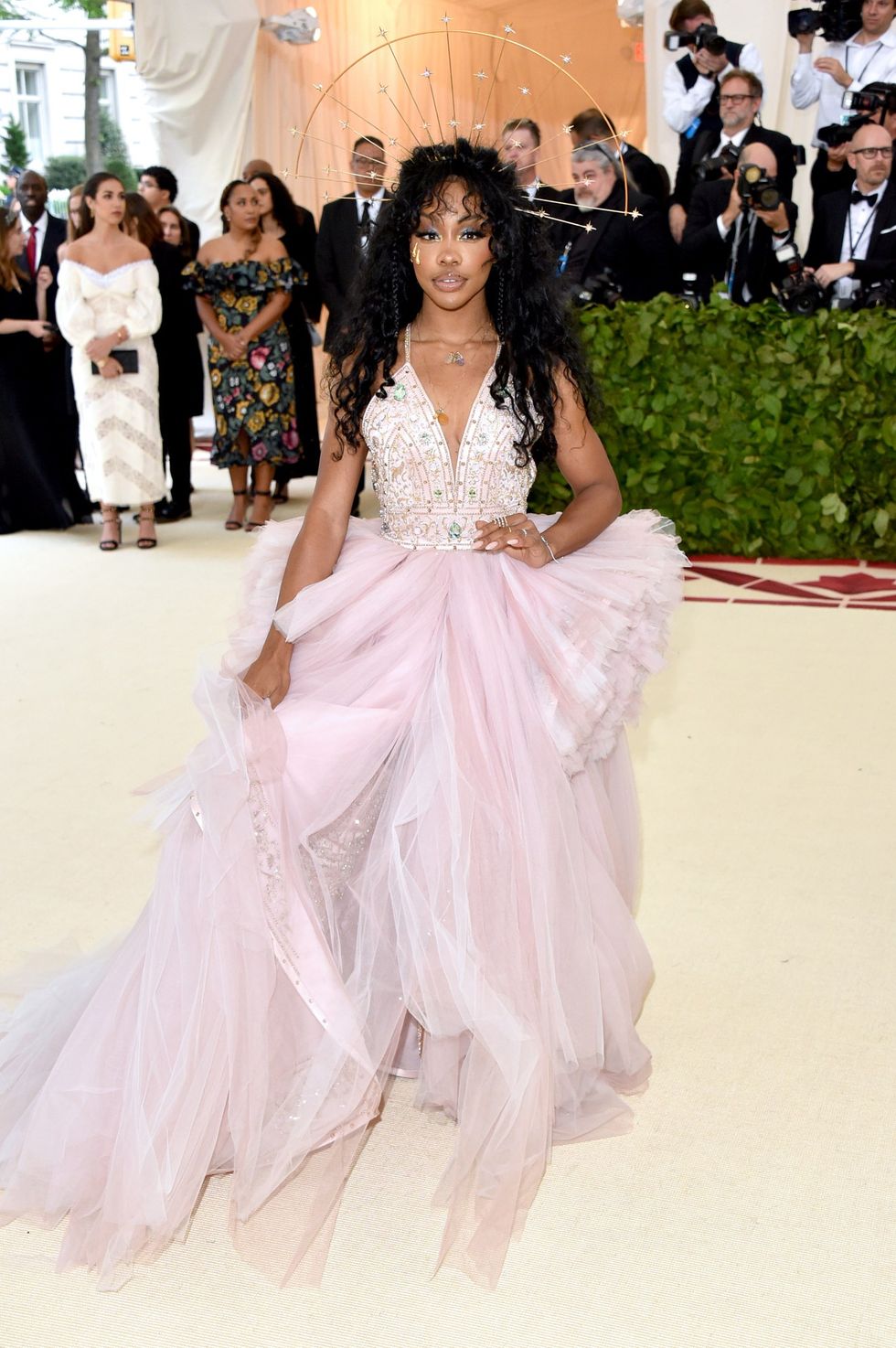 SZA in Versace.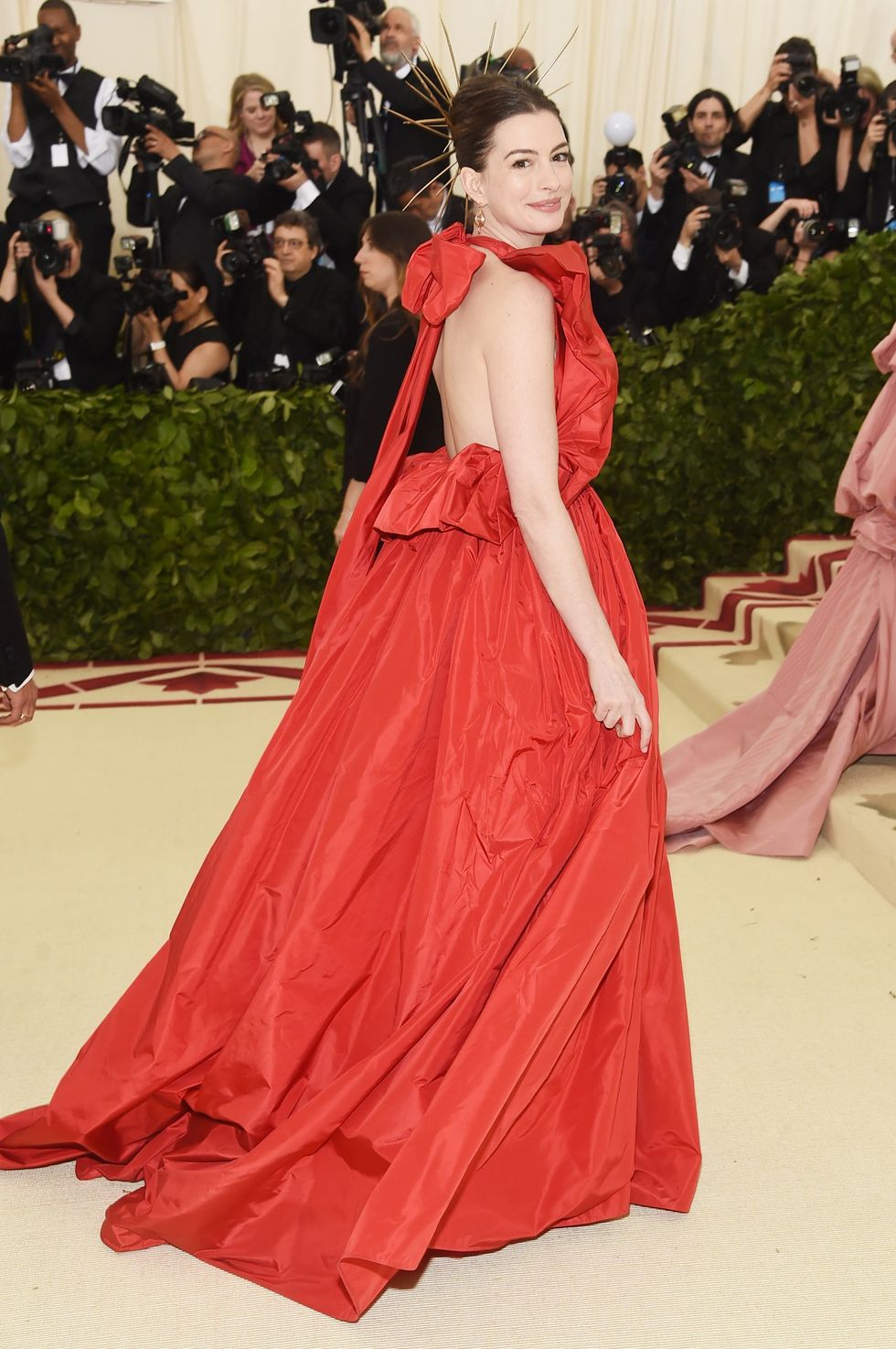 Anne Hathaway in Valentino.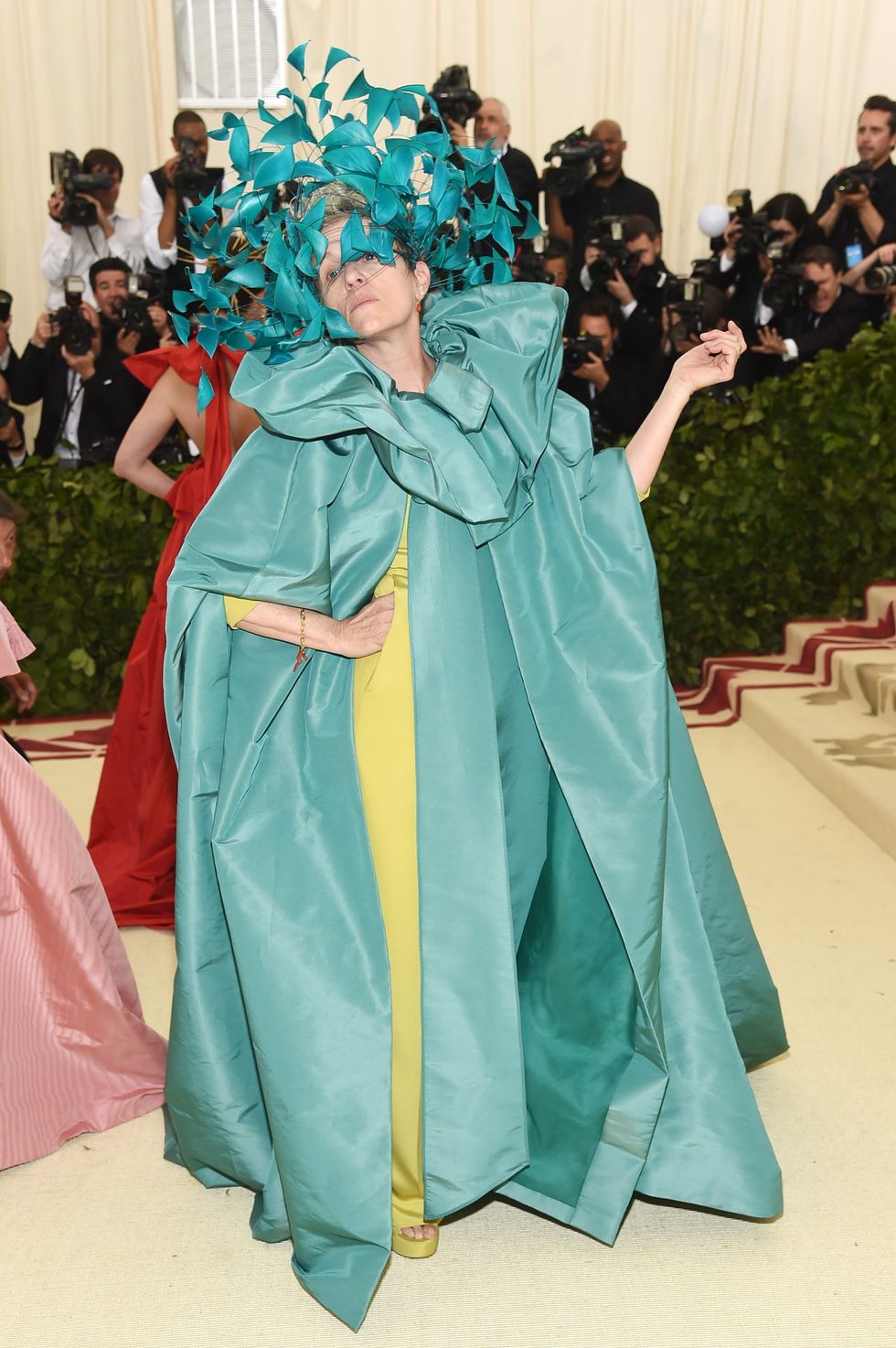 Frances McDormand in Valentino.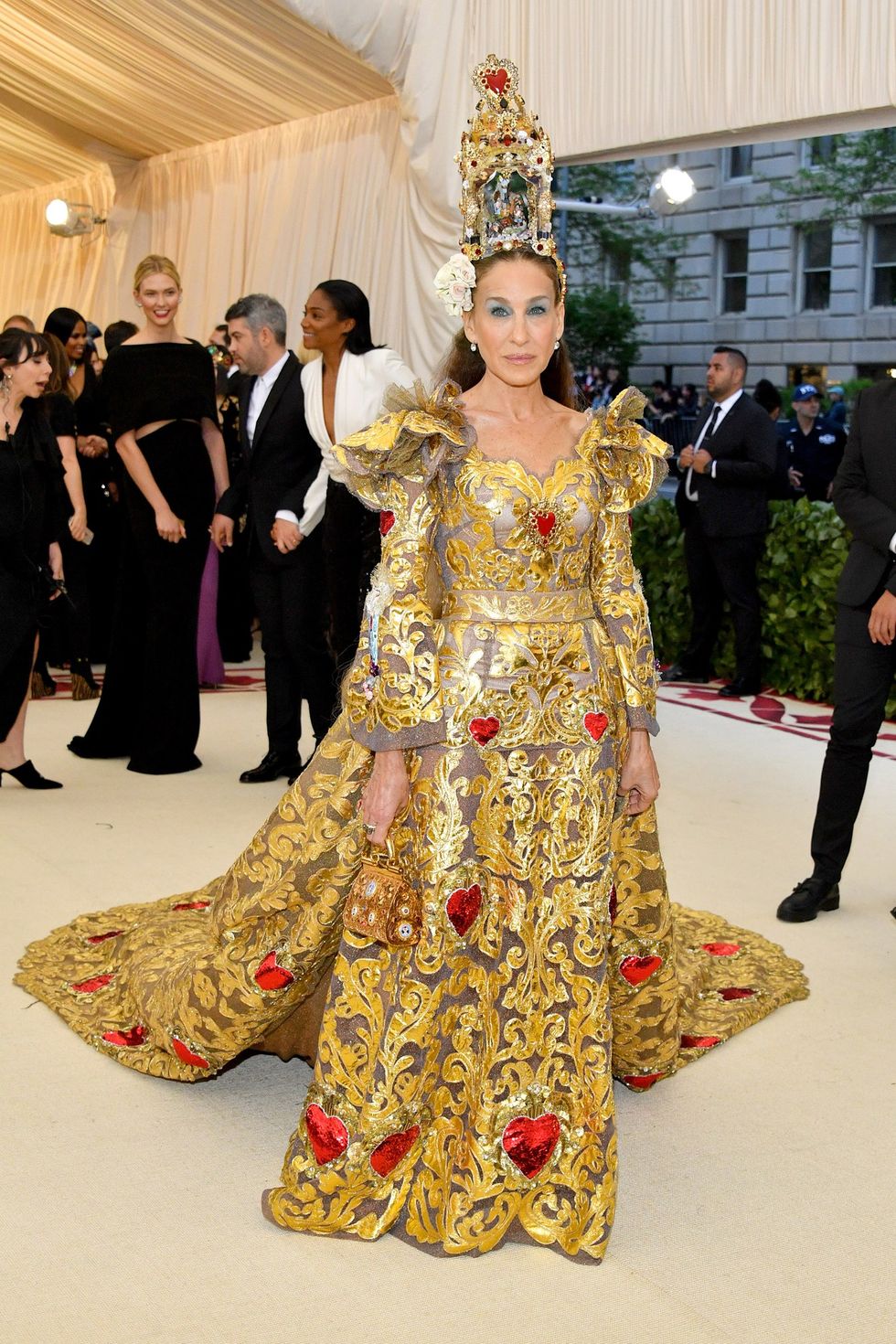 Sarah Jessica Parker in Dolce & Gabbana Alta Moda, Jennifer Fisher jewelry and Fred Leighton jewelry.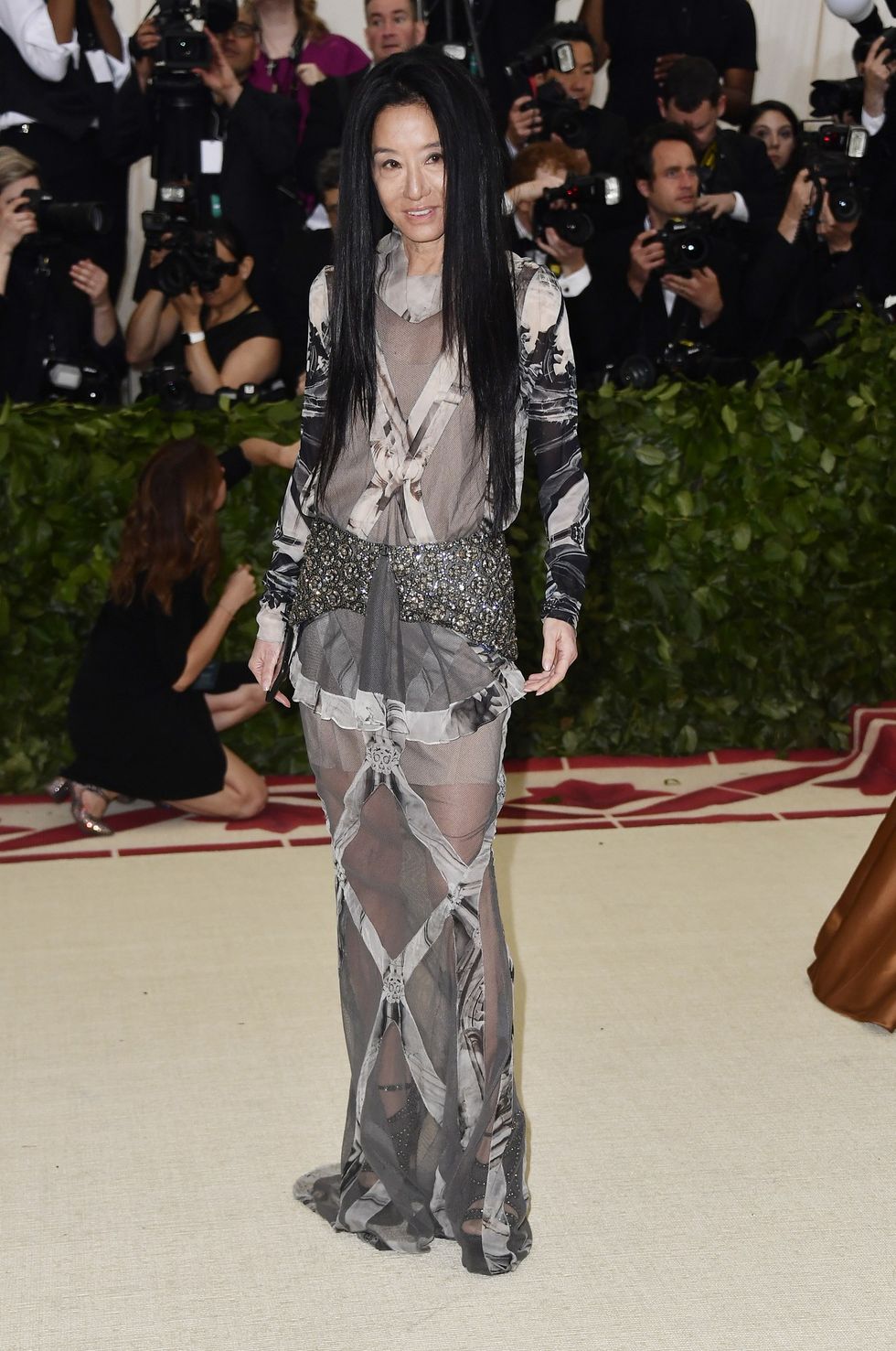 Vera Wang in Vera Wang.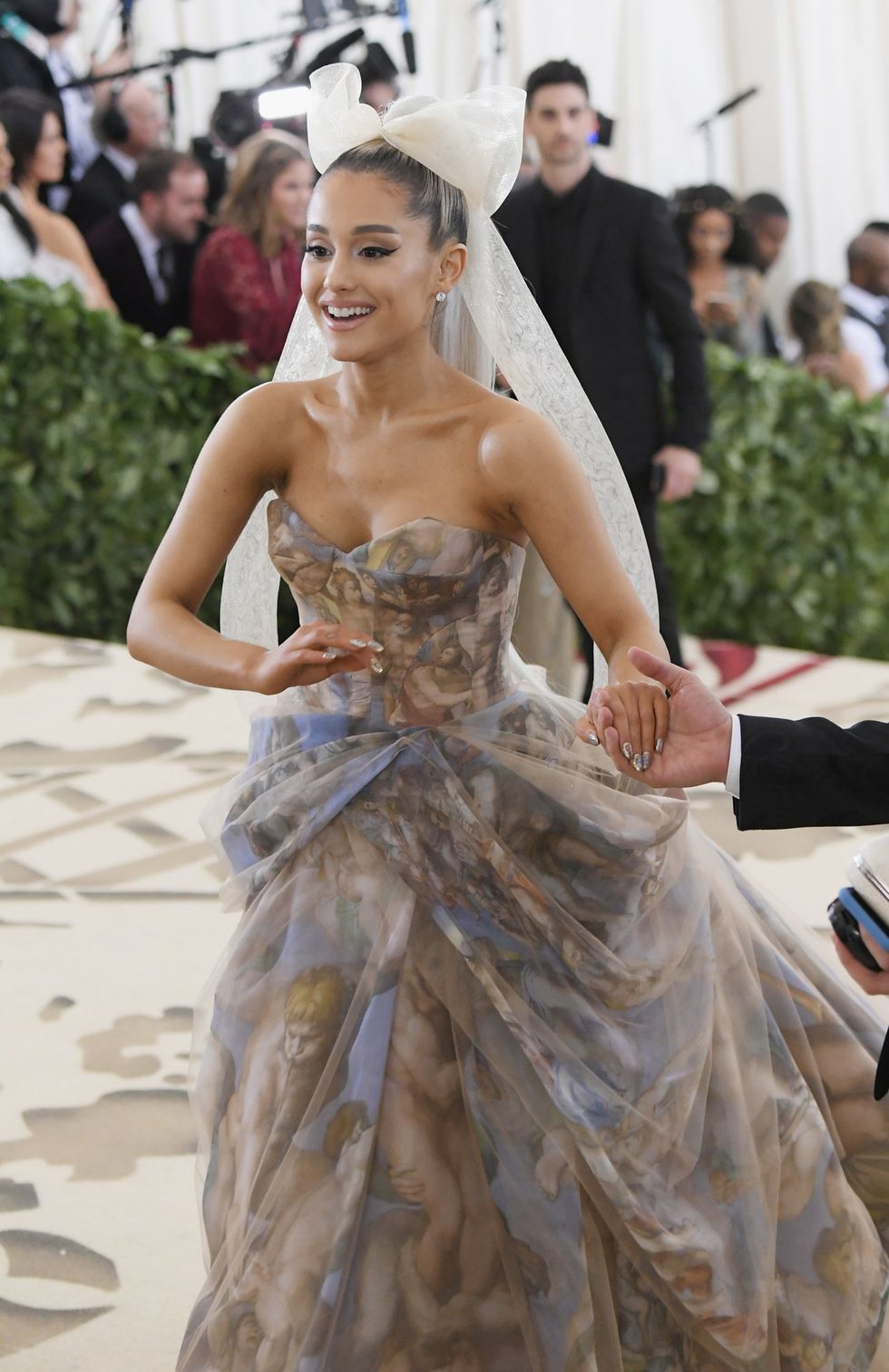 Ariana Grande in Vera Wang.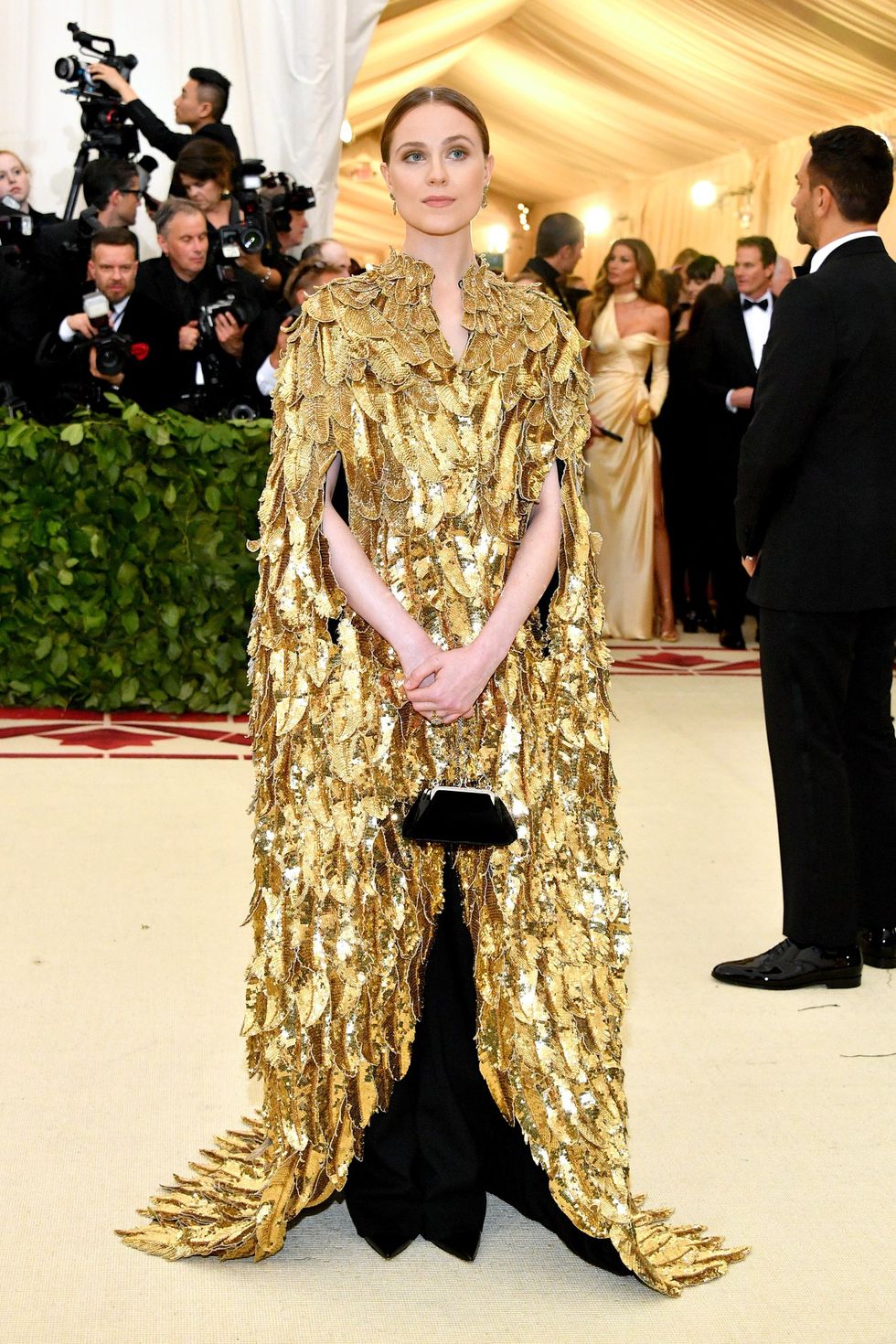 Evan Rachel Wood in Altuzarra and Fred Leighton jewelry.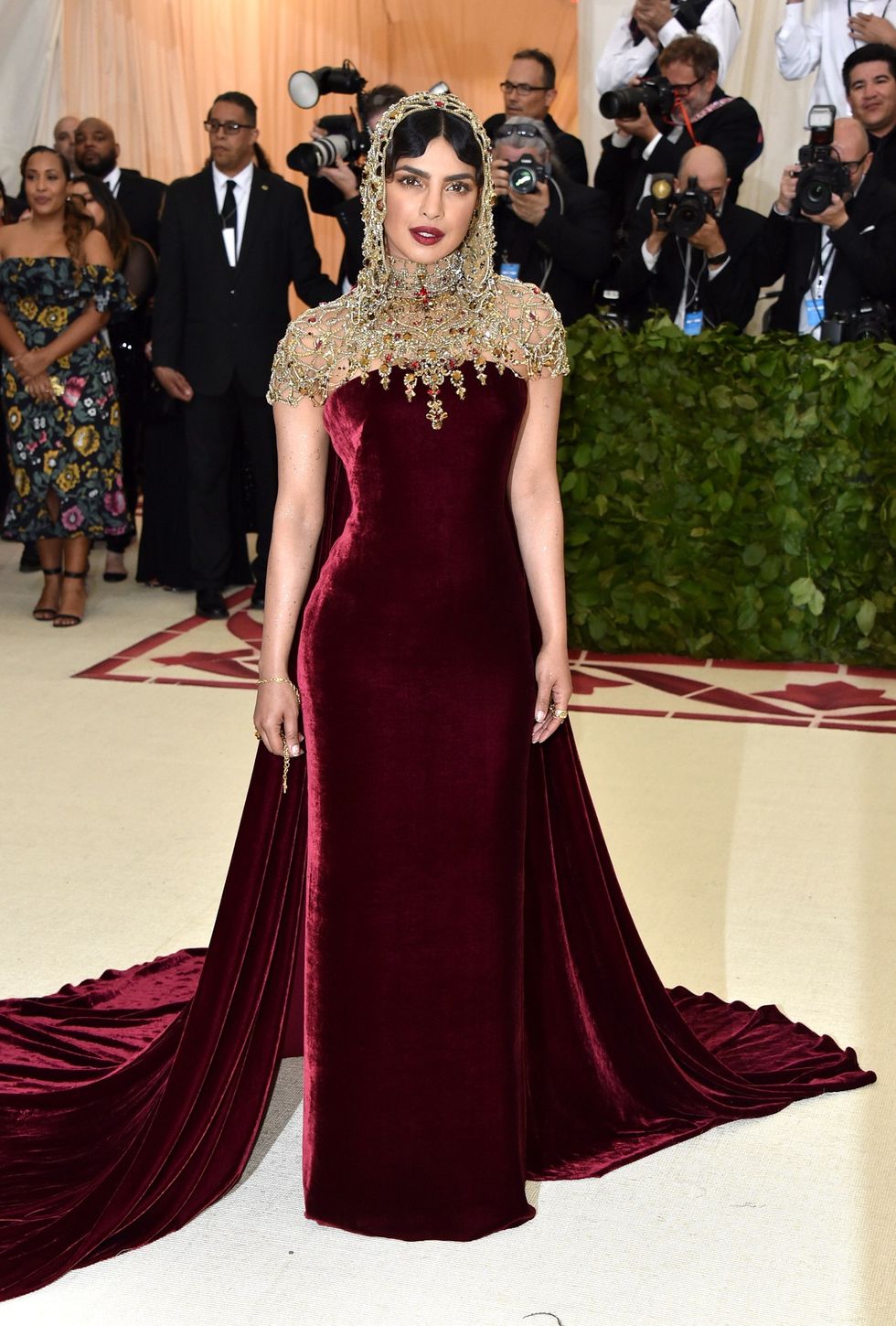 Priyanka Chopra in Ralph Lauren.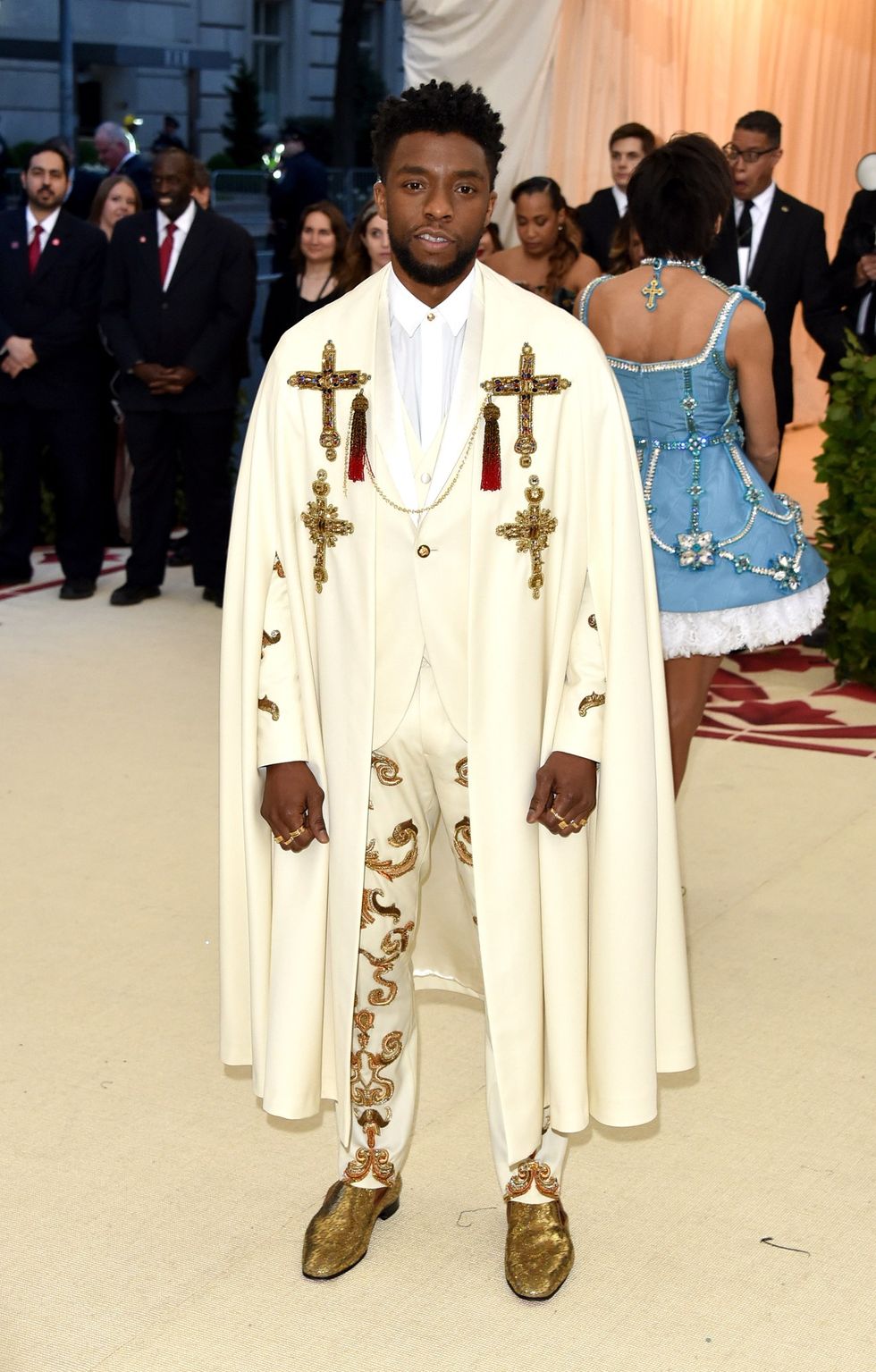 Chadwick Boseman in Versace and Christian Louboutin shoes.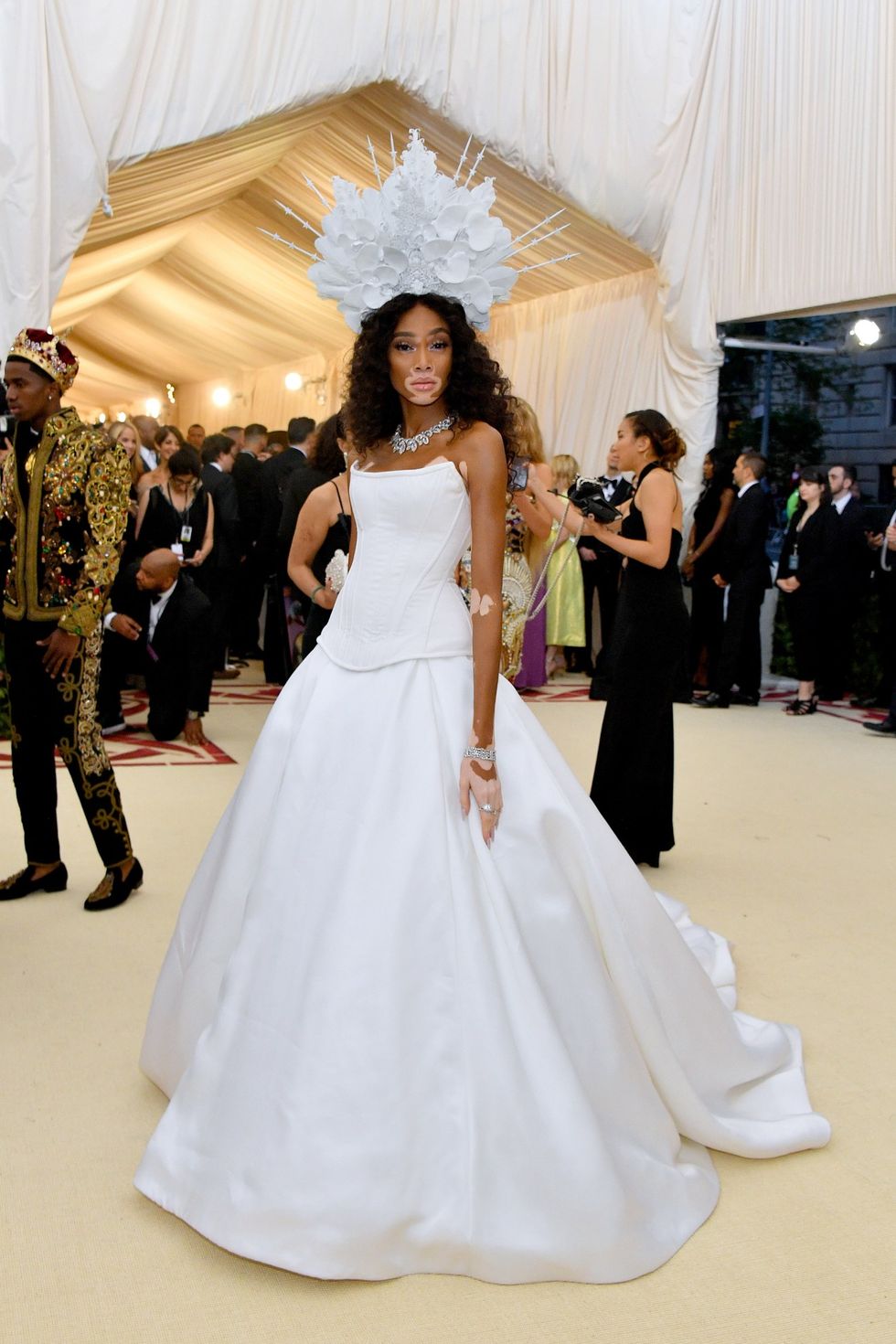 Winnie Harlow in Tommy Hilfiger.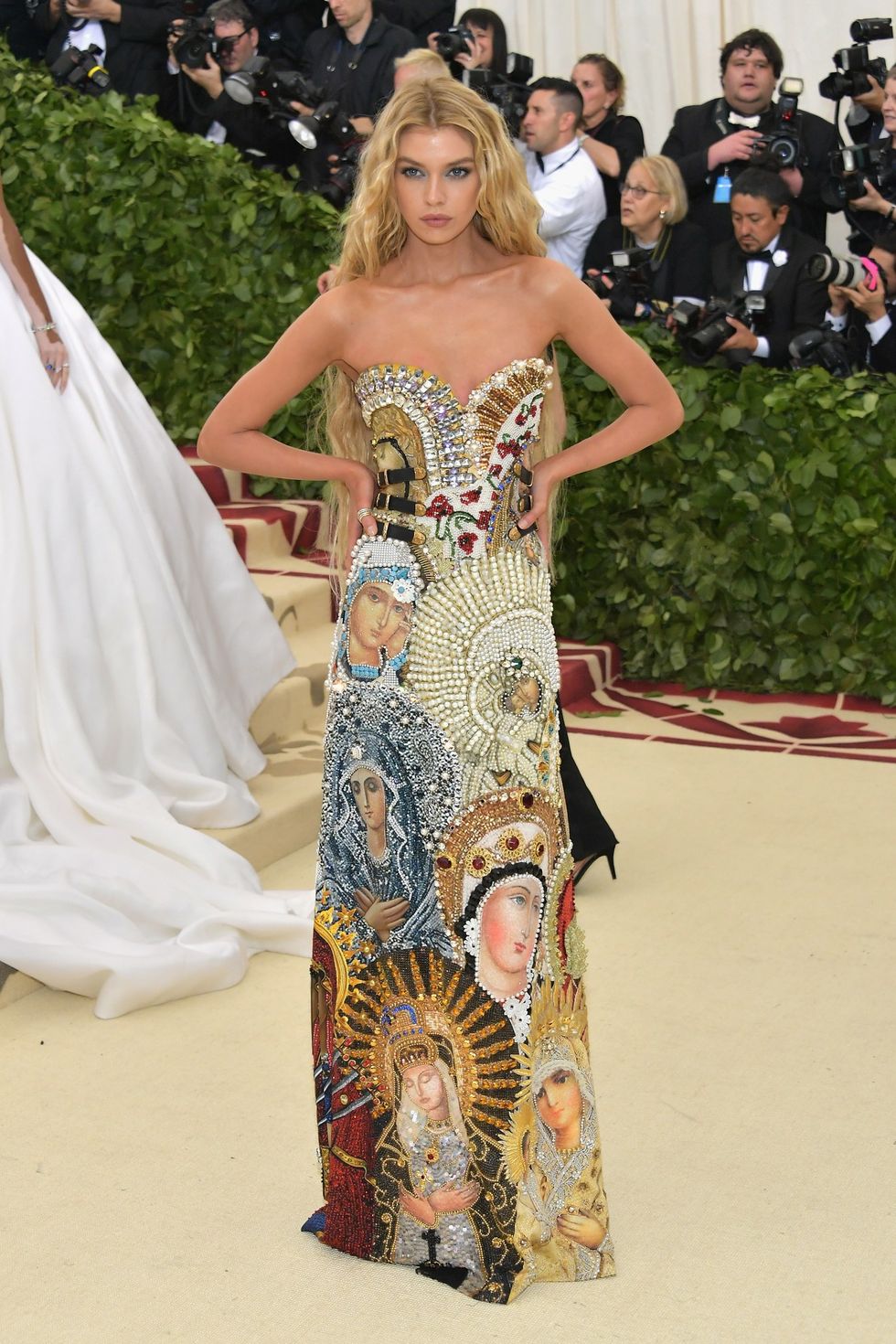 Stella Maxwell in Moschino, Casadei shoes, and David Yurman jewelry.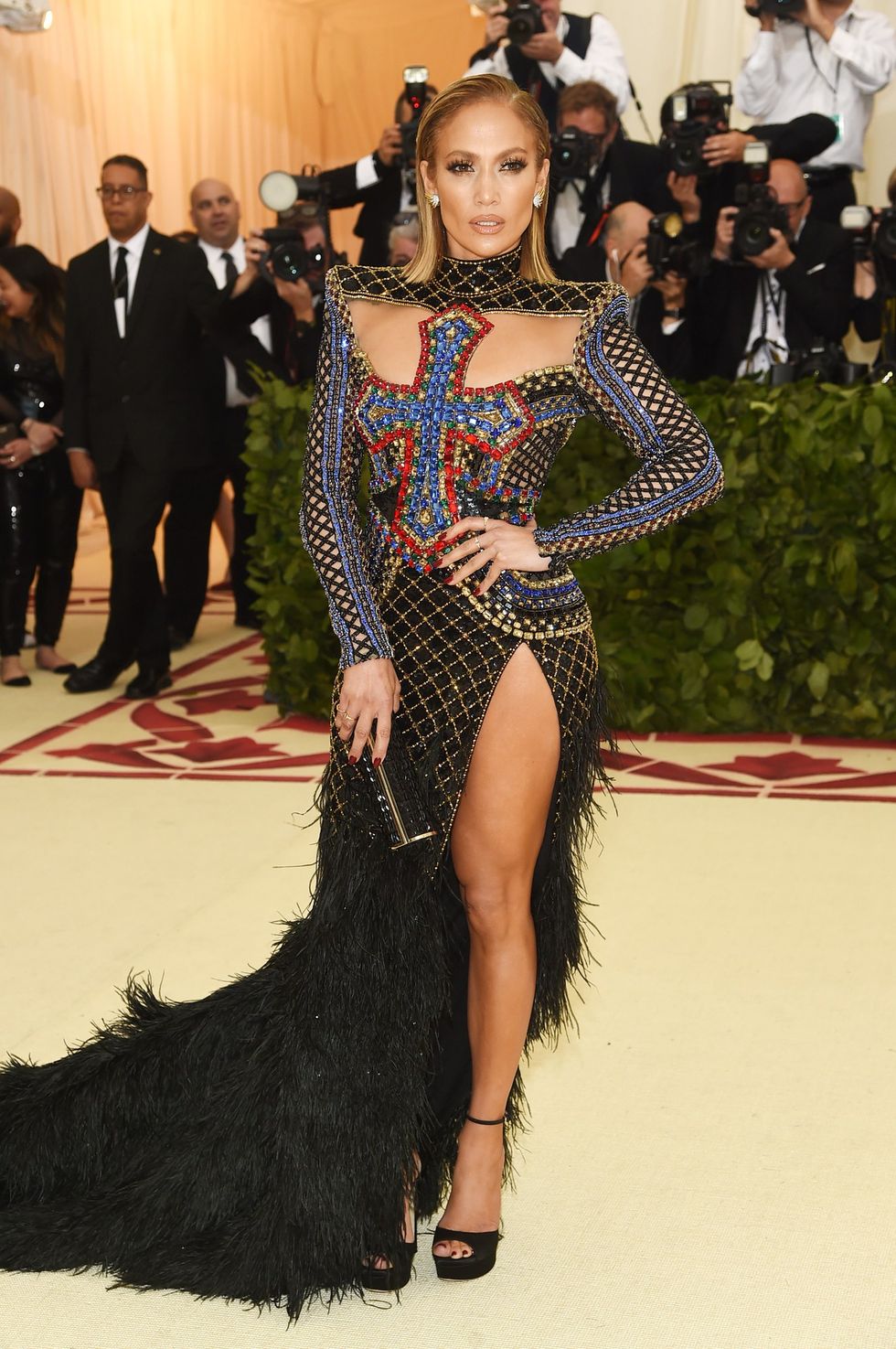 Jennifer Lopez in Balmain and Jimmy Choo shoes with a Jimmy Choo bag.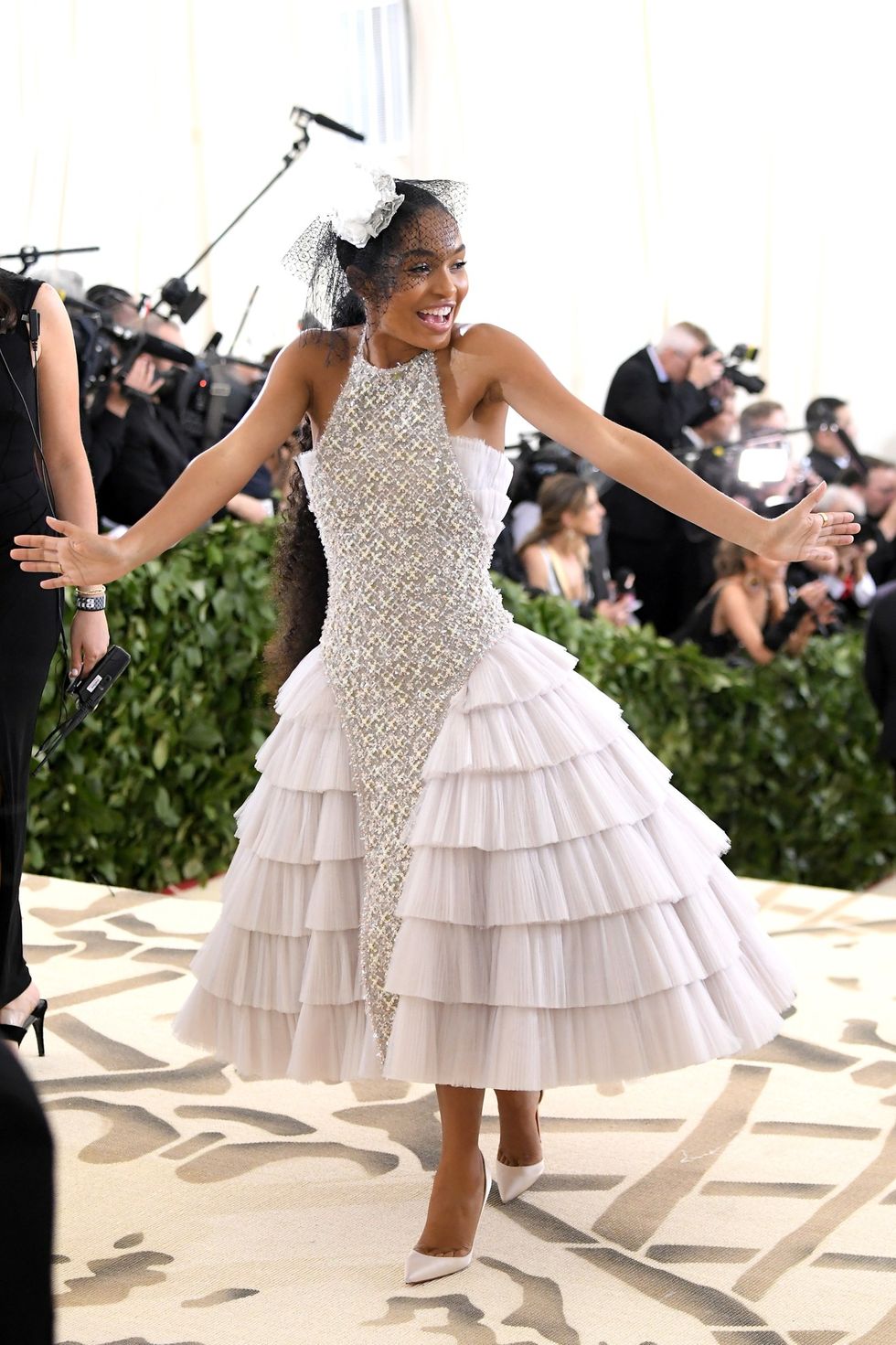 Yara Shahidi in Chanel Couture and Christian Louboutin shoes.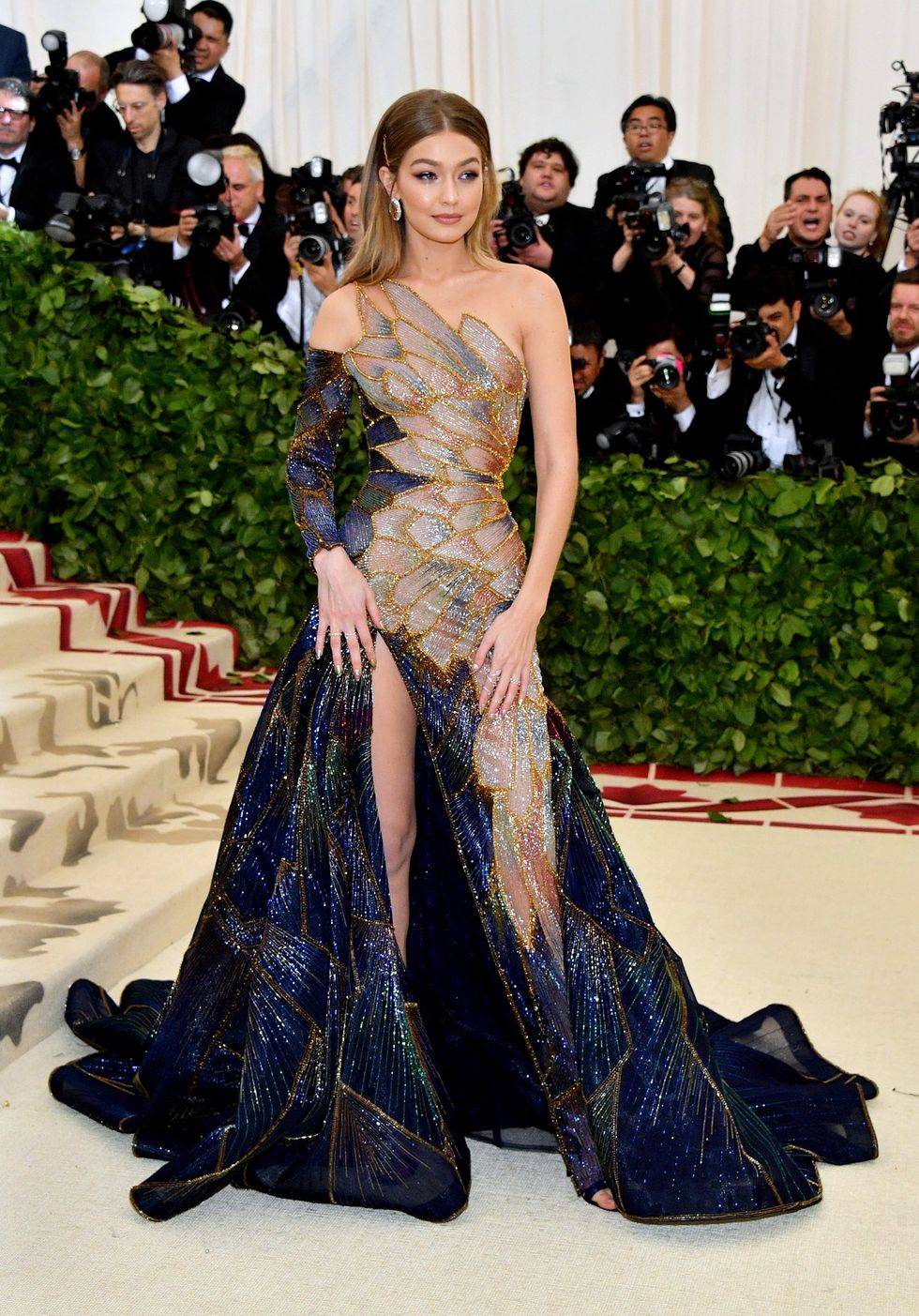 Gigi Hadid in Atelier Versace, Lorraine Schwartz jewelry, and Christian Louboutin shoes.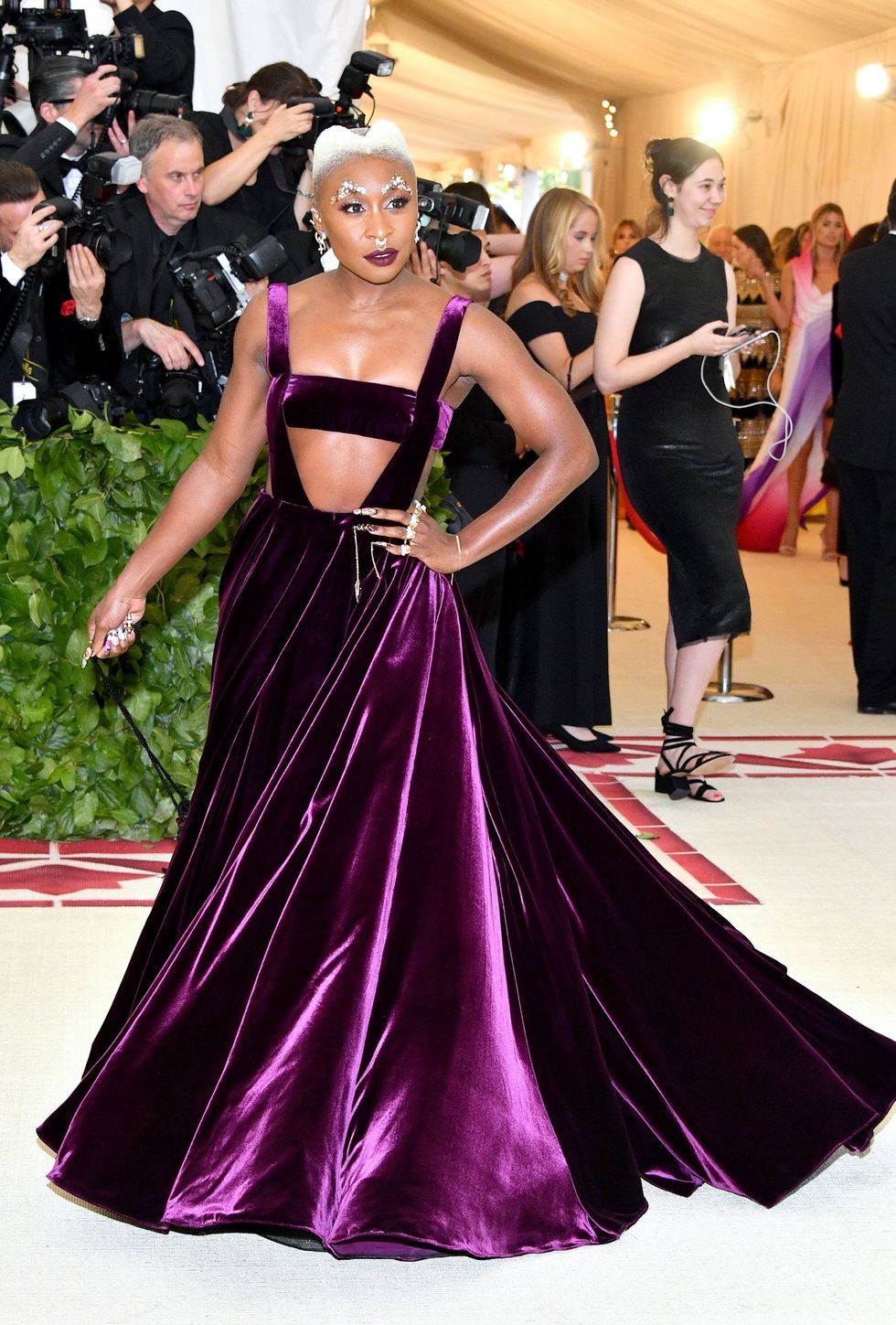 Cynthia Erivo in Valentino, Eva Fehren jewelry, and Maria Tash jewelry.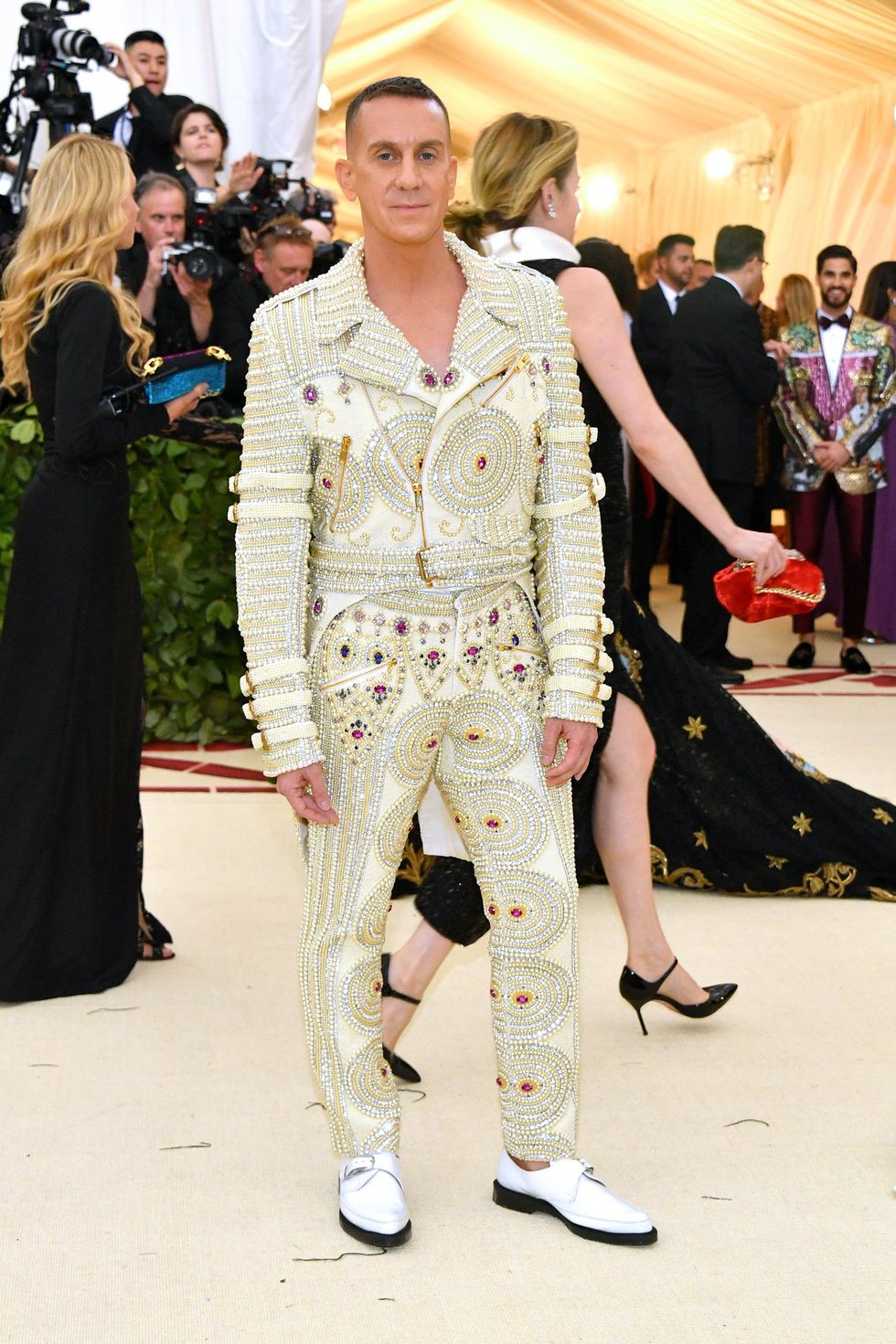 Jeremy Scott in Moschino.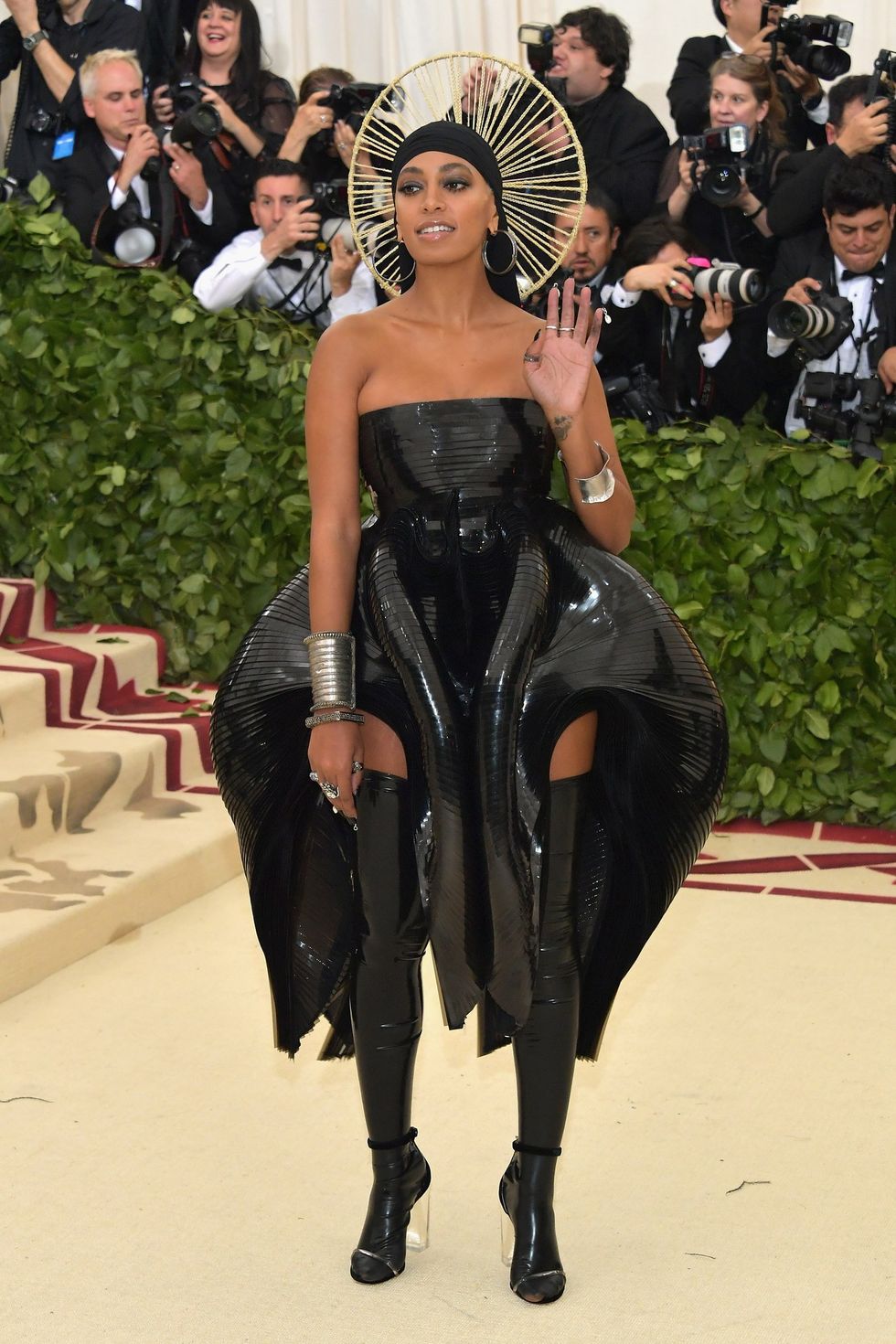 Solange Knowles in Iris van Herpen and Lorraine Schwartz jewelry.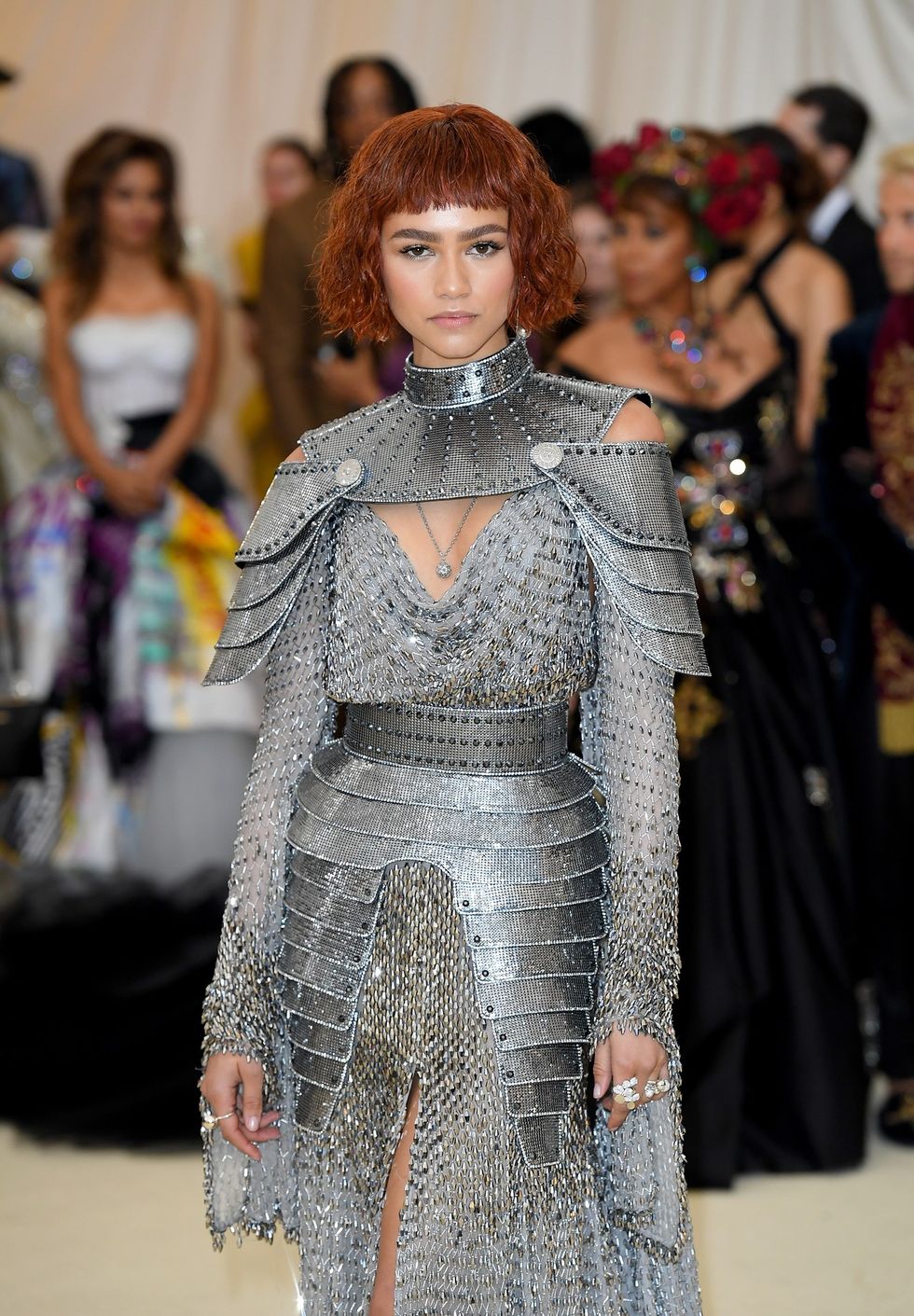 Zendaya in Atelier Versace, Tiffany & Co. jewelry, and Jimmy Choo shoes.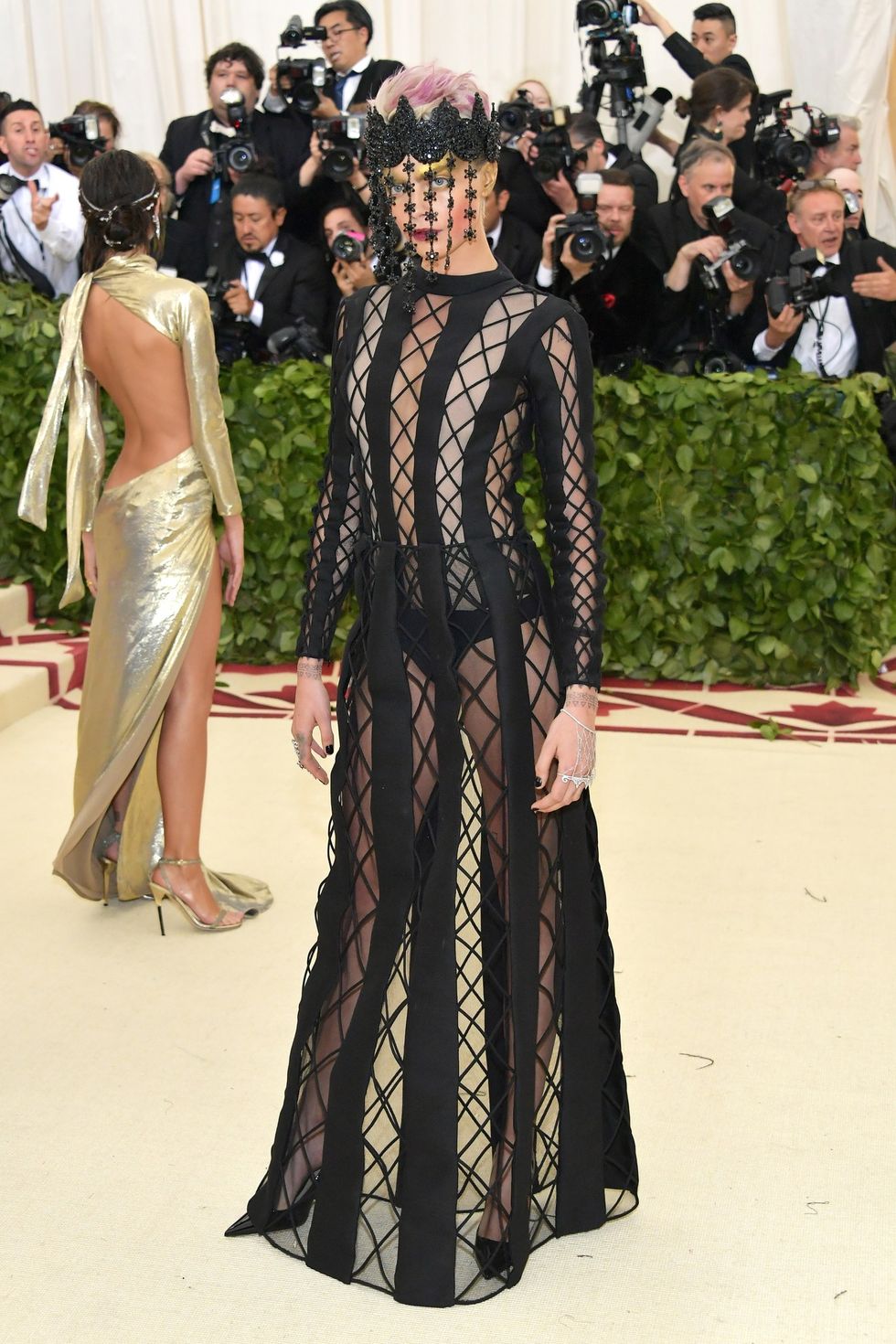 Cara Delevigne in Dior Haute Couture and Bvlgari jewelry.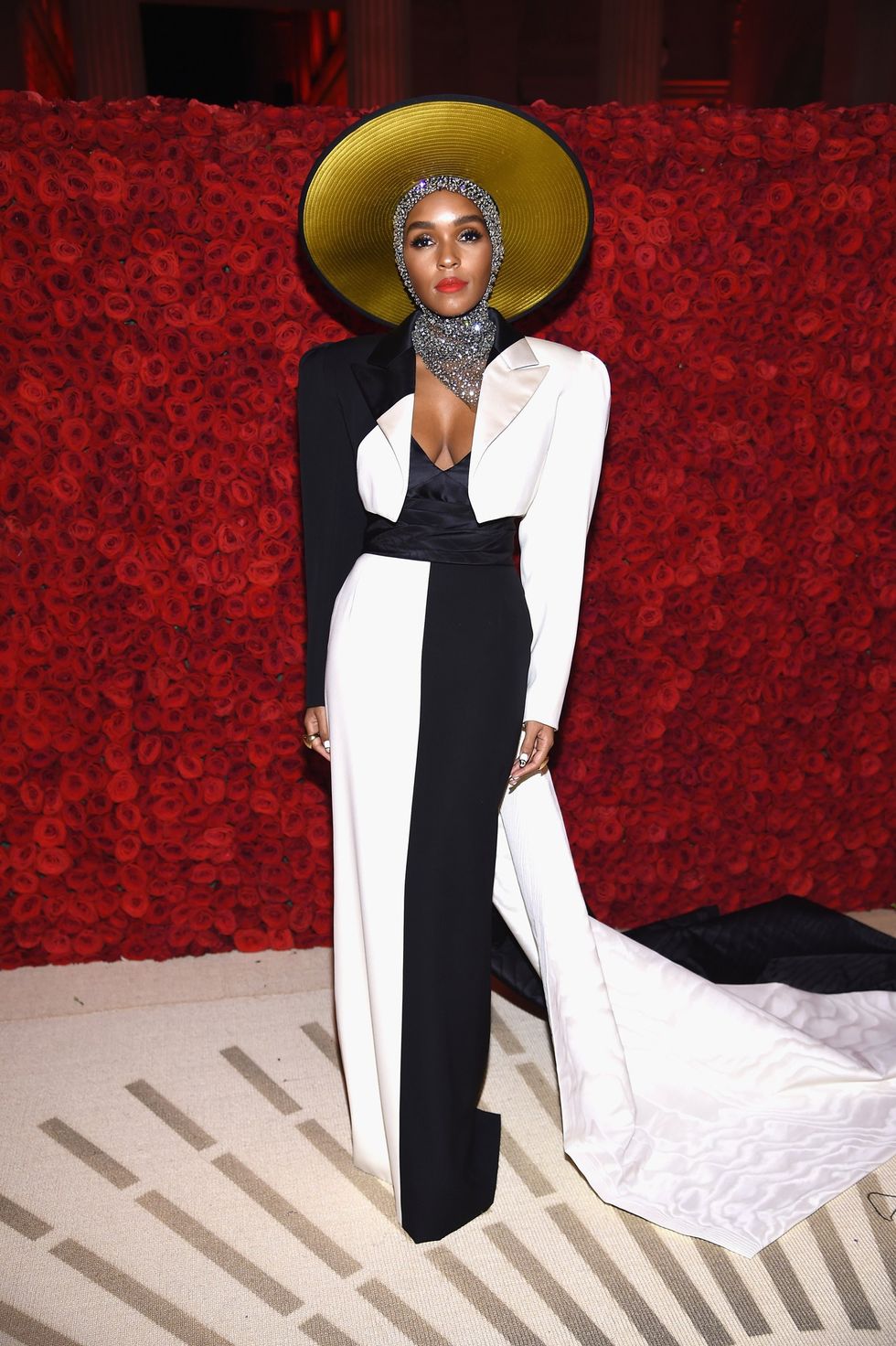 Janelle Monáe in Marc Jacobs, Christian Louboutin shoes, and Jennifer Fisher jewelry.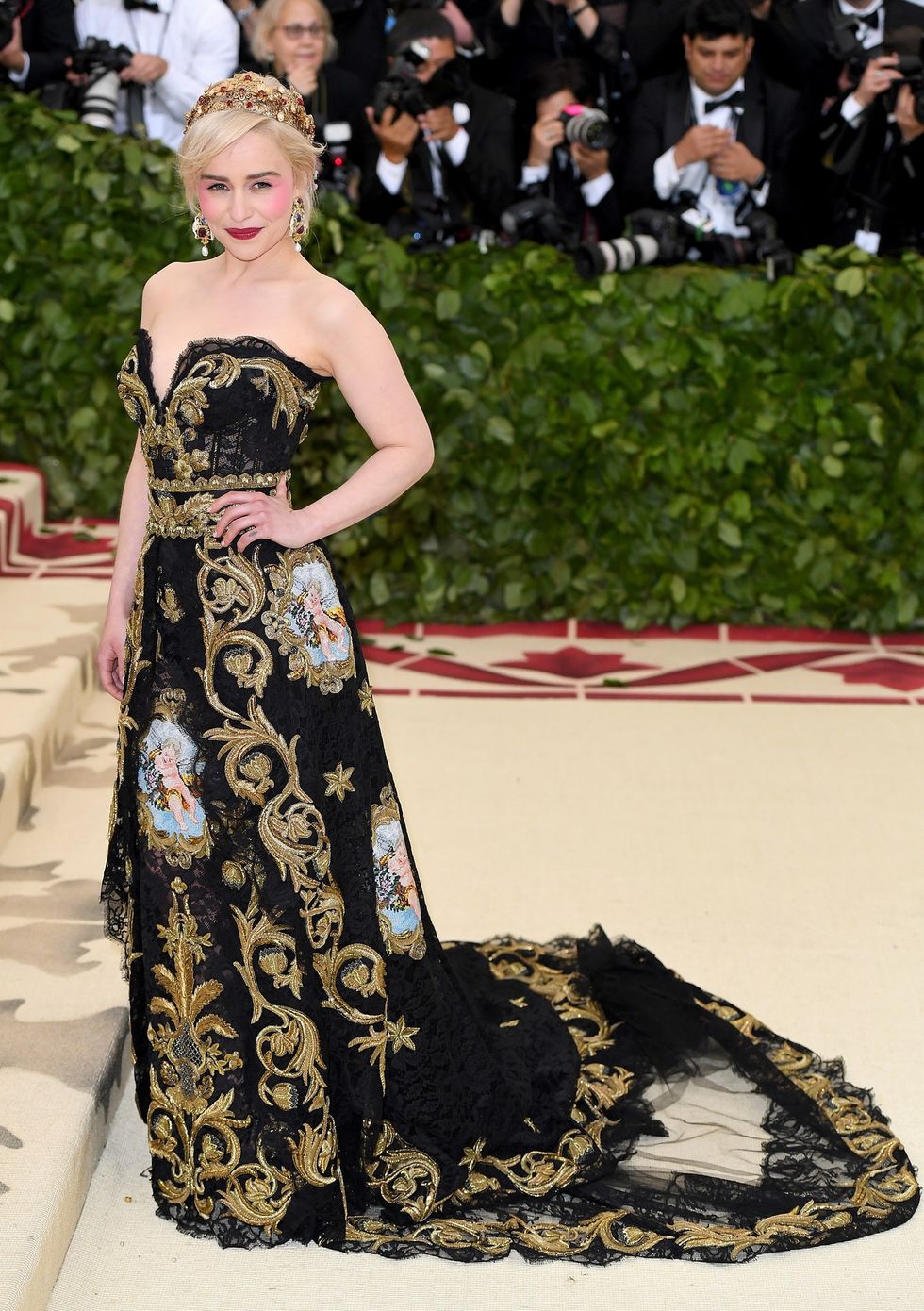 Emilia Clarke in Dolce & Gabbana Alta Moda.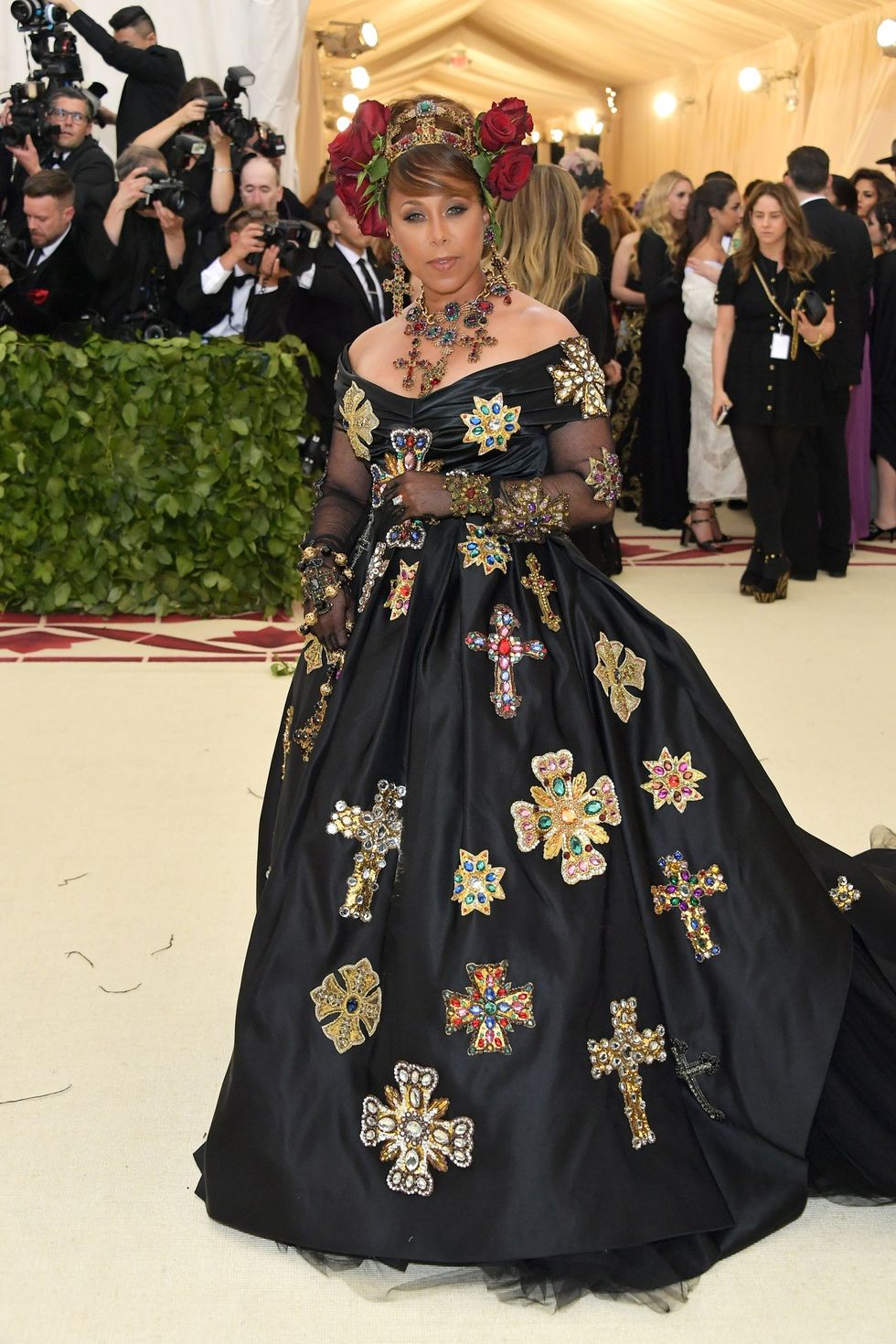 Marjorie Harvey in Dolce & Gabbana.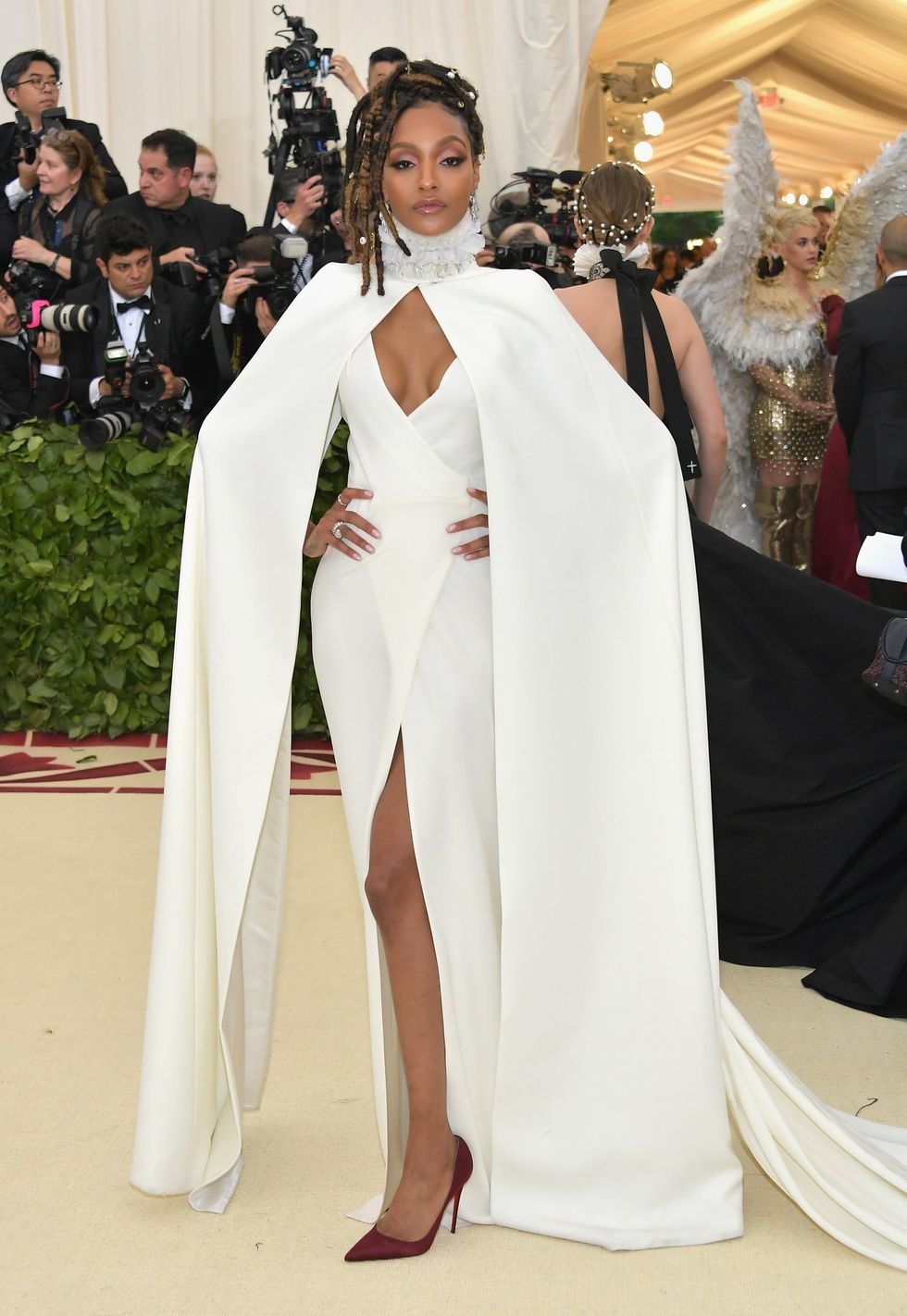 Jourdan Dunn in Diane von Furstenberg and Christian Louboutin shoes.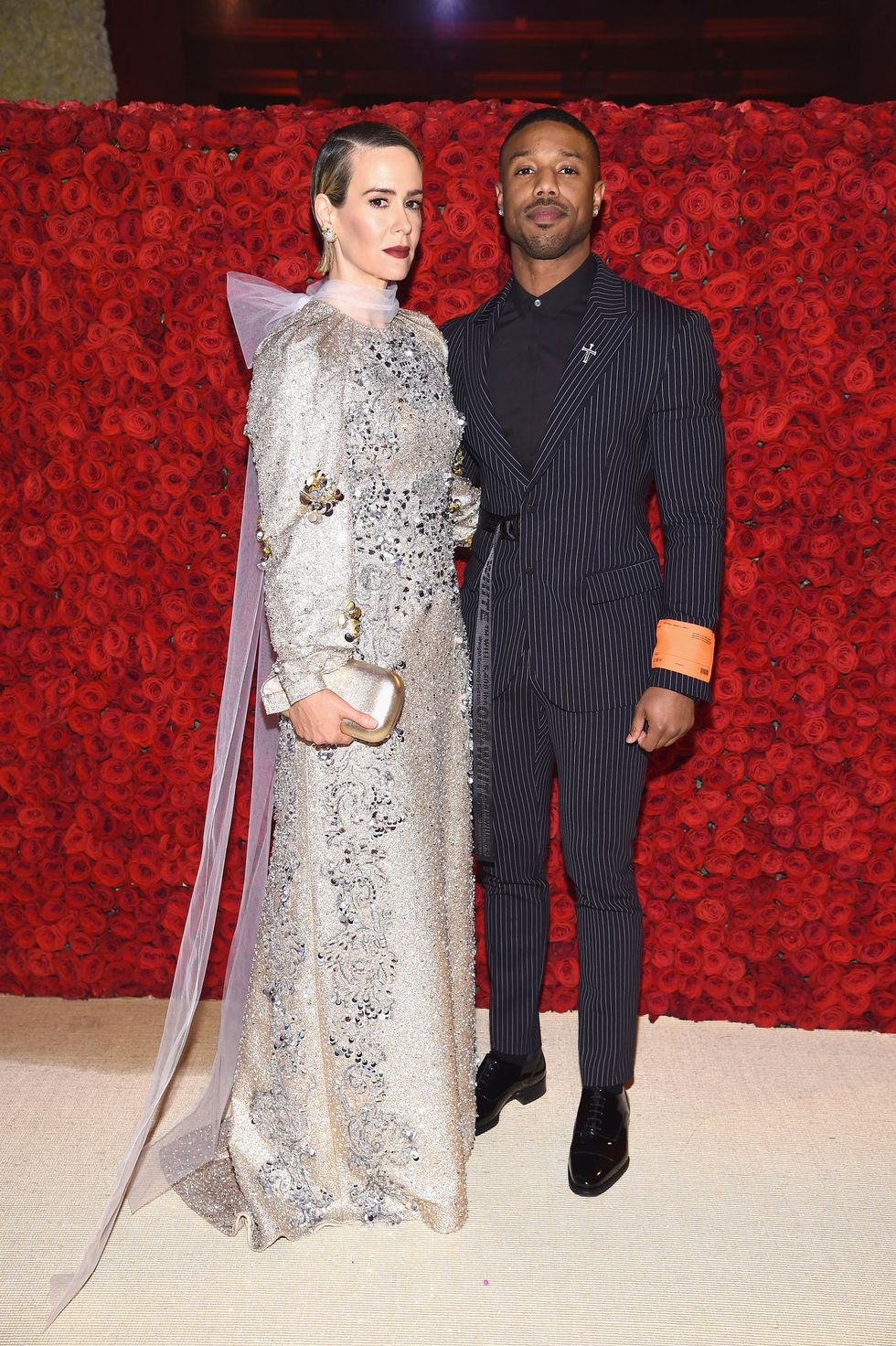 Sarah Paulson in Prada and Michael B. Jordan in Off-White.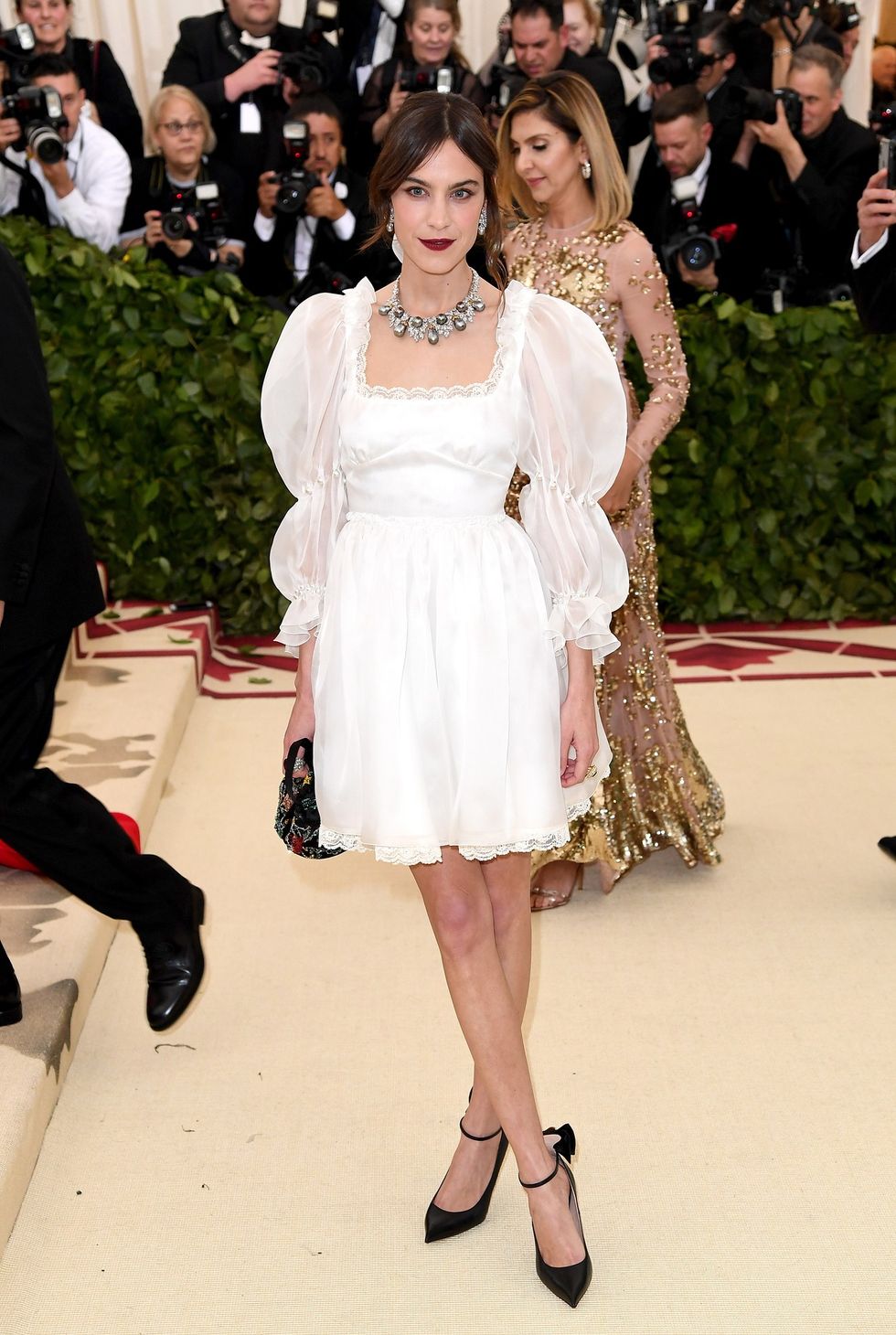 Alexa Chung in ALEXACHUNG, Gucci shoes, and Buccellati jewelry.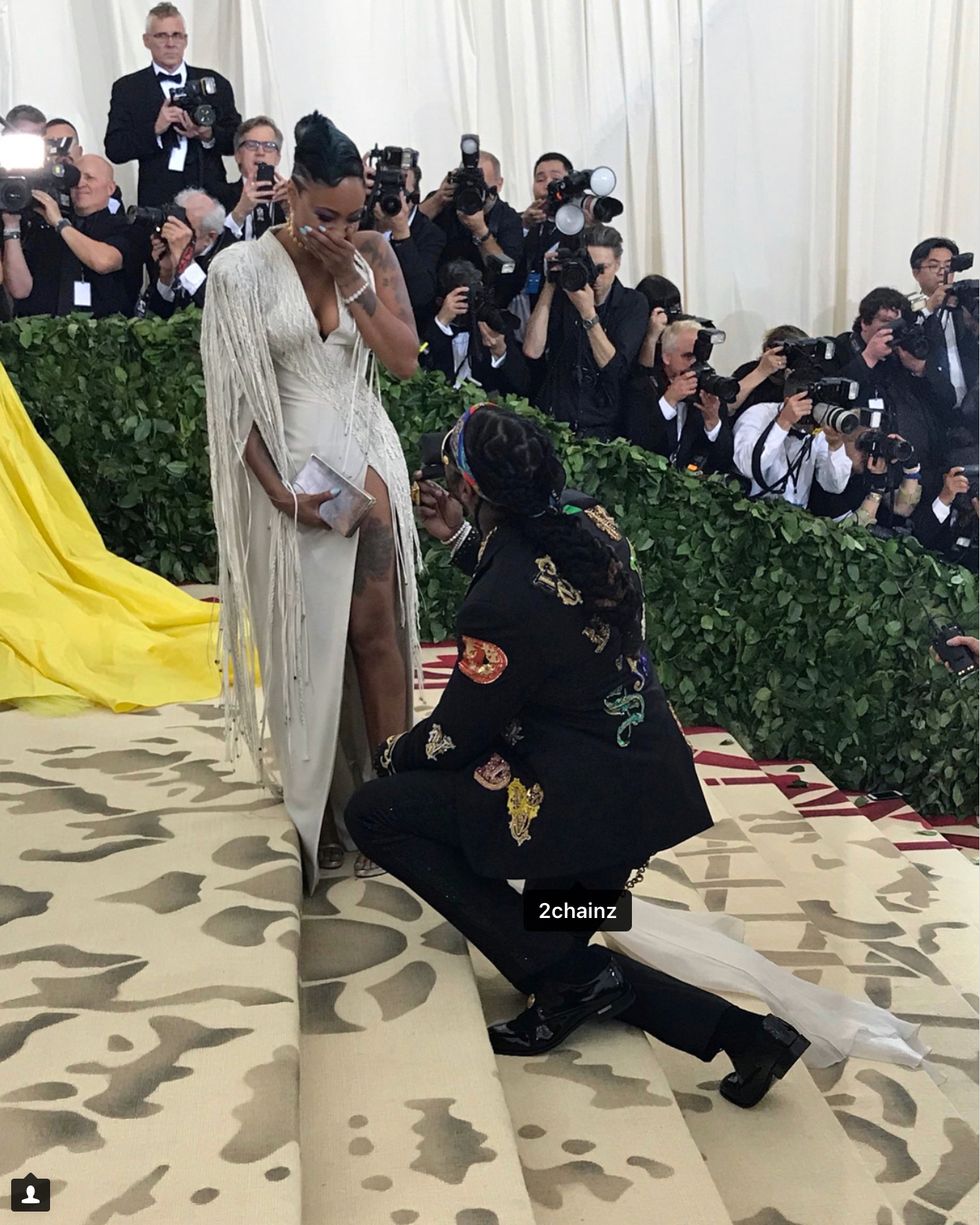 Another highlight of the show— rapper 2 Chainz proposed to his lifelong girlfriend, Kesha Ward. He may already be married, as seen by his previous proposal at a BET awards show in 2013, but it is still unclear.
Coincidentally, Donald Trump proposed to Melania Trump at the Met Gala in 2004. Trump and Melania, regulars at the ball from 2003 to 2012, were not present this year, after Anna Wintour, the event's host and editor-in-chief of Vogue, revealed in October that Trump was blacklisted.
Some other controversial celebrities also did not attend the glimmering event, one being Kanye West. Kim was there, of course, but Anna Wintour paid close attention to her choices for invitations. Overall, the Vatican-approved Met Gala truly stood out this year and highlighted some well-thought-out looks sure to create talking points for years to come.