A 23-year-old from Connecticut is making great strides against cystic fibrosis with a dedication to fitness and bodybuilding.
In just a short few months, Sam took what little control she had over her health into her own hands and transformed herself into a 150-pound-and-counting bodybuilder.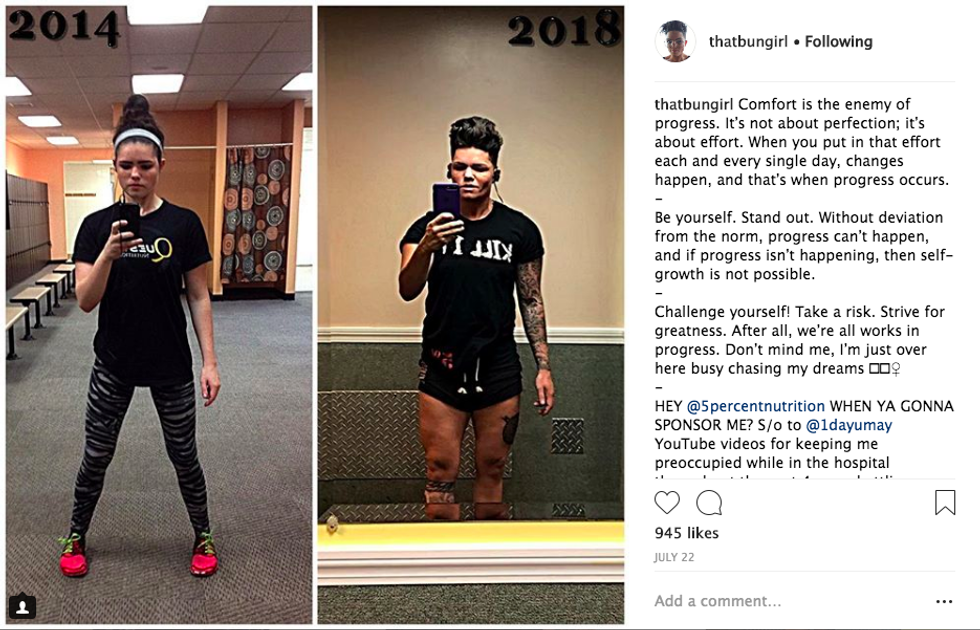 Sam says she had always looked to fitness as a source of coping with the disease. However, as her illness progressed, remaining athletic became difficult. In search of something to replace the regular sports she was playing, she started going to the gym and looking at workouts on bodybuilding.com.

Olympic competitor and bodybuilder Dana Linn Bailey became Sam's inspiration for getting active.
In 2012, Sam obtained her certification in personal training.
And not long after, she was the weakest she'd ever been and landed herself in the ICU with pneumonia, hardly able to walk. After braving and surviving through two collapsed lungs, acute renal failure and a medically induced coma, Sam got to work putting what she had learned in personal training to practice with the goal of rehabilitation and a return to her baseline.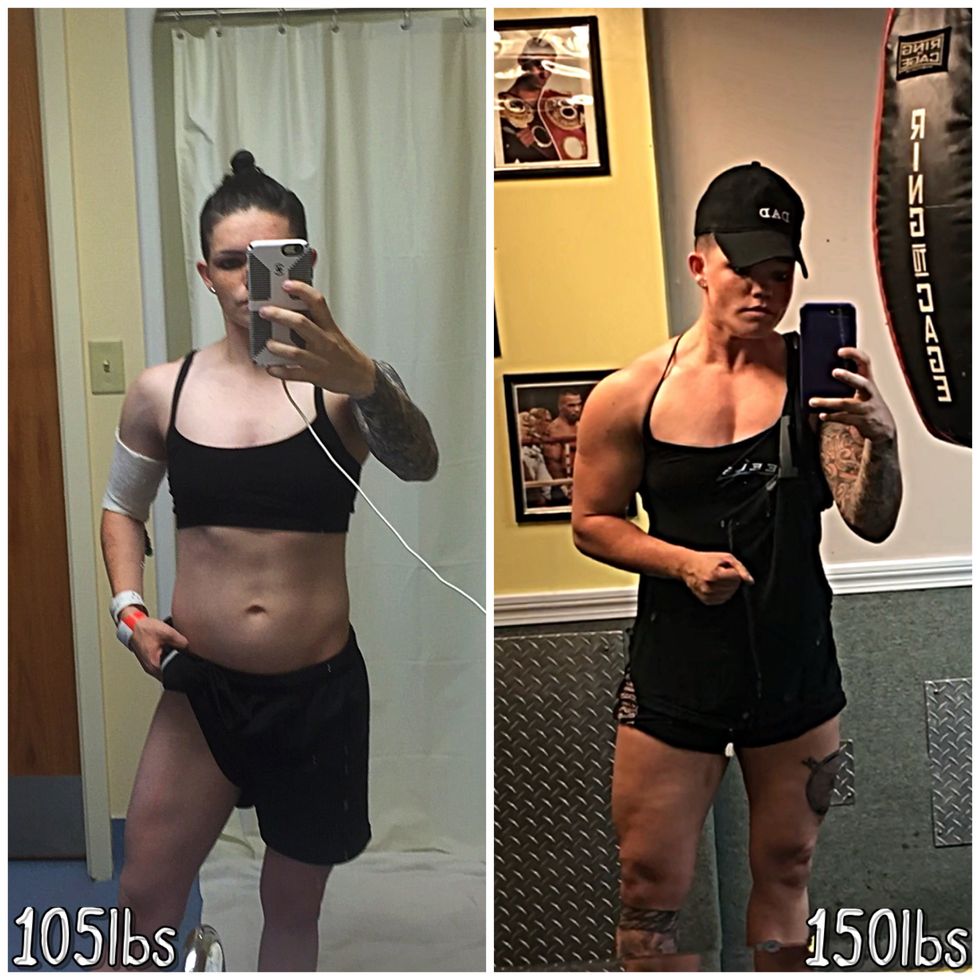 Sam tells me that she realized she could design workouts for herself that best suited her needs both in and outside of the hospital. It was then that her Instagram journey as an inspiration to others with CF began.

Fast forward to 2018, and the fight against CF had reached a new height. The dire need for dedication and routine in her battle against the illness had never been more clear.
Sam Syron's life and health had gone awry, and she was forced to make the grave decision to drive home to Connecticut after an extended stay in San Diego due to the rapid decline of her health. With lung function in the 30s and skyrocketing blood sugar, she drove straight across the country to Boston Children's Hospital, where she was admitted right away.
It was a long few months of recovery. Realizing the unpredictability of her health, she decided to do whatever it would take to get control into her own hands. The whole journey would be documented on her Instagram, @thatbungirl, where she'd call herself the "terminally the illest gym rat."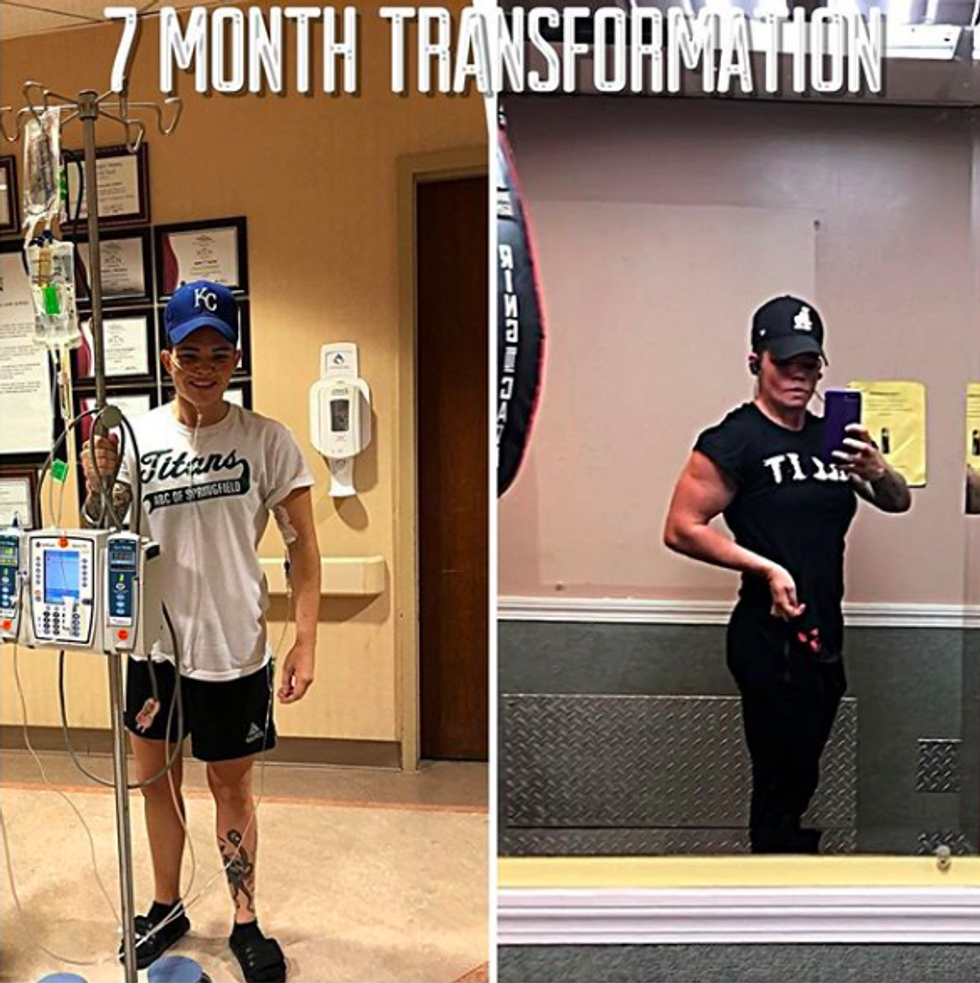 "I WILL regain everything I've lost during these past months," Sam wrote on an Instagram post in March of 2018. "Just wait and watch what I'm able to accomplish when I put my mind to something."
Using her prior knowledge of fitness workouts and experience as an individual with CF, Sam adopted a rigorous regimen that would consist of completing all of her treatments, taking all of her medications, working out several times a day and eating a high-calorie diet.
Her journey has been so uplifting and motivating for others that she now has close to a whopping 11,000 followers!
"Ever since being out [of the hospital,] I haven't skipped anything," she says. "I do everything on my checklist. " Sam had told me that she previously struggled with compliance. For years, her dry erase board went unused – now it's her "bible," where she documents all of her daily to-dos.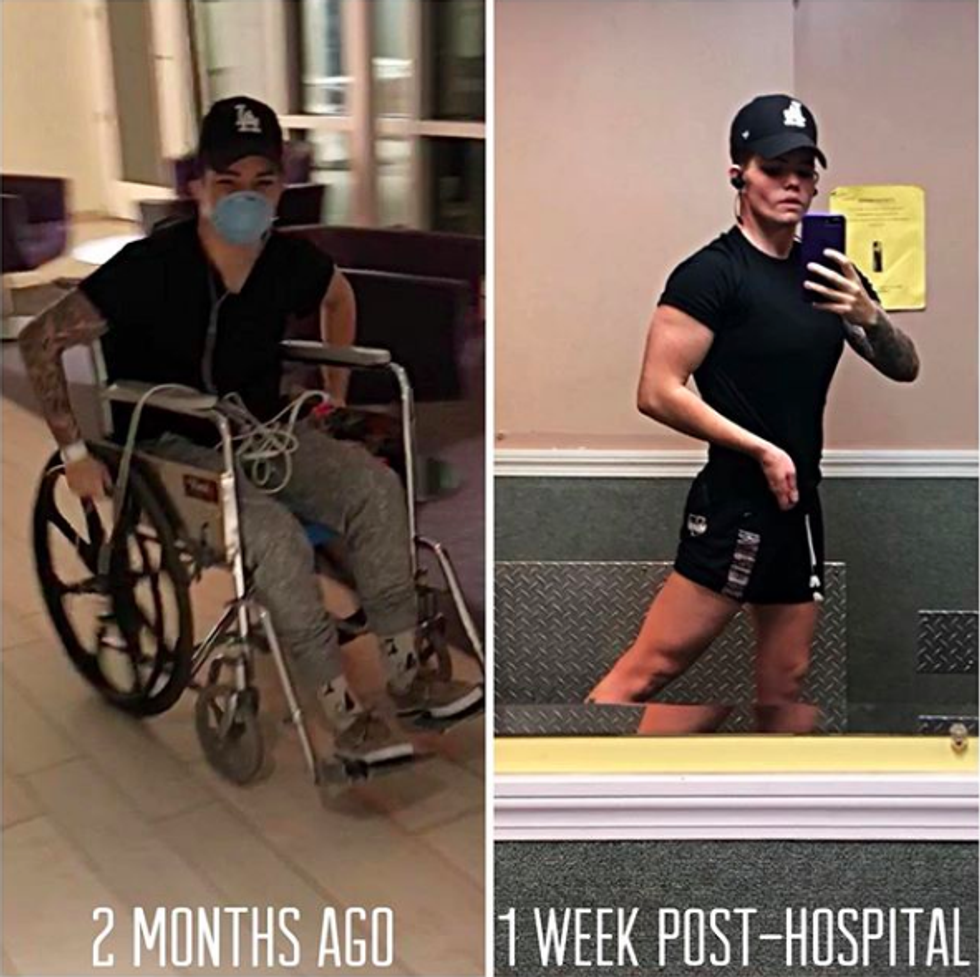 Sam tells me that her profile is to show people that although life may not always be fair, it doesn't mean that one should quit. She says she hopes her Instagram will inspire others to enjoy the moment, work hard and make their health a priority.

With all of the support she has received, Sam believes her dream of one day opening a holistic gym for people with chronic illnesses may just become a reality. She hopes to establish a facility that accepts insurance as payment.
Want to know more about fitness inspiration Sam Syron? Check here and here!
------------
Sam,
The resilience of people fighting chronic illness never ceases to amaze me. You, like many others with CF, inspire me to keep my chin up and continue to give my all in my own fight against CF. I am so excited to share your story and show people that it is in fact possible to put some control of our health back into our own hands.
------------
If you or someone you know would like to share an inspiring CF story, please e-mail Kristy at kristyannwrites@gmail.com.